1. Parcel volumes have witnessed growth in 2021, while the revenue per parcel has maintained a downtrend
The parcel volume continues to show strong growth for every country on account of increase in e-commerce transactions, increasing geographical coverage, technological infrastructure improvements and the overall effects of rising income levels. For the SEA region, the parcel volumes have grown by ~25% during 2020 to 2021. The maximum growth in parcel volume can be seen in Singapore and Malaysia. The parcel volume in Indonesia (the largest SEA market) stands north of 4 bn. Revenue per parcel however is declining across all the countries due to scale economies, competitive pressures, and other factors.
2. Continued e-commerce penetration offers structural growth for logistics players. Rising costs (notably manpower) requires stronger controls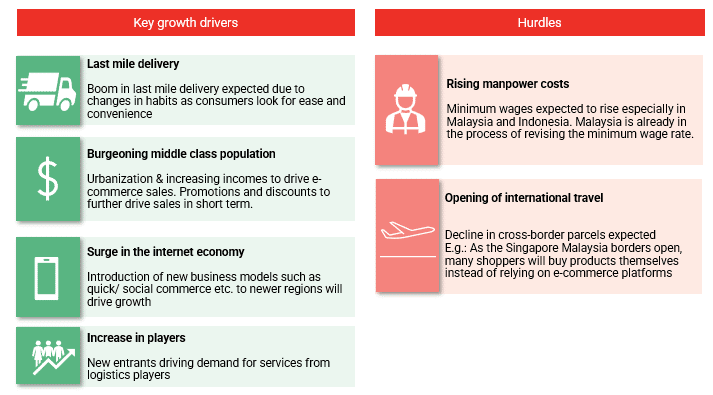 The logistics sector should benefit from the structural uptrend in e-commerce volumes. However, pricing could require stronger controls to keep a check on the unit economics. This becomes important in a scenario of competitive focus on volume share gains amid rising manpower costs.
A potential solution for the larger players could involve diversification into traditional logistics. This could help them to spread their revenue streams and defend their margins. Accordingly, there could be a need to shift towards more asset-heavy business models versus the historic focus on asset-light versions.
3. Big players are getting bigger in most of Southeast Asia. Philippines is the notable exception
Parcel share of top 3 players, % share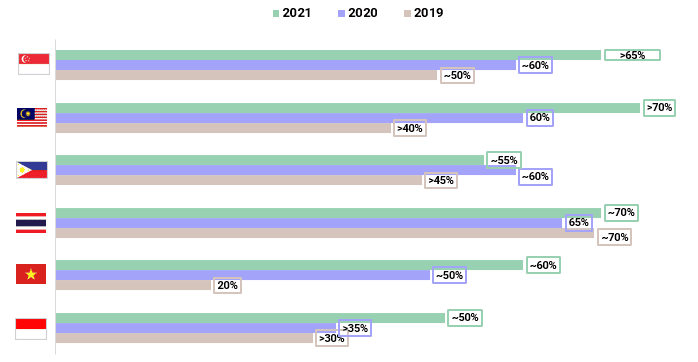 We notice the bigger e-commerce players are getting bigger in Southeast Asia. This reflects their ability to strike deeper partnerships with the larger e-commerce players. Given this market structure, competitive pricing is a relatively higher focus for the smaller players. The notable exception is the Philippines where the top-three players have lost share to peers.
4. Players with multi country operations and in-house units of e-commerce platforms currently dominate the landscape in the region (non-exhaustive list)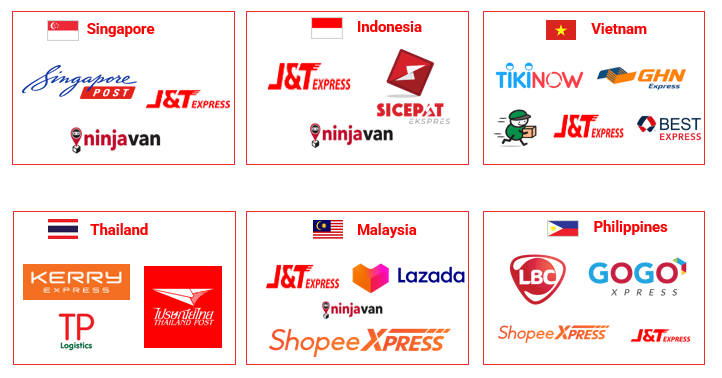 At a regional (Southeast) level, multi-country logistics players have been able to gain scale at a faster clip. Partnerships with larger e-commerce players, access to capital and quick pivots (per local needs) have underscored the success of some of the larger regional players.
5. Indonesia, Singapore and Vietnam dominate the funding tables for the region, with Indonesia taking the lions share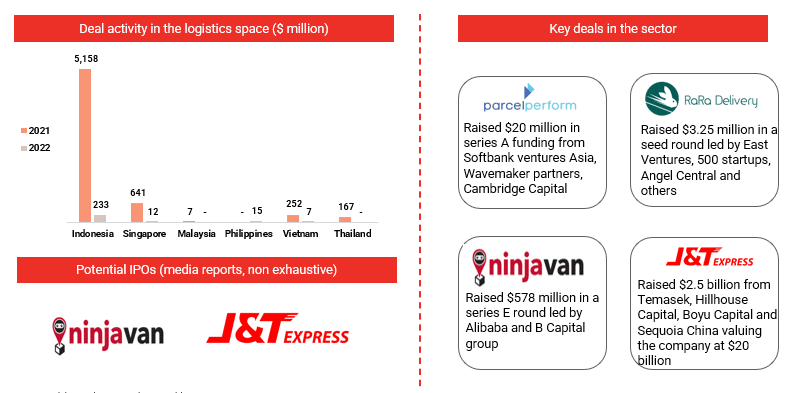 Singapore saw its funding activity doubling in 2021 compared to 2020, similarly, Vietnam has also seen significant jump in both the number of deals and the deal values when compared to previous years. At Southeast Asia level, Indonesia continues to dominate the regional landscape with ~90% of the total regional funding flowing in the country.