The Buy Now Pay Later (BNPL) market is expected to grow in the Middle East region as this payment mode has a fast approval method. This is the most convenient payment method, spread over a period of time with smaller amounts of EMI. As the COVID-19 pandemic disrupted the economic conditions in the Middle East region, there has been great growth in this market due to the extensive use of online platforms and the availability of Internet connection. Further, the increased adoption of e-commerce platforms in the Middle East region after the pandemic has created a shift in purchasing behaviour.
1. Seamless process, zero interest rates and transparency on costs has made BNPL a sought-after payment method within e-tailing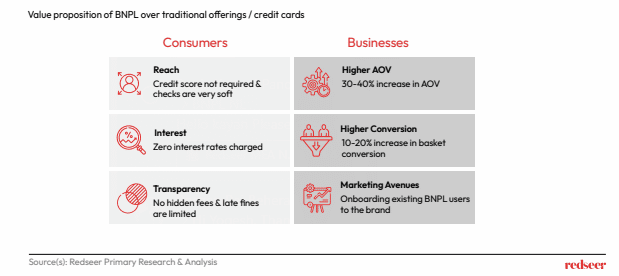 BNPL's rise to prominence is by virtue of the plethora of benefits the model provides over conventional credit cards, including its interest-free value offering, transparent execution, and soft check requirements. Merchants across MENA have reported improved performance across the value-chain – setting the tone for a very prosperous future for this model in the region.
2. 11% of online consumers have used BNPL, Gen Z and Females figure prominently within the mix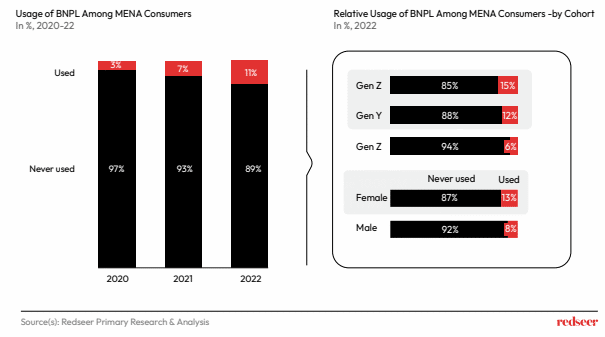 BNPL solutions have seen wide acceptance over the years, driven by frictionless payments and consumer need to climb the affordability ladder. Moreover, younger generations are more likely to adopt BNPL as they are technologically & financially savvy, have low credit card penetration, and are attracted by the lucrative nature of interest-free installment plans. Beyond age, we also notice that females are more likely to adopt BNPL solutions for their purchases. This is also reflected in the category mix where Fashion dominates currently.
3. ~4% of e-tailing GMV in MENA is processed through BNPL in 2022, representing a $ 1.5 Bn market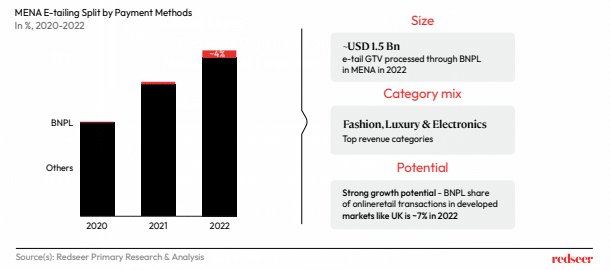 BNPL managed to capture close to 4% of overall e-tail GMV representing a $ 1.5 Bn market in MENA. While the category mix is still similar to last year, this market is now poised to grow rapidly extending its application across sectors, leveraging learnings from more developed markets like the UK, where BNPL contributed ~7% of transactions in 2022.
4. BNPL players need to focus horizontally by onboarding their services to new platforms & categories to maximize the potential of this segment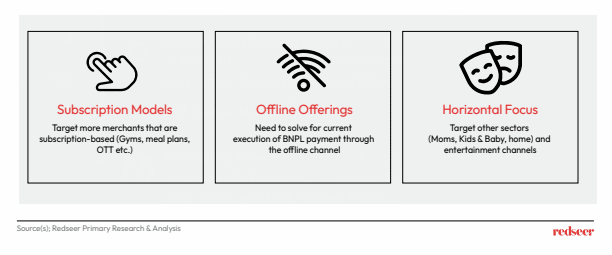 Given the tremendous growth potential this market holds, it is on existing players to solve the key gap areas persistent within the market. This includes streamlining offline payment through BNPL either through POS integration or minimizing payment steps. Players also need to focus more on other sectors & move beyond conventional revenue drivers such as fashion & electronics while also solutioning for consumers' subscription-based needs.
Despite its current hurdles, buy now, pay later will continue to grow, and MEA and other parts of the world will provide the projected acceleration that the fintech subsector has already experienced.