Recently, the customs duty ceiling for international cross-border trade was reduced. The policy change is expected to support creating a sustainable local retail ecosystem and further accelerate the trend of partnerships between local and international retail players in the UAE. Here's an insight into the impact of the policy update on local retail players and consumers.   
1. UAE has updated its customs policy recently which will impact Cross Border Trade (CBT)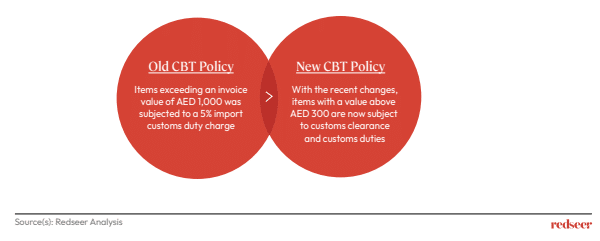 2. This is important as UAE market holds a higher share of CBT than the global benchmarks

In UAE, high expat population inclines towards purchasing from global brands which has led to high CBT penetration in compared to global benchmarks.
3. In the early phases of adoption, CBT has been a critical driver to digital ecommerce; however, its share has continued to decline over the years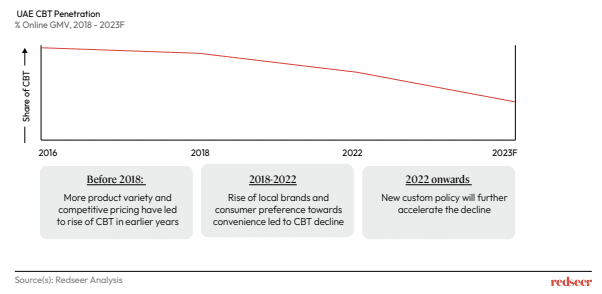 Before 2018, the availability of a wide range of choices, quality, and competitive pricing in international markets aided the trend of shopping online. However, as the UAE market evolved, local players improved their value propositions, and consumer behaviour inclined more towards delivery experience, after-sale services and convenience. With a renewed sense of trust towards local players, the overall share of CBT declined, the recent policy update is expected to accelerate this trend further.
4. Fashion, the largest category, will be impacted the most as majority of transactions have AOV between AED 300 – 1000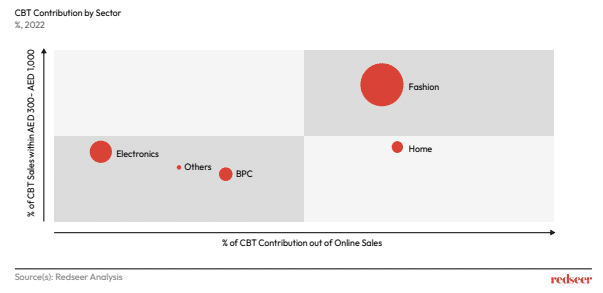 Amongst the orders being placed internationally, Fashion products have the highest contribution to the value of sales. Within Fashion, Luxury Fashion will be the most impacted as CBT share in this category is higher than others. However, the ultra-Luxury Fashion category won't get impacted as its consumers are not price sensitive. The impact of the policy change will be minimal in Home and Electronics sector as most of the orders' value doesn't lie within AED 300 – AED 1000.
5. Overall, we believe that the new policy will support in creating a sustainable local ecosystem

While this broadens the revenue net for the authorities; the major beneficiary of the change would be local retail ecosystem as the update augments the growth of a sustainable local ecosystem. The trend of collaboration will rise further as international players looking for newer prospects for growth would be further encouraged to partner with local retailers. Local retailers will enhance value propositions to attract and retain consumers looking for local alternatives.