Globally there have been cautionary headwinds for the ad market as a whole, but Southeast Asia has significant headroom to grow due to its low maturity compared to other countries in the region. The market is noticing a shift of advertising spend from offline channels to online channels, and e-commerce ads in particular, due to higher reach and conversion rates in a rapidly digitizing region.
So, let's look at the digital advertising market in Southeast Asia and the increasing interest in e-commerce ads.
1. Global Ad Market has been stagnating due to macro-pressures, however there are significant headroom for growth in SEA due to lower ad maturity in the region and growing e-commerce competition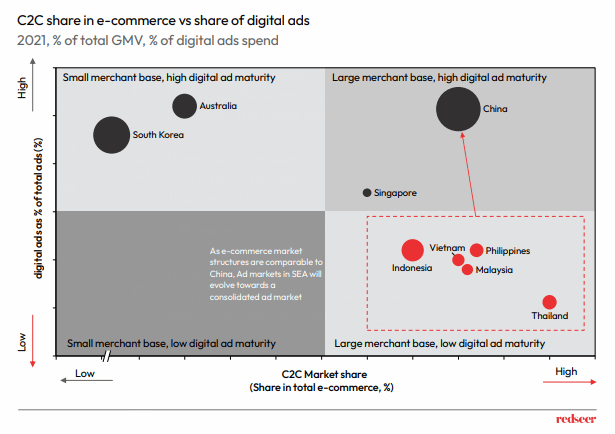 E-commerce markets in Southeast Asia are characterized by a large C2C share with a relatively lower digital ad maturity. There is significant headroom for growth among these markets as merchants will start to shift their ad dollar spend to higher levels while overall ad spend will continue to remain stagnant. We expect the ad markets in Southeast Asia to gravitate towards China's market structure due to similarities in e-commerce landscape across the region
2. Digital Ads poised to grow within the Advertising sector, with E-Commerce Ads growing rapidly as merchants shift their ad spending online…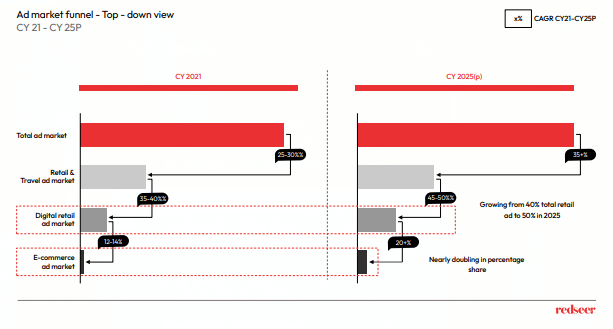 Brands and merchants alike are shifting from conventional advertising to digital advertising. Digital ads currently form ~35-40% of the total retail ad spend market and is expected to grow to 45-50% by 2025. E-commerce ads are set to grow to nearly double the share in the same period due to increasing merchant adoption.
3. …since affiliate e-commerce platforms are best suited to convert non-users to paying customers due to cost advantages in user conversions; while social media will have better cost to reach new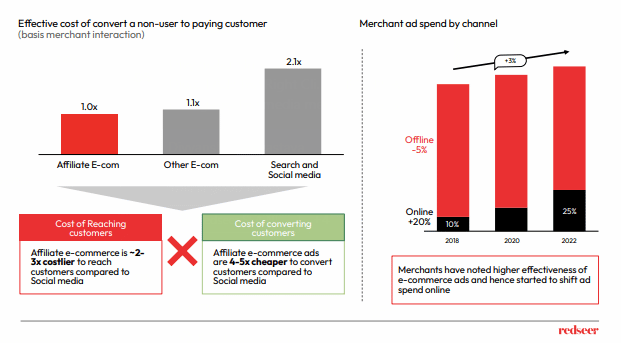 There is a shift of merchant preference in digital ad spend towards affiliate and e-commerce ads, due to its advantage on sales conversion and lower cost per order.
While social media ads are best placed to reach a wider audience; e-commerce ads have a significant cost advantage on converting users. As the e-commerce markets in SEA evolve; there is a larger focus on converting consumers into paying consumers as opposed to reaching a wider audience at a significantly lower conversion rate.
Merchants in the region have started shifting ad spend to digital media and we see offline ad spend going down in share over the past few years
4. Consumer behaviour has shifted over the past few years; promotions and discounts do not affect consumer purchase behaviour to the same degree and consumers look for purchasing multiple categories instead of focusing on discounts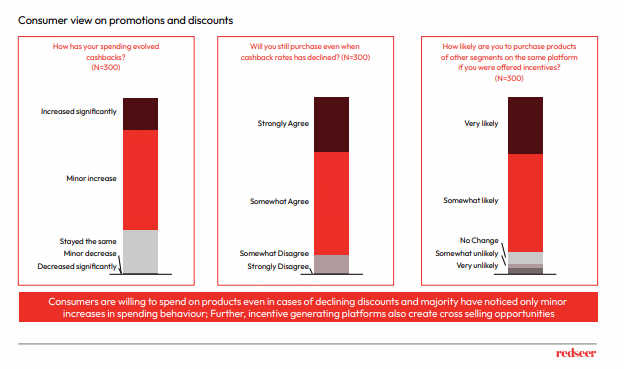 Consumer behavior has also evolved over time. Instead of waiting for specific promotion periods to purchase products, consumers are already willing to purchase products with low or no cashbacks. Accordingly, we do not foresee a major cutback in consumers online spend in a scenario of moderate inflation. Further, evolved consumers are sticking to selective platforms that offer depth and width of product SKUs.
This shows a clear intent to purchase from consumers and why e-commerce ads are better placed to address the consumers.