Revolutionizing the supply chain from manufacturing to end users, digital-first players (tech-led) are bringing a slew of new and exciting propositions to the table. There is no denying that the supply value chain can be chock-full of complexities, often involving multiple processes. But it seems that new-age players, powered by technology, are here to save the day. And, since there has been an increased interest in this space, we thought of re-sharing the story we did on this.
1. Technology is disrupting the supply value chain for the manufacturers and providing higher efficiency in the process!
As a result of this technological intervention, manufacturers and end consumers can enjoy a more fluid, agile, and efficient supply chain that can meet the needs of a constantly changing market. For manufacturers, technology is offering solutions in the raw materials and production stages, allowing them to better compete with the lower costs and greater efficiencies of the digital economy. In fact, owing to the intervention of technology, digital players are by-passing intermediaries by providing raw materials directly from manufacturers to end consumers, leading to a blended margin of 11-15%.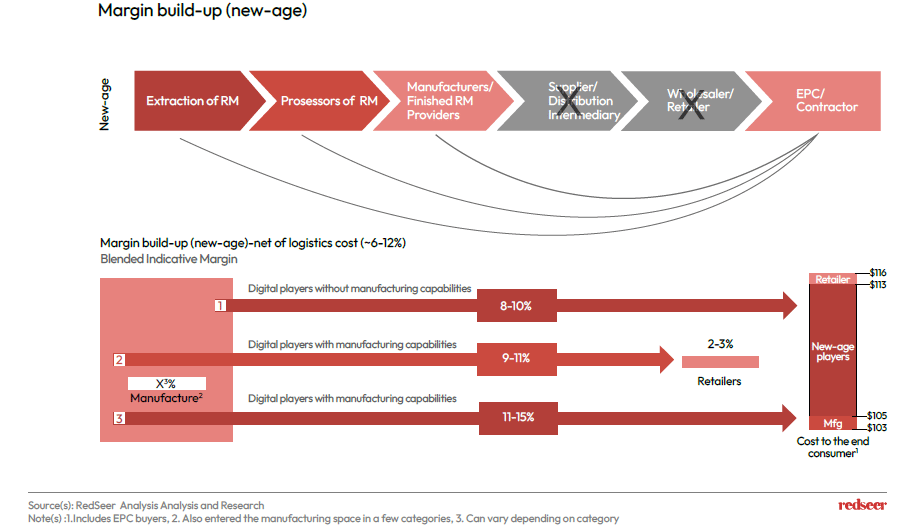 2. Digitally enabled players are helping support the ecosystem in three main fronts: Raw materials, Equipment and Machinery, and Maintenance Repair and Overhaul
The disruptors in the manufacturing space are primarily in the area of R&D, MRO, and machinery, focusing primarily on improving the current supply chain processes, such as reducing lead times, reducing cost, and increasing efficiency.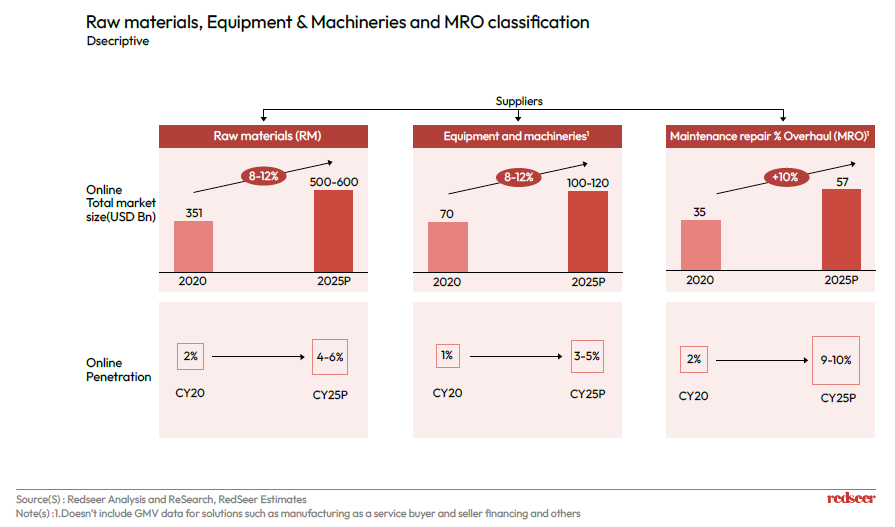 3. The Raw Material market is growing. Within this market, new age tech enabled players to account for more than 10% of the raw material procurement by FY26.
The raw material market is growing rapidly as new and more efficient ways to procure raw materials are being developed. As new age tech enabled players bring technological advances into this space, we can expect increased efficiency, reduced costs and increasing transparency.
With their unique offerings, digital players are slowly taking the reins within the country's manufacturing
industry. Some of their unique offerings include tech-enabled material procurement and credit for SMEs, financing support, real-time tracking of production, supply chain digitization and more! Given the pace at which they are growing, and the plethora of product offerings they're bringing to the table, it seems likely that these digital players could don the robe of manufacturers very soon!