Building upon the insights from our previous newsletter, we continue our exploration into India's e-commerce and logistics sectors. The landscape is evolving at a remarkable pace, offering a tapestry of opportunities and challenges for businesses and service providers alike. In our earlier edition, we had dived into how the growth of D2C brands are fueling the growth for third-party logistics. Today, Mohit Rana, partner Redseer, explored some other major trends that are further shaping the industry in his latest report.
eTailing in India is expected to grow 5x between 2022 and 2030 driven by 'Mass' consumers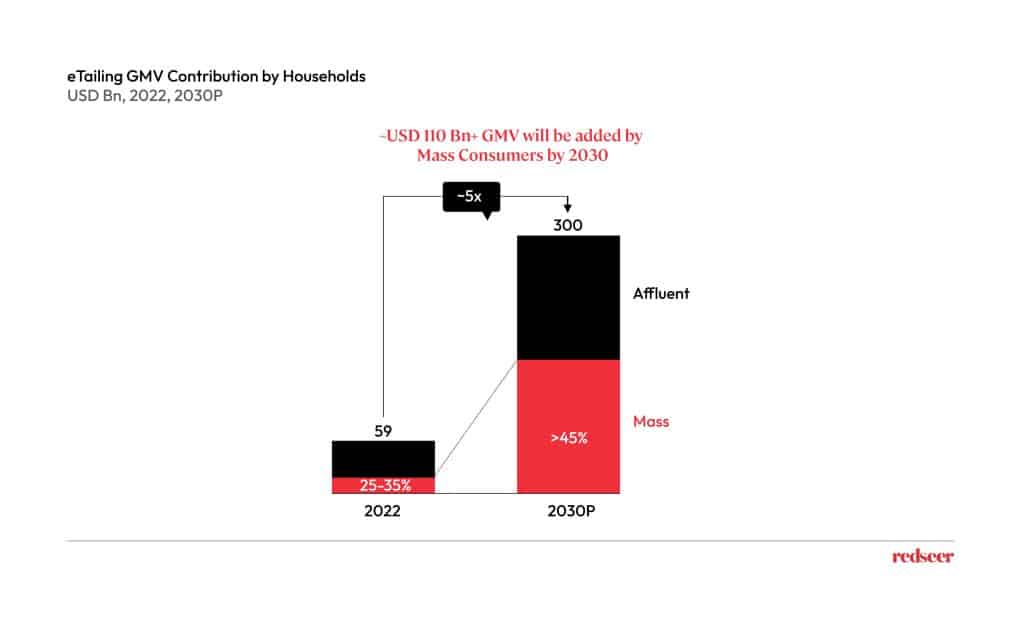 The e-commerce market is expected to grow from $59 billion in 2022 to $300 billion by 2030. A significant driver of this growth is expected to be the 'mass' consumers, indicating that a larger portion of India's population will increasingly turn to online shopping for their needs, potentially due to factors like affordability, ease of access, and a wider product range available online. This growth will not only benefit e-commerce platforms but also associated industries such as logistics, digital payments, and technology.
On the back of lower ASP demand and rapid eCommerce adoption in Tier 2 cities, annual eCommerce Shipment Surge Outpaces GMV Growth
With the evolving category mix, lower ASP categories will account for a higher share of the eTailing GMV pie. According to our analysis, the rapid adoption of e-commerce in Tier-2+ cities, a growing base of 'Mass' consumers, and improved third-party logistics (3PL) services are collectively driving a substantial increase in shipment volumes. This surge in shipments is expected to outpace the growth in Gross Merchandise Value (GMV), signifying that while more people are shopping online and purchasing products, the number of items being shipped will grow at an even faster rate. This trend has significant implications for the e-commerce industry, as it underscores the importance of efficient logistics and supply chain management to meet the rising demand in smaller cities and beyond.
Consequently, shipment volumes are expected to grow 6 to 8-Fold by 2030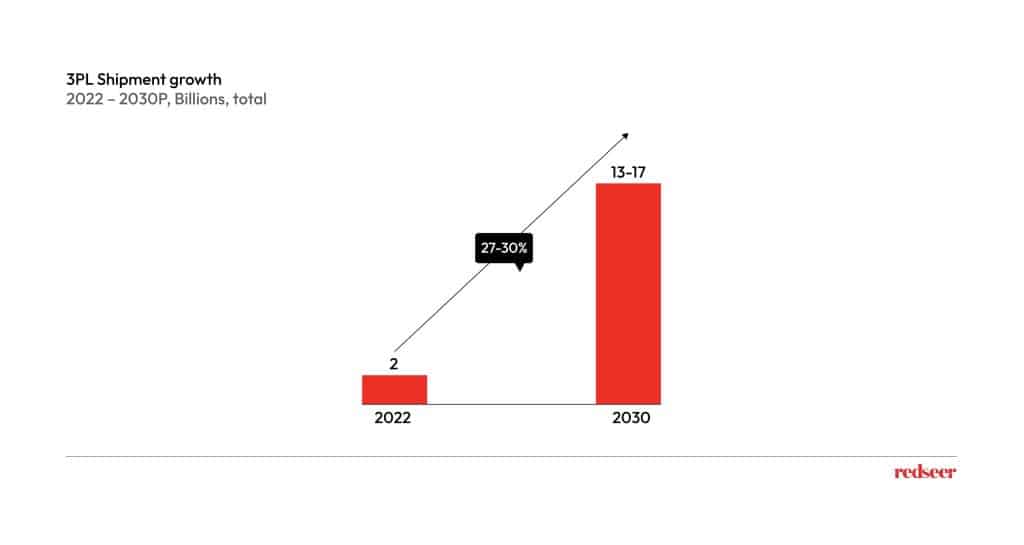 The report highlights that the eTailing landscape in India is on track to witness a fivefold increase, from US $59 billion in 2022 to a projected US $300 billion by 2030, driven by 'Mass' consumers who are looking for value at affordable prices. According to the report, greater adoption of e-commerce in Tier-2+ cities, increasing 'Mass' consumers, along with increased 3PL serviceability is propelling shipment volumes. As a result, shipment volumes are expected to grow disproportionately relative to GMV growth.
As 3PL scales, the cost per shipment will likely reduce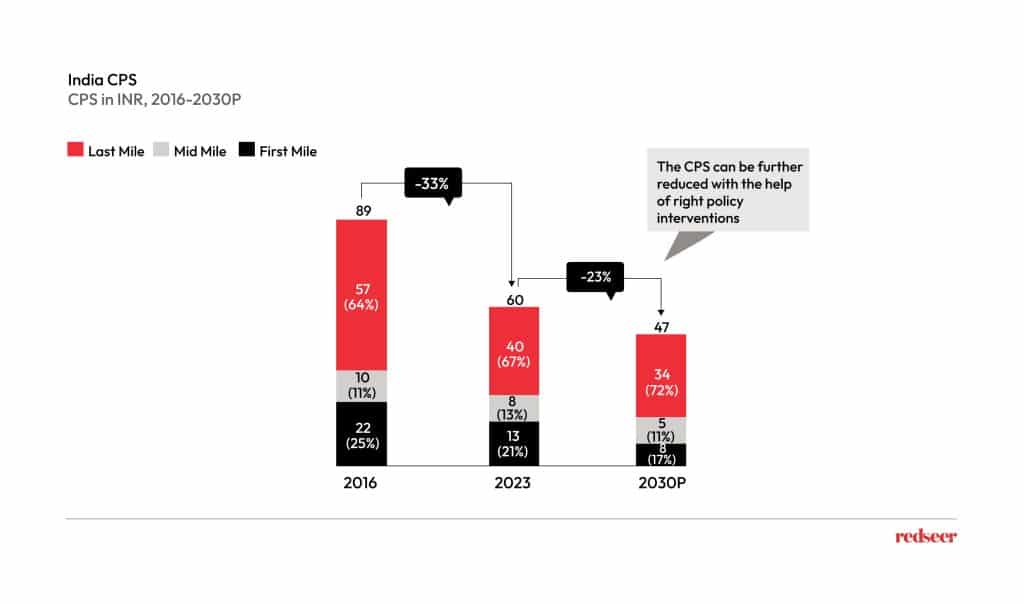 The report projects a 23% reduction in the cost per shipment for a 3PL company, with costs expected to decrease from INR 60 in 2023 to INR 47 by 2030. This cost-saving trend is attributed to two pivotal factors: the aggregation of demand in smaller cities and policy adjustments. These changes foster the optimal utilization of resources, allowing the company to operate more efficiently and cost-effectively, resulting in significant savings in its logistics operations.
While there is immense potential of 3PL, there are also challenges that the sector is trying to solve for now, including shipment protection, weight-related disputes, return-to-origin processes, and responsiveness.
While challenges like shipment protection and weight disputes persist, 3PLs are actively working towards resolving these issues.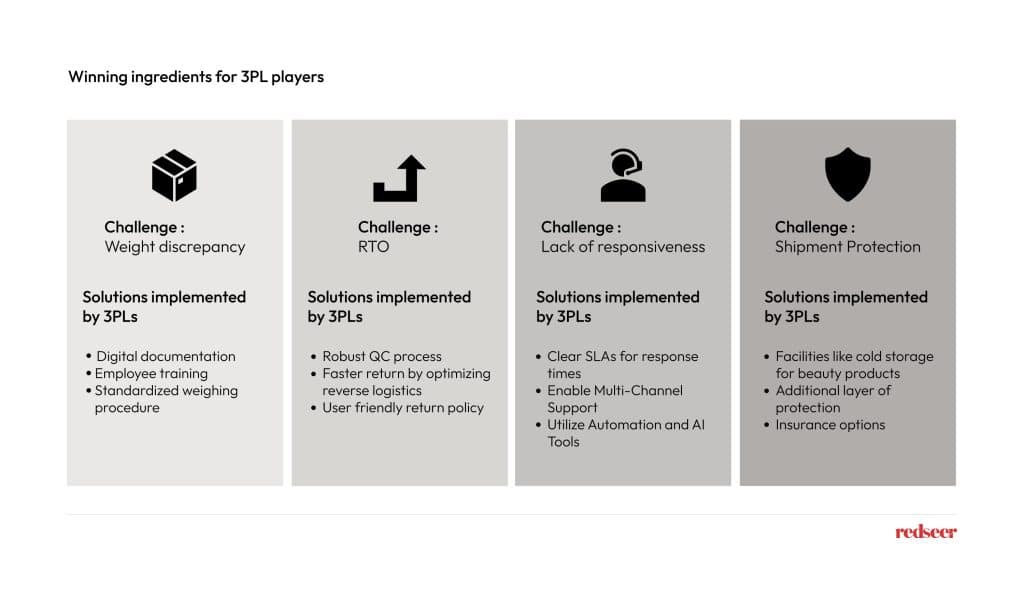 The demand consolidation in smaller cities and policy adjustments are critical elements driving cost efficiency, leading to the optimal utilization of resources. While recognizing the enormous potential of 3PL, the report also sheds light on current challenges the sector is actively addressing. These encompass aspects such as safeguarding shipments, managing weight-related disputes, streamlining return-to-origin processes, and enhancing responsiveness.
To learn more about the logistics and 3PL industry, read our latest report.