India's digital transformation journey and the rise of its Micro, Small, and Medium Enterprises (MSMEs) are shaping the country's economic landscape in profound ways. The push towards a paperless economy has increased efficiency and transparency, contributing to economic growth.
In this article, we explore how MSMEs, a critical component of India's economy, are expanding their online presence, creating jobs, and driving substantial growth in e-commerce.
India's digital transformation journey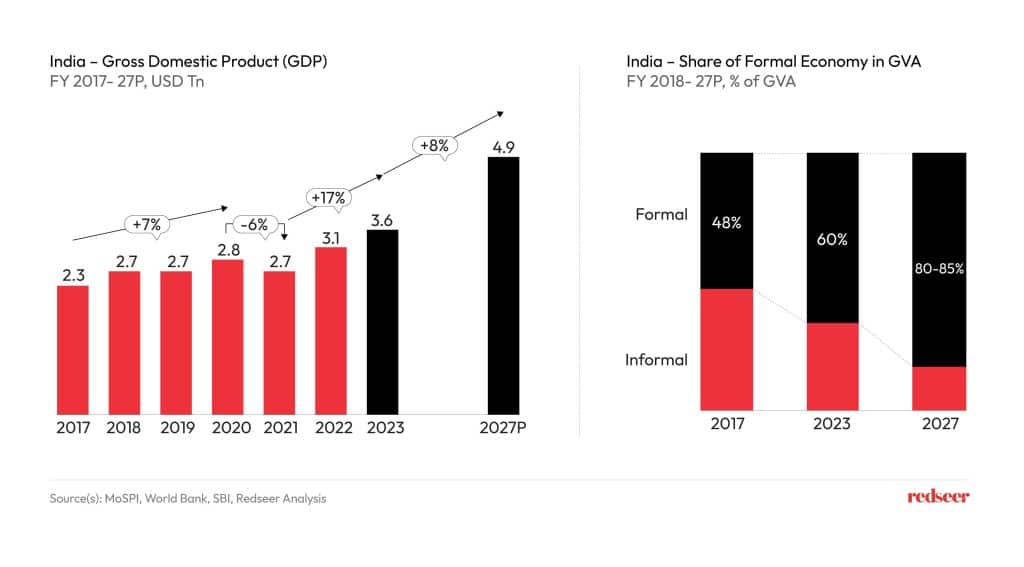 The Indian economy is set to grow rapidly, with a projected 8% annual increase from $3.6 trillion in 2023 to $4.9 trillion in 2027. This growth is driven by factors like India's youthful population, rising incomes due to infrastructure investments, and a favorable regulatory environment that attracts companies to establish manufacturing units in the country. India is also experiencing a digital transformation, with both the government and private sector pushing for a paperless economy. This shift has led to increased efficiency, transparency, and convenience for the people. Notable technologies like UPI, Digilocker, GST e-way bill, and Fast Tag RFID have played a significant role in this digital transformation. As a result, the formalized portion of the economy has increased from 48% in 2017 to 60% in 2023, and it is expected to reach 80-85% by 2027.
India's MSME revolution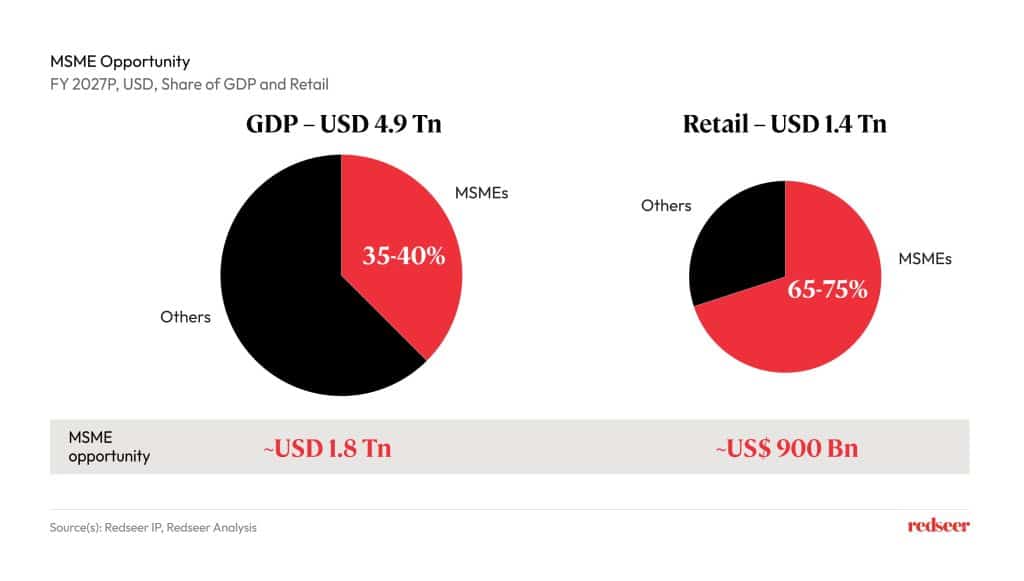 MSMEs are a vital part of India's economy, contributing significantly to employment and GDP. They are prevalent in various sectors like manufacturing, trade, apparel, electronics, and more, making up around 30% of India's GDP. Initiatives and the China+1 policy have attracted companies, helping MSMEs become OEMs. Digitization has streamlined financial transactions, making it easier for MSMEs to access credit. Infrastructure investments have improved connectivity and reduced costs, boosting MSMEs' growth. It's projected that by 2027, MSMEs will contribute 35-40% to India's GDP and 65-75% of India's retail market.
MSMEs' online expansion spurs job growth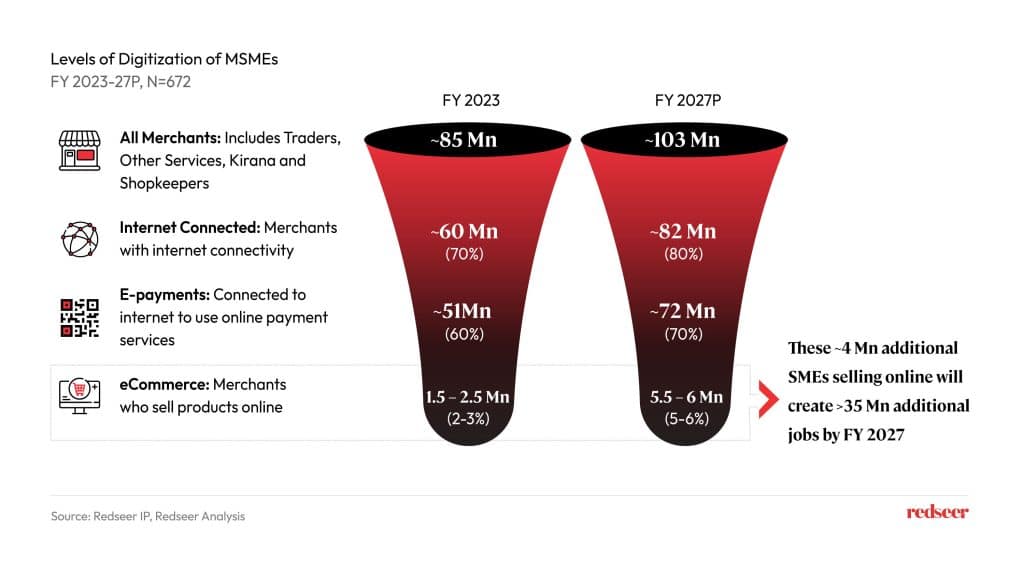 More MSMEs are going online, with increasing benefits. Currently, 70% of the 85 million MSME sellers are connected to the internet, and this is expected to rise to 80% by 2027. About 60% of them use e-payments, projected to reach 70%. However, only 2-3% of the MSME sellers, that is, 1.5-2.5 million MSMEs sell products online today. This is, set to double to 5.5-6 million by 2027. The ~4 Mn additional MSMEs selling online are projected to create over 35 million jobs.
Note that these figures could rise by 20-25% with suggested GST changes allowing unregistered sellers to make intra-state supplies.
Online-selling MSMEs reaping rewards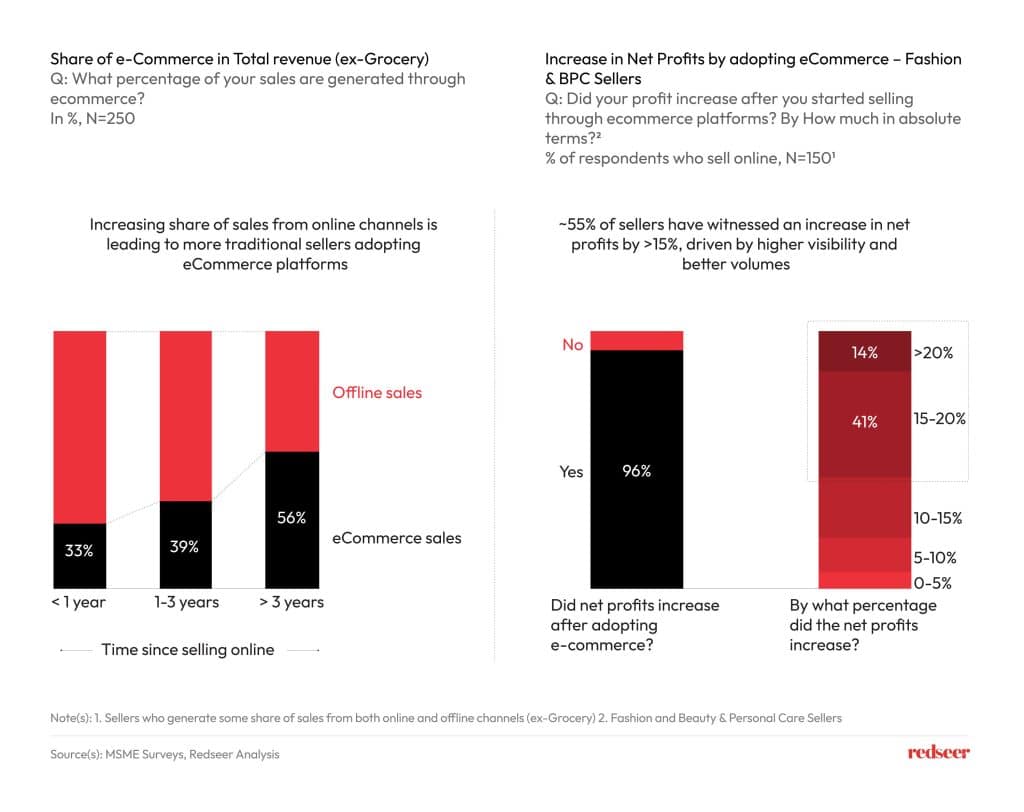 MSMEs are increasingly embracing online sales channels, leading to a rise in e-commerce revenue over the years. According to our survey, non-grocery sellers typically start with one-third of sales online in their first year but exceed fifty percent by the third year. In categories like fashion, beauty, and personal care, MSMEs reported higher net profits after venturing online. 96% experienced a total net profit increase, with 55% seeing profits rise by over 15%. This rapid and profitable distribution channel growth motivates MSMEs to collaborate with e-commerce platforms.
MSMEs are projected to contribute ~$50 Billion to eTailing GMV by FY 2027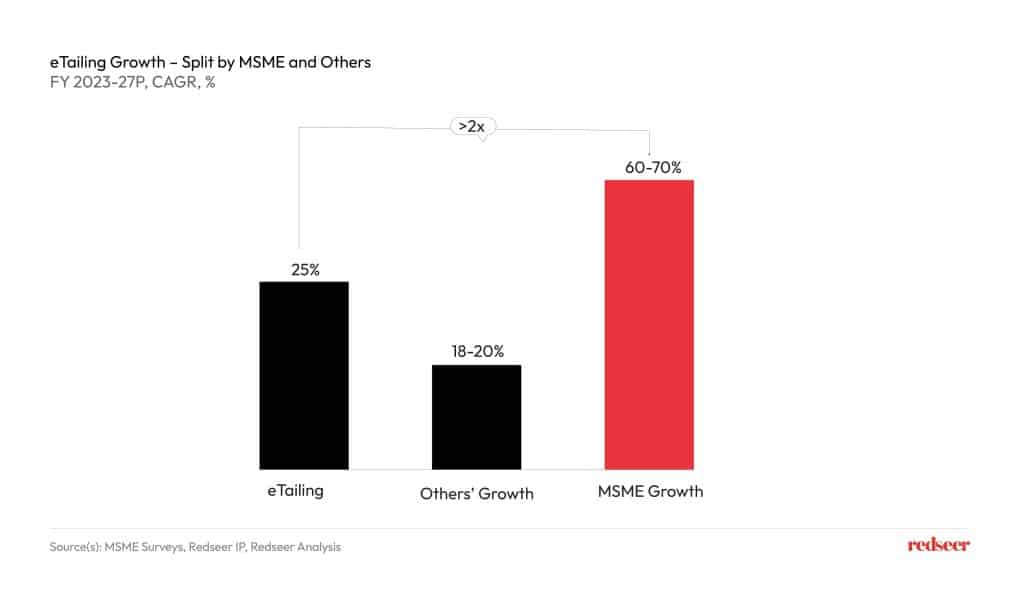 In the coming years, MSMEs will drive substantial growth in online retail, surpassing e-Tailing with a remarkable CAGR of 60-70% between now and 2027. MSMEs are projected to contribute ~USD 50 Bn to the eTailing GMV by 2027. MSMEs will enjoy similar online advantages as larger brands, prompting e-commerce platforms to adapt their vendor policies. It's essential to highlight that MSMEs' contribution to e-Tailing sales could be significantly higher if the suggested GST Act and Rules changes are implemented, allowing unregistered eCommerce sellers with specific turnovers to make intra-state supplies.