Over the years, the remarkable transformation of e-commerce has redefined India's retail landscape. From its modest inception in 2014 to the upcoming celebration of the 10th anniversary of India's eTailing festive season, the industry's journey has been nothing short of extraordinary.
2023 marks the 10th year of festive e-commerce sales in India.
The Indian eTailing has increasingly become the litmus test for consumer demand in India. The 10th festive season sale period is even more significant this year considering the recent slowdown in consumption and the almost 3 years of external shocks on the economy.
With the festive season on the horizon, all eyes are on the sales figures that this major GMV player in the e-tailing industry is set to achieve. Throughout the month-long festive season in India, the entire ecosystem collaborates to captivate consumer interests. Join us as we delve into the resilience and recovery of India's consumption landscape, providing insights into how the season is shaping up on Redseer's barometer.
Over these 10 years, Indian eCommerce GMV has grown ~20x with a ~15x jump in Annual Transacting Userbase
In 2014, India witnessed the dawn of its inaugural eTailing festive season sales, and so this year's sales mark the 10th anniversary of this festive season tradition. Over the course of these past 10 years, the landscape of Indian eTailing has undergone a remarkable transformation. This transformation is evident in the annual GMV for the entire e-tailing industry, which has surged nearly 20-fold during this period. To put this in perspective, in 2014, the industry's GMV for the entire year stood at INR 27,000 crores. In contrast, this year, in 2023, it is expected to reach approximately INR 5,25,000 crores. Simultaneously, the number of annual transacting users has skyrocketed by a factor of 15.
Online consumption demand on boost.
Before the COVID-19 pandemic, India typically saw annual growth rates of around 8-9% in nominal Private Final Consumption Expenditure (PFCE). However, external shocks like the pandemic and the Russia-Ukraine conflict caused significant market flux. As a result, the last few quarters of FY23 witnessed a notable slowdown in consumption due to tightening liquidity conditions. Nevertheless, YOY growth for PFCE has rebounded to 9%, supported by stabilizing factors such as maxed-out interest rates, efforts to resolve the Russia-Ukraine conflict, and robust Indian economic growth. These factors are expected to fuel a strong festive season this year.
In a parallel context, eTailing sales also experienced fluctuations. Following strong post-COVID growth, the industry recorded around 10% YOY GMV growth in the first half of 2023. With the broader economy returning to normalcy, this year's festive season is anticipated to boost online consumption demand.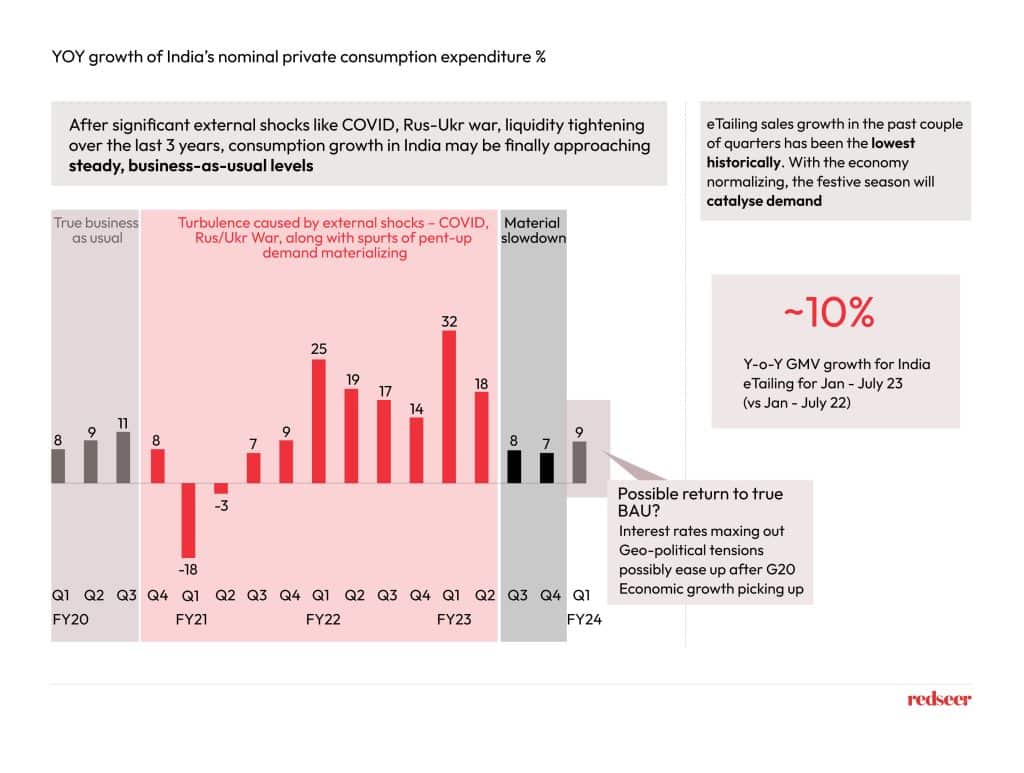 This festive season can potentially be the most efficient one ever in terms of margins, with evolving category mix and higher ads & promotion revenues
Moreover, the forthcoming festive season is poised to witness a heightened contribution from higher-margin categories such as Beauty & Personal Care, Home & General Merchandise, and Fashion. Additionally, a sustained trend towards premiumization is expected to result in higher Average Selling Prices (ASP), while increased advertising and promotional revenues may make this year's festive season exceptionally efficient from a margin perspective.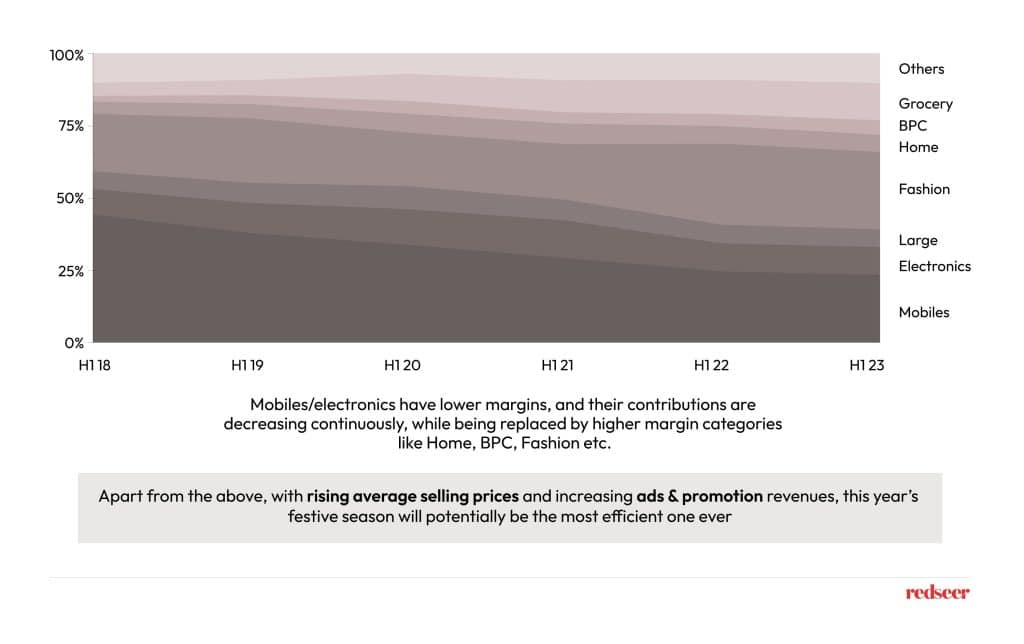 Anticipating a Record-Breaking Growth: Festive Sale may touch ~INR 90,000 crores in FY23, 18-20% higher than last year.
We anticipate that the GMV (Gross Merchandise Value) for the entire festive month of India's eTailing in 2023 will reach approximately INR 90,000 crores, marking an impressive 18-20% growth compared to the previous year's festive month sales. This growth is expected to be fueled by a significant user base of around 140 million shoppers who are projected to make online transactions during this festive month.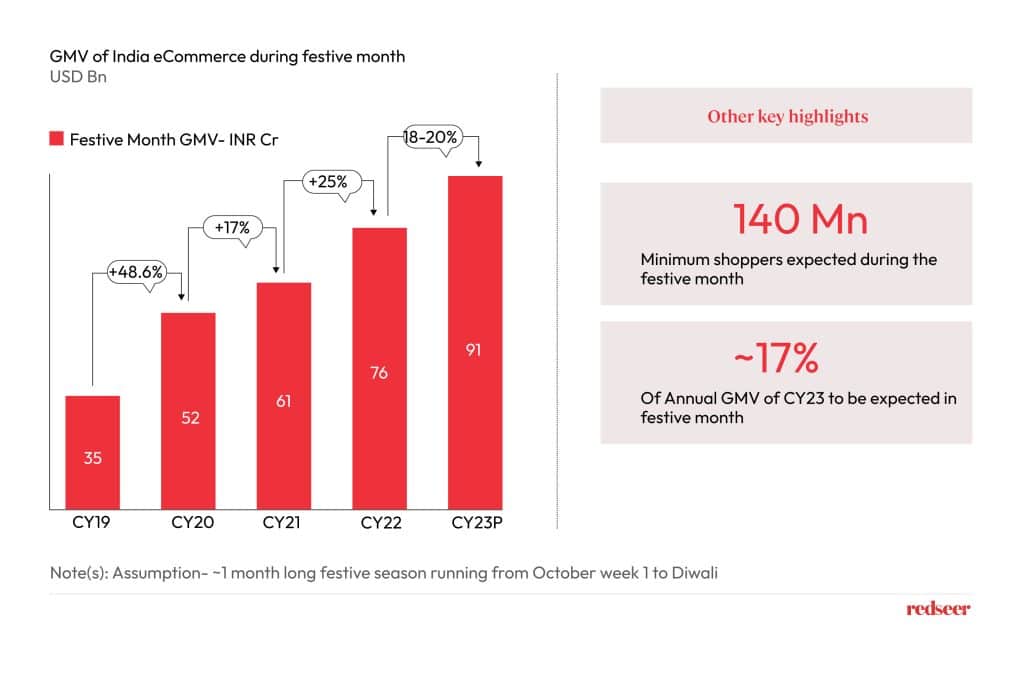 "Over the last several quarters, we are seeing enhanced GMV contributions from categories beyond electronics. While electronics sell a lot in the festive period, looking at the bigger picture and comparing the festive sale periods over the last several years, there is a clear trend of category diversification. his is good for the ecosystem as it shows consumers' willingness to purchase multiple categories online and more brands coming to cater to their needs. Continuing with this trend, we expect increasing GMV contributions from non-electronics categories like Fashion, BPC, Home & General Merchandise and more this festive period", says Mrigank Gutgutia, Partner at Redseer Strategy Consultants.
Beyond category diversification, we expect multiple other sub-themes to play out. For example, D2C brands being more prominent this festive season. Projecting these to the long term, we expect D2C brands to grow 1.6x as fast as the broader eTailing market (CAGR 2022-27).
In terms of city-tier wise growth, metros have been growing faster than the Tier 1 and Tier 2+ in the last few quarters (10%+ for metros vs ~8% for other city tiers. However, we expect robust growth across city tiers this festive season.
Additionally, new-age technology solutions like generative AI being more widely adopted in multiple use-cases during the sale period will also lead to better and novel consumer experiences and drive stronger growth momentum.