There are some interesting trends playing out in the dynamic realm of digital entertainment. OTT video & audio streaming services are thriving in developed MENA nations. These industries are shifting to ad-based models to create mass appeal and drive penetration beyond the urban elite consumers. Thus, the Digital advertising space is set to be disrupted, as OTT platforms claim higher "guilt free" user timeshare over the next 5-10 years.
1. OTT video adoption is maturing among the elite, urban consumers, forcing them to look beyond this cohort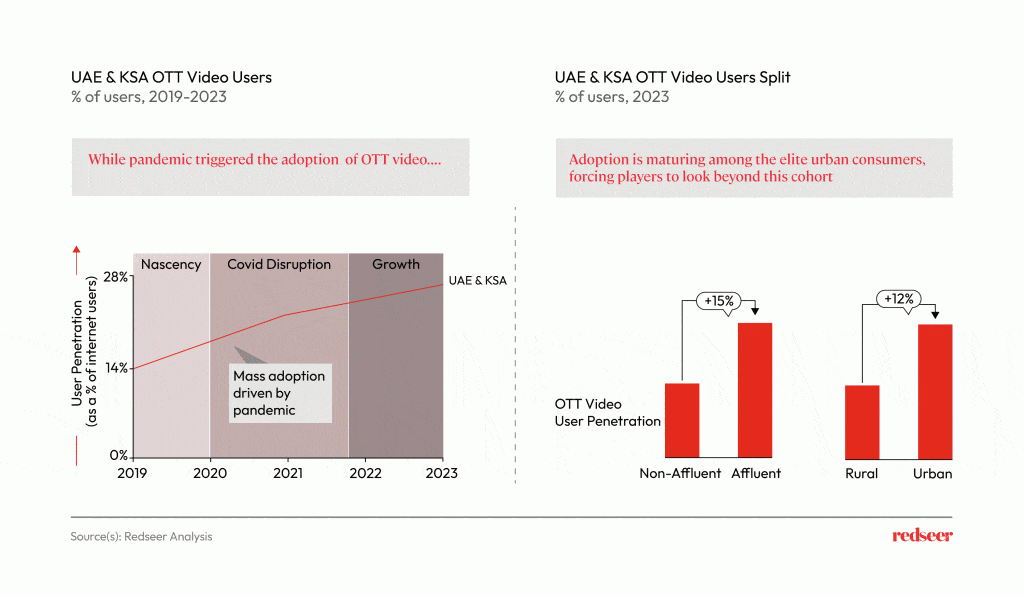 The convenience and diverse content offerings of OTT platforms have fuelled an upswing in their adoption across UAE & KSA. However, the adoption is nearing maturity among the elite urban consumers, which is making platforms look beyond these cohorts.
2. There is a shift to ad-based monetization in OTT Video; OTT Audio already has a strong and growing ad-based segment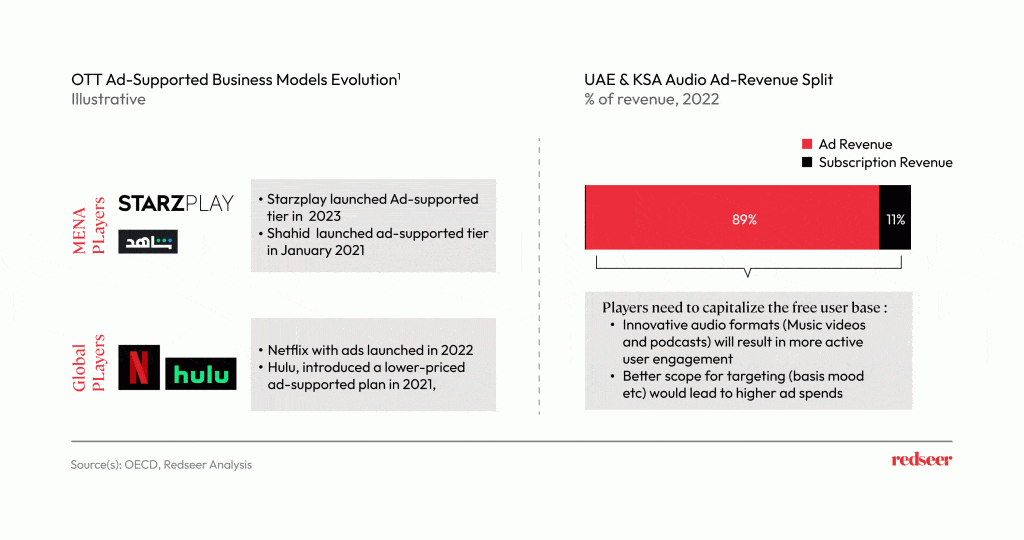 The introduction of ad-based models is a strategic response to evolving viewer preferences and market dynamics and to tap into the next wave of streaming users beyond the initial adopters in sub urban and rural areas.
As the industry strikes a balance between user experience and monetization, ad-based models are proving to be a pivotal strategy for shaping the future of OTT Video & audio content delivery.
3. The Digital advertising space is set to be disrupted over the next 5 years, as OTT platforms claim higher "guilt free" user timeshare
Audio streaming ad spend is currently lagging its potential, despite users spending more guilt-free time on the platform. This disparity offers audio streaming players a distinct opportunity. With sustained user growth expected in the future, further scope for an increase in users & timeshare exists.
With video streaming platforms also focussing on ad-based models, the digital advertising space is poised for a shake up over the next 5 years.