Over the last three years markets around the world have been shaken by a few disruptive events, starting with the COVID-19 pandemic. Lockdowns and social distancing boosted the growth of eCommerce, however, the economic headwinds have put a dent in the overall consumer confidence. With the increasing maturity of eCommerce, we believe the time is right for a tool to indicate how consumers plan to spend on eCommerce in the future. In this article, we showcase some insights from our first ECommerce Consumer Confidence Index. These are useful for a range of stakeholders such as eCommerce platforms, brands, and investors for future planning in the eCommerce ecosystem.
1. Indian Consumer's confidence continues to be low but improving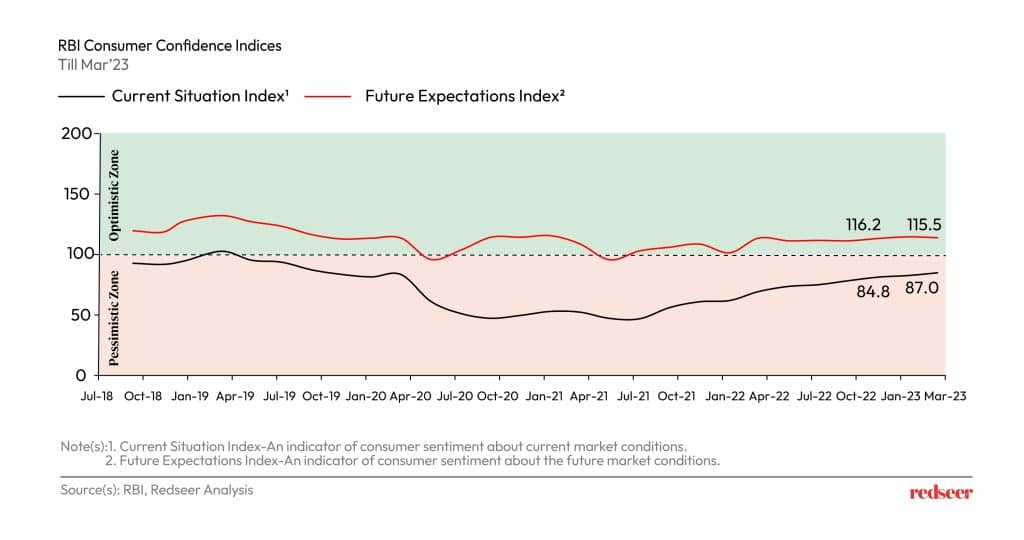 RBI consumer confidence survey of March 23 indicates that Indian consumer confidence continues to be in the pessimistic zone, driven by high inflation and interest rates. The outlook is, however, marginally optimistic. Our analysis shows that consumer discretionary spending has shrunk by 4% over the last year even as spending on essentials have increased.
2. Despite the slowdown, e-tailing remains at ~2.5x pre-COVID levels outperforming retail consumption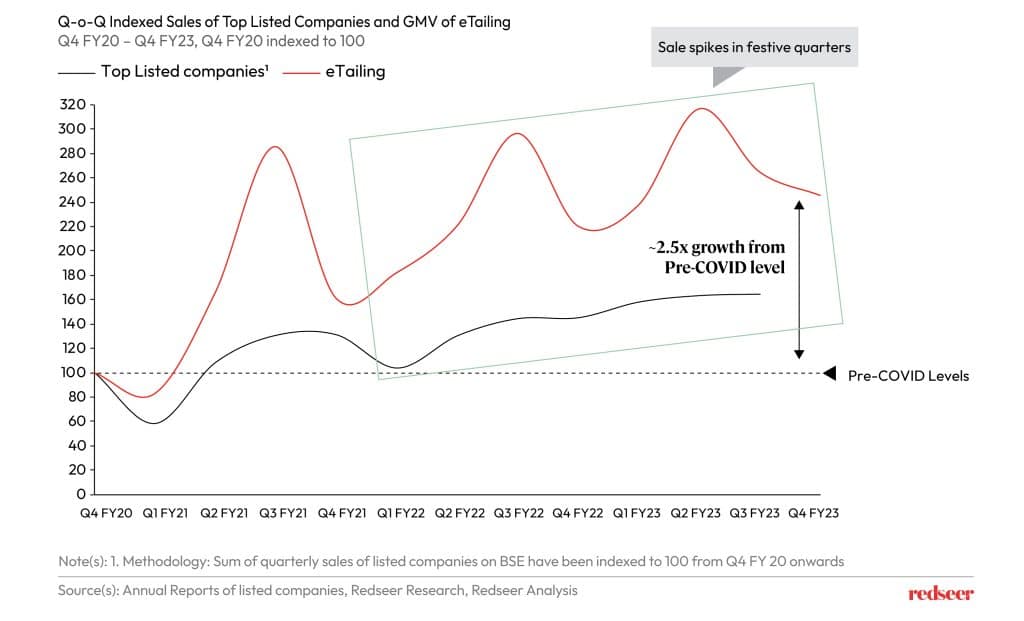 Consumption growth in recent quarters was tepid due to inflationary pressures and challenging macroeconomics. Some slowdown was witnessed even in ecommerce growth in last two quarters, post the mega festive quarter of Q2FY23. As can be seen, ecommerce has historically displayed greater cyclicality, compared to overall FMCG, driven by spikes in big sale events. However, e-tailing continued to perform better than overall retail consumption.
3. Redseer has created an eCommerce Consumer Confidence Index (ECCI) – to assess the consumer sentiment and confidence about eCommerce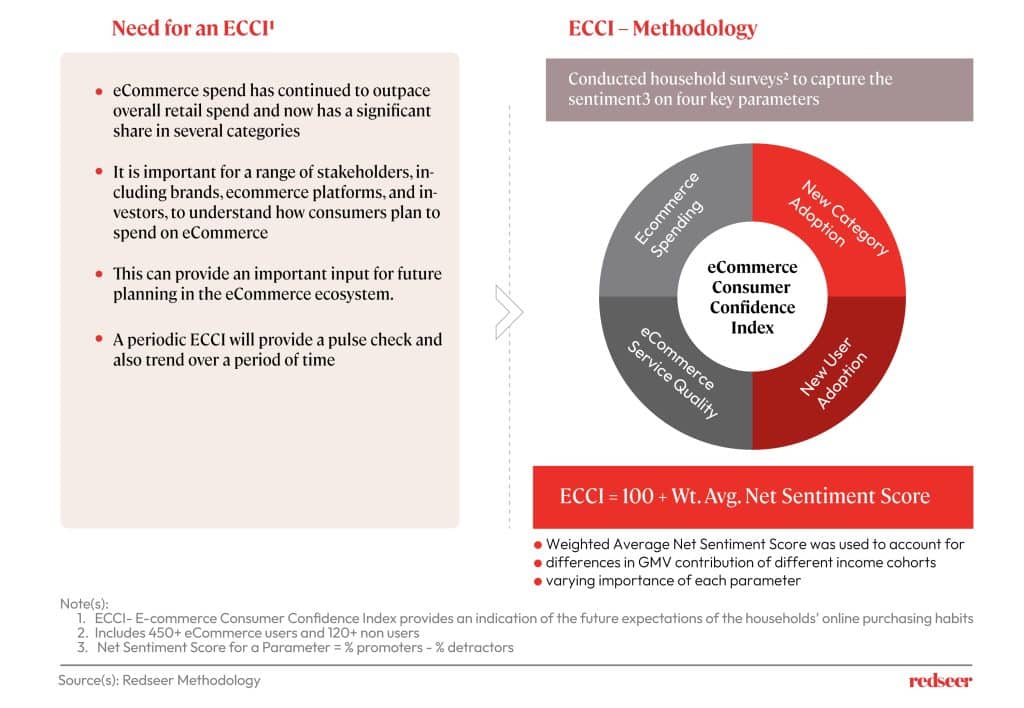 To assess consumer sentiment and confidence on eCommerce, we have created an eCommerce Consumer Confidence Index (ECCI). The index considers the eCommerce spending outlook over the next six months, service quality expectations from leading eCommerce providers, expected adoption of new categories and growth in the number of new users.
4. Ecommerce Consumer Confidence Index for March 2023 was 142, indicating that future eCommerce spending is expected to be robust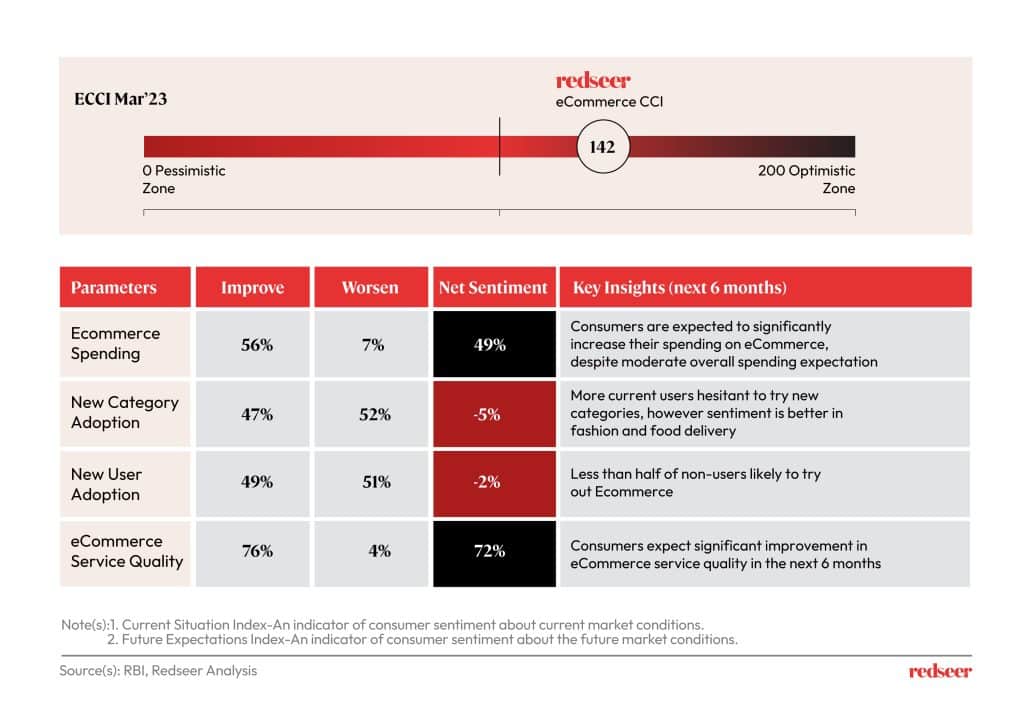 Our survey in March 23 indicates an ECCI of 142 implying that consumer sentiment regarding future eCommerce spending remains quite optimistic. Periodic ECCI pulse checks will provide an understanding of trends and consumer sentiments.
Over the next six months, there is an anticipated surge in consumer spending on eCommerce, even though overall spending expectations remain moderate. While some current users may exhibit hesitancy in exploring new product categories, the sentiment towards eCommerce is more favorable in the areas of fashion and food delivery. However, it is worth noting that less than half of non-users are likely to venture into the realm of eCommerce. Nevertheless, consumers have high hopes for the future, as they anticipate substantial enhancements in the quality of eCommerce services within the next six months.
5. With higher eCommerce spending sentiment, grocery, fashion, and BPC will drive growth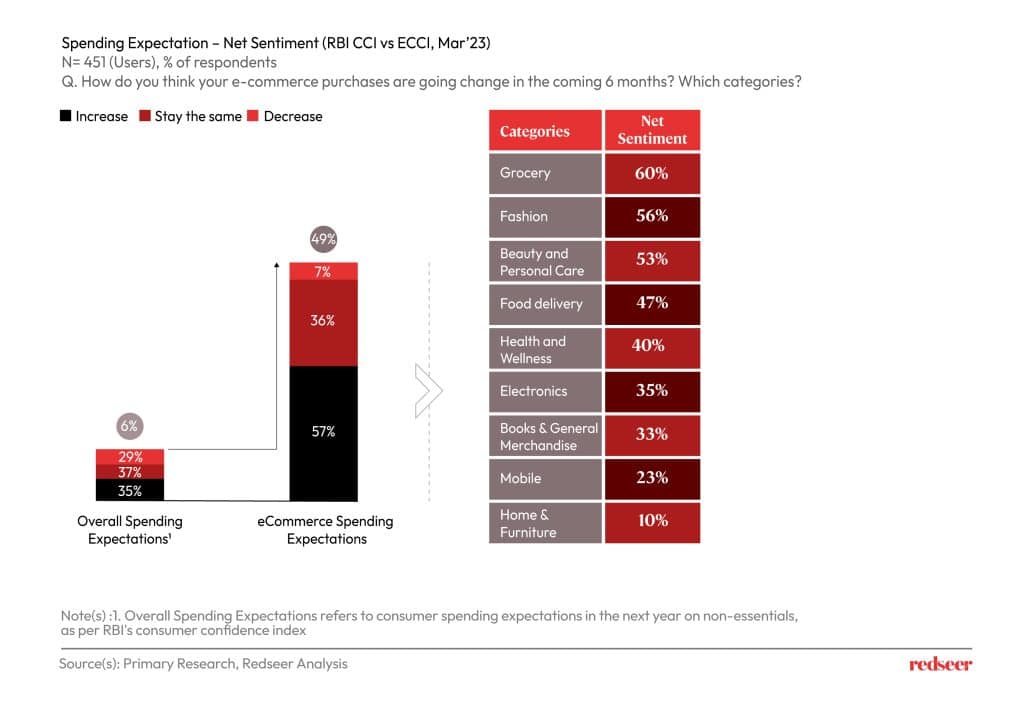 Net sentiment regarding ecommerce spending is higher than for overall consumer spending. The leading categories where consumers expect to spend online are groceries, fashion, beauty & personal care (BPC), and food delivery. However, the major discretionary categories which generally perform well on eCommerce platforms such as electronics, mobile, general merchandise, and home & furniture will see a slower growth.