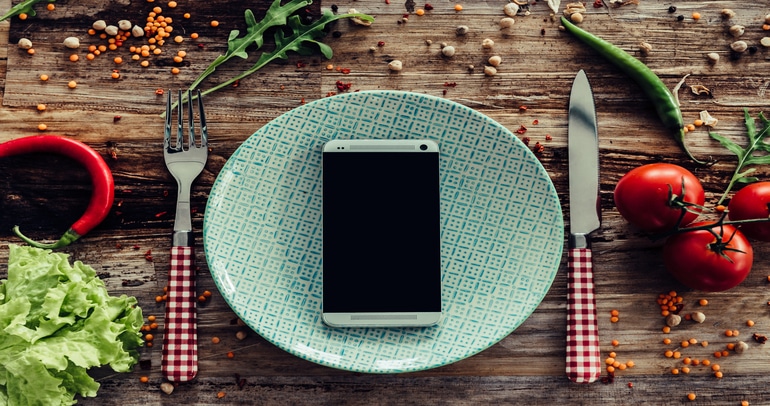 Subscription users of cloud kitchen apps show stronger platform loyalty (vs on-demand users) even when preferred dishes are unavailable
Published on: Oct 2019
When preferred dishes are unavailable, subscribers of on-demand cloud kitchen apps are much more likely to still buy something else on the platform

In comparison, non-subscribers/on-demand users are highly likely to switch to a different platform in a similar situation, indicating lower loyalty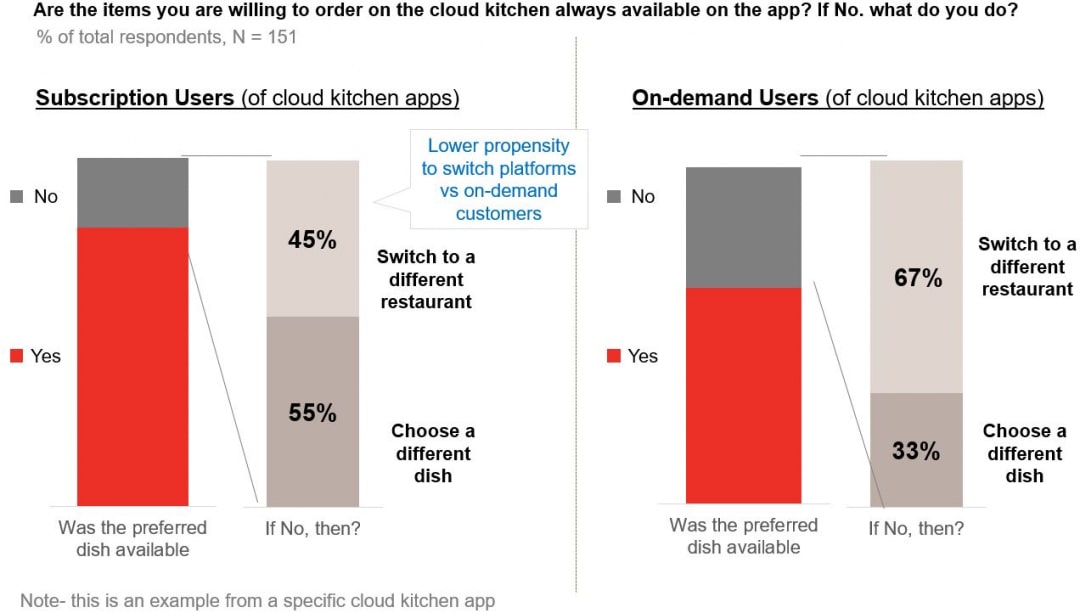 ---
Foodtech in India- Average AOVs falling for aggregators driven by single-serve affordable meals
Published on: Sep 2019
This shift is driven by flat priced meals and affordable single-serve meals (priced INR 80-150), as their business contribution is increasing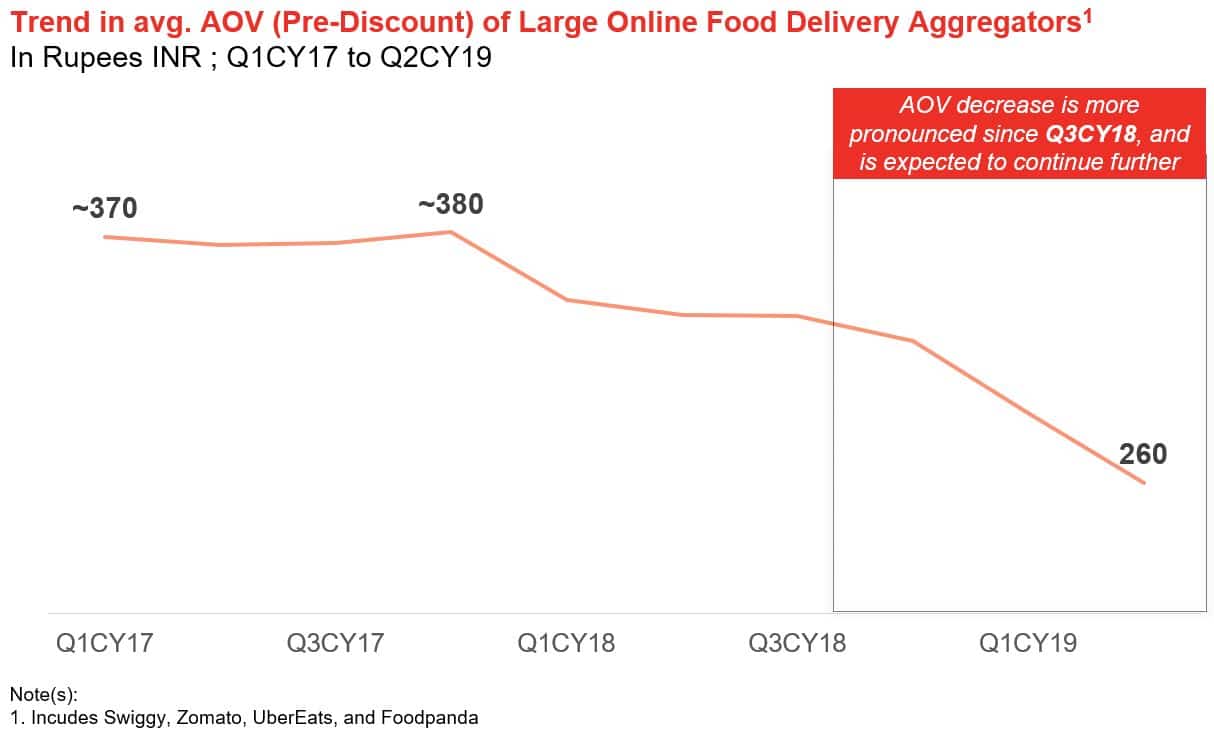 ---
Restaurants have witnessed 30% growth in business along with other benefits after partnering with online aggregators
Published on: Aug 2019
Online partnerships have enabled restaurants to increase overall top line by 30% via a large consumer base and strong brand impact

With improved kitchen utilization, online partnerships have also enabled restaurants to improve their bottom-line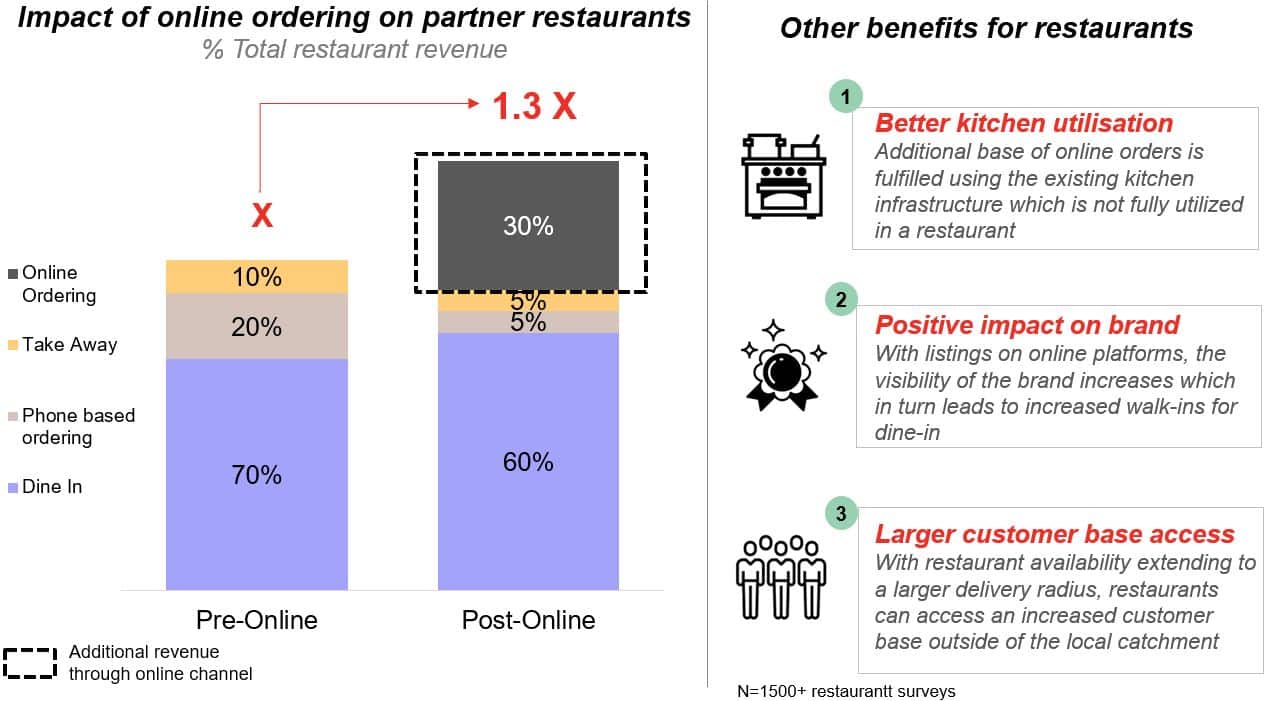 ---
Subscribers of foodtech cloud kitchens report significantly higher satisfaction vs on-demand users
Published on: Jul 2019
Consumers who are subscribed to cloud kitchens subscription packs are highly satisfied on most metrics (compared to non-subscribers/on-demand consumers). Indicating how platforms that increase overall user satisfaction by increasing the share of subscription buyers.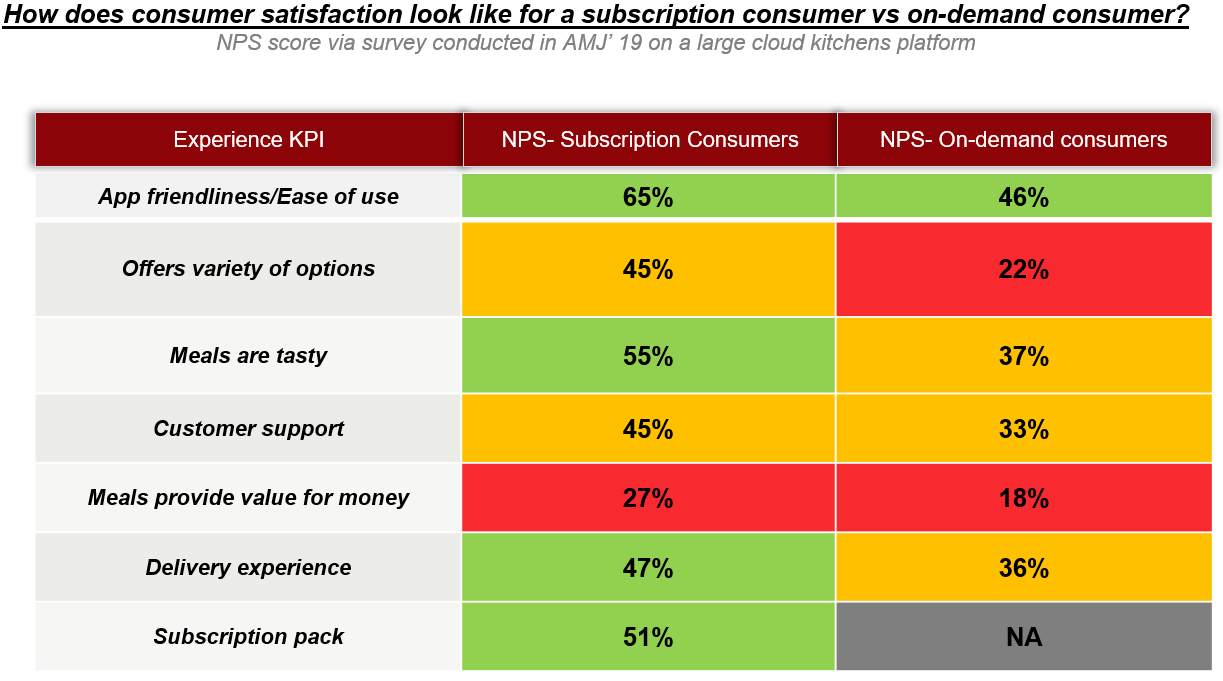 ---
Food-tech daily volumes become 1.4X of cab-hailing in May 2019 (from similar volumes 5 months back)
Published on: Jul 2019
The contrasting fortunes of the cab hailing and foodtech sectors is indicated by the graph below, clearly showing how foodtech has rapidly zoomed ahead in recent quarters- owing to factors like ease of aggregating supply, higher take-up in non-metros and others.
Given this growth trajectory, cab hailing players have aggressively diversified and entered other areas like bike-sharing, rentals and electric vehicles which should be the future growth engines for them.
---
Non-metros rapidly acquiring a taste for food tech
Published on: Jun 2019
India's food tech expansion is no longer a metro phenomenon, as our latest research shows. Non-metro (rest of India) cities grew 7x faster q-o-q compared to metro cities (80% growth vs 12%). This was driven by a combination of smart promos, the growing selection of restaurants and increasing comfort with food tech usage. This rapid growth of the food tech ecosystem creates significant opportunities in non-metros for restaurants as well as for allied sectors including delivery and packaging companies.
Yet, despite rapid food tech adoption in non-metros, Metros still account for the largest share of the pie. Bangalore retains its title as the food tech capital of India, accounting for 24% of metro orders viz. 16% of all food tech orders in India.
---
IPL Helps Sustain the Customer Acquisition Drive of FoodTech Players
Published on: Apr 2019
The 'Indian Premier League' is one of the most awaited annual cricket tournaments with a fan following across the length and breadth of the country. The ~50-day long league hosts matches every day with two or more matches over the weekends. Other than the overcrowded cricket stadiums, fans come together in their living rooms to cheer for their favorite teams. This has helped create several consumption occasions for FoodTech players.
Our research shows that IPL increasingly features hefty discounts from online delivery players. These discounts could go up as high as 60% this year. As online food delivery platforms have been spreading their footprints in 100+ cities (more so since December 2018), Redseer believes the IPL season is the opportune time to stoke the latent demand and acquire new customers in these new cities (and also drive wallet share increases for existing customers).
Given the above discounting, we estimate the FoodTech industry to reach 2.6 Mn Daily Industry Average Order Volumes during the IPL season. This is ably helped by 50,000+ restaurant partners who have curated their menu for India's biggest cricket league.
We expect the trend to intensify in coming weeks as IPL enters final stages. Further, the momentum is likely to continue post IPL (ends on May 12) with the start of the ICC cricket world cup on 30th May. With matches happening in the UK, there should be enough consumption occasions being created post 7 PM IST.
---
FoodTech cloud kitchen platforms are driving growth by plugging into the foundational 'pipelines' built by large aggregators

Published on: Apr 2019
Over the last few years, FoodTech aggregators like Swiggy, Zomato and others have raised billions of dollars in funding and ploughed that back into creating a large market for FoodTech consumption, This has been created majorly in the below three ways (non-exhaustive)-
Investing in marketing campaigns and offers to build pipelines to consumer's minds and wallets

Investing in marketing campaigns and specific programs to build pipelines to restaurants (thus driving their participating in FoodTech and also creating high awareness and willingness to participate)

Investing in the delivery infrastructure or the 'pipelines' that reaches the doorstep of the consumer in 100+ cities
As the chart below shows, the market is now ripe for cloud kitchens to leverage the above pipelines and reach to the consumer rapidly. Many brands have actively been able to do that for e.g. Curefit, Box8, Faasos etc. Over time they can leverage their traction to build strong, independent brands of their own and then other opportunities become possible for e.g. global expansion via the same brand to other similar markets.
Growth of these cloud kitchens also offers investor a chance to participate in this FoodTech growth story at more affordable valuations. Even the aggregators themselves benefit from this cloud kitchen growth, as they may themselves not be able to scale their own private labels very rapidly given the potential risk that it would upset other partner restaurants. Thus, this trend offers a win-win opportunity for all stakeholders in the ecosystem.
---
Online food delivery use cases widen out; lower AOV more than offset by the increased revenue base
Published on: Mar 2019
Increasing customer frequency has been the key lever in food-tech sector's growth in the last 2-3 years apart from the ever growing base. Customers typically start with online food ordering for occasional dinners when they don't feel like dining out. And then, they go ahead with other use cases of lunches and further ahead to breakfasts and snacks. In India, we can see that the share of dinner meals ordered has come down from 55% to 45% in last year which is expected to only decrease further. The players have been able to drive this habit formation through various efforts like single-serve fixed price meals, delivery capabilities beyond 12 hours and so on.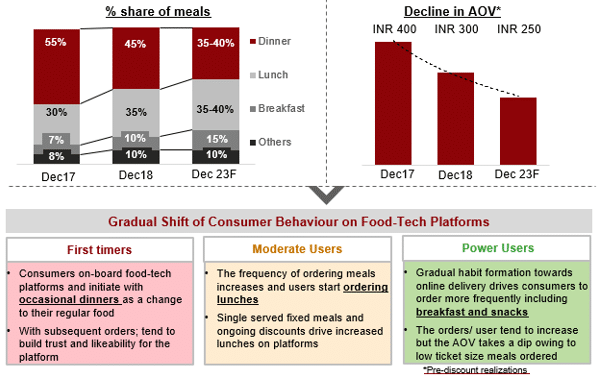 As the use cases evolve beyond dinners, average order values go down consequently. It has already reduced by ~25% in the last year and is expected to go down further to INR 250 in the next 5 years. However, on a net basis, the business builds greater customer engagement and hence much larger market.
---
Foodtech: Focusing on strong cooperation with restaurant partners for continued relationship stability
Published on: Feb 2019
Foodtech is one of the categories which is yet to reach Stage 2 i.e. the stage of the tumultuous relationship as defined by us. Driven by high growth in online orders, restaurants have largely enjoyed a cordial and successful relationship with the platforms thus far.
However, in one of our earlier newsletter stories, we mentioned about FoodTech player's attempts to grow their private label shares (see below). This along with other factors has caused some degree of concern for a few restaurant partners (per media reports).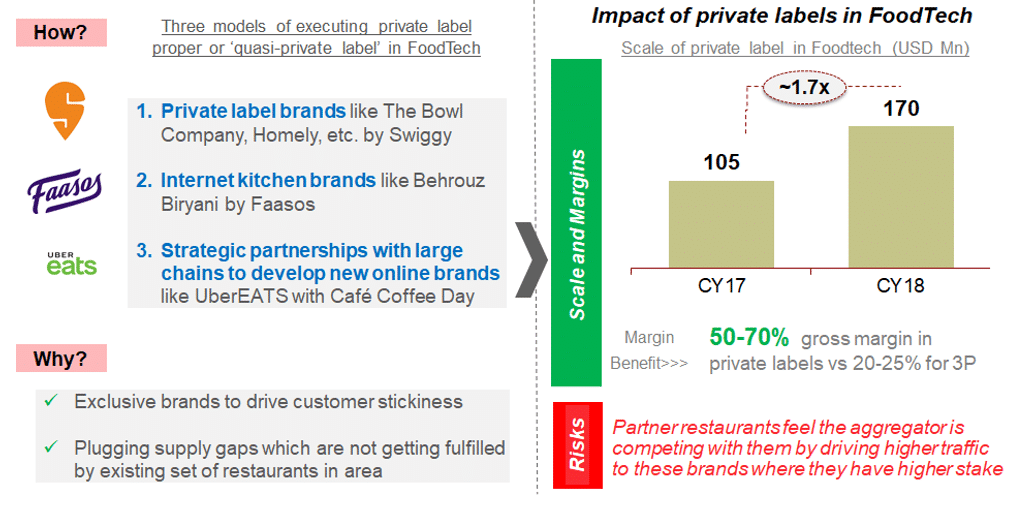 We fundamentally believe that Foodtech will likely have a much smaller Stage 2/Turbulent Stage compared to other sectors, owing to intrinsically long tail and hyperlocal play which demands very strong support from restaurant partners thus players can ill-afford to alienate/risk losing them. Thus, players are actively rolling out programs that enable further cooperation with restaurant partners.
---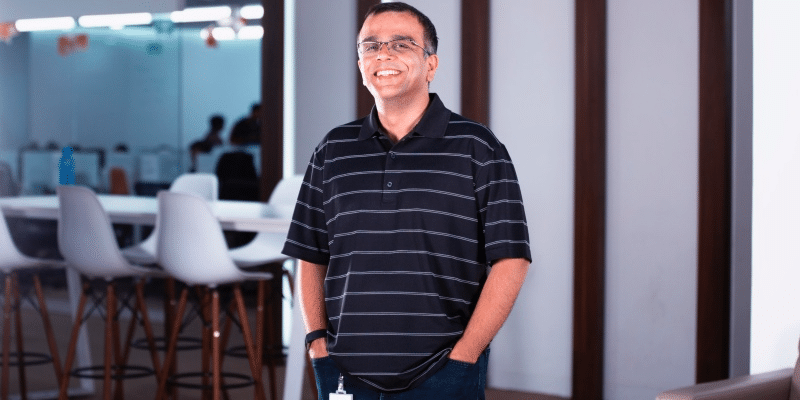 In this context we had the opportunity to speak with Head of Swiggy's New Supply Initiatives Mr Vishal Bhatia. He shared insights on Swiggy's Access program, excerpts of which are shared below-
RedSeer– What problem is Swiggy Access trying to solve?
Vishal- Swiggy Access is fundamentally aimed at closing the demand gaps in the market. The challenge today is twofold- not deep supply in existing localities to cater to all needs of diner, and in new localities which are continually coming up there is not even basic supply for the residents. Restaurants take a long time to expand to new localities and the high street rentals have reached upto 10-15% of the P&Ls.
RedSeer– Where does Swiggy Access come in and what has been the adoption?
Vishal- Swiggy Access is a clear solution for the above challenges, meant for a world where dine-ins are continually shrinking and online is growing rapidly. Using our vast data, we understand cuisine mismatch in each area, invite current restaurant partners to expand to these new areas via our cloud kitchens. Where we provide the basic infra to accelerate the very long process of new restaurant setup. The restaurant player brings their own equipment and are charged on a per order basis. It's a very affordable model for them as they end up paying 3-8% of the P&L compared to almost double thus for own restaurant setup.
The model has seen strong traction. Almost 70% restaurants are discussing setting up a second location with Swiggy Access, seeing strong confidence in the model. Many of these are restaurants who have never expanded before to other locations. We already have 130+ kitchens across the country and likely to treble this figure going forward, where this play should drive 25-30% of our orders.
RedSeer– What are some of the challenges with expanding this model?
Vishal-One of the big challenges is on the infra creation side. Setting up the cloud kitchens involves significant investment and effort. Second the need to build the right capabilities and mindset in the restaurant partners is also a big challenge, as many of them are not used to rapid or any kind of expansion at all. Third challenge is ensuring Swiggy's high standards are met consistently for example on hygiene.
---
Foodtech Leadership Index
---
What does the Foodtech Leadership Index (FLI) measure?
Published on: Jan 2019
Our FLI was released last week. Here we attempt to bring out the index findings is a more detailed view of the player performance (as shown in below chart)-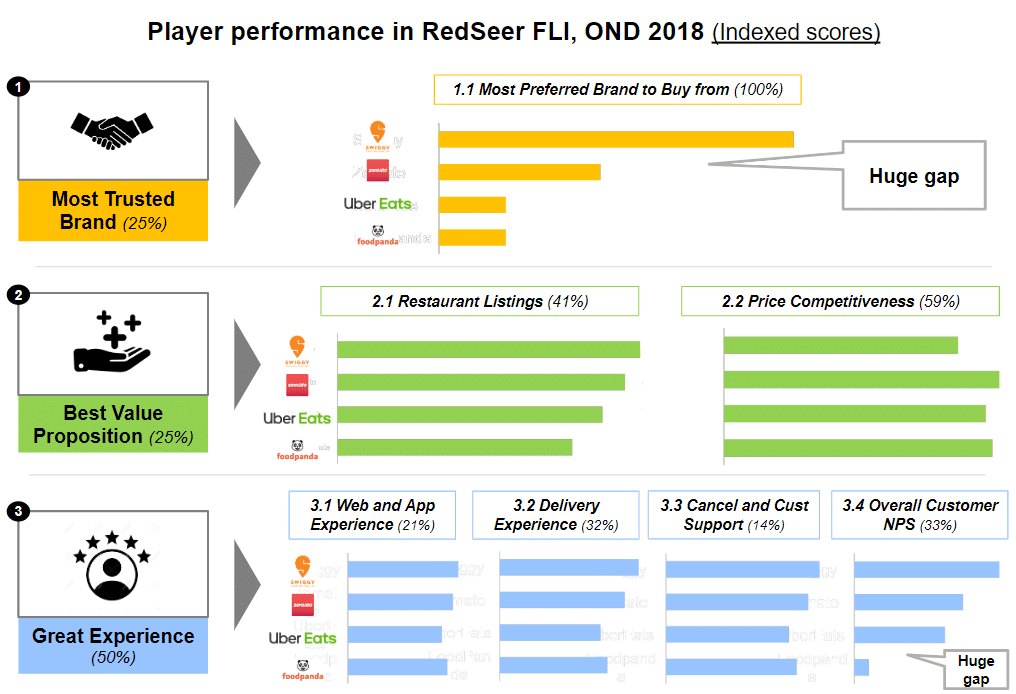 Figure 1- RedSeer OND'18 FLI detailed scores. Weights for each parameter mentioned in brackets
Below observations quickly emerge from the above analysis-
Swiggy is the industry leader on all parameters, except for 'Price Competitiveness' – It has an especially strong edge over competitors is higher in core parameters of delivery experience and web/app experience. Additionally, despite being the least aggressive on pricing, it stands above other players in overall index, breaking the myth that pricing is most crucial for succeeding with Indian consumers
Swiggy leads by a large margin on 'Preferred Brand' and 'Overall NPS' – This brings out the key lever in Swiggy's success i.e. performing better than competitors on all parameters, day in day out. This consistency across parameters, which enables delivering a reliable overall experience, is what drives strong customer love for the brand
UberEats and FoodPanda fight, UberEats emerges as winner in NPS – This is despite Foodpanda performing marginally better across the four experience parameters, indicating how perception of overall brand experience/consistency is significantly important. These challengers from cabs sectors should aim to move towards hygiene on the core parameters of customer experience e.g. web/app and delivery. While at the same time building a solid differentiator for e.g. on restaurant listings.
What does RedSeer's FLI really mean?
We often get asked the above question- ultimately what is the significance of the FLI? Why is it important to know and track this index?
To answer this, it is instructive to look at the below chart which uses the example of RedSeer's ELI (E-tailing Leadership Index) to bring out the utility of RedSeer's sector indices.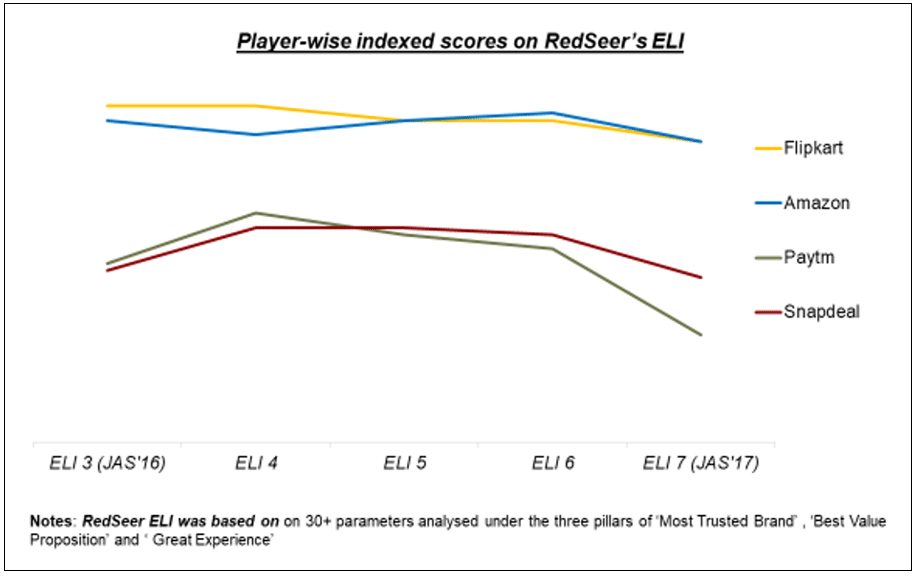 The interesting things about this chart are-
Player ELI scores and the relative gaps in them is also broadly indicative of GMV market shares of these platforms– Market share numbers have indicated that Flipkart and Amazon are significantly ahead of the rest of the field in market shares, just as they are in ELI scores. Pointing to the fact that ELI scores are strongly indicative of future market share performance
ELI scores of the four e-tailers resemble the current FLI scores of the four FoodTech players as well- With Swiggy and Zomato acting as parallels of Amazon and Flipkart while Foodpanda and UberEats are parallels of Snapdeal and Paytm story
Taking this e-tailing vs FoodTech comparison a bit further, it would be fair to say that that today's FLI leaders would be the FoodTech market share leaders of tomorrow. As FLI scores directly correlate with customer experience and trust and likelihood of future transactions on these platforms. Analysts interested in FoodTech's evolution would be well advised to keep a close eye on future FLI releases!
---
What does the Foodtech Leadership Index (FLI) measure?
Published on: Jan 2019
FLI is a comprehensive assessment of overall performance of the various online food delivery services in customers' mind. It is based on the three pillars, which are: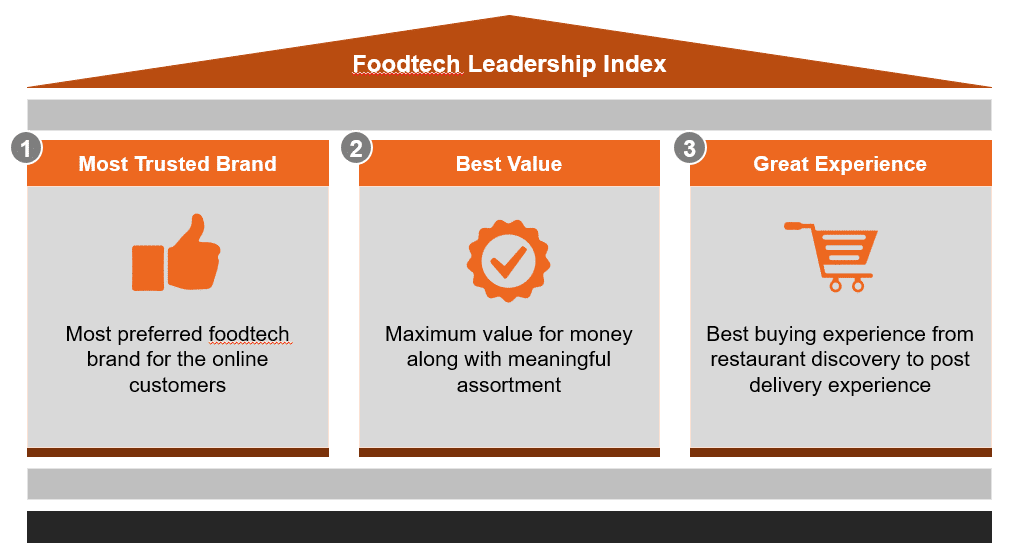 ---
How is it structured > Most Trusted Brand
Food delivery brand that is most trusted by online consumers

---
How is it structured > Best Value
Brand that provides the best value for money along with meaningful assortment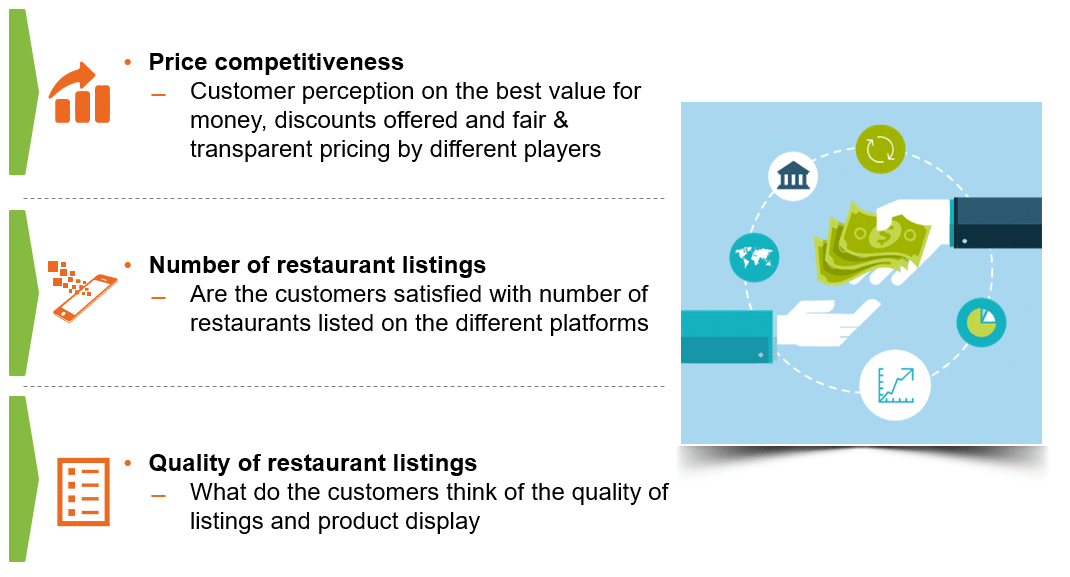 ---
How is it structured > Great Experience
Online delivery platform that gives best end to end experience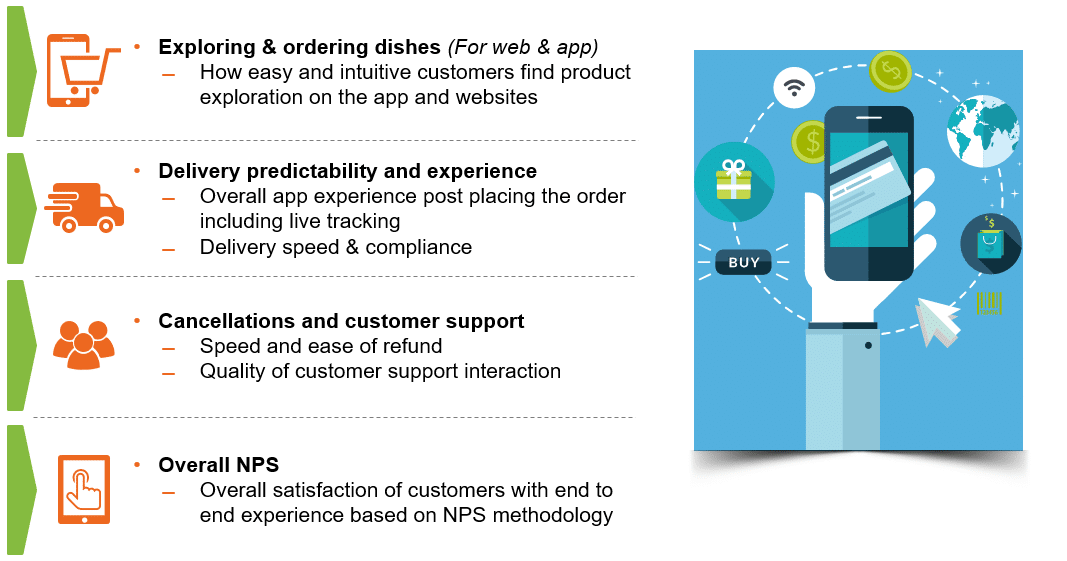 ---
Evaluation Parameters and Weights
The analysis is based on 20+ parameters across three pillars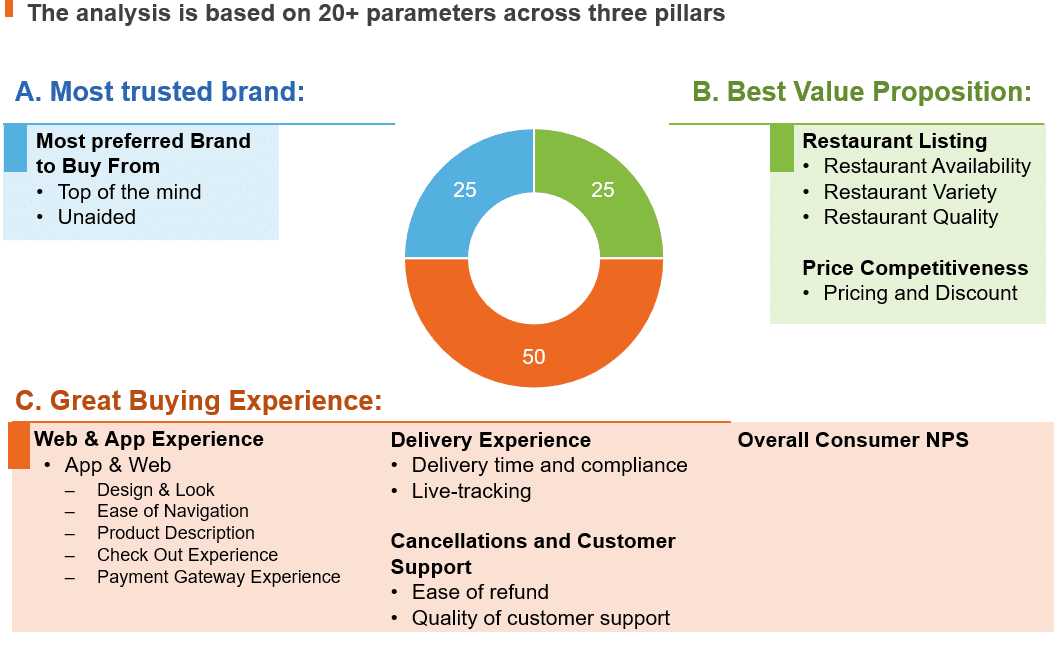 ---
Methodology to be used:
The results of the index will be based on the following research themes: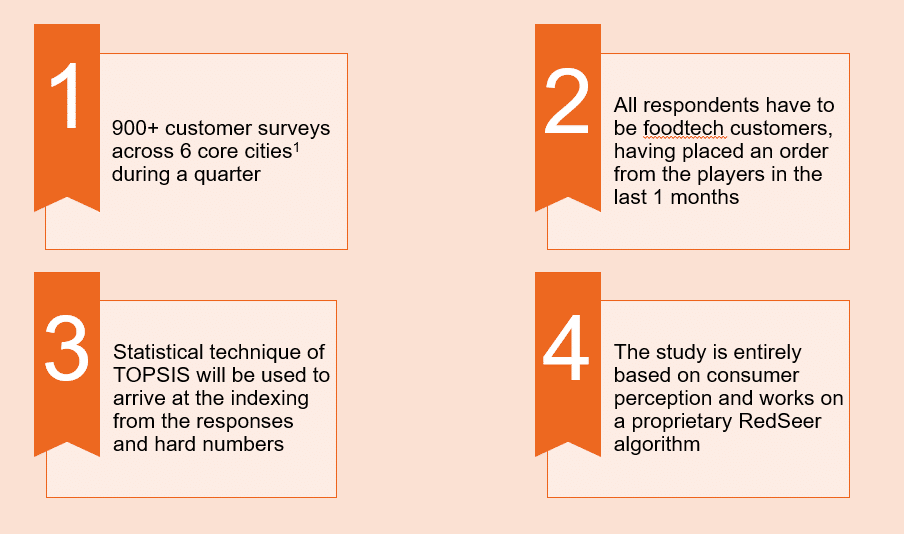 Core cities: Delhi, Mumbai, Bangalore, Hyderabad, Pune, Chennai & Kolkata
---
Player-wise Performance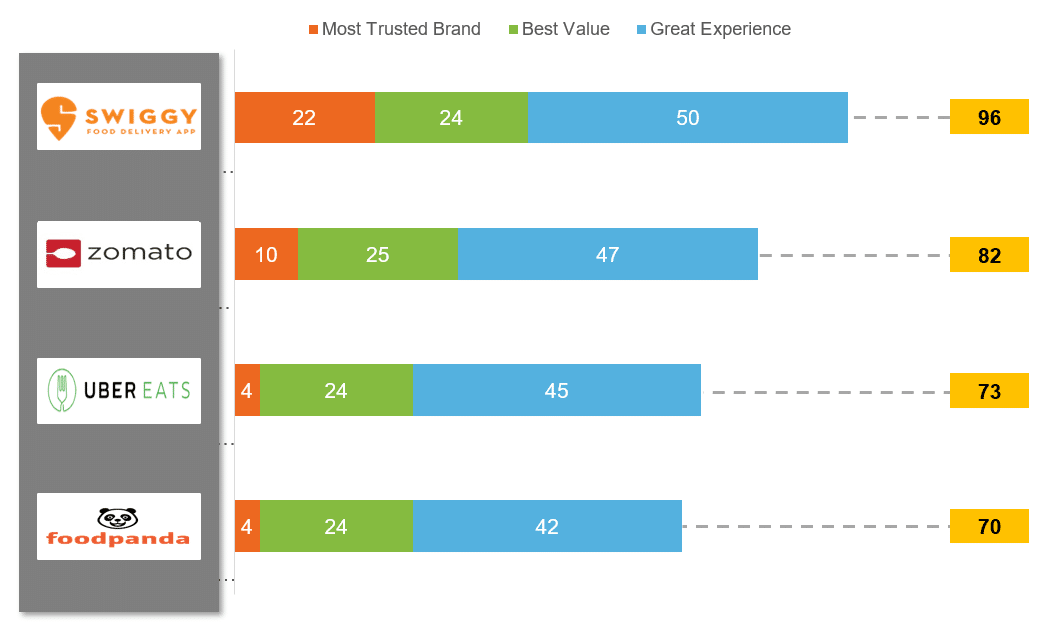 FoodTech sector also explored labels/'quasi-labels' in CY18 with further expansion planned in CY19 via multiple approaches
Published on: Jan 2019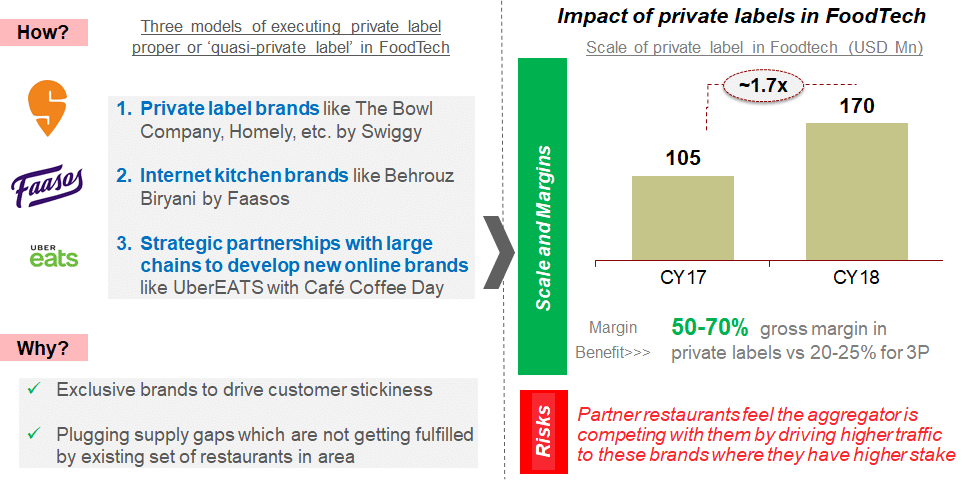 What does 2019 have in store ?
Given the risks of pure private labels, 2019 to see players focus on strategic tie-ups with big chain restaurants to exclusively develop online first brands exclusively
---
FoodTech likely to do experimentation with multiple online-offline models in 2019 to tap into non-core and corporate markets.
Published on: Jan 2019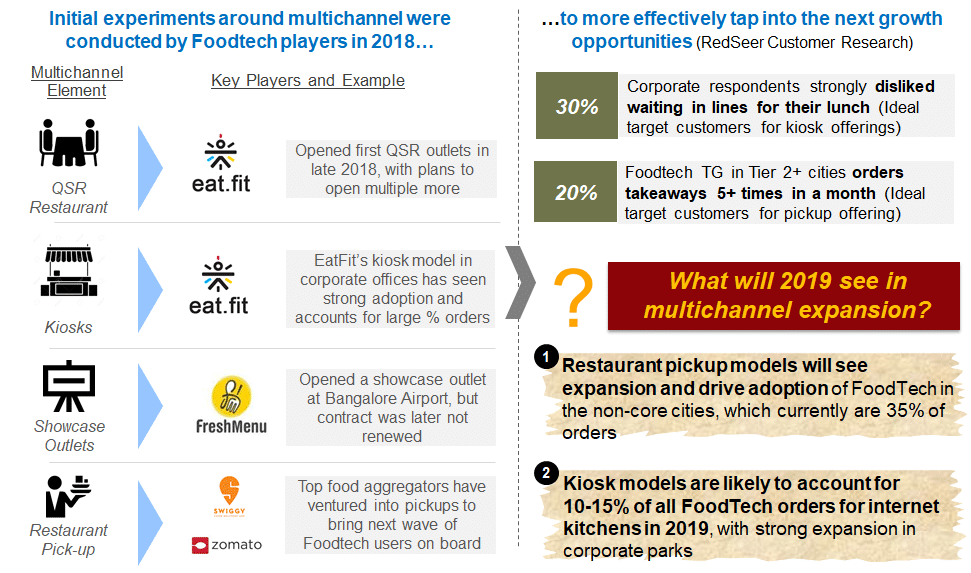 ---
FoodTech players expanded coverage rapidly in CY18 to reach 100+ cities; non-core markets grew rapidly to reach ~30% order share in CY18
Published on: Jan 2019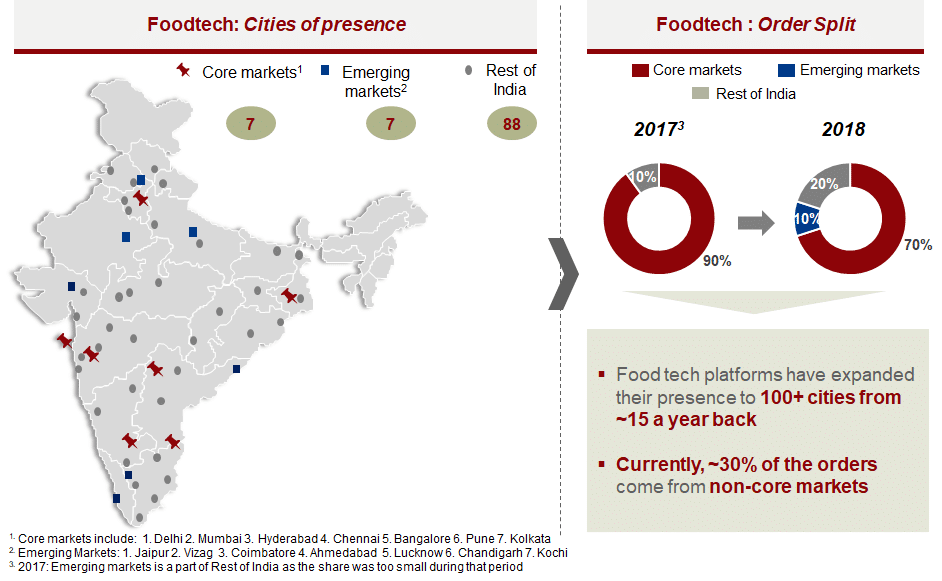 ---
CY-18 Foodtech continued its streak of triple digit annual growth, driven by aggressive discounting and city expansion
Published on: Dec 2018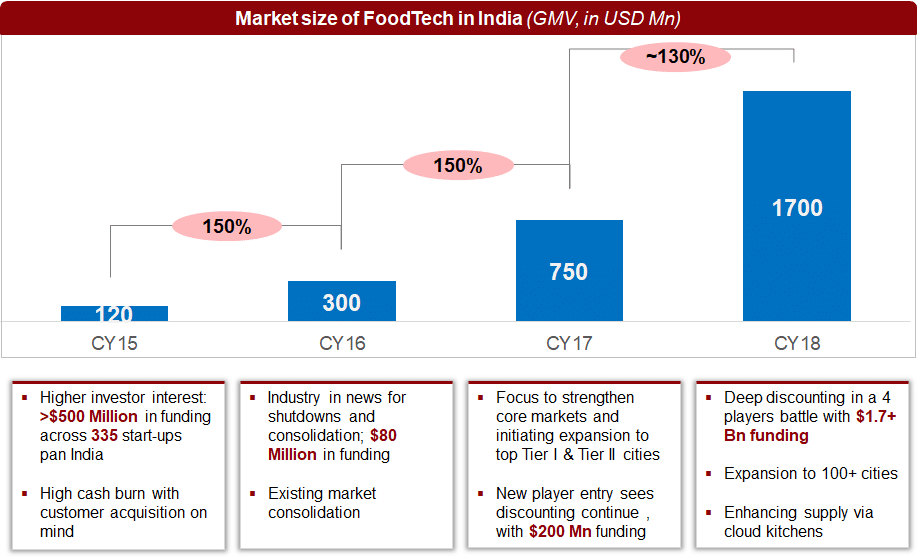 ---
As the food-tech industry grows, customer segments are clearly visible with difference in behavior of the different customer cohorts
Published on: Nov 2018
The ~15 Mn food tech users in India can be segmented based on their order preferences, frequency as well as demographics thus enabling players to draw out their strategies for customer retention accordingly.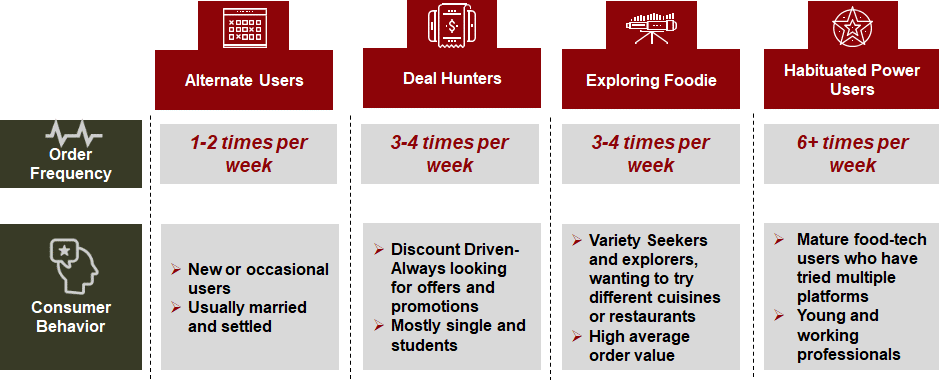 ---
Further, the price sensitivity and the order frequency along with the size of the consumer segment decides the pricing strategy of the food-tech players
Published on: Nov 2018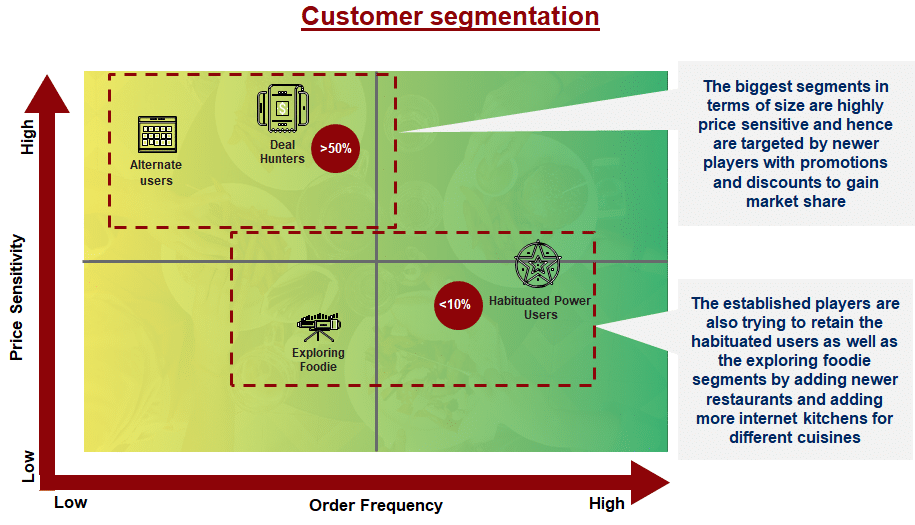 ---
The Food Tech industry has seen an overall GMV growth of ~140% in the last year, with number of orders increasing at a whooping 176%
Published on: Sep 2018
Food Tech has seen a lot of momentum in the past year with players picking up funding from investors and parent companies, primarily taxi players. This has led to players now being present across ~20 cities with further expansion plans in other tier 1 and 2 cities. Also with increasing competition, players have discounting strategies based on events, meal types or cuisines leading to decrease in industry AOV by almost 18% and thus strongly driving growth.
Online food delivery players contribute more than 80% of the overall delivery orders to partner restaurants
Published on: Jun 2018
The food-tech delivery players have been able to provide value to the partner restaurants. Currently, almost 28% of the overall business of the partner restaurants comes from the food-tech players. Going forward we expect these partners to contribute more to the partner restaurants thus increasing their dependency on the food-tech players.
---
Restaurant deliver 24% of the overall orders (both online and offline) received themselves
Published on: May 2018
Restaurants on an average deliver 24% of the overall (online + offline) orders received themselves. The rest of the orders are typically fulfilled by online food delivery players who either have their own fleet or have partnered with a third party logistics player for getting the deliveries done. This shows the huge impact and the value the online food delivery players have been able to provide the partner restaurants.
---
The Indian Online Food Delivery is a ~$0.74 bn market with high concentration in the top 6 metros
Published on: Apr 2018
The Indian Online Food Delivery industry is highly concentrated in the top six metros. The top six metros have a total market size of $ 700 mn roughly 94% of the overall market. The key reasons for this has been urbanization and changing lifestyle coupled with increasing affordability and growing online penetration. We feel going forward the online food delivery players will focus on increasing their presence outside the top six metros to fuel their growth plans.
Individual consumers on an average spend INR 2100 monthly on restaurants
Published on: Apr 2018
Consumers on an average spend INR 2100 per month on restaurants. The spend is higher in metros with Mumbai and Kolkata leading the table. Dine-in is the most preferred medium followed by delivery with the spend on take away being the least. With the growing online penetration consumers are getting comfortable with the online services. And hence we expect the online food delivery apps to take up more and more share of the delivery spend of consumers.
The industry sees increase in the number of orders beyond lunch and dinner hours
Published on: Mar 2018
The food-tech industry is witnessing an increase in consumer adoption with the growth in the number of orders outside the lunch and dinner hours. Consumers are ordering food during breakfast, evening snacks and late night. This reiterates the strong value prop food-tech players are providing the consumers.
Top 3 cities see an increase of more than 80% in order volume from last year
Published on: Feb 2018
The top three cities of food-tech industry see an increase of more than 80% from OND-16 to OND-17. This is due to the rapid increase in the adoption of the service which both consumer and partners are able to see value in.
Will food-tech industry continue to make margins in 2018?
Published on: Feb 2018
The Indian food-tech industry has seen a tremendous growth from 2016 to 2017, with the daily order volume increasing from 200K to 450K. The unit economics for the industry had just begun to make sense with the operating margins currently around 7%. Now with both Ola and Uber entering the play, we feel the unit economics will be influenced as both these firms would resort to heavy discounting for increasing adoption.
The Industry sees daily order volume rise to 460K in OND-17
Published on: Feb 2018
The food-tech industry continued the 15% Q-o-Q growth in OND-17; with the players expanding to T1 cities like Ahmedabad and Chandigarh and ramping up their marketing initiatives. Now with OLA and Uber entering the space we expect some kind of price war to kick-in and further increase the daily order volume.
Daily Order Volume ('000)
---
Food-tech will be ruled by the players with high-quality captive delivery players
Published on: Jan 2018
It is becoming increasingly clear that food tech is more and more of a logistics play, restaurant discovery is not a deep competitive advantage. There are clear trends in customer and seller satisfaction supported by the better delivery speed and compliance that vouch for the superiority of the captive delivery model in Indian market.
Self Fleet vs Partner fleet used by Online Food Aggregators
---
Restaurant powered delivery is giving way to 3PL and platform owned logistics
Published on: Jan 2018
On-time delivery of the order is one of the major expectations of the customers from the online food delivery players. Deliveries fulfilled by restaurants have lower delivery compliance as compared to those fulfilled by the own fleet/3PL partner.
Share of Order Deliveries: Restaurant vs. Own/3PL
The leading online food-delivery player provides a significantly superior experience to partner restaurants – especially on the aspects that matter most.
Published on: Jan 2018
When restaurant partners work with online food platforms, they have especially high expectations for business growth and payment settlement experience. RedSeer research shows that the best performing food delivery platforms in the sector are able to perform very highly on precisely these critical partner experience parameters, amongst others.
A Definitive Guide to Indian Foodtech Trends Buy Full Report
Tech disruption in Indian Dine-In Services Buy Full Report
Cloud Kitchens – The Secret Sauce to Survive in the Post-Covid Restaurant Market? Buy Full Report