The e-commerce industry has been witnessing commendable growth over the years, primarily driven by the introduction of various technologies and of course, the internet. But a boom in eCommerce also calls for a logistics system that can keep up with its consumers. And by the looks of it, eCommerce logistics in particular, has recently emerged as one of the most lucrative sectors worldwide, owing to the wide set of collaborative services that it offers. Among such players, Delhivery is well positioned at the cross-section of the various logistics sector growth drivers
including infrastructure, offline commerce, digital consumption, and adoption of technology & data sciences. And we are proud to walk the IPO journey of Delhivery. Here's a look at how India's eCommerce logistics sector is scaling unfathomable heights, leaving all of us in awe of what it is set to achieve!
1. Ecommerce logistics started to solve the niche problem for budding ecommerce that traditional players were not able to solve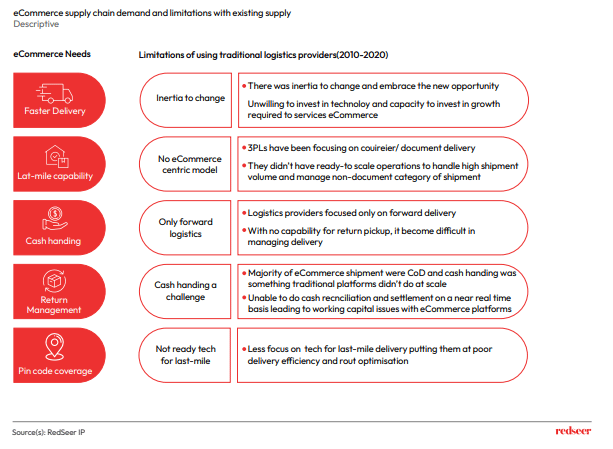 eCommerce logistics is a growing industry that is solving the niche problems for India's booming eCommerce players. Traditional logistics provider shave not been able to provide the same level of service for online retailers and have instead been relegated to providing basic shipping and delivery services, one that is often synonymous with delayed delivery, poor management of delivery (particularly of returned items), lack of transparency, and more. However, on the other hand, ecommerce logistics providers are able to provide their customers with same-day and express delivery services, as well as specialized services, such as package sorting and warehousing, that enable them to provide their customers with the level of service that traditional players were unable to provide.
2. The ecommerce logistics sector grew on the back of technology and innovation, to enable e-retail boom in India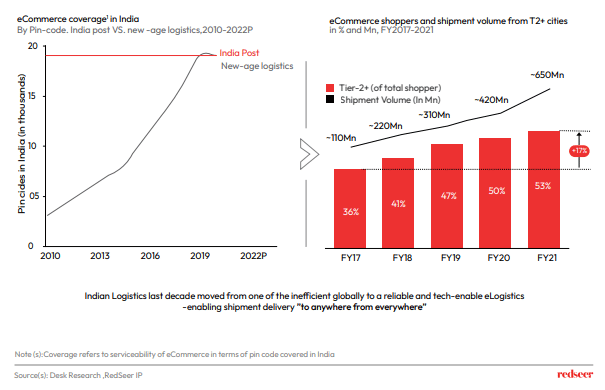 The ecommerce logistics sphere has contributed to the overall growth of India's logistics sector and enabled e-retail boom in India. It has made available a slew of new logistics options to online retailers and consumers. Thanks to new age tech enabled players who have entered India's logistics arena, it is now easier for small- and medium-sized businesses to transport goods, and there is a drastic increase in the speed and efficiency in which parcels are delivered. Further, reduced transaction costs associated with transporting shipments was also observed.
3. Interplay for other drivers like internet penetration and digital payments has pushed the sector to become a 9$ bn dollar market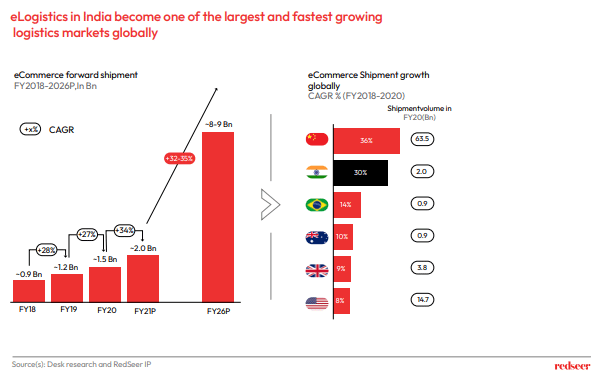 Proliferation of smartphones and localization of the internet in non-English languages is drawing in new consumers from non-metro locations into the internet economy and creating new demand for online commerce, thus paving the need for disruption in logistics. Additionally, new models such as D2C, social commerce and video and influencer-based commerce are creating new touchpoints and drawing in new consumers to the market. The availability of multiple payment options such as UPI, no-cost EMI, BNPL etc. are further driving the adoption of digital commerce by more consumers, thereby creating a need for ecommerce logistics. Thanks to these growth drivers, India's eLogistics sector has become one of the largest and fastest growing logistics market globally and is all set to reach a whopping 9Bn dollar industry, with a compound annual growth rate of 35%
4. Is that all? No, the sector's total shipments to grow 4X in the next 5 years!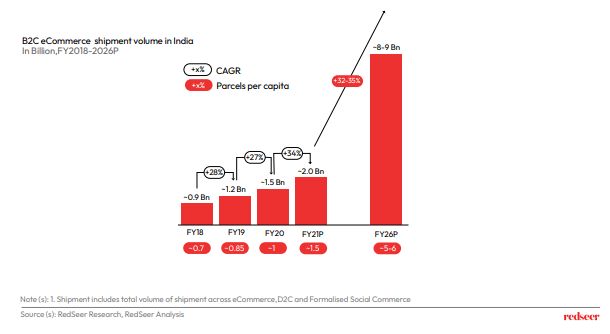 Thanks to India's booming ecommerce sector and the growing number of online shoppers, the number of ecommerce logistics shipments is expected to grow by four times in the next five years! It is safe to say that eCommerce logistics players should brace themselves for exciting days ahead.
5. The way forward is further exciting as adjacent sectors are yet to be explored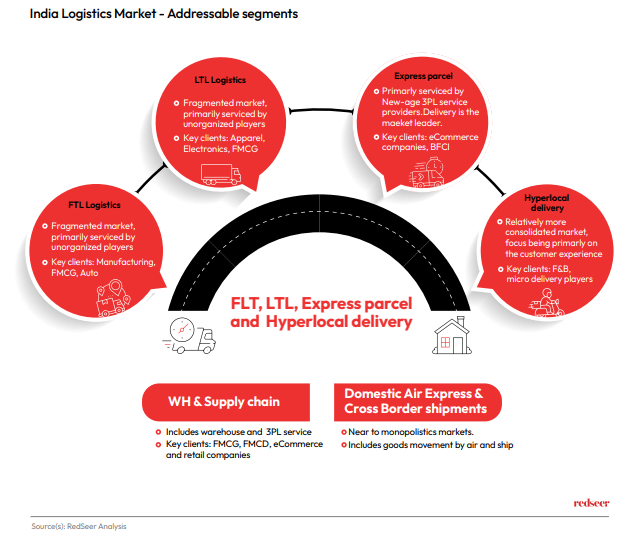 Multiple segments in India logistics market is addressable by full-stack-tech- enabled logistics service providers. There seems to be great headroom for growth as tech-enabled logistics players venture into adjacent segments such as hyperlocal delivery, express delivery, trucking, and more.
The writing on the wall has never been more clear – logistics truly is the backbone of India's economy. As players gear up for opportunities that are waiting to be claimed, the sector is truly at the brink of disruption. And we can say that $9 billion, is just the beginning!