1. $ 70 Bn India Internet economy was growing at 30% CAGR in pre-covid world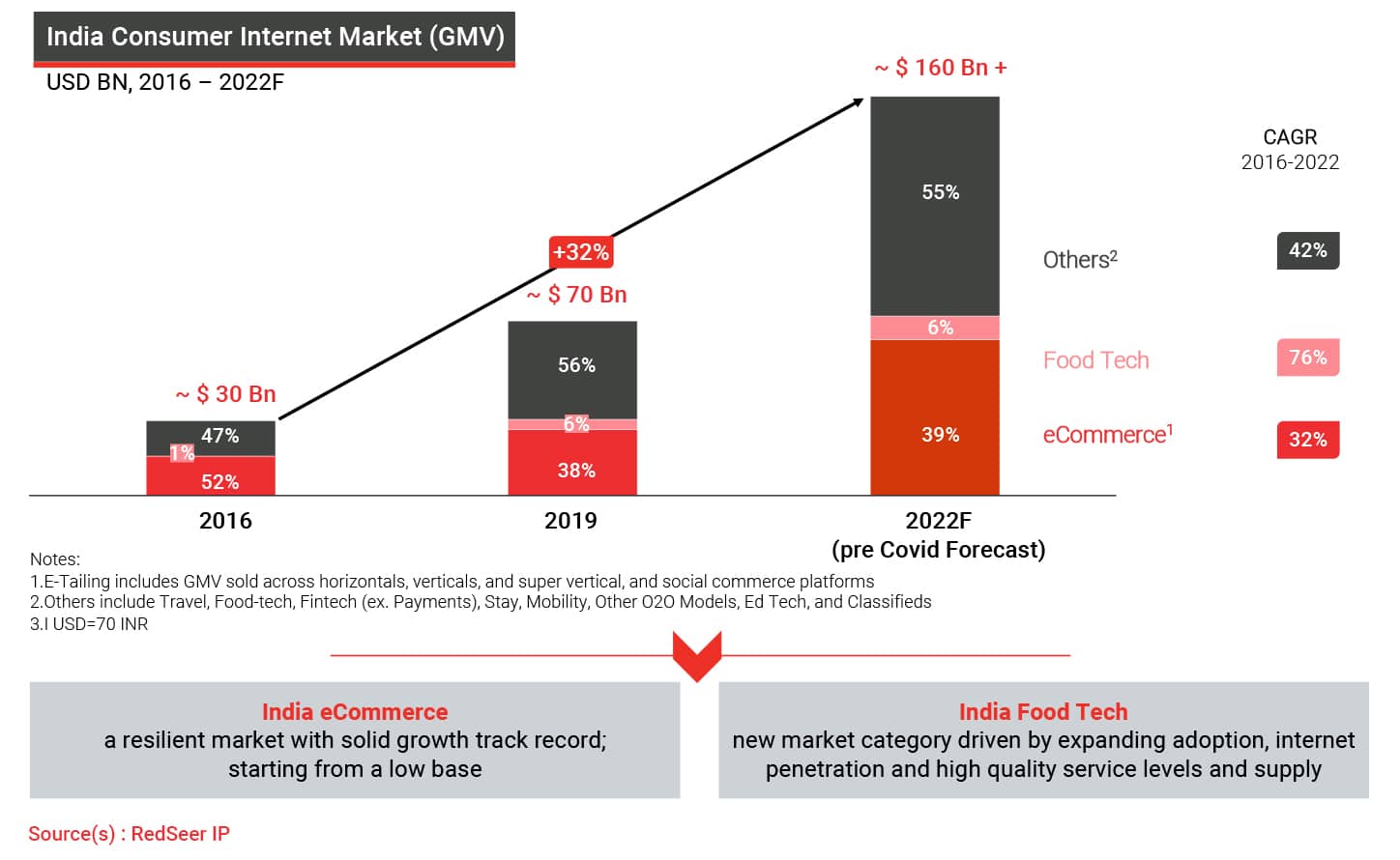 In a pre-covid world, India Internet was one of the most attractive markets globally, expected to deliver 30+% CAGR over a 6 year time horizon. With strong growth seen by eCommerce, foodtech and myriad of other product and service based sectors as we projected the sector to reach USD 160 Bn in GMV by 2022.
---
2. COVID-19 has come as a massive shock- India Internet was ~90% down in April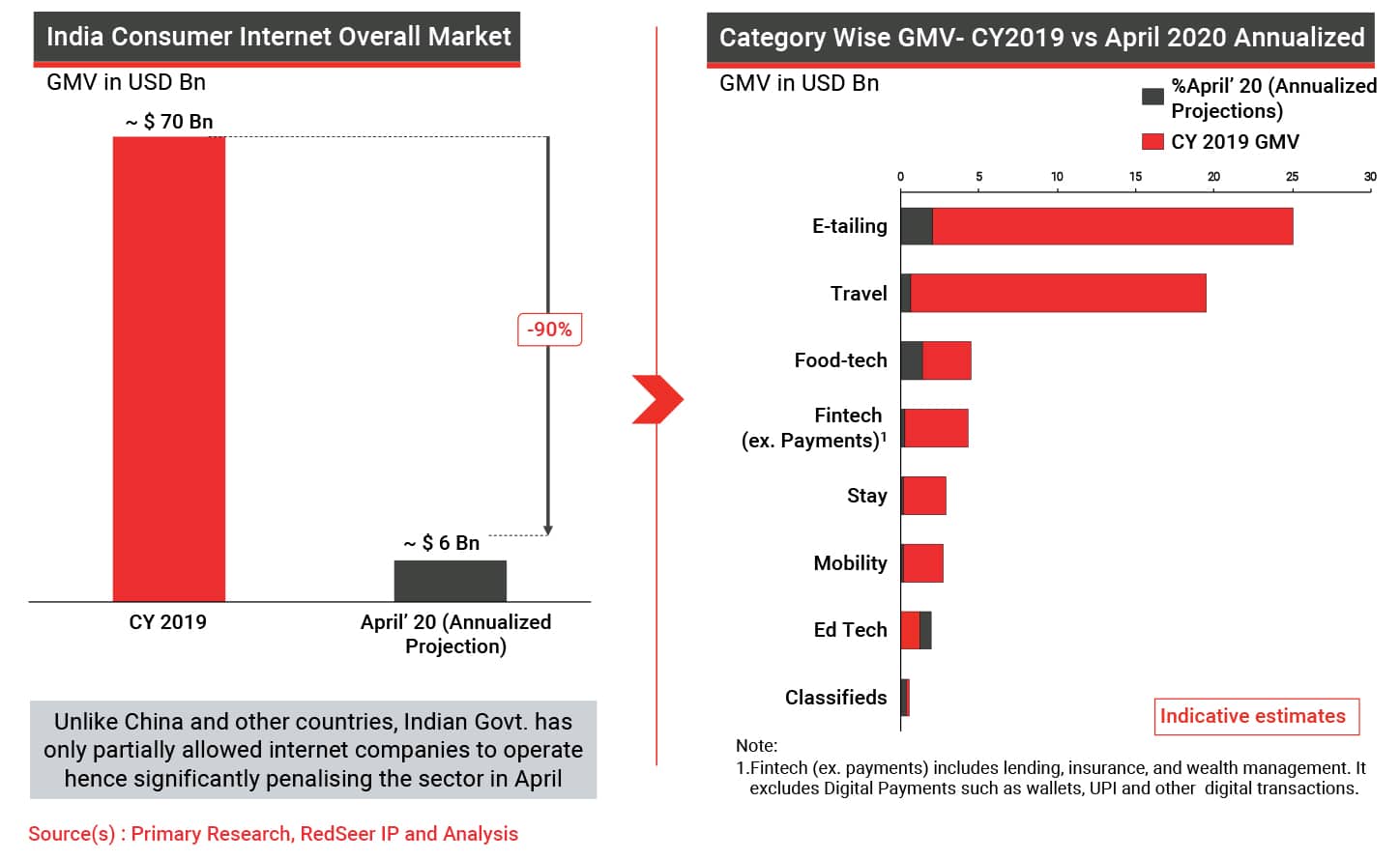 The strictest lockdown in the world had strong implications for India internet, which dropped in GMV by ~90% in April.
Even though sectors like edtech did well, the two largest sectors (eCommerce and Travel) were impacted particularly severely, leading to overall steep fall for industry.
---
3. However sectors like eGrocery and online content emerged as winners during COVID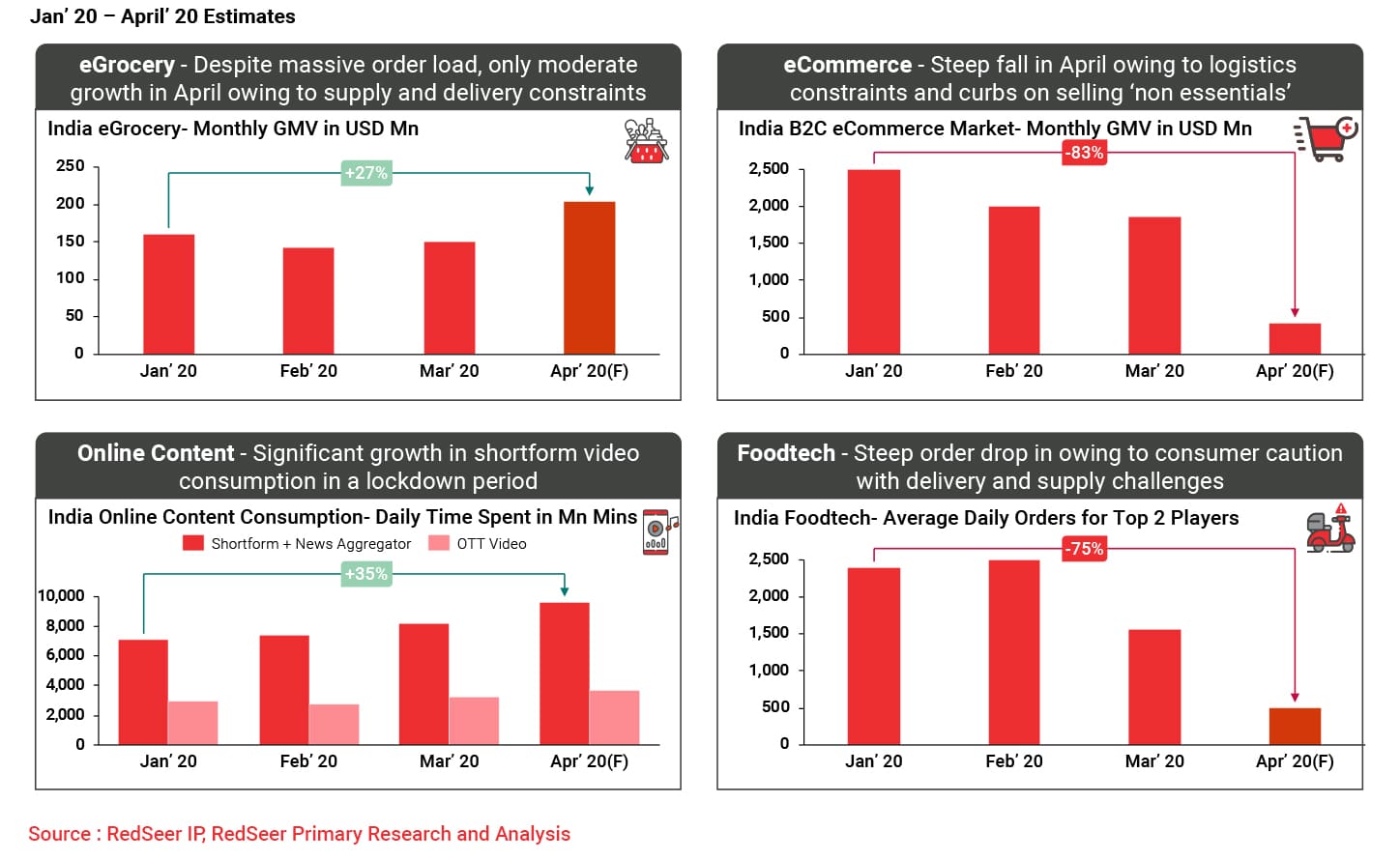 Foodtech was also another sector massively hit by crisis as orders fell by 75%.
However, eGrocery category saw a steep demand rise in the lockdown period as consumers shifted online in droves. Yet, fulfilled orders were only a fraction of the total as delivery executive and supply constraints played spoilsport.
Online content was another net beneficiary as consumers increased time spent on shortform videos especially during the lockdown period.
---
4. >90% of our surveyed customers believe they will be back to pre-COVID spending levels in less than 4 months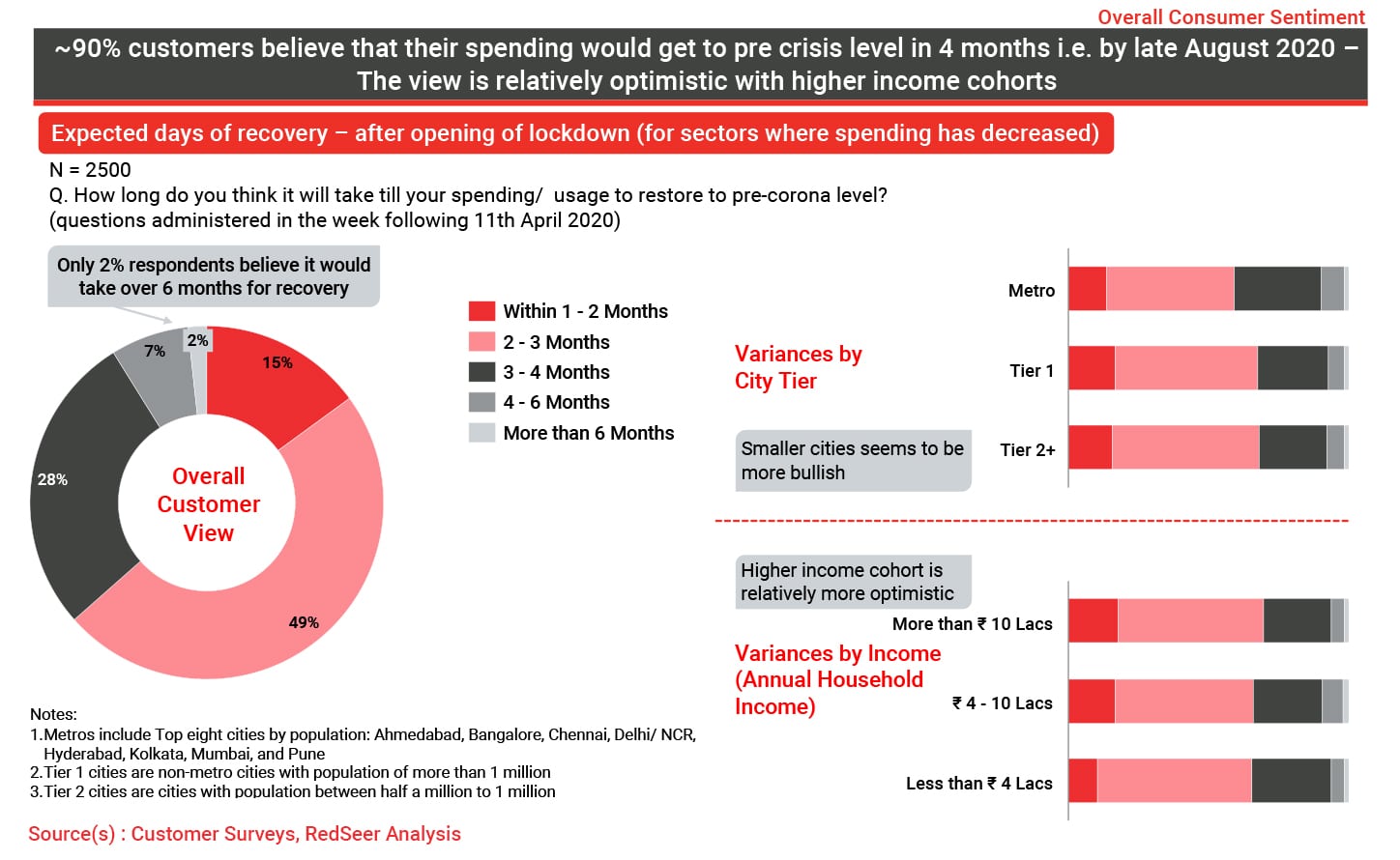 Basis our consumer surveys, there is a strong level of optimism that spending will return to normal levels after 4 months for most consumers.
This likely means a strong festive season quarter (Oct-Dec_) for most sectors including online ones.
5. Digital will gain traction across the board however there remains some scepticism for online food delivery and mobility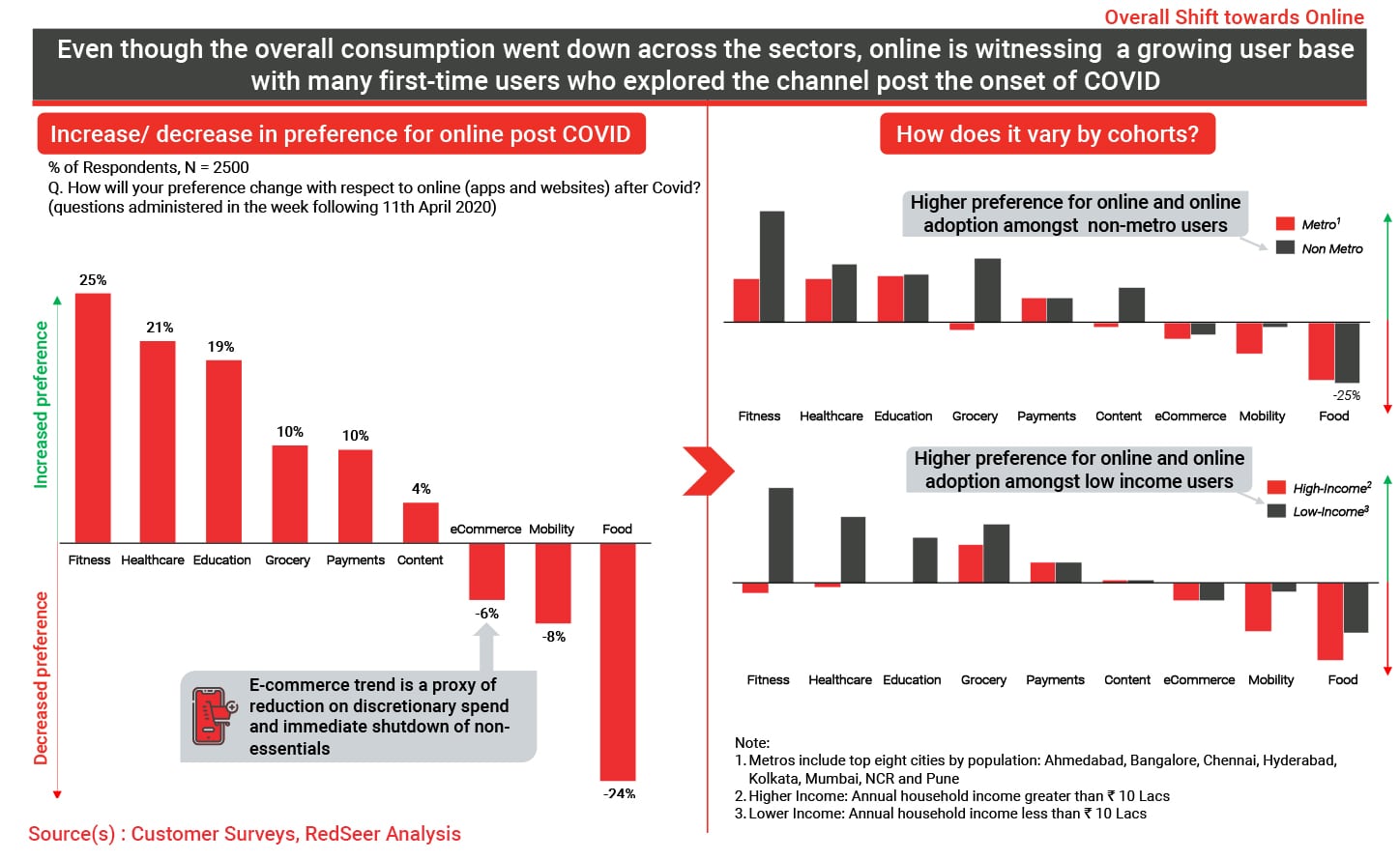 Despite a steep GMV fall in April, India's internet economy is likely to be a net beneficiary in longer run, as consumers indicate a strong preference to continue digital consumption post COVID-across a host of subsectors.
Particularly interesting is the high post COVID online preference amongst non-metro and lower income consumers- which indicates a strong opportunity to serve these cohorts digitally in a post COVID world, perhaps with entirely new business models.