1. eGrocery grew significantly in April 20 despite ops challenges while broader eCommerce and eLogistics struggled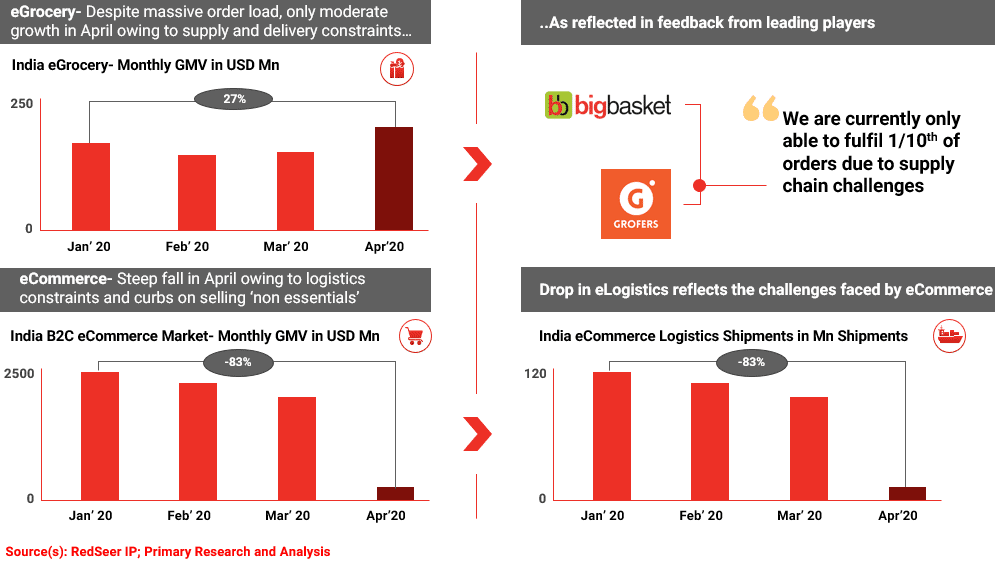 eGrocery was one of the biggest beneficiaries during lockdown even though fulfilled orders were a fraction of the total in-demand orders.
On the order hand, broader eCommerce had a very challenging month in April with only essentials permitted. This reflected in steep volumes drop for eCommerce logistics firms as well.
---
2. Further deep dive on retail product categories has bleak news for non-essentials in 2020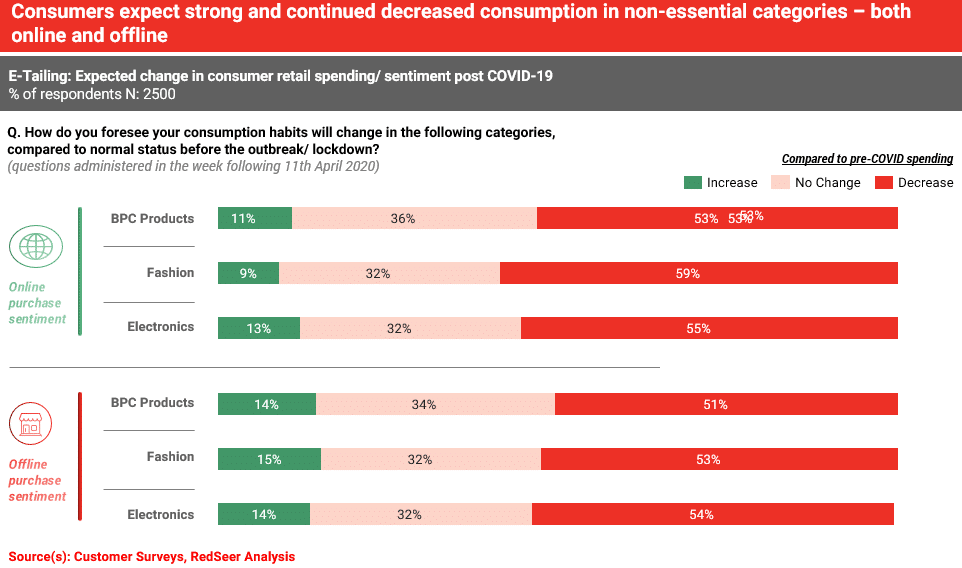 While consumers expect strong and continued decreased consumption in non-essential categories, the behaviour varied by consumer cohorts wherein
Smaller cities and lower income group customers will have relatively bigger change in behaviour when compared to Metro and High-income group.

No other significant delta by income and city type among respondents.
Even post lifting of the restrictions, eCommerce is likely to have a tough recovery curve- as made clear by majority o consumers saying that their spending post COVID on these categories will be lower than pre-COVID levels- across online as well as offline channels.
---
3. eCommerce platforms need to focus on speed of delivery and trust/empathy in post COVID world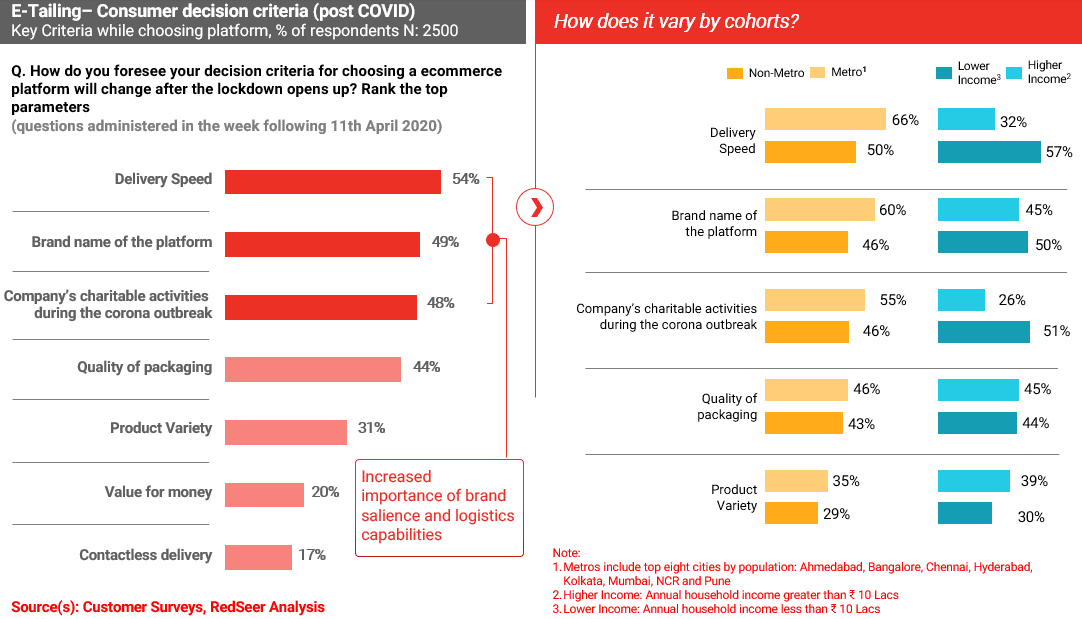 Companies have responded to changing decision criteria of the customer by focusing on
PR activities on platforms to maintain consumer trust on the platforms.

Reduced marketing activity with focus completely on essential categories.
Increased hyperlocal focus to revamp supply chain disrupted by lockdown.
Despite these challenges on demand, eCommerce companies who are able to focus on speed, building trust and broader empathy will be able to corner a greater chunk of demand in post COVID world.
---
4. Foodtech orders dropped by ~80% during COVID period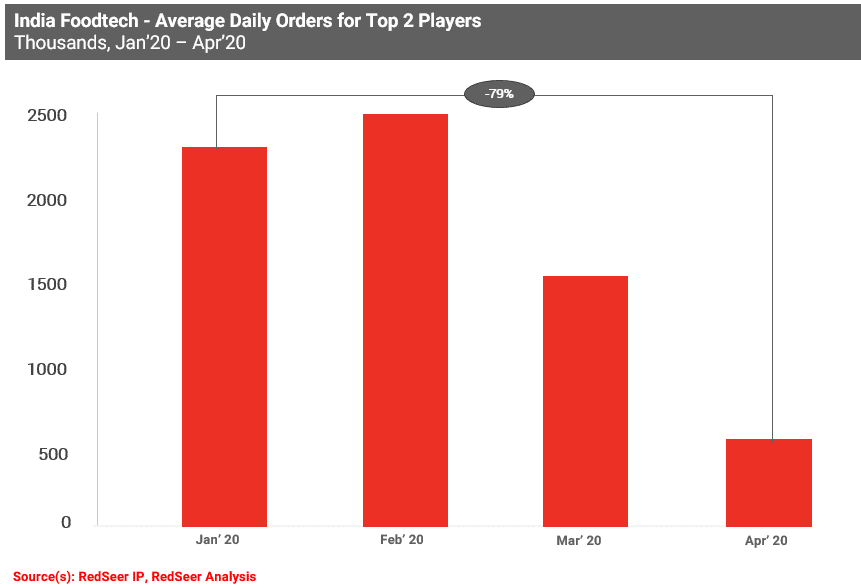 Orders for leading Foodtech players have dropped by ~80% in the month of April owing safety concerns, WFH being implemented, junta curfews and operations stoppages and collapse in discretionary consumption in Tier 2+ cities.
Much like eCommerce, Foodtech has also been heavily impacted by COVID in March and more so in April. With the still emerging Tier 2+ markets seeing almost a complete collapse in demand in April.
5. Post COVID, Dine-out and Food delivery spending is shifting to home-cooking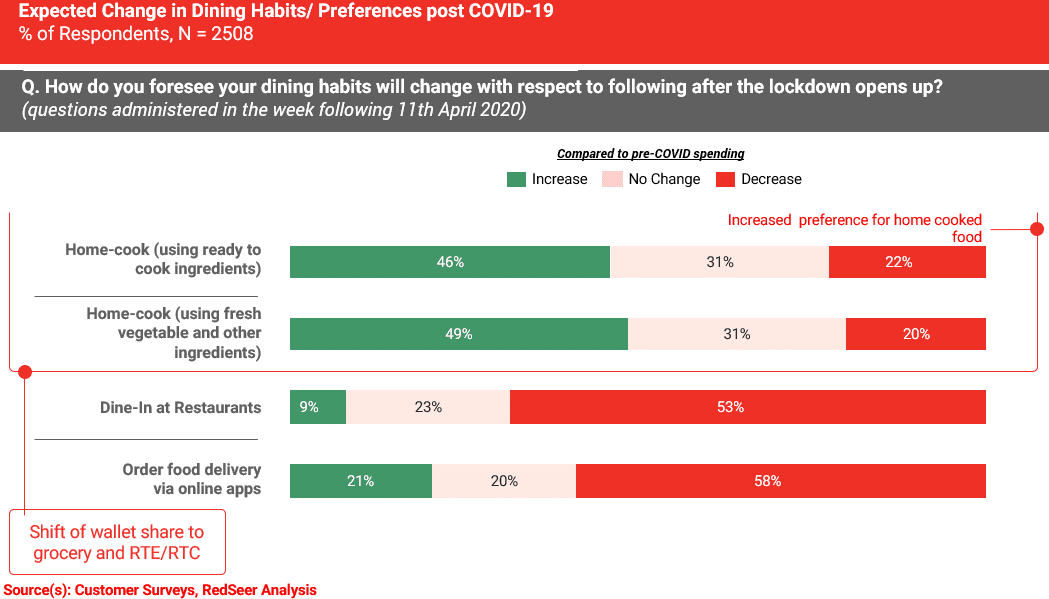 Big reason for drop in Foodtech orders is the shift to home-cooking. Which also provides an opportunity for the Foodtech firms as well as restaurants.
6. In-line with this demand side shift, most Foodtech players have been evolving themselves into hyperlocal super apps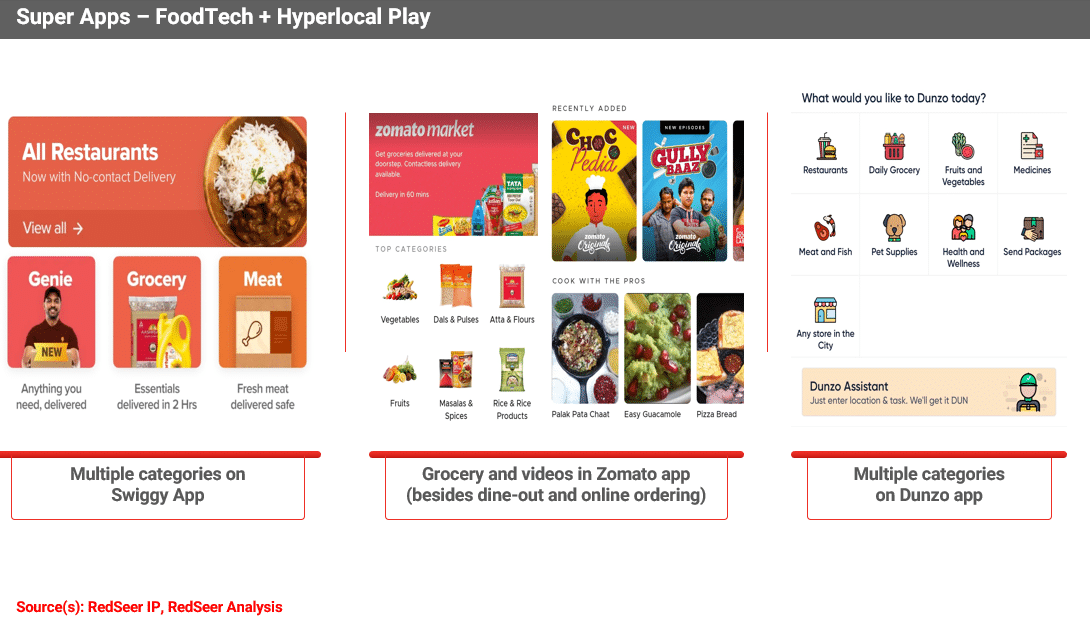 Most Foodtech players have been evolving themselves into hyperlocal super apps, but significant challenges lie ahead
Strong incumbents.

Supply-chain: To develop. and maintain a large set of relevant suppliers will require significant amount of focus.

User experience: As the platforms broaden their offerings, keeping up the user experience becomes critical.