1. Changing macroeconomic and funding scenario in 2020 will see two big themes playing out for India's internet start-ups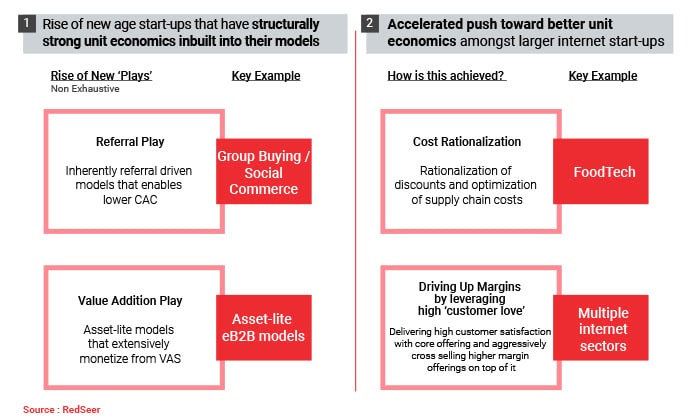 Given the macroeconomic trends and the funding environment globally, we were keen to explore how do India's internet start-ups look like on unit economics at the start of the new decade in 2020. Scanning through our recent work in the internet space, we managed to summarize our analysis into two big themes
Rise of sectors where strong unit economics is 'built-into' the model right from day 0. Which do not need massive funding just to sustain operations.

How larger internet sectors will chase unit economics in the new decade. For some sectors (e.g. foodtech, this is to be done by optimizing the costs and driving efficiencies). For other sectors, they will seek to rely on their strong brand trust or customer love, to drive profit via cross-selling products and services.
We explore both these themes in details as below
---
2. Strong word of mouth has enabled one of the leading social commerce platforms to be well-positioned on unit economics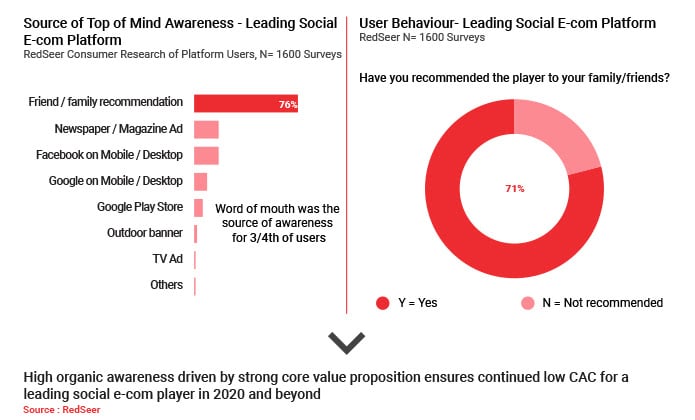 Our research on consumers of leading new age group-buying platform indicates that the majority of these consumers have come to know of the platform via friends/family recommendation.  A clear indication of the strength of the organic growth approach adopted by the player and by the model more specifically, which rely heavily on recommendations from consumers.
We expect that this organic approach to growth will enable these young platforms to grow at a much more sustainable pace in 2020 and beyond, unit economics wise, compared to some of their more mature e-tailing peers at the same stage of their lifecycle.
---
3. Asset-lite tech-enabled B2B e-commerce marketplaces are well placed to reach profitability sooner than other models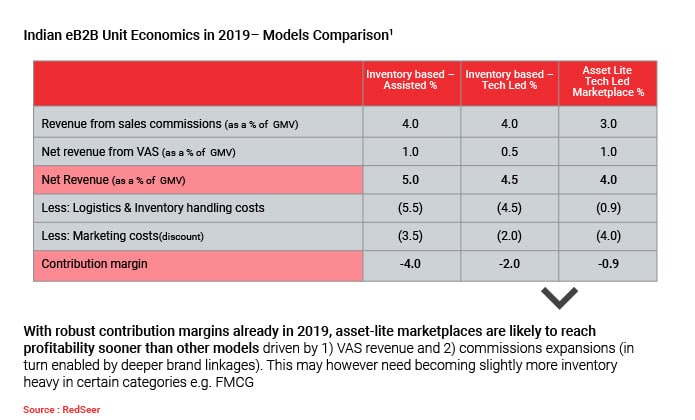 India's eB2B space has been on a massive growth spree in 2019. Players have targeted the undoubtedly massive market opportunity using a variety of business models. 
Out of the multiple models present, asset-lite B2B business models have shown strong unit economics in 2019, with an especially low-cost base driven by the tech-led supply chain. We are bullish that as these models grow further in scale and reach in 2020, they will also be able to improve their revenue base by further adding on non-price value to stakeholders. Of course, this may likely entail a slightly more hybrid inventory play in certain categories e.g. FMCG, in order to better control experience and better add the aforementioned value.
---
4. Even as Foodtech growth moderates, it will make steady progress along profitability journey in 2020- largely via cost rationalization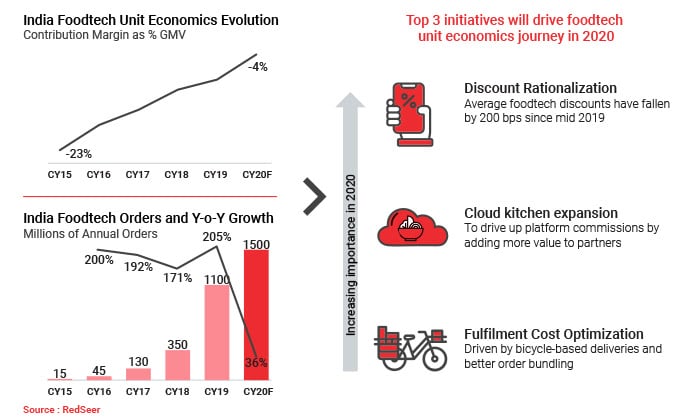 After a massive 2019 which saw 205% y-o-y orders jump, growth in foodtech is likely to moderate to 36% in 2020. One reason for the slowdown will be the rationalization in the discounts, which have played a strong role in driving growth to date. This will have more of an impact in slowing growth in newer markets e.g. Tier 2+ cities, which are more discount dependent currently. The other reason is simply the base effect- the market is now 3x of 2018, so the same scorching pace of growth was anyway unlikely to continue.
Driven by discount rationalization and supported by cloud kitchen expansion+ logistics optimization, we expect foodtech players to make a strong move towards profitability in 2020. Lessons from Meituan (which recently turned a rare quarterly profit) across the border might also provide comfort to the industry that scale is possible together with profitable in this space.
---
5. Internet sector leaders can leverage their high 'customer love' to drive initiatives that lead to strong unit economics in the 2020s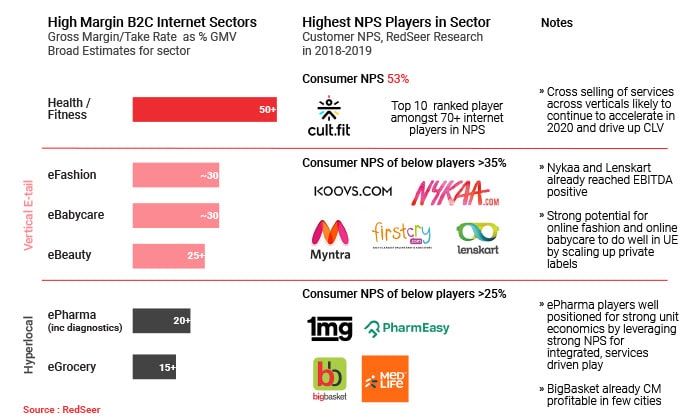 Multiple internet sectors in India are relatively higher margin and have significant potential for strong unit economics. Many of these sectors have players that also have very high consumer satisfaction, as denoted by NPS.
We believe that these players are very well positioned to ride their strong 'customer love' to expand aggressively into higher-margin plays which could eventually drive profitability in next few years, with strong progress made in 2020.
Some example of these plays could be private labels for fashion, grocery, babycare and beauty e-tailers, diagnostics offerings for pharma e-tailers and subscriptions/higher-margin services for health/fitness start-ups like Cultfit.