Do you know that the internet was introduced in India in 1986 and was available only to the educational and research community? Our recent study shows that by 2030, India's internet consumer base will surpass a landmark figure of 1 billion. India has come a long way in its journey to becoming the second largest internet user base in the world. However, this new digital revolution, enabled by the rapidly increasing internet penetration rate, high-speed internet access, and increased online shopping and digital content consumption, has more to offer to the business world. Here's some interesting stats to help us explore this funnel.
1. At 780 million, India is home to the second-largest internet user base in the world, which is more than 2X of the US population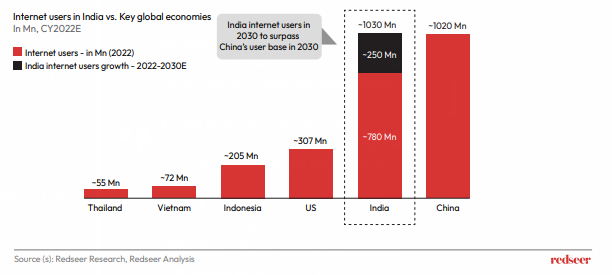 India is home to close to 780 Million internet users. It has been possible due to meagre data costs. All thanks to India's central government's 'Digital India' push for affordable data pricing across telecom majors, the country's data cost per GB is just above Israel's. By 2030, this count will reach a landmark figure of 1 billion, almost mirroring China's number
2. With one of the lowest data costs globally and affordable smartphones, time spent by users on the internet is also one of the highest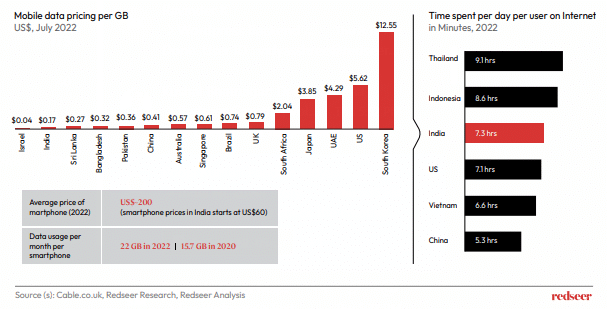 Today, an average Indian spends ~7.3 hours per day on their smartphone, which is one of the highest in the world. The time spent is across online messaging, social media, YouTube streaming, OTT content and short-form video. For the first time, the number of eyeballs reached by digital platforms will surpass traditional media by 2025.
3. Most of these online users come from smaller cities (Tier-2 and beyond), where emerging new-age players take the lead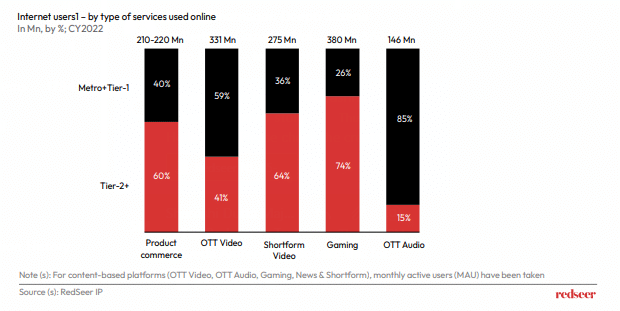 Most internet users come from product commerce, OTT video platforms, short form, gaming, and OTT audio platforms. There is a new trend in content consumption where the time spent on user-generated content is 2X of platform-generated content. Leading global apps are more targeted to metro and tier-1, predominantly English-speaking users. However, the emerging new-age domestic players are solving the needs of smaller cities.
4. Increasing comfort for digital transactions has also been driving explosive growth (100%+ CAGR) for UPI P2M and growth of overall online transactors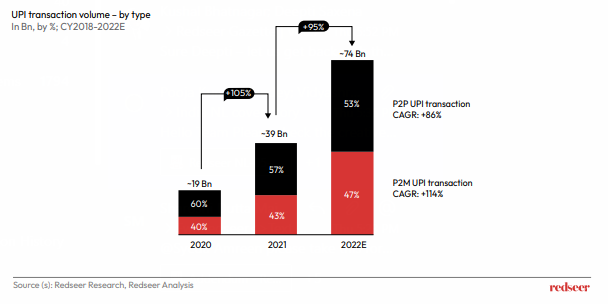 With the increasing digital India push and explosive growth of UPI transactions, internet users are becoming comfortable paying online on digital platforms. As comfort with paying online increases and customers evolve in their journey, we expect this to drive growth in transacting users, where users will shift their offline wallet spending to online. The same factors have led to ~110 million paid online gamers in India, second only to e-commerce.
5. At this pace, online transacting users are set to grow to 2X by 2030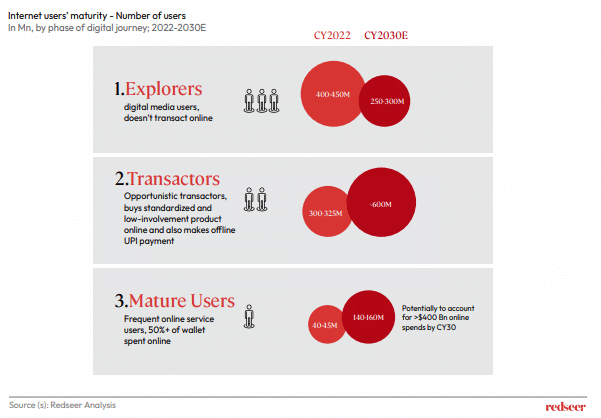 India currently has around 350 million digital payment users across e-commerce, shopping, travel and hospitality, OTT, and online transactors are likely to double by 2030. Approximately 40-45 Mn users spend more than 50% of their wallets online. Further, with mature users being the faster-growing cohort, they would account for USD 400 billion in online spending by 2030. India's journey to 1 billion internet users is a unique story for new-age businesses like e-tailing, e-health, food tech, online mobility, quick commerce and others coming together to create a strong foundation for a consumption-led economy. This digital forward journey is getting more rewarding with every passing day.
We looked at FY2021 reported EBITDA of ~270 Unicorns and Soonicorns. It was a pleasant surprise for us to note that over 80% of them are profitable or on the path to profitability. Further, the number of Unicorns and Soonicorns has increased rapidly over the last four years.