In this article, we look back at what was a landmark year for MENA. Sectors across the digital economy saw rapid adoption and enhanced levels of consumer maturity which helped unravel the potential that the digital economy in the region holds.
Here we call out some of the key highlights from 2022.
1. MENA is a silver lining amid a muted global funding environment…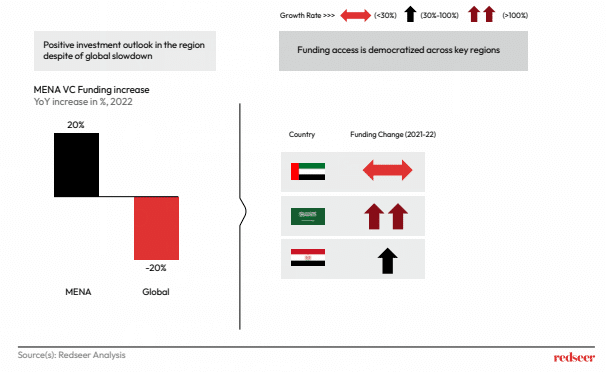 While the global investment climate took a severe downturn in 2022, MENA defied the economic macro & saw positive investor interest, growing north of 20% in terms of funding. This increase is fuelled by the rise of funding in Egypt and other parts of MENA beyond UAE & KSA as well as the growing investor enthusiasm across emerging sectors like FinTech, SaaS etc
2. …where the Digital Economy surpassed ~100 Bn in 2022…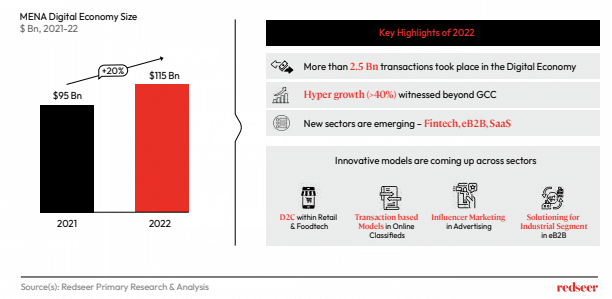 MENA digital economy exceeded the unprecedented $100 Bn mark in 2022. New & innovative models are driving change throughout the value chain either through consumer-centric shopping experiences as with D2C or through building efficiencies and marketing/sales impact for businesses like social commerce. Furthermore, 2022 also marked the breakthrough of new sectors, such as Fintech, eB2B & SaaS – all key points to look out for in 2023.
3. …and has become a vital cog within the overall economy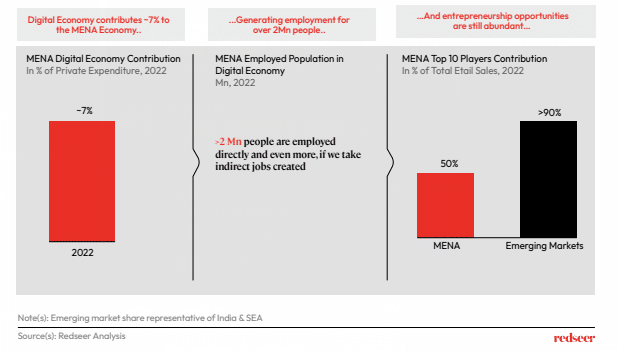 The digital economy has emerged as a key pillar within MENA's overall economy, contributing ~7% of private expenditure. Additionally, the digital ecosystem has created employment for more than 2 million people, especially within E-tailing, Foodtech and Ride-hailing sectors. The region also boasts of a democratic supply landscape where the market share of top players is very low compared to other regional benchmarks, indicating that opportunities are still abundant across the eco-system and some strong winners are set to emerge.
We hope you found these insights helpful. For a more detailed discussion feel free to reach out to us at mea@redseer.com