The nascent segment of eB2B industrials in Indonesia presents an attractive opportunity, especially in the raw material procurement segment, where supply chain inefficiencies exist. The eB2B players are tapping into a promising opportunity for manufacturers looking to digitize their operations as well as providing transparent pricing and project financing solutions to buyers.
This article builds on our earlier note on the SEA eB2B landscape.
1. Industrial eB2B players have the potential to enhance transparency, streamline operations, and foster supply chain efficiencies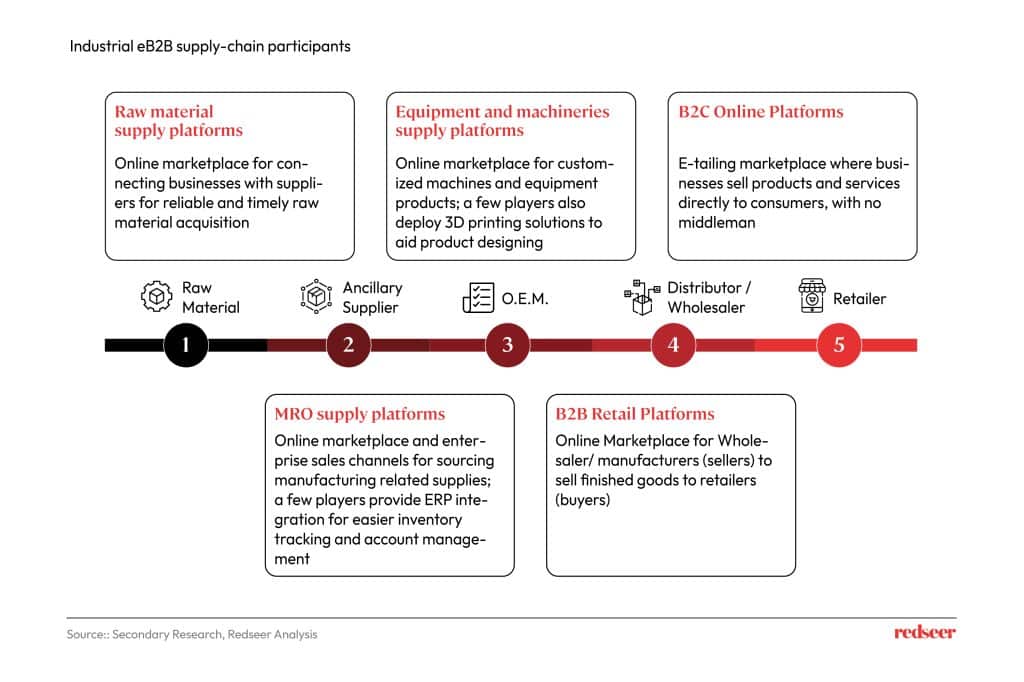 Indonesia's eB2B sector is witnessing the emergence of companies leveraging technology to transform traditional supply chain operations and create online marketplaces. These digital models have the potential to solve for limited price transparency, inconsistent material quality, a fragmented vendor base, and supply chain inefficiencies.
2. The B2B industrials landscape holds digitisation potential in 3 categories, namely raw materials, equipment & machinery, and MRO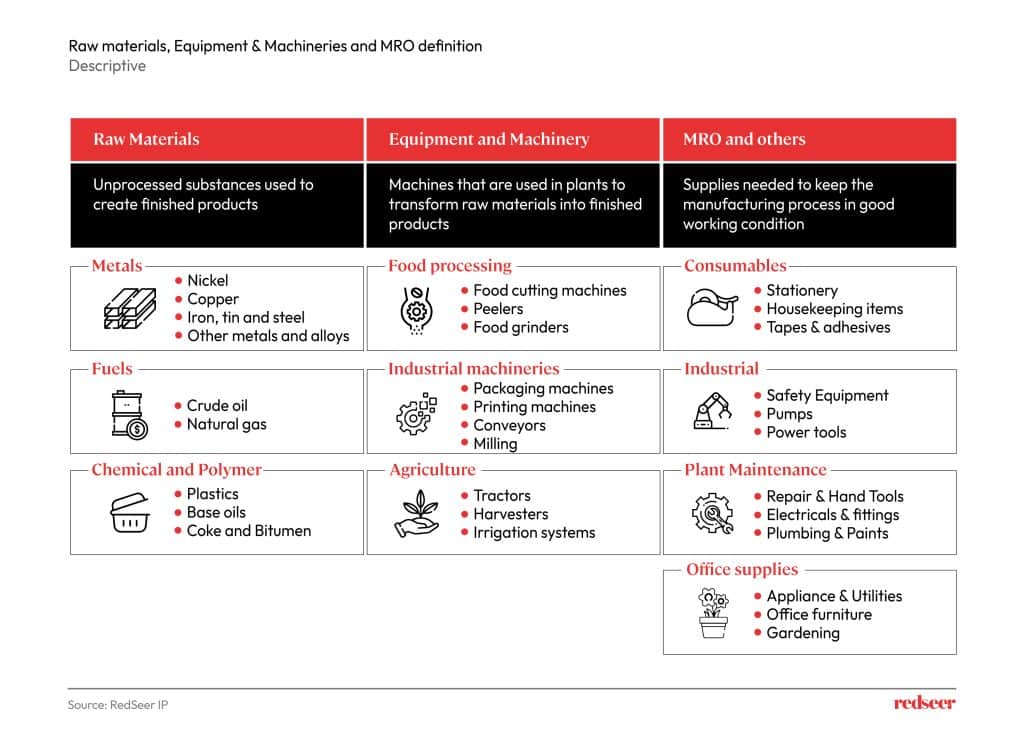 Manufacturing contributed ~18% to the national GDP in Indonesia in 3Q 2022, highlighting the importance of this sector. The construction sector is also set to grow, especially the residential sector, with the government implementing the One Million Houses Program. Such initiatives allow companies to capitalize on the growing demand for raw materials and establish themselves as a reliable supplier.
eB2B players can also leverage the country's high overall digital penetration by increasing awareness of their brand for manufacturing and distribution of equipment and machinery through online channels. Furthermore, with the increasing focus on efficient operations, players looking to tap into the MRO market can offer solutions that reduce downtime and maintenance costs for businesses, with ERP integration solutions. 
3. Industrial B2B sector holds significant potential in Indonesia. The sector has demonstrated strong growth and created several unicorn + soonicorns in India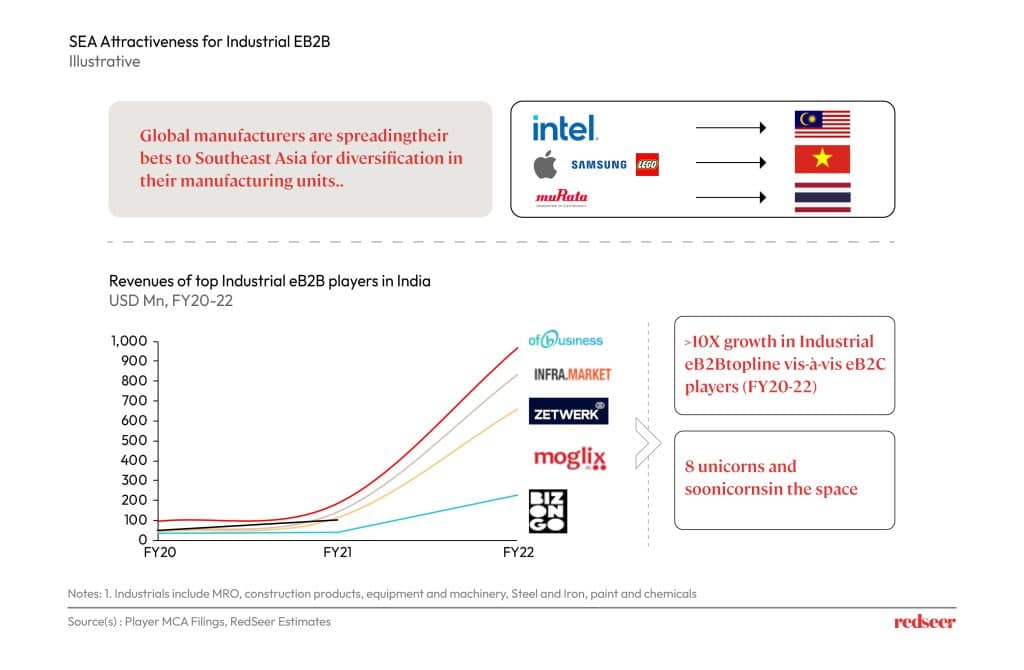 D2C electronics companies have the potential to disrupt the retail industry in Indonesia. With consumers increasingly prioritizing pricing and features over brand name, D2C companies can offer high-quality products at lower prices, making them more accessible to a wider audience. By utilizing tactical messaging and limited-time offers, these companies can create a sense of urgency among consumers. Additionally, offering extended warranties, product reviews, and ratings can build trust and confidence in the customer's purchase, leading to increased customer loyalty and recommendations to others.
4. Indonesia's Eb2b landscape is currently in the nascent stages with recent investments in the raw material space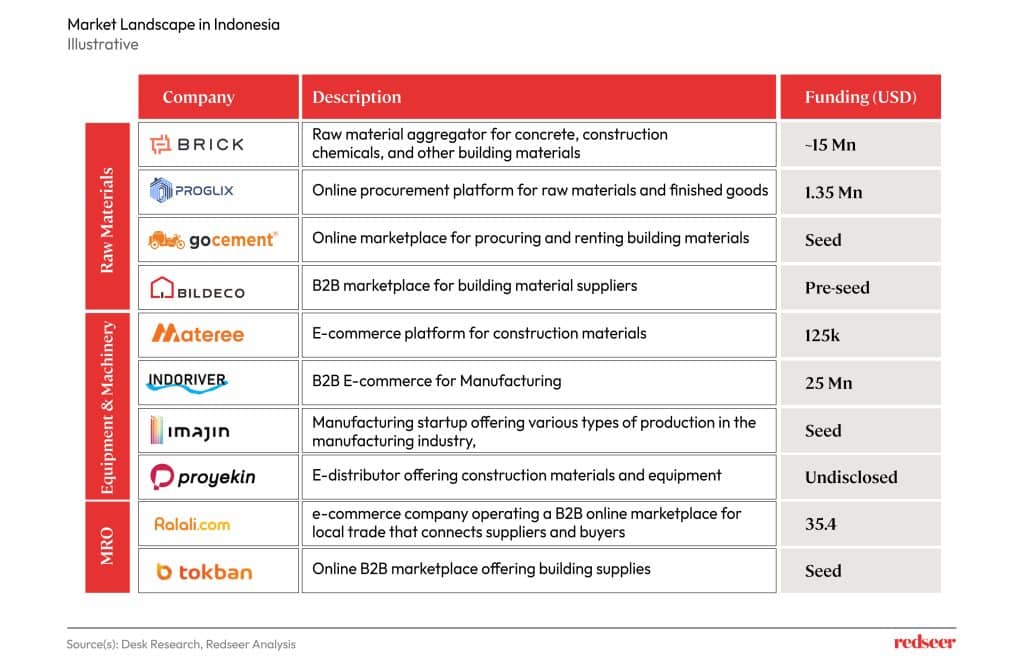 Within industrial eB2B, Online marketplaces and e-commerce platforms offer significant opportunities with minimal risks and high visibility. Brick and Proglix are among the startups that have recently captured investor interest and secured substantial funding, amounting to USD15 Mn, and USD1.35 Mn, respectively, in 2023.
5. About Redseer Southeast Asia: We support clients across Consumer and Internet Sectors​