Here we share how influencer marketing is gaining prominence as an impactful digital ads channel. We find that understanding regional user nuances, category mix, and niche marketing tools is critical to creating to an influencer marketing campaign.
This article builds on our earlier note on the rise of influencer marketing in Indonesia, influencing-on-the-way-up.
1. Influencer marketing campaigns are a powerful tool to leverage while creating online campaigns and are heavily used for driving awareness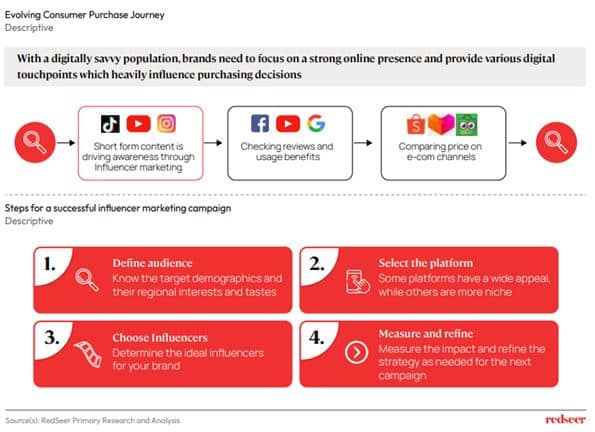 Influencers marketing play a crucial role in the consumer purchase journey – it expands the brand's reach and speaks to a digitally native generation through relatable content. Such consumers trust influencers' recommendations compared to a brand's own recommendations on social apps.
To ensure a successful influencer marketing campaign, it's crucial to determine your target audience and their regional preferences, select the ideal influencers for your brand, choose an appropriate platform, and evaluate the impact of the campaign to fine-tune the strategy for future campaigns.
2. User generated content (UGC) is empowering creators and influencers to build a highly engaged and dedicated audience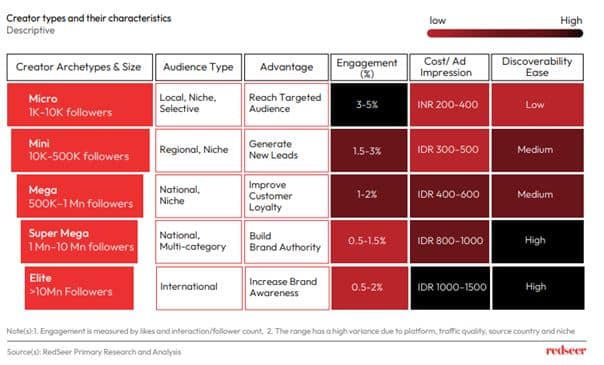 Nearly ~80% of total creators in Indonesia fall in the Micro category or lower. They typically showcase a high engagement by providing local and niche content for their audience. Mini and Mega creators are characterized by their relatability, unlike elite celebrities. These influencers connect with their audience at a personal level leading to a relatively high engagement.
The higher advocacy power to their niche has prompted brands to adopt Mini, Mega and Super Mega creators for their marketing campaigns. While working with small creators gives the brand better customer engagement and ROI, they fall low on discoverability.
3. Tiktok is the fastest growing platform among social apps, with regional SFC players also fast growing in adoption and engagement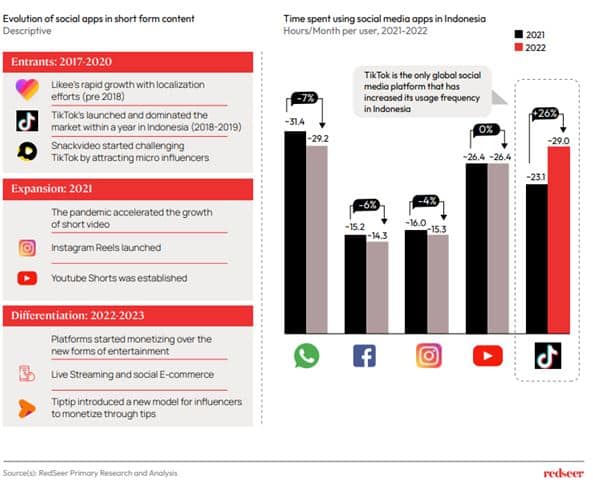 Short form content platforms are overtaking other social media apps as the center for interaction between influencers and viewers due to their engaging and highly visual nature. Such platforms which initially offered entertainment have now moved into monetizing by offering new features such as Live Streaming and Social E-commerce.
The market is currently dominated by global players like TikTok and Instagram, with regional players such as TipTip and Snackvideo also gaining traction. Snackvideo has garnered over 43 Mn active users in 2022 within 3 years of launch. Tiptip had over 30,000 users in Oct 2022 within 3 months of release and aims to add 300K users by mid-2023.
4. Brands looking to penetrate rural areas should use vernacular influencers, budget carefully for low spending capacity of the viewers, and capitalize on the growing internet penetration in such areas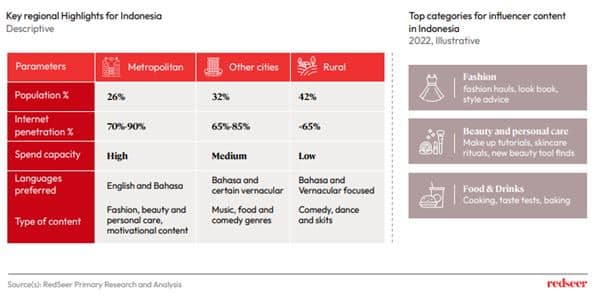 The differences in Indonesia's audience by region can significantly impact influencer marketing campaigns. As rural areas have lower internet penetration levels, influencer marketing strategies aimed at these regions may need to take an omnichannel approach by adding offline events to provide additional touch points between the influencer and the viewers. However, in urban cities with high spending power, influencer marketing for fashion and beauty categories has proven to can be a highly effective strategy.
Influencers who can create content that resonates with regional nuances and cultural differences can have a greater impact on audience engagement and help brands successfully target specific regions.
5. Influencer marketing firms have seen a rapid growth in terms of clients and pricing due to successful campaign runs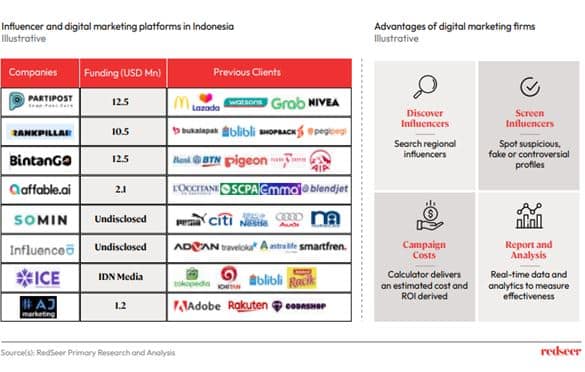 Influencer marketing firms offer insights to reach micro influencers, vet them using various filters and track their content for audience fit. Such in depth analysis results in successful campaigns.
Apart from influencers services, such firms also help estimate total campaign costs and potential reach, review the content to check for regional nuances and provide real time data analytics to measure and improve the effectiveness of the campaign.