1. The online channel is playing a crucial role in educating consumers about luxury products, thereby increasing accessibility as well…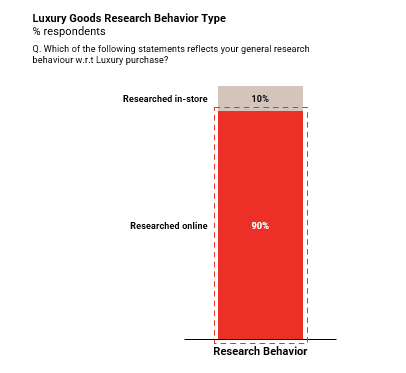 Note(s): List of fastest-growing markets in non-exhaustive.
Today, luxury retail is a segment that is accessible to all consumers. The online channel has made exploring luxury brands and products and educating oneself about it extremely easy. Consumers who previously hesitated from visiting flagship stores of luxury brands, are now able to discover product ranges and price points in the online channel. Our study highlights that >90% of consumers in MENA, research online before making a purchase for luxury products. Online channels are used to discover latest luxury trends, product ranges and to access styling tips.
2. …and consumers are looking for guidance and inspiration in their digital media content experience…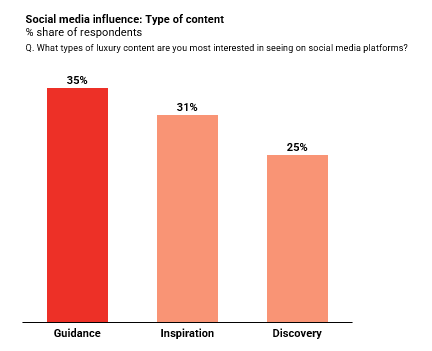 Note: Simple average of clubbed responses is taken as each bucket has different number of options being clubbed together
Guidance and inspiration are they key needs consumers are looking to address through their digital content consumption, and social media is playing an important role here. Consumers wish to know about new launches, tips and trends, reviews, and expert recommendations on products from a guidance standpoint. They also look for inspiration in the form of shared experiences, brand history and culture and other relatable interactive content.
3. …where creators are now playing an equally important role compared to celebrities as the content is more relatable and the format is more engaging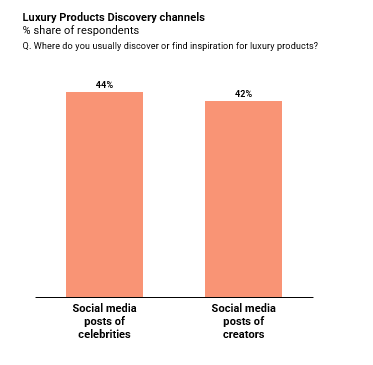 Another interesting trend that we see across retail is the rising influence of creators or social media influencers. This is playing out in luxury as well where consumers are increasingly interacting with social media posts of creators to discover and engage with luxury products & brands. The role and relative influence of creators is now as strong as celebrities, indicating that the segment is also shifting from being exclusive in nature to more relatable and accessible to the emerging affluent generations. User's strong relatability to influencers and the influencer's ability to deliver engaging, creative luxury related content is helping drive this shift.
Examples of content from luxury influencers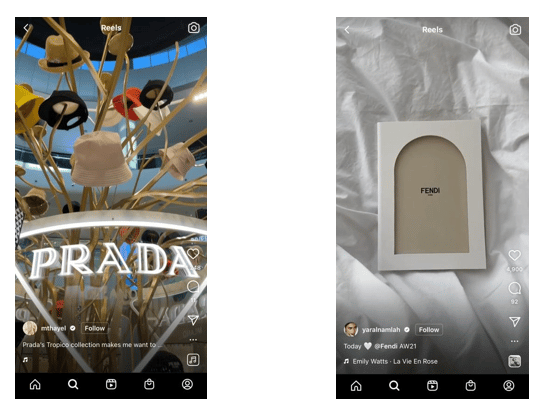 4. …and this is reflected in the heightened conversion levels seen towards luxury purchase, through social media channels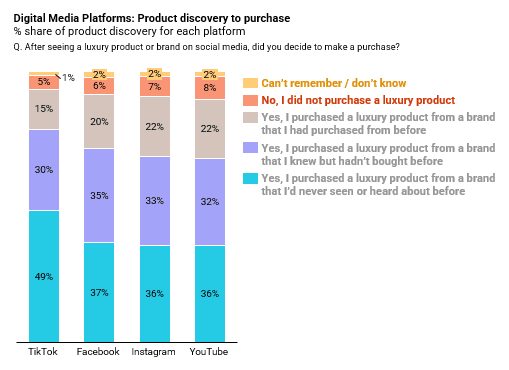 The impact of social media channels on luxury purchases has come out very clearly in our recent research where 3/4th of respondents have said they went ahead and made a luxury purchase after watching related content on social media platforms. Interesting point to note here is that more than half of such consumers purchased from a brand they have never seen or heard about before, highlighting the strong impact on customer acquisition that such channels are having.