1. Brands across categories are facing challenges in their existing distribution network owing to fragmentation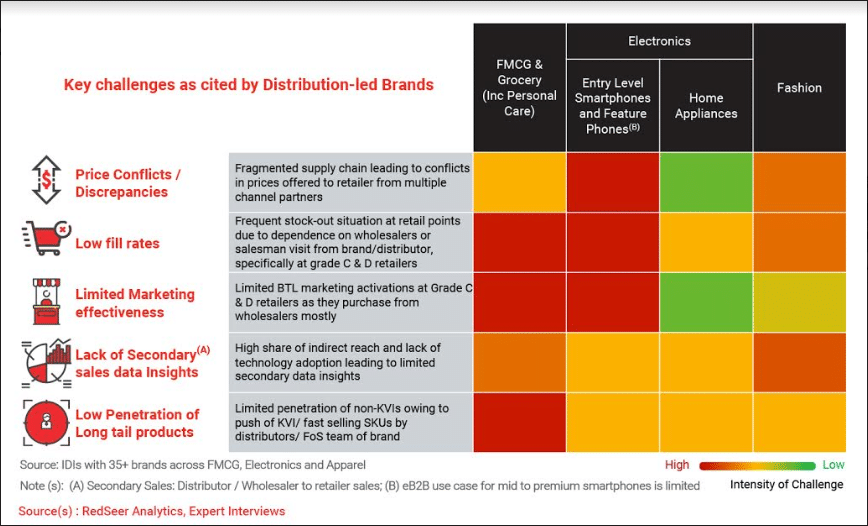 India's retail market is marked by presence of retail led brand and distribution led brand across categories. Distribution led brands are dependent on traditional distribution structure for increasing their reach and scale.
However, owing to reliance on distributors and wholesalers, these brands don't have direct connect with retailers leading to multiple challenges with varied intensity across categories.
FMCG brands are facing the biggest challenges compared to other categories as the market has a presence of various sizes of retailers, each having own buying behaviors, which result in multiple challenges for brands to serve each retailer in an efficient way.
---
2.

e

–

B2B

platforms are well poised to address the challenges faced by the brands by connecting brands directly with the retailers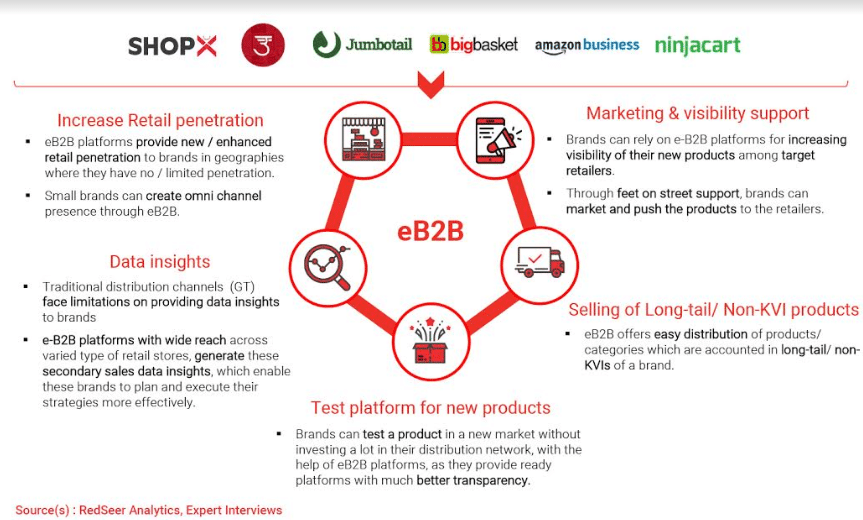 e–B2B platforms address the challenges faced by brands by eliminating the middleman and connecting brands directly with the end retailers which helps brands to get better insights on purchase patterns of retailers and allows brands to conduct BTL marketing activities for increased visibility at these outlets.
e–B2B also support brands in increasing their direct retail reach and provides a platform for test launch of new brand and product in market.
Thus, there is an opportunity for e–B2B players to reach out to wider set of brands with their value proposition and monetize on the value-added services.
---
3. Brand across categories have realized the potential of

e

–

B2B

and have started partnering with them – with many positives and some wishlists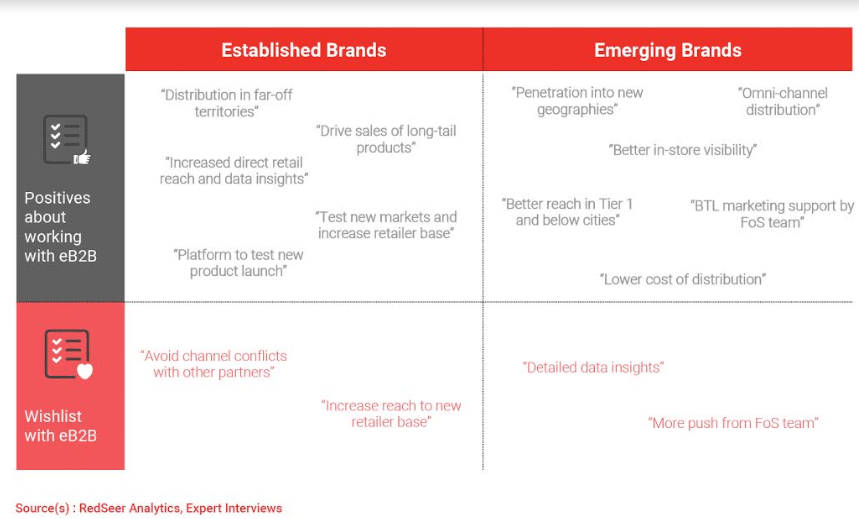 Brands have realized the potential of e–B2B platforms in addressing the challenges in traditional distribution set-up and have started partnering with these platforms to increase retail reach, penetrate into new geographies and drive sale of long-tail products. Brands are also exploring the FoS (feet on street) team of e–B2B platforms to increase awareness among retailers and driving marketing and promotion of their products.
As e–B2B is a recent phenomenon and partnership with brands is at early stage, e–B2B platforms are facing a few operational challenges which should improve over time.
4. Brands are willing to pay 4-9% additional margins on top of distributor margins and trade schemes for the benefits provided by e–B2B players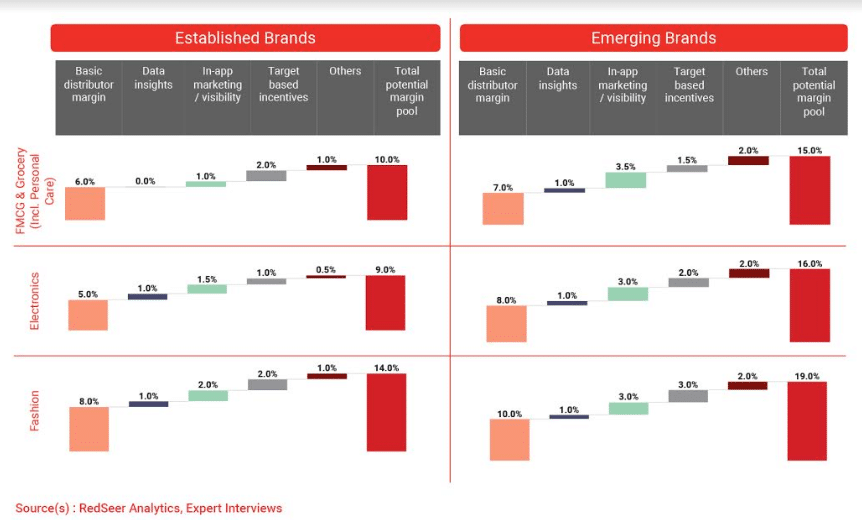 Currently, the take rate/ gross margin for e–B2B players is only from the commission on sales of product to retailers, which is typically the margin earned by a distributor for providing warehousing, logistics and sales support.
However, e–B2B players with their strong FoS team and data analytical capabilities are well poised to address these challenges and brands are willing to shed out extra margin on top of basic distribution margins and trade schemes for the value-added services provided by e–B2B.
---