Modern Retail in India is on the growth trajectory driven by consumer's shopping behaviour and re-aligned focus of retailers
Published on: Nov 2019
Private consumption, currently at 59% of GDP will continue to be the main driver of growth, growing at a robust CAGR of ~11% between 2018 and 2023. Merchandise retail accounts for 49% of the private consumption in 2018 and is expected to be 48% in CY 2020 driving India's retail sector which is projected to grow from US$ 805 Bn in CY 2018 to US$ 1002 Bn by CY 2020 and US$ 1385 Bn by CY 2023.
Organized brick and mortar (B&M) penetration currently is 10% ($82 Bn) of India's total retail sector of $805 Bn (CY2018). This organized share is expected to grow at 20% over the next few years to reach 11.8% ($118 Bn) by CY2020 and 14.7% ($204 Bn) by CY2023. Online retail contributes 3% (CY2018) share and reflecting, expectantly, robust CAGR of 35% will increase to 4.6% and 8.6% penetration in CY2020 and CY2023 respectively.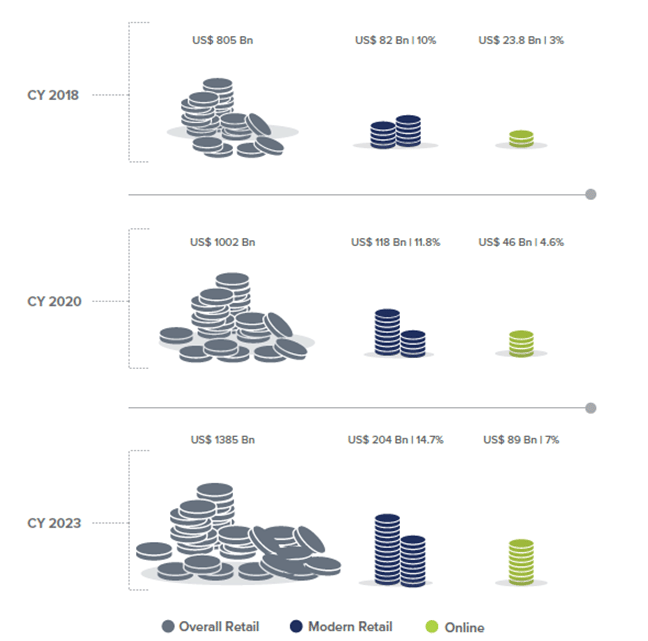 ---
Organized share in Food & Grocery is lowest compared to other categories, however, it is marked by high growth
Of India's retail basket, Food & Grocery (F&G) category comprising fresh fruits & vegetables, packaged food, personal care & home care and utilities is a significant 65% ($525 Bn) of the wallet spend whilst the organized share is marginal, at lowest penetration factor of 3.6% contribution.
India's Food and Grocery retail sector has, over the recent years, witnessed substantial momentum across the evolution of customer-centric business models, supply chain remodelling and efficiencies driving value creation.
Though organized F&G retail has been around for over three decades now, it was marked by constrained growth owing to the diluted focus on format, geography, assortment mix, customer segments by business conglomerates eager to leverage the potential.
The food and grocery B&M organized sector, however, will grow at a robust 25% CAGR to an increased 6.7% penetration by 2023.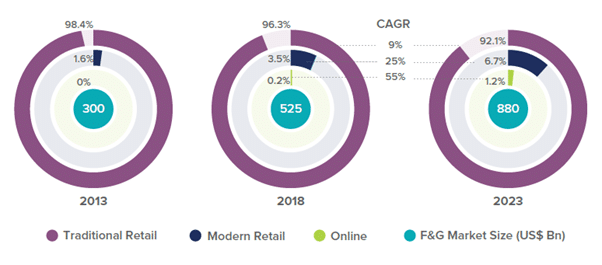 ---
Organized Food & Grocery share in India is low compared to other developed and developing market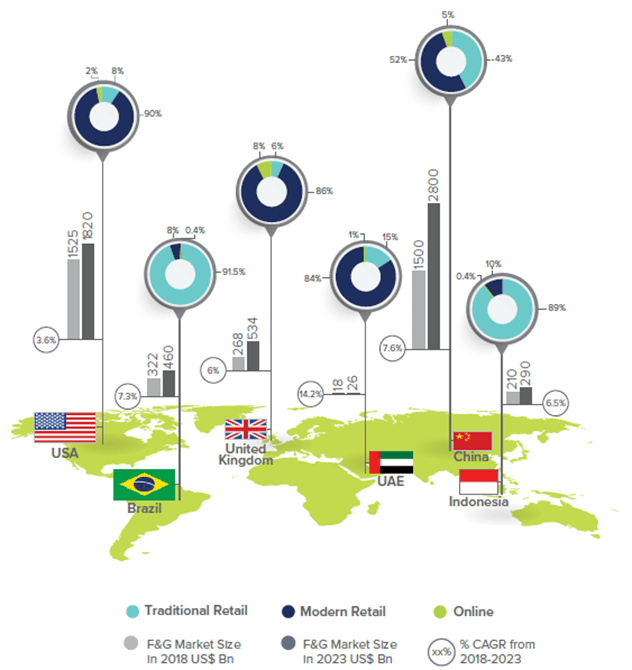 ---
Organized Food & Grocery retail is expected to grow at a faster pace driven by investment in infrastructure and expansion of players in smaller cities
Modern retail formats have marked India's F&G retail landscape for over nearly three decades. The sector, however, has witnessed laggard growth owing to fragmented supply chain, distribution, limited investments in cold storage and warehousing.
Evolving shopping behaviour coupled with re-aligned commensurate business models by retailers is expected to increase the growth of this organized sector over the coming years. Focus on format, geography and the right customer segment remains the key for the retailers to thrive in this sector.