OTT is the future of entertainment, and sports tournaments have emerged to springboard user engagement. FIFA World Cup 2022 is expecting ~5bn viewership, out of which ~1bn viewership is projected through OTT platforms. A steep spike in OTT subscriptions is seen during a major sports event, which experiences a dramatic fall post event. Thus, OTT players must develop the right strategies to reduce churn rates.
Here's deeper insight into what to expect during the World Cup.
1. The "livest" sports content is fueling OTT growth…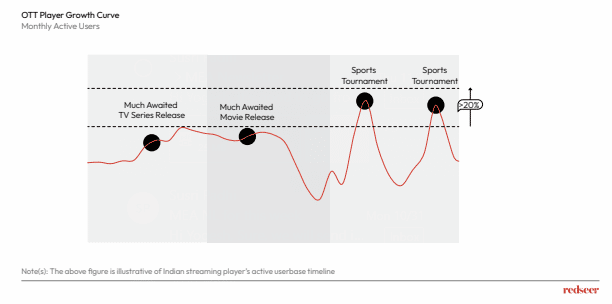 OTT is taking over the world of home entertainment. Thanks to the discovery of increased video quality, cloud technologies, and worldwide internet consumption, there has been a major surge in demand for OTT. Sports tournaments have emerged to springboard user engagement in OTT, and major organizations are also beginning to feel the vibe. FIFA took the chance to launch its own streaming service in April 2022, debuting with six languages and adding four more in June.
2. …and the same will be witnessed in the FIFA WorldCup, which will springboard subscription…

OTT viewership has witnessed exponential growth and current viewership is estimated to be ~2bn globally. Historically we have seen a surge in subscriptions during sporting events. A similar trend is expected during FIFA World Cup, with ~0.3bn additional subscriptions driven during this mega football tournament. FIFA World Cup is estimated to engage ~5bn people around the world, with ~1bn viewership projected through OTT.
3. …but the major source of revenue will come post World Cup, hence retention is the key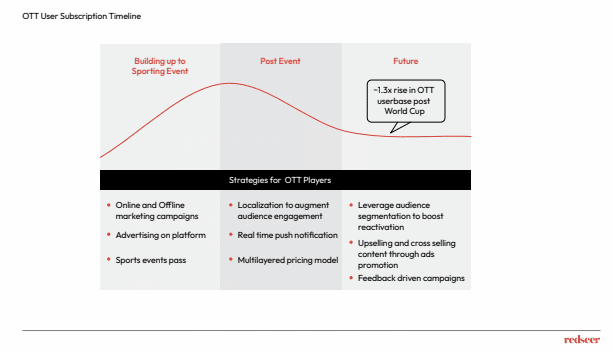 OTT user subscription growth builds up exponentially during major sports event and experience sudden drop post the event. Players must understand and address each phase with the right strategies to ensure audiences retention.
The world cup promises to be a Mega event and will have a long-lasting impact across sectors, creating a legacy for the MENA region.