1. Indonesia is the largest real estate market in the region accounting for more than 50% of the overall realty market in SEA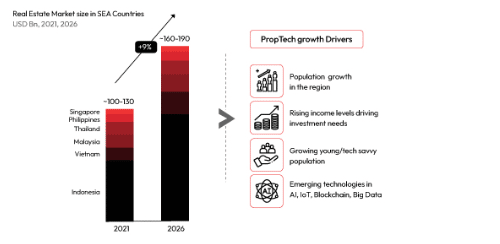 The combined real estate market size in the six focus countries of SEA is over $100 Billion. Indonesia and Vietnam are emerging as the most exciting real estate markets in the region with each of these countries expected to grow at a CAGR of ~12% in the coming 5 years till 2026. Malaysia and Singapore are expected to grow at ~6% and ~4% CAGR in the next 5 years. After years of decline, Philippines shows a recovery on back of pent-up demand, opening of economy and return of foreign workforce. The large real estate market acts as an important catalyst for the broader development of the PropTech sector.
2. The region has seen emergence of various types of business models across the PropTech beyond the marketplaces and listing solutions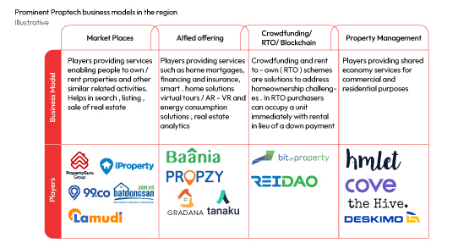 PropTech started off with players offering marketplace solutions that allowed users to view and lock in listings for renting/ buying properties however now the ecosystem has matured much beyond that and offering a host of other services. The sector is seeing new players offering services such as financing solutions, augmented/ virtual reality-based home viewing solutions, smart home offerings blockchain based REIT/ crowdfunded investing solutions. The sector also has multiple players offering shared services for both residential and office real estate.
3. Robust funding and deal making activities in the region affirm investor interest and confidence in PropTech as a theme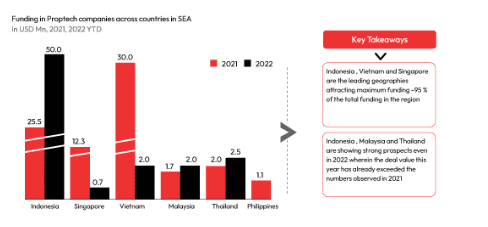 PropTech has seen significant activities in terms of fund raising since 2020 especially in countries such as Singapore, Indonesia, Vietnam, and Thailand. The region is seeing emergence of many new age start-ups across various types of PropTech offerings and solutions. With already ~$70 million + of funding flowing in the private space in SEA in first 7 months of the year, 2022 has already exceeded the deal making activities seen in 2021. Over 90% of the deals that have happened in 2021 and 2022 are early-stage deals (Series A and earlier) signifying the emergence of many new and smaller players. As these players mature up, we can expect larger ticket size late-stage deals in the coming years.
4. Snapshot of some of the leading Global PropTech players with innovative business models….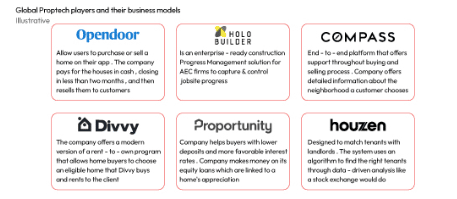 Globally PropTech as a sector has seen immense interest from investors as they have put in ~$10 billion + funding in this space. The sector has seen rise of new and innovative business models across the PropTech spectrum to fill existing gaps. We are seeing similar trends in SEA as well. Examples of similar business models that have emerged in SEA include Homebase and Tanaku (similar model like Divvy and Proportunity), FastKey from PropertyGuru assisting in full project sales cycles. As the ecosystem in SEA matures further, there will be many more players that will emerge to fill in the existing gaps.
5. …..similarly new players and partnerships are emerging in SEA also across various niche PropTech categories beyond marketplaces and listing platforms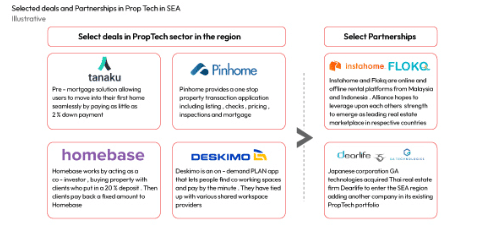 As the sector matures, we are seeing players in SEA beyond the first generation PropTech in the form of marketplaces/ listing platforms. New offerings that alleviate the financing issues, support investments, assist in closure of a transaction end to end and provide allied services to the real estate and construction sectors have come up. There have also been multiple cross border partnerships wherein the players both within SEA and outside of SEA seek to leverage upon the strengths of the partnering parties to emerge as stronger players in respective countries.