As we reach the mid of the holy month of Ramadan, we would like to extend our warmest greetings to you and your loved ones. This is a significant time when Muslims from all over the world come together to engage in spiritual reflection, fasting, and devotion through prayer.
Here, we will take a closer look at the changing trends and evolving consumer sentiments during Ramadan. This time, we will offer a distinctive comparative perspective on consumer behaviour in the MENA and SEA regions.
1. SEA and MENA, two Muslim majority regions are expected to see ~$150 Bn retail sales during Ramadan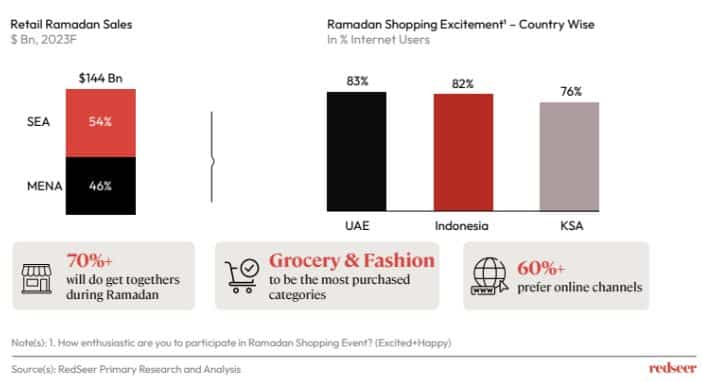 Retail sales during Ramadan are expected to reach ~$150 billion in the SEA and MENA regions. While the level of consumer shopping excitement appears to be consistent across both regions; groceries and fashion items are expected to be the most purchased categories driven by an increase in get-together events. Additionally, the inclination towards online channels is also expected to be high during this Ramadan.
2. Despite macro environment, stable growth is expected in spending across sectors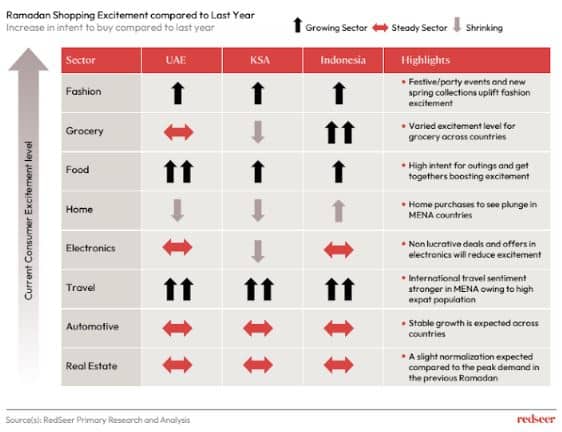 During Ramadan, the fashion and food industries experience heightened excitement, while stable growth is expected in the automotive industry across various countries. However, non-lucrative deals and offers in the electronics category may reduce the excitement around shopping for electronics.
The level of excitement around home and grocery shopping varies across different countries, with Indonesia showing a higher level of excitement for such shopping during Ramadan compared to other countries. Additionally, the sentiment towards international travel is stronger in the MENA region, possibly due to the higher expat population in the region.
3. Consumers are open to try new products – opportune time for D2C brands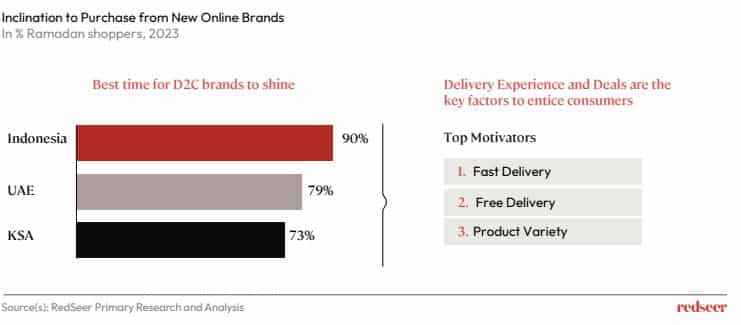 During Ramadan, consumers are more receptive to trying new products and experiences as they seek renewal and rejuvenation. This creates an excellent opportunity for Direct-to-Consumer (D2C) brands to launch new products and services tailored to the unique needs and preferences of consumers during this period. Additionally, price-conscious consumers are turning to private labels, which can be more profitable for retailers. By leveraging the spirit of the season and introducing innovative offerings, brands can expand their customer base and foster brand loyalty.
4. The primary channels for discovering products are expected to be e-commerce and digital media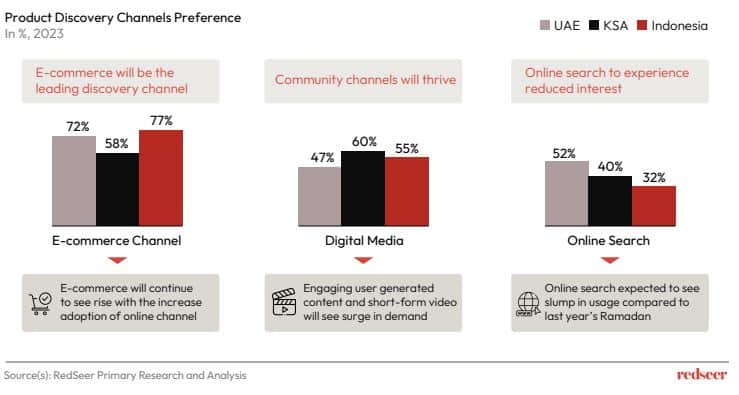 This Ramadan, consumers across regions are favouring online channels for product discovery. While online search is predicted to decline, e-commerce channels are expected to be the primary means of discovery, with community channels also thriving. As a result, there will be a surge in demand for engaging user-generated content. To remain competitive and capitalize on market opportunities, businesses must adapt and revamp their strategies to cater to the changing needs and expectations of consumers.