As the sacred month of Ramadan draws near, we would like to send our heartfelt greetings to you and your dear ones. Ramadan is an extraordinary time when Muslims across the globe unite to observe a month of spiritual reflection, fasting, and prayer.
Here we will provide a deeper insight into the shifting trends for Ramadan, the evolving consumer sentiment, and the evolving impact of digital media on exploration.
1. Ramadan continues to be important in the MENA region, this year retail sales are set to rise to $66 bn as it feels the impact of inflation
Ramadan is a significant fasting, prayer, and spiritual introspection period for Muslims worldwide, particularly in the MENA region, where 95% of the population observes the holy month. This year, MENA Ramadan retail sales are projected to reach $66 billion despite the impact of inflation. However, consumer excitement for shopping is expected to remain subdued in comparison to 2021, resulting in stable demand contributing an additional $5 billion compared to last year.
2. Discovery seeing disruption: online search declines, community channels and brand apps continue to thrive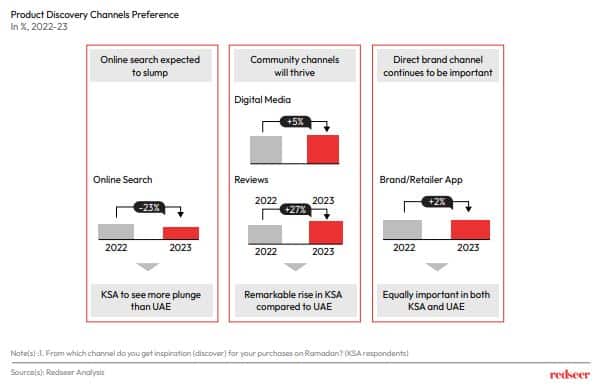 MENA consumers are exhibiting a shift in their online product discovery methods during this year's Ramadan. Rather than relying on traditional search methods, they are turning towards community channels for making informed purchasing decisions. Such channels provide them with the credibility of consumer reviews and a digital product discovery experience, which has become increasingly important. Therefore, it is imperative for businesses to adapt and revamp their strategies to cater to the evolving needs and expectations of consumers. Brands must stay abreast of market trends to remain competitive and capitalize on market opportunities.
3. Consumers are also open to trying new products during Ramadan – an opportune time for brands to launch products
Ramadan is a time of renewal and rejuvenation; consumers are often more open to trying new products and experiences during this period. For brands, this presents an excellent opportunity to launch new products and services that cater to consumers' unique needs and preferences during Ramadan. By tapping into the spirit of the season and launching innovative offerings, brands can attract a broader audience and build a loyal customer base.