1. Ready to Cook Food market is gaining adoption among consumers owing to increasing urbanization and demand for convenience food
Published on: Aug 2019
Ready to Cook market in India stands at INR 2100 Cr in 2019 and the market is expected to grow at a CAGR of 18% to reach INR 4800 Cr by 2024. Ready to Cook market is segmented into non-frozen and frozen RTC product with the frozen taking bulk share of the market at present. However, non-frozen RTC is expected to grow at a faster pace compared to frozen RTC food and the mix of frozen and non-frozen RTC is expected to evolve from 73%:27% in 2019 to 70%:30% by 2024
The growth in RTC food market is driven by increasing urbanization and shift of people from Tier 2 towns to Tier 1 and Metro cities. Besides this, changing consumers demographics such as the rise of nuclear families and double-income household coupled with a busy lifestyle is driving demand for convenience food products.
2. Ready to Cook Market is dominated by Frozen RTC at present; however, non-frozen RTC to grow at a faster rate of 20%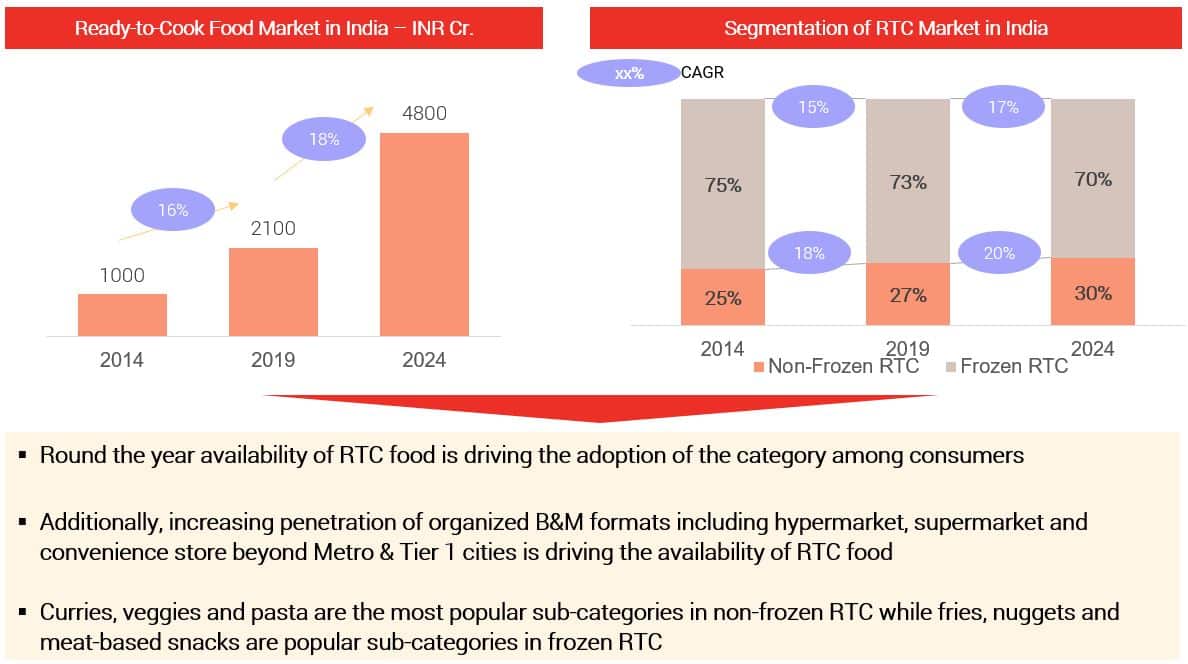 Currently, the majority of RTC food market is concentrated in Metro and Tier 1 cities owing to high purchasing capacity of the consumer in these cities. Also, the brands offering RTC products are present mostly in Modern trade stores and Grade A/A+ general trade stores owing to refrigeration requirements for frozen RTC which limits their adoption beyond these stores. However, online platforms have provided an alternative channel of growth for brands in the category and have led to an increase in their presence across various regions in the country.
Major challenge limiting the growth of frozen RTC products is the lack of proper infrastructure to supply and store such products in the retail shelf. However, with improving cold chain infrastructure and investment by players to develop infrastructure in traditional retail stores will provide impetus to the overall growth of the category. Also, continuous innovation by players in developing new products and the launch of regional variants will further increase the adoption of category among consumers.
---
3. The market is dominated by incumbent brands such as MTR, Gits. However, leading incumbent players such as ITC, Godrej and Nestle are increasing their presence in the category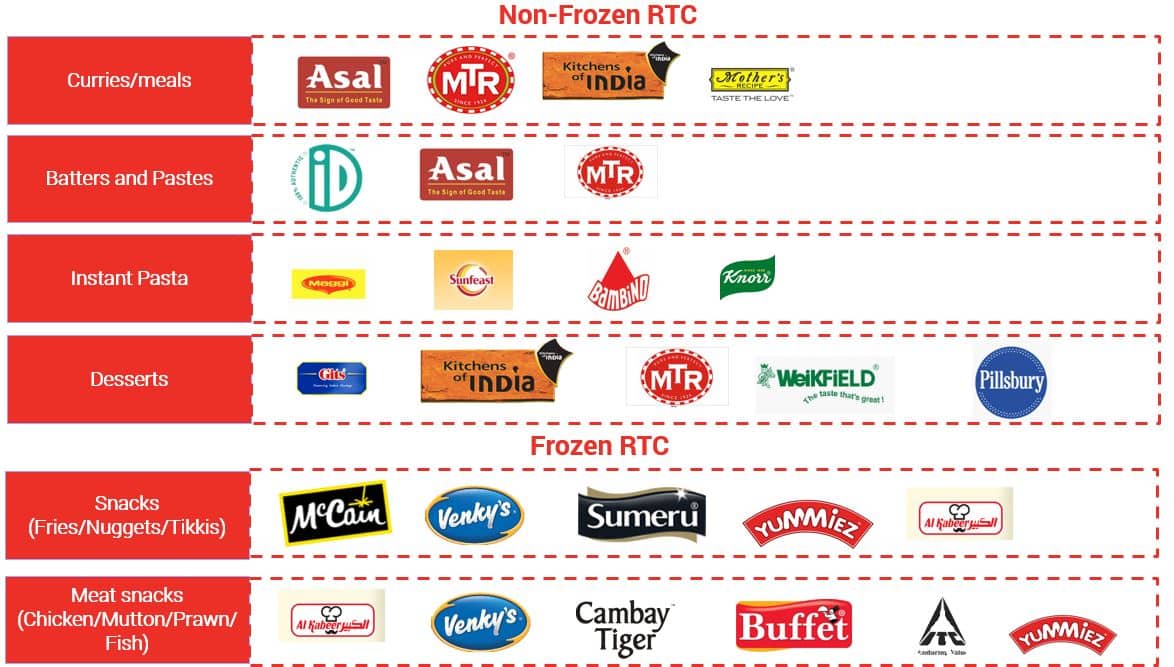 The market for frozen RTC and non-frozen RTC food products is marked by a distinct set of players. Currently, the non-frozen market is led by domestic brands such as MTR, Gits offering ethnic meals and curries and are increasing their presence across the country by launching products in accordance with the regional taste of consumers. However, frozen RTC market is currently led by McCain, which a leading global brand in the category and long-tail of domestic brands offering mostly potato or meat-based products.
Leading packaged food incumbent players such as ITC, Godrej, Nestle, Kohinoor Foods are leveraging this opportunity and increasing their focus in this category and with their strong distribution network, these players can become a competitive threat to existing players in the market