The eB2B landscape in SEA countries of Indonesia, Vietnam and Philippines offers strong growth prospects with ~40% or higher CAGR during 2021-26. The inherent inefficiencies in the traditional supply chains make eB2B an attractive business proposition. It addresses stockouts, product variety, financing options and other pain points for retailers. Similarly, they help brands with increasing their retailer reach, get better insights and streamline operations etc. Arguably, execution is not easy for eB2B players. Accordingly, players that can balance growth and profitability stand to reap long-term benefits.
1. Indonesia's eB2B landscape is mature compared to other countries in the SEA region and ahead by at least 3-4 years
As covered in our earlier eB2B report Indonesia eB2B , Indonesia eB2B is expected to grow strongly at ~46% CAGR reaching penetration levels of ~2-3% by 2026. Due to Indonesia's retail being unorganized, there are several inefficiencies in the value chain that lead to opportunities for disruption, especially for eB2B players. Further players are venturing into other areas outside traditional FMCG such as fashion, construction, seafood, and medical supplies.
2. eB2B to get further boost in Philippines when more businesses adopt digital office solutions
Philippines being an archipelago like Indonesia faces similar challenges and issues. High delivery costs (air)/ slow delivery (sea) significantly impacts the delivery capabilities of eB2B player thus hampering their growth opportunities. However, the eB2B players are able to extract favorable terms and conditions from the 3PL partners as the market continues to see some consolidation happening.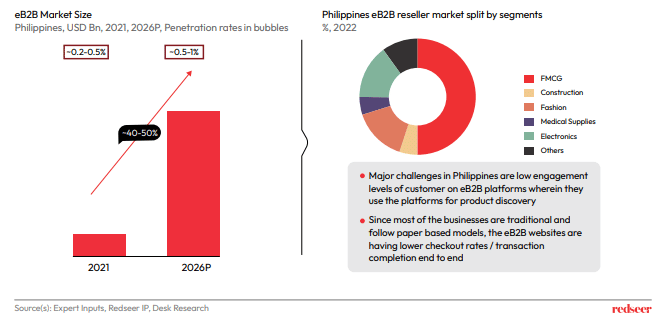 3. eB2B Vietnam is expected to grow at rates like the ones that were observed in Indonesia a couple of years back when the industry was at a nascent stage
Vietnam has one of the highest growth rates for the eB2B sector compared to Indonesia and Philippines as it is still in a nascent stage and benefits from the small base effect. Unlike Philippines and Indonesia (archipelagos), Vietnam does not have geography related challenges.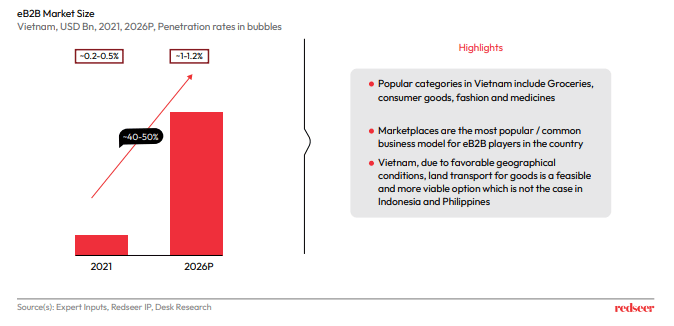 4. eB2B players are present across a wide category mix in each of the three countries beyond the traditional FMCG space
Although groceries and consumer goods dominate the sectors in which eB2B players are operating, we can see new business models and players emerge in non FMCG space as well across the 3 countries. Manufacturing is a significant category in which large eB2B players are present, especially in Indonesia. Manufacturing eB2B players such as Indotrading, Manuva have been able to scale up their operations quite well.
5. Overview of eB2B adoption journey by cities and retailer type
Across India and Indonesia, tech enabled B2B players are offering wider stack of services. We can expect similar trajectory to be followed by players in Vietnam and Philippines wherein there is a two-pronged growth strategy that will be adopted by the players -widening stack of services to diversify the revenue base and penetrating outside tier 1 cities