During the first week of January 2023, the media outlets were abuzz with our finding about startup scaling almost 4x faster currently compared to a couple of decades ago. That is, while startups incorporated in the year 2000 took 18 years to reach US$ 100 million revenue, the ones founded in 2017 took 4-5 years.
Having said that, not all startups have scaled. Some perished. Here we shed light on this journey of scaling startups.
1. There are several key drivers that helped startups scale quicker
Increasing internet user base and a faster-growing base of online service transactors and shoppers mean new-age startups have a ready user base to begin with, provided the offerings fit the market. Beyond that, the startup ecosystem has matured significantly. From seasoned founders and investors to a comprehensive set of enablers – payments, logistics, and SaaS have made scaling much easier. So, startups are able to scale much faster than they did a decade or so ago.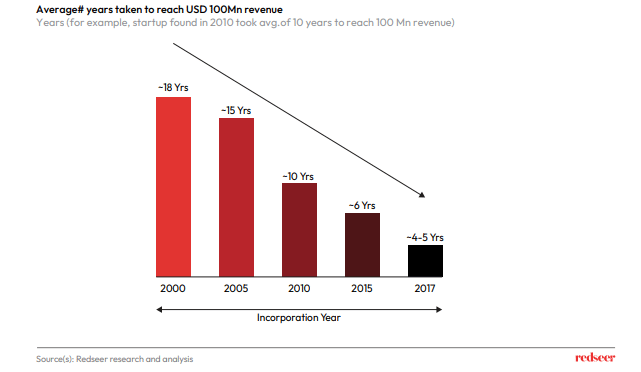 2. But not all startups scale
Of the 12,000 active startups we examined, approx. 95% of them make less than US$ 10 million in revenue. Going from US$ 10 million to US$ 100 million, typically referred to as the 'growth stage', is a challenging phase for even the initially successful ventures. At this stage, the ideas are table stakes, and execution capabilities matter more. Further, intangibles like brands, narratives and customer love gain further importance. This phase can be extremely taxing, especially for the founding team. Therefore, having a core team that trusts and executes a readily available ecosystem of enablers across the value chain and the encouragement of family and/or friends are essential and under-appreciated aspects of scaling businesses. Startups find challenges in scaling due to one or many of the above not working as desired.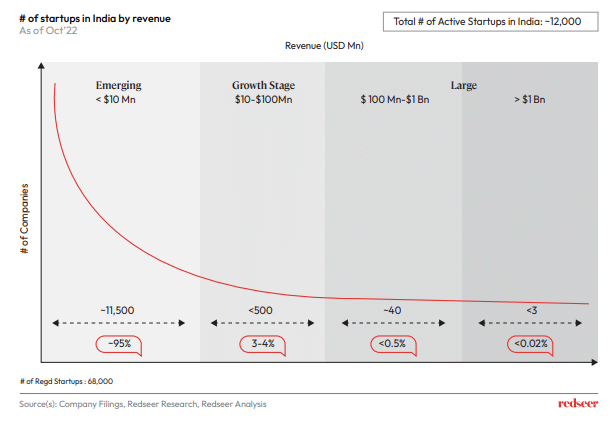 3. Guiding hands of experienced investors is critical for most startups
While many bootstrapped startups have done well, having investors can ease the startups journey significantly. Investors bring in more than just capital to the table. They also add significant value to startups through their proficiency and expertise in governance, benchmarking, and goal setting. They also bring vital connections which saves time otherwise spent in search and building trust. Startups succeeding
4. Things can and do go wrong; Over the years of working with the marquee Indian startups, we have developed a playbook of strategies that has helped them navigate the journey
Scaling challenges can often have startups in limbo without growing revenue for a long time. Some of the challenges for startups include a restricted total addressable market (TAM), poor product market fit (PMF), lack of differentiators to face stiff competition, lack of clarity on core users (who to solve for), and challenges related to governance and organization building, among others.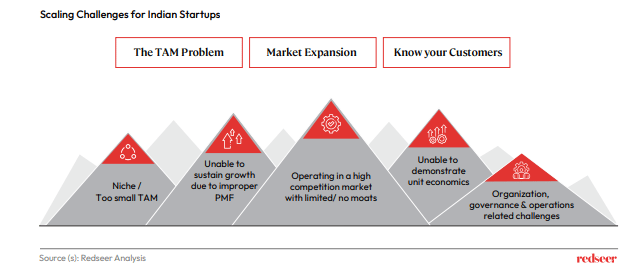 Our growth playbook for startups addresses the unique challenges of companies that keep them from scaling revenues to $100 million and beyond. Regardless of the sector, there are solutions to grow revenue for companies by addressing their unique challenges.