Scaling a startup from $10 million to $100 million in Annual Recurring Revenue (ARR) is a formidable challenge, but it is a necessary step for startups that want to establish themselves as industry leaders. The journey from $10 million to $100 million is often referred to as the "revenue chasm," and it requires a different approach from the strategies that got a startup to its initial success.
Most corporate behemoths today had humble beginnings, and they went through a similar phase from ideation to attracting investors and gaining customers before establishing as 'Brand'. Of the 270 unicorns and soon-to-be unicorns in India, about 40 startups have revenue exceeding $100 Mn as of FY22. The median revenue of ~100 unicorns is ~$52 Mn, while the 170 'soonicorns' average $20 Mn.
While this is the case of the crème-de-la-crème of successful companies, in the research of 12,000 active startups by Redseer Strategy Consultants across India, most have revenues of less than $10 Mn.
To put it into numeric perspective, these 'emerging' companies constitute 95% or ~11,500 start-ups that are yet to cross the revenue chasm. So what we see is a few successful startups followed by a long queue of emerging ones.
Growth journey of Indian startups in the last two decades
India's unicorns are well spread across various sectors, from Fintech to eCommerce, Logistics to Foodtech, and SaaS to Gaming. Depending on the sectors, these enterprises typically took anywhere from 5 to 15 years to reach the $100 Mn revenue milestone.
Upon closer inspection, a number of key structural supporting themes become evident.
Technological advancement and a faster-growing internet user base had one of the strongest influences on startups. The companies that were the first to ride the wave of digital transformation established themselves as dominant players in their niche and gained users quickly. Availability of capital through various means such as loans, investments, and crowdfunding was instrumental in getting businesses off the ground across all sectors.
Finally, experienced operators emanating from diverse backgrounds and operating on a number of different playbooks that evolved over the decades brought the know-how to build and scale startups.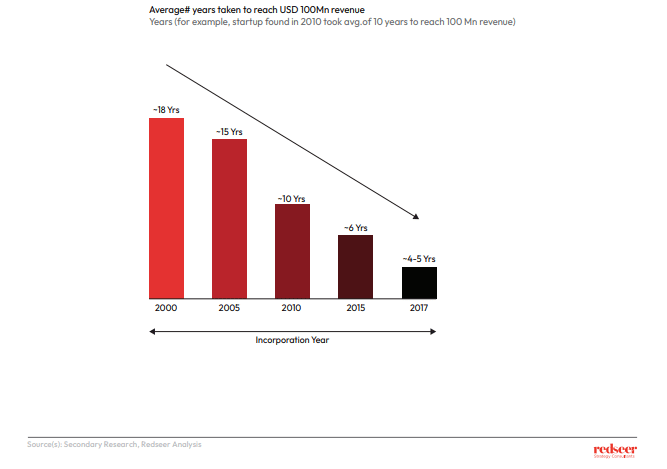 The effect of the key drivers is quite evident in the decrease in the time it takes for companies to scale. What took startups about 18 years in the year 2000 to scale to $100 Mn in revenue now takes only about 4-5 years.
A mature VC ecosystem played a crucial role in nurturing startups
Apart from bringing in capital, investors have added significant value to startups over the years. New companies started by novice founders are often product focused and need to improve in a number of areas related to governance, operations, marketing, and scaling. Investors bring valuable experience in the technicalities of running a functional business, especially when the startup is based on a high-risk idea. VCs and their experienced analysts can oversee business plans and operations and reduce the likelihood of failure. Financial guidance, allocation of funds, and long-term planning of risk vs. benefits also ensure the startups don't burn through their cash unnecessarily.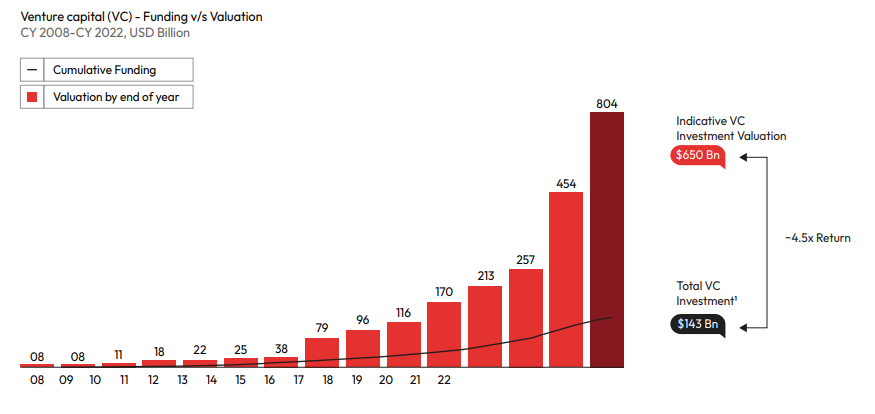 Beyond their valuable guidance in general governance and financial prudence, VCs with operational experience in the niche can offer excellent advice on benchmarking and goal setting. These partners have successfully invested and exited in similar businesses in their journey. Furthermore, the contacts and collaboration opportunities brought by VCs are often advantageous to startups. While the founders can benefit from the technical assistance of industrial experts, association with well-known VCs can help in publicity and brand awareness. As it stands today, with the maturing ecosystem, the ROI for VC is about 4.5X.
Bottlenecks exist in the growth journey of most startups
Despite the advancements and support, only a few startups manage to survive and scale. Of the 12,000 startups in the Redseer study, about 95% are 'emerging' with revenue less than $10 Mn. 3-4% of the companies are in the growth stage, with their revenue in the range of $10-$100 Mn, while less than 0.5% of companies range from $100 Mn to $1 Bn.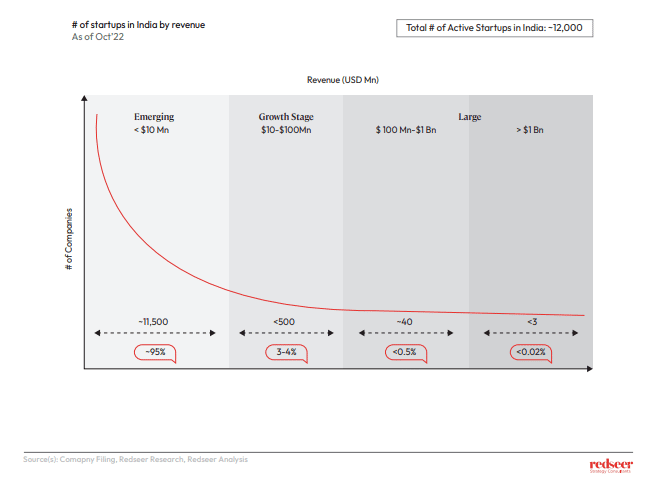 More often than not, startups are stuck in limbo brought about by the challenges of scaling in their niche. The frequently encountered scaling challenges for Indian startups include:
Restricted Total Addressable Market (TAM): Many startups tend to be in a niche market or a relatively small market segment, while others start out with a promising TAM. Startups often fail to tap into the total addressable market due to a number of challenges specific to their domain.
Improper Product Market Fit (PMF): Companies with a good product market fit have enough consumers who buy and advocate the product to sustain its growth and profitability. Startups often have a set of users well-defined for their environment or city. The challenges arise when they expand to other markets or a larger set of consumer groups with adjacent offerings.
Red Ocean Market: This refers to stiff competition in well-established markets dominated by incumbents. Unless startups have products with a sustainable differentiation, it becomes extremely challenging to stay afloat on the tiny piece of market share. It soon turns into a situation where the companies are running a loss without a hold on brand awareness or consumer loyalty.
Challenged Profitability: Mounting problems brought about by any or all three of the above makes it difficult to demonstrate unit economics and the path to profitability. It's usually at this point that decision-makers delve into specific challenges or contemplate pulling the plug.
Operational Issues: Challenges related to organization, governance, and operations are frequently faced by all companies. However, startups that are scaling have more of these challenges, as it often takes restructuring existing processes to fit the scale of operations ahead.
Redseer's growth playbook for startups to reach $100 Mn revenue
With our extensive knowledge and experience in strategy consulting for top brands and some of the unicorns in India, Redseer has a playbook for every challenge faced by startups. During the Ground Zero 7.0 Idea to IPO Business Summit held in Bangalore on December 8, 2022,we touched upon solving the TAM problem of a popular online fast food service.
The brand, which had already gained sufficient momentum initially, had hit a plateau, unable to scale. It's essential to understand that only a few brands in India have crossed the revenue chasm to the $100 Mn mark. One of the reasons food brands don't make it to the other side is the diverse food choices of the Indian population, which leaves no room for neutral cuisines. The lack of neutral cuisines makes it impossible to offer the same product to the masses at scale.
The solution for the fast food brand was to diversify into various food segments, create a house of brands, and scale the revenue. More examples of playbooks related to market expansion and the KYC process for two other struggling brands were also discussed during the summit.