Indian startups looking to expand overseas should consider Southeast Asia, an attractive geography with tremendous growth potential. According to the Redseer SEA report, the region's economy has been on a stellar growth trajectory, reaching an impressive USD3.2tn in 2021. What's more, the population of over 650 million and 70 million SMEs in Southeast Asia are rapidly becoming more affluent and digitally savvy, creating a high demand for innovative products and services. It's an ideal time to explore and expand into the region. Check out the details below:
1. SEA is a $3.2 Tn economy
With a total population of over 650 Mn, and a median age of 29.8 years, SEA is one of the youngest regions in the world. While Singapore has been a gateway to the region, emerging markets such as Indonesia, the Philippines, and Vietnam are fertile ground for digital startups owing to its higher spending power and digital penetration. The GDP growth despite macroeconomic pressures is expected to be around 5% in 2023 making a strong case for the growth spurt the region is about to witness. Furthermore, 95% of all registered establishments or entities are MSMEs opening up enormous opportunities for startups and investors looking to enter the SEA market.
2. Investor interest has picked up and diversified across sectors in the region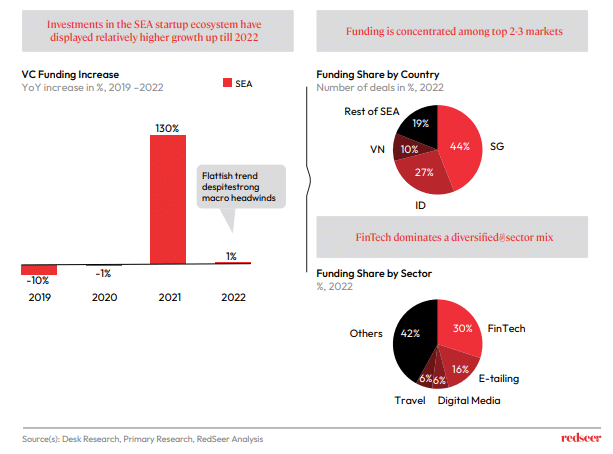 Growth in eCommerce during the pandemic, apart from a few minor dips, remained relatively secular due to the consumer shift towards digital channels. However, the subsequent slowdown in consumer demand led to order volumes for eCommerce being subdued in CY2022. The impact has been slightly lower compared to that on the FMCG player, as eCommerce is less reliant on price-elastic rural demand.
3. Digital economy of SEA is poised to add US $220 Bn over the next 5 years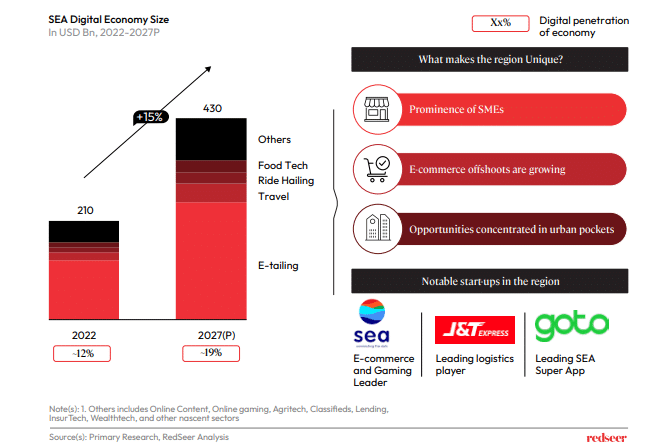 The total digital economy of SEA, which stands at $210 Bn, is expected to grow at 15% CAGR to $430 Bn. While the usual categories such as E-tailing, travel, ride-hailing, and FoodTech will contribute to the whole, a bigger chunk of the $220 Bn would come from emerging categories such as online content, gaming, AgriTech, classifieds, etc. The rising prominence of SMEs, growing e-commerce offshoots, and concentrated pockets of opportunities in the urban centers in the region will further contribute to the digital economy
4. The regional growth is led by Indonesia, the Philippines, and Vietnam
The digital ecosystem in SEA consists of varied sectors, with first-wave adopters such as online retail, FoodTech, travel, and ride-hailing services being the dominant players. Jumping on the opportunity in the second wave are categories such as InsurTech, Classifieds, AgriTech, and D2C startups which have witnessed a steep growth in the last year. While Singapore is a dominant player, the rising contenders in the region are Vietnam, the Philippines, and Indonesia, which has attracted a lot of interest in terms of investment.
5. The market dynamics are opening up ample opportunities for Indian startups, specially for AgriTech, D2C, Classifieds and InsurTech.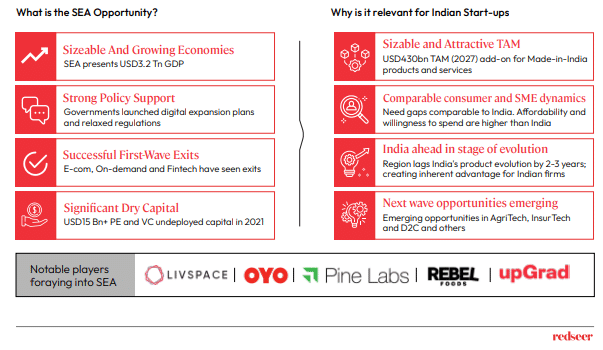 Strong growth in the digital economy can be seen in upcoming sectors such as AgriTech, D2C, Classifieds and InsurTech. Business models adapting to consumer demands have given rise to nascent categories. For instance, online classified has undergone business model changes to enable entire transactions, and eB2B are shifting towards consignment-led and marketplace models. Online retail is seeing a strong growth in D2C models, while FoodTech is making big strides with the advent of dark kitchens.
Considering the comparable consumer and MSME dynamics between India and SEA, startups here are in an advantageous position to tap into the $430 Bn TAM (2027) of SEA. Supportive regulations by the regional governments also make it easier for investors to get in and exit from the countries, as many have successfully done so far.