In today's digital-hungry world, smartphones are slowly turning into a necessity instead of a luxury. In this week's newsletter, Siddharth Surana and his team reveal a rather surprising development: the rise of used smartphones. Could India be a frontier in the market for secondhand phones? Does this pave the way for tech-enabled players to leverage this opportunity and further boost this segment? The team answers this, and more.
1. As the demand for affordable yet branded smartphones increase, India's used smartphone market is poised to reach a staggering market size of USD 10Bn by FY26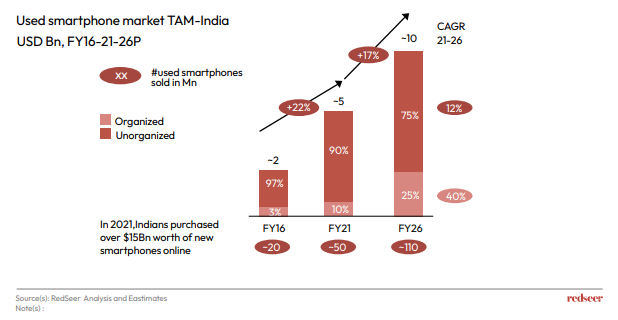 The growing popularity of e-commerce platforms for used and refurbished smartphones is driving the market demand. Because of the rapid technological innovation in consumer electronics along with increasing tech savviness, Indian users are frequently changing to newer devices. Used devices prove to be a more cost-effective alternative to consumer's growing needs. Refurbished products are a growing resource for consumers to try out new products from their favorite brands and to be more sustainable and price-conscious in their buying behavior.
2. A new breed of tech-enabled startups and players are fueling the growth of the used smartphone market in India

In 2021 alone, India witnessed the purchase of over USD15 Bn worth of new smartphones online. Rising demand for branded but affordable phones in Tier2+ cities, and the increase in overall smartphone ownership have all led to a boom in the purchase of smartphones. The used smartphone market, which is a sub-segment of the used electronics market, is also seeing better margins for retailers compared to the sale of new smartphones. Retailers get an average 5% margin for new smartphones which goes up to 8-10% for selling used smartphones.
3. These reCommerce, or reverse commerce players are addressing pain points that the traditional used phone market used to face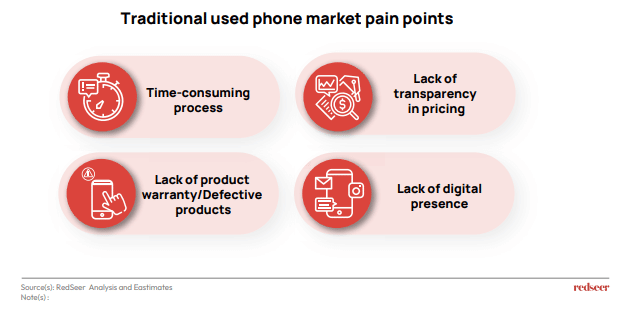 Some of the challenges faced by the traditional sector include lack of transparency in pricing, tedious time-consuming buying process, poor quality of used products which do not have any warranty and a lack of digital presence for purchasing.
4. These new-age tech players are solving using C2C, C2B, and C2B2C models that not only address the above pain points, but also offer better experiences to consumers
Strong network effects, supply-chain efficiencies, and omni-channel presence are a few offerings of these players, which consumers seem to love.
The refurbished smartphone market today is providing a rich opportunity to both users and companies. A more omnichannel approach and verticalization are two popular growth strategies going forward. Additionally, by transferring shipping cost to customer, increasing warranties, last mile networks with offline store partnerships to increase penetration, and adding more devices with higher margins are a few things to consider.