1. Qatar, the first Middle East nation to hold the World Cup is spending a massive $200 Bn in the lead up to the Mega event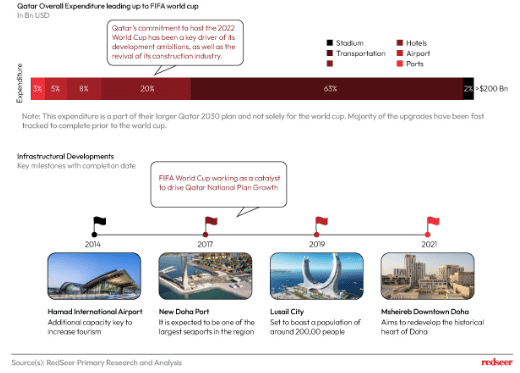 Qatar is the first Middle East country which will be hosting the FIFA World Cup. This World Cup will be the most compact World Cup where all the stadiums are built within one hour driving distance from each other facilitating a surreal experience for FIFA Fans. Qatar is spending over $ 200Bn in preparation which is highest ever expenditure done by a host nation in the history of FIFA. They view this as an investment for future and building infrastructure as part of their National Vision Plan 2030.
2.1.6 Mn tourists are expected to visit the country during this event, which is >50% of the annual tourist inflow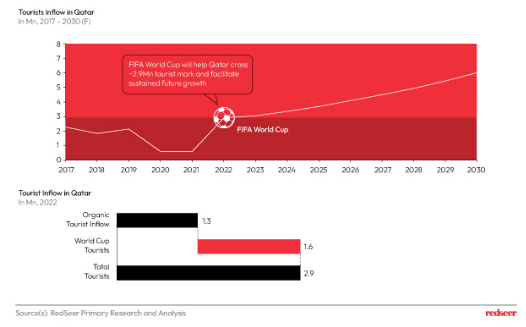 Historically tourist inflow in Qatar has been around/below 2.5 million, but FIFA World Cup is expected to drive growth and help achieve a tourist inflow of 6 million by 2030. The share of tourists during the world cup period as a % of full year is >50% which is much higher than previous FIFA World Cups when it was around 10-15%, owing to the smaller size of the country. There are many activities which FIFA fans are not likely to see anywhere else like exploring the desert by ATVs, Camel races, Sand boarding, or just exploring the coastline etc.
3. The event will generate $4 Bn in revenue through tourist spend, of which 0.5 Bn will be realized by neighboring countries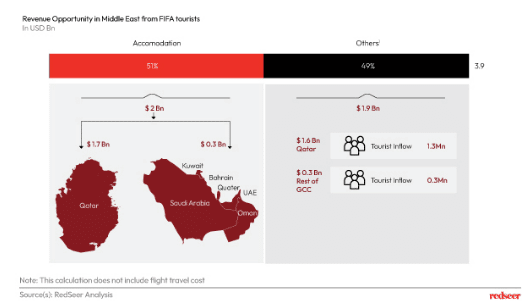 A massive $4 Bn revenue opportunity is expected to unfold during the period. Hospitality sector will be the top beneficiary with hotels in Qatar to see 95% occupancy through the period. The disproportionate tourist inflow to Qatar during the period opens opportunities for neighbouring countries as well where incoming tourists are expected to stay. Qatar airways has tied up with FlyDubai, Saudia and Oman Airways and opened multiple shuttle flight services to Doha to attend the matches with Dubai being a hotspot, having 30 daily flights to Doha during the event.