With the rapid adoption of eCommerce, India is likely to witness a huge surge in digital ads investments. But having said that, advertisers who previously focused on driving sales have shifted their focus to something else: they are investing in eCommerce platforms for building awareness as well.
Here's a deeper understanding of India's digital ads industry.
1. Priorities are changing as advertisers spend more dollars on eCommerce platforms for building awareness, as opposed to only driving sales.
Indian firms are embracing digitally enabled operational strategies to establish a robust, future-ready organization in response to shifting customer opinion. This is expected to drive demand for the eCommerce segment as they prepare to enable the technology transition.
eCommerce platforms are gaining traction as a way of raising brand recognition among digital buyers and are being utilized by brands and businesses across industries. These include retail categories such as fashion, grocery, mobiles, electronics, as well as service led industries such as, banking and financial services (BFSI), travel, and automobiles.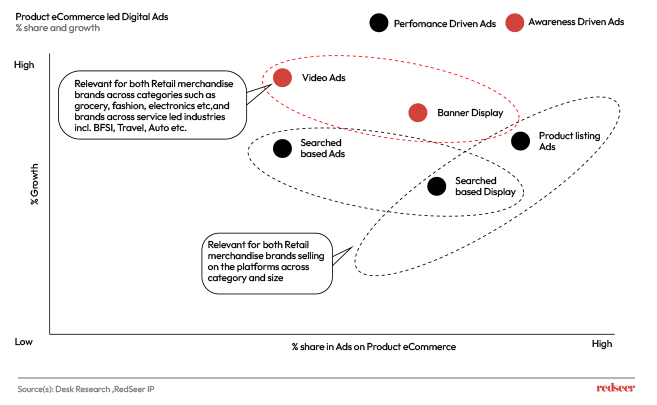 2. With the increasingly high inflow of consumers from Tier 2+ cities adapting to short form and video commerce, marketing closer to intent to action platforms adds to better ROl.
The growth in product Commerce user base is expected to be faster than search and social media platforms. We will see an additional 300 to 350 million new online shoppers, of which 90% will come from Tier 2 and beyond cities. Not only will this redefine how consumers purchase and sell, but it will create new opportunities for brands to reach out to their target consumers in an effective way through e commerce platforms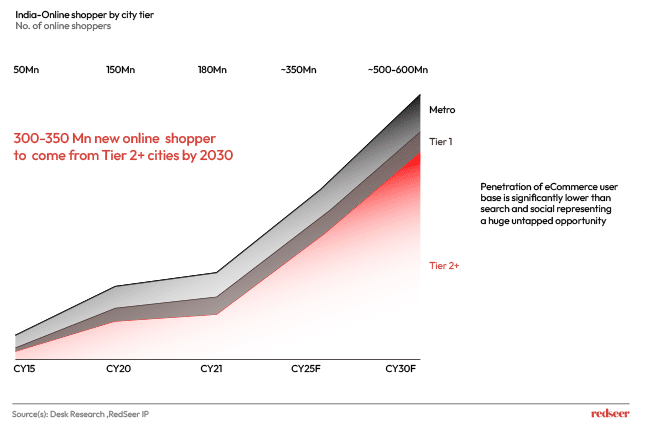 3. The shift is evident as product Commerce is eating into the pie of search and social.
The contribution of Commerce platforms to the AdTech industry has rapidly increased from 15% fo 20%+ in the last 2 years and will contribute between 20% to 25% of total digital advertising income by CY30 resulting in $6-8 B opportunity by CY30. The fact that millennials and Gen Z spend so much time on digital platforms helps fuel this trend and it is likely to continue as more people use websites, apps, and social media to engage with each other.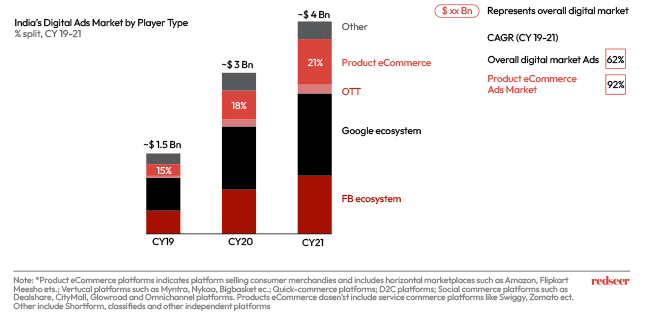 4. By 2030, the product Commerce digital ad market in India could be worth $6-8 billion.
Globally, product Commerce contributes to 20-25% of the total digital advertising income.In the last few years, e-commerce has altered the way customers purchase in India. If the trend continues, product e-commerce in India could potentially reach $6-8 billion (out of a $30-35 billion digital advertising industry). Each market is dominated by major platforms, which can offer proprietary targeting of micro-segments to a broad user base.
In the future, emerging technologies will boost eCommerce sales. The growth of social media will also support Commerce. Millenials who make up the bulk of India's population, will continue to use social media platforms to make retail purchases. With the right government policies, regulatory improvements, and the growing demand for digital services, the future of digital advertising in India looks bright indeed.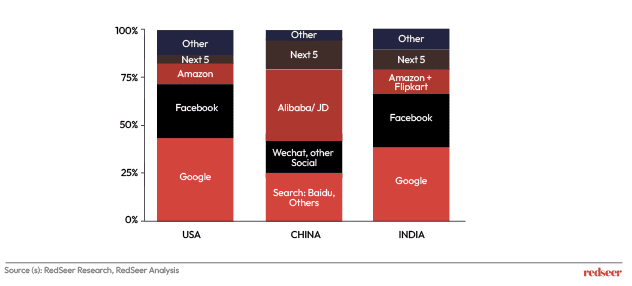 5. In the same period, India's overall digital ads market is set to grow more than double!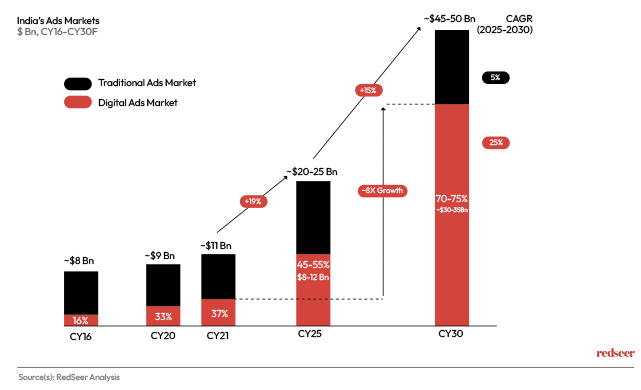 In CY21, the total advertising market stood at $11Bn, out of which 37% comprised of the digital ads market. However, by CY30, the overall advertising market will reach $45-50Bn, out of which digital ads will comprise 70-75%. Thus, the digital ads market will reach a staggering $30-35 B with an 8X growth from CY21.
The drastic increase in digital consumption as well as the increased digital penetration in Tier-2+ cities are the primary growth drivers responsible for the spike in India's digital advertising ecosystem. Additionally, an increase in GDP per capita and the rise of D2C (direct to consumer) challenger brands are the other key enablers of this growth. With Indian advertisers are leaning more towards digital with each passing year, it is no wonder that the market is one of the fastest growing in the world!