With robust macro tailwinds for the sector and on ground demand for health-related services, the healthcare sector in Vietnam is poised to undergo significant transformations. Emerging technologies like artificial intelligence, blockchain and online services are increasingly being used to tackle deficiencies in the existing healthcare system. Further omni-channel players have gained significant traction on account of a comprehensive online and offline services suite that allows them to cater to a wider audience.
Here's a look at the healthcare landscape in Vietnam, with a special focus on the omnichannel offerings along with the broader trends in the sector and the funding raised.
1. Vietnam's healthcare spending is poised to grow over the years and shortage of doctors calls for gaps to be addressed through eHealth offerings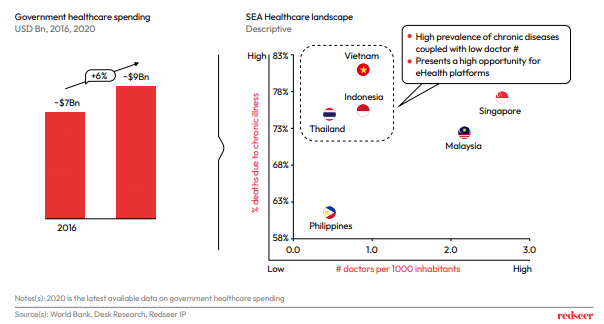 The overall Vietnam healthcare market has grown rapidly at 6-7% CAGR between 2016 and 2020 to reach $ 9 Bn, in 2020.
While hospital beds ratio is reasonable, Vietnam suffers from an acute shortage of doctors. There are 0.9 doctors per 1000 inhabitants which is in line with other developing nations, but signifies a supply gap that can be bridged by innovative and newer healthcare models.
2. The increasing number of doctors and health insurance coverage will drive overall healthcare growth while surging demand, rising disposable incomes, etc. will support rise of innovative business models in healthcare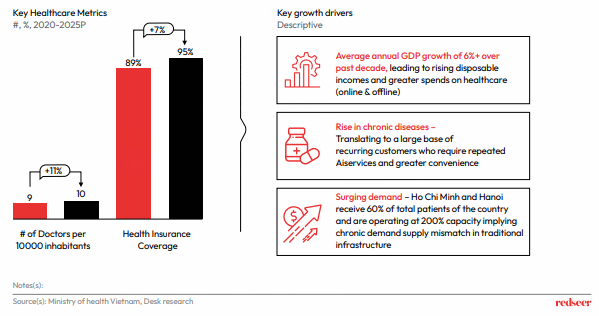 Health indicators like number of doctors and health insurance coverage are projected to grow in the long term. This ensures primary healthcare for all without financial obstacles.
The health sector in Vietnam is driven by rising disposable incomes, rise in chronic diseases and aging society. The demand-supply gaps due to overcrowding and shortage of doctors can be overcome through teleconsultations hence ensuring accessibility of primary healthcare to everybody even those living in tier two, three and beyond cities.
3. Omnichannel is the way to go; The tech interventions in offline services have helped save a lot of time and improved customer loyalty and satisfaction leading to improved retention rates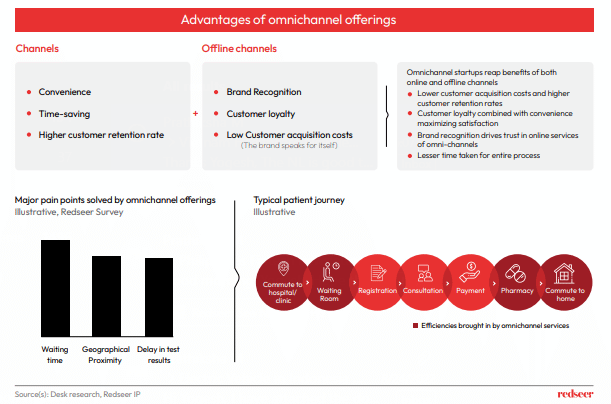 Omni-channel players get the best of both worlds and hence have demonstrated improved customer loyalty, trust, and satisfaction. The brand recognition from offline presence helps acquire new customers and increases traffic in online channels.
Long queues, waiting time, travel time and delayed results are the key pain points due to the underpenetrated and overburdened public health infrastructure. Omni-channels tackles these issues.
4. Vietnam healthcare players offer innovative and diversified offerings; Appointment bookings, e-consultation and on-site healthcare are some of the services in focus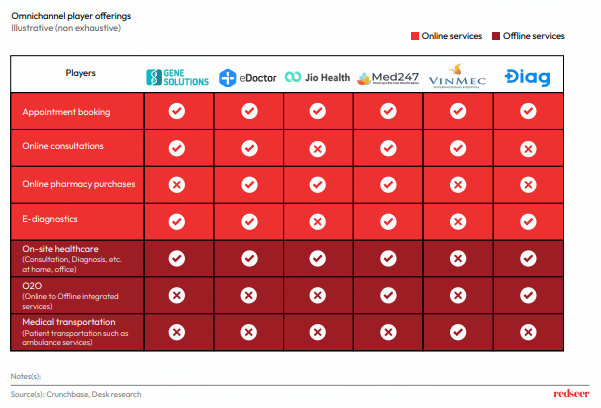 Within Vietnam eHealth market, there is a healthy mix of online channels as well as omnichannel eHealth players.
There are also innovative business models that stand out like B2B ePharmacy focused BuyMed, well diversified horizontal player like eDoctor as well as omnichannel players like Med247 and Jiohealth that offer a plethora of online services along with offline presence in the form of clinics. Some start-ups even offer subscription-based services with special discounts for members.
5. Vietnam healthcare sector continues to reflect strong investor interest as the funding continues to rise and remains robust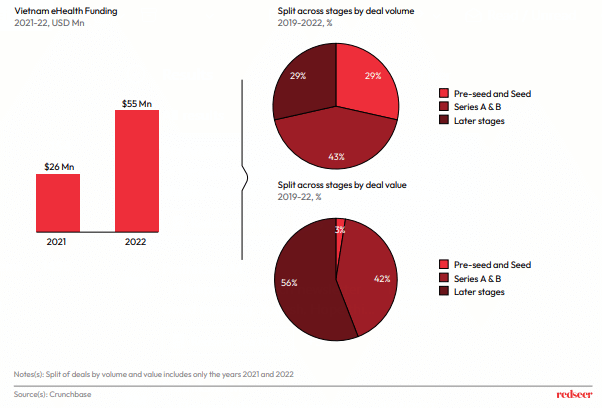 Funding has grown in the sector by ~2x from 2021 to 2022. An omnichannel healthcare player in Vietnam received significant funding in its equity round in 2020 demonstrating the potential and attractiveness of the omnichannel.