Generating and maintaining user engagement is at the crux of the digital economy. With the advent of high-speed internet across the country, it is now possible for influencers and brands to connect with their audience in real-time on live streams. Influencers who go live are more accessible to followers and create a sense of urgency to tune in and become a part of the show. Fans that are eager to show their appreciation are increasingly using virtual gifting as a means to support their favorite creators or brands of their liking. The virtual gifting market, which is already mature in China, is expected to grow to $7-8 Bn by 2025. With an increasing willingness to spend by users on virtual gifting, India's market is also on a steep trajectory.
In this article, we give a quick overview of what can be expected in the virtual gifting space online.
1. Influencers now have a new tool for audience engagement: Virtual Gifting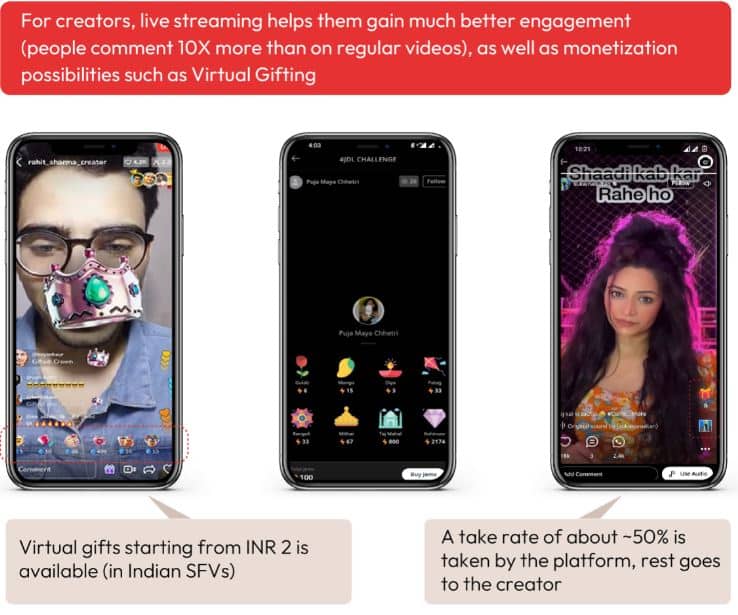 Live content has already grown popular as it makes influencers more reachable to their followers. Since they're in conversation in real-time the content becomes less detached and more personal. Followers are also driven by fear of missing out (FOMO) on live action as it brings with it the suspense of an unexpected event with the potential to generate much excitement. Finally, fans love the instant gratification of having their few seconds of fame on the live chat for sending virtual gifts to the influencers and receiving a thank you line or shout out.
For the creators, live streaming generates 10X more engagement in the form of live chat and comments. Higher engagement also comes with the possibility of virtual gifts and monetization potential. The virtual gift amounts can start from INR 2 and go higher, however, the platforms take about 50% of the earnings and the rest goes to the creator.
2. In China virtual gifting on shortform platforms which is already a ~ $5 -6 Bn market, is expected to reach $7-8 Bn by 2025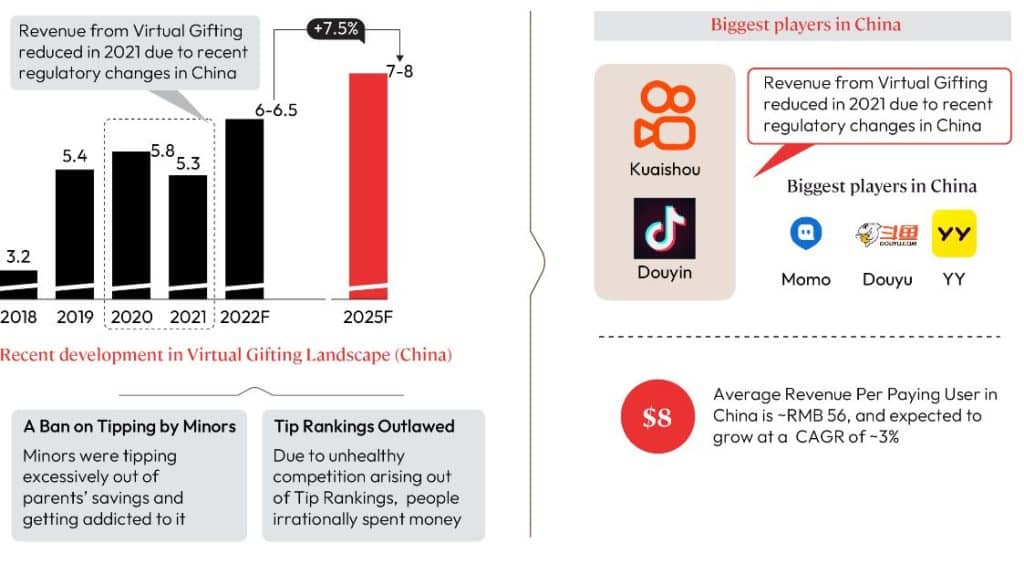 The virtual gifting market is much larger in China at ~$6 Bn as of 2022. The influencer ecosystem in the country has a wider spread among the population. As more people jumped in on the influencer wagon, their followers grew in the millions and even included minors who addictively tipped out of their parent's savings. Platforms which also handed out ranking for the tips encouraged unhealthy competition among the followers who splurged money irrationally. In 2021 the crisis prompted regulatory changes which led to a drop in revenue from virtual gifting. However, the market is still expected to grow at a 7.5% CAGR to about $8 Bn.
3. Virtual gifting on Indian shortform video platforms is expected to reach $ 1.7 Bn by 2030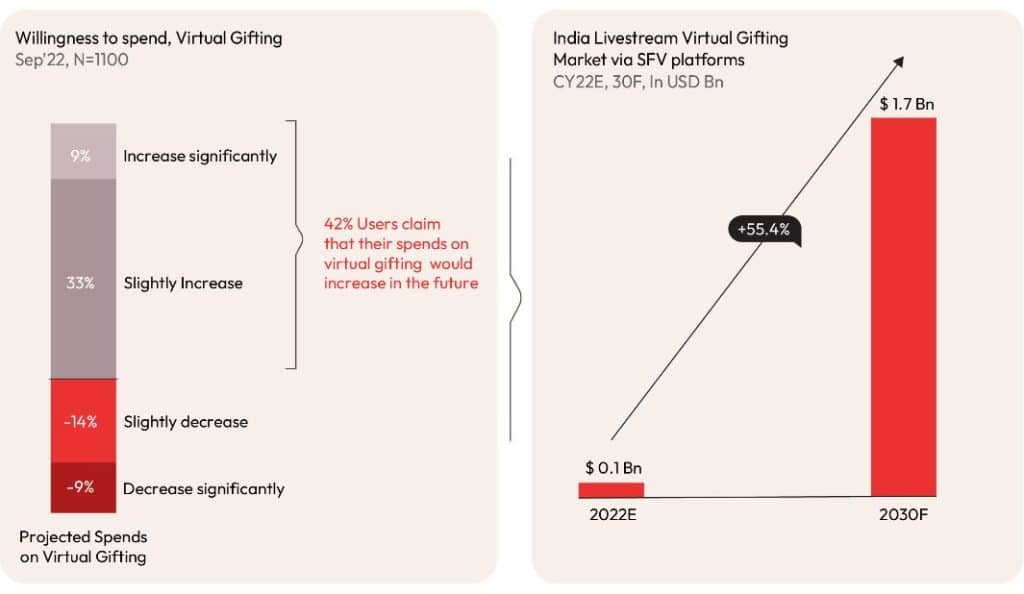 Similar trends of the growing creator ecosystem in India are expected to increase spending on virtual gifting from $0.1 Bn in 2022 to $1.7 Bn in 2030. The projected spend on virtual gifting in India is expected to increase as more users claim that they are willing to spend on virtual gifting in the future.