Short Form Videos (SFV) have gained enormous popularity in the past few years with the trend set in motion by global players such as TikTok and Instagram. With TikTok banned in India, homegrown Short Form Video (SFV) apps have carved out a niche serving the diverse regional content needs of the population. When it comes to metrics such as the Monthly Average Users (MAU) and Daily Average Users (DAU), leading Indian SFV apps are almost catching up with the global players.
The high engagement in SFV content has opened up tremendous opportunities for brands to leverage influencer marketing. In this segment, we provide a quick rundown on how brands are pivoting from lengthy ads to influencer SFVs because of their higher effectiveness.
1. Indian SFV apps have grown in adoption and engagement, and even outperformed global SFVs in 3 out of 5 top content genre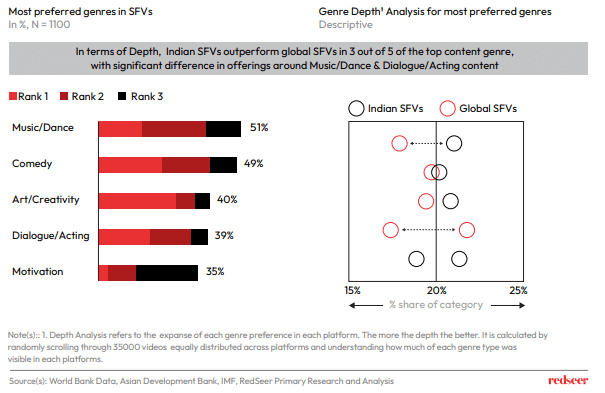 Indian SFV apps are closing the gap with their global counterparts both in terms of their offerings and the level of satisfaction expressed by both users as well as creators. Many creators / influencers have emerged with a large number of followers in specific niches such as fashion, beauty and personal care, fitness, and reviews. Having established a sizeable, engaged creator and user base, the SFV platforms are now ready for monetisation.
2. Influencers create engaging SFV content and engagement that can be leveraged by brands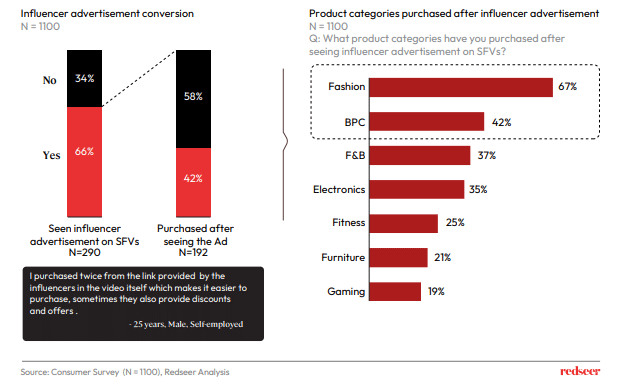 Influencers with their niche following across various categories have a high ROI for companies when compared to other marketing channels. As brands increase their association with influencers, we expect an increase in advertising on SFV platforms.
However, since brands and influencers mostly engage through intermediary agencies, there's a barrier that is holding the industry from realizing its full potential. As more UGC platforms develop their own Creator Marketplaces, the centralized networks can allow brands to connect with the most suitable creators seamlessly.
3. Monetization of Indian SFV apps is set to create a total opportunity of $ 8 – 12 Bn by 2030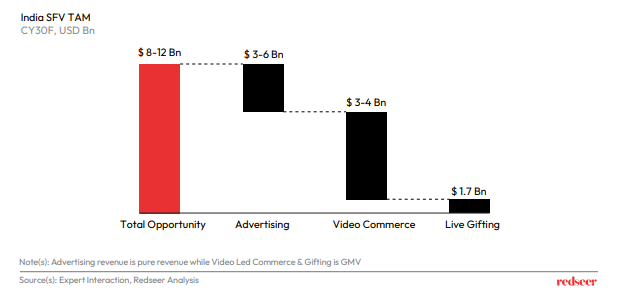 As SFV gain popularity with an ever-growing user base across the metros, Tier1, and Tier 2+ cities, their monetization is at a cusp of a breakout. Unleashing value across Advertising, Video Commerce, and Live Gifting, SFV platforms and eCommerce players are looking at a total opportunity of $ 8-12 Bn by 2030.
4. SF apps have significant potential for digital advertising to align with their share of eyeballs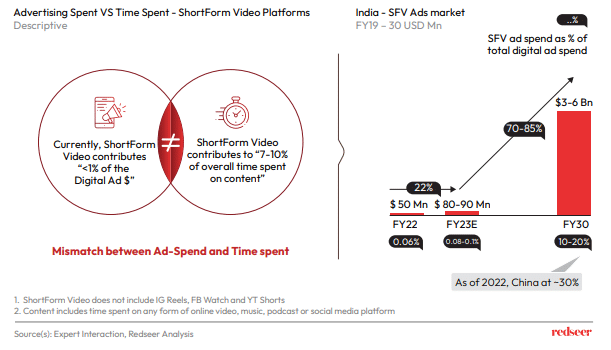 A mismatch exists between Ad-spend by brands and companies and time spent on content consumption by the average users. While users spend 7-10% of content consumption time on short-form videos, SFVs contribute to less than 1% of the digital Ad. Bridging this gap can potentially propel the SFV ads market from $ 80-90 Mn in FY 2023 to $ 3-6 Bn by FY 2030.
5. Both ShortForm & eCommerce platforms betting big on video commerce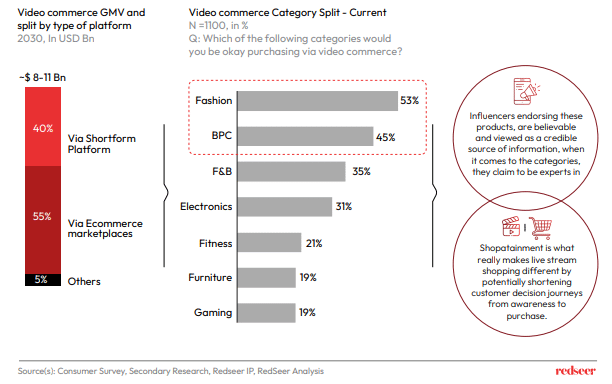 Major eCommerce platforms such as Amazon and Flipkart have introduced video commerce features, with big names such as Myntra and Nykaa following the suite. SF platforms hold the second biggest piece of the pie at 40%, and the main categories performing well are Fashion and BPC. An influencer's credibility online catalyzes the customer journey from awareness to purchase, making it an effective channel for the brands.