1. For E-tailers, extremely steep order drop in last week of March 2020 led to GMV/trx for whole month falling vs March 2019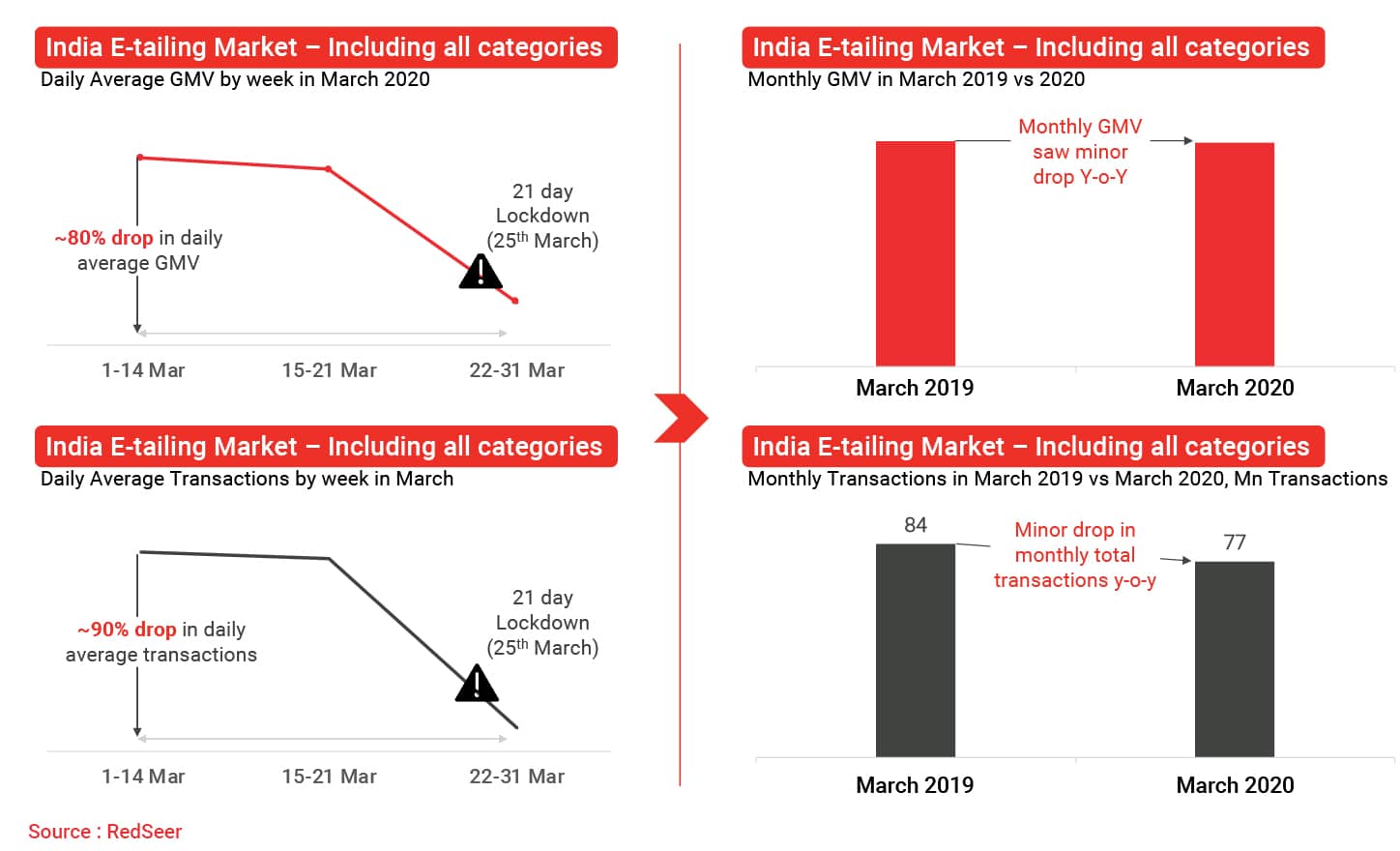 India's USD ~29 Bn E-tailing market (2019 annual GMV) was significantly impacted by the lockdown in March last week, as seen by a precipitous drop in GMV/transactions for the platforms vs 1st week of March.
Which eventually led to the sector GMV and transactions dropping slightly y-o-y in March 2020, one of rare such instances in last few years.
What's in store for the sector for rest of 2020? Can it hit the USD 40+ Bn GMV mark in 2020 as forecasted by us in Jan 20?
---
2. India's Foodtech sector suffered a significant y-o-y drop in orders in March 2020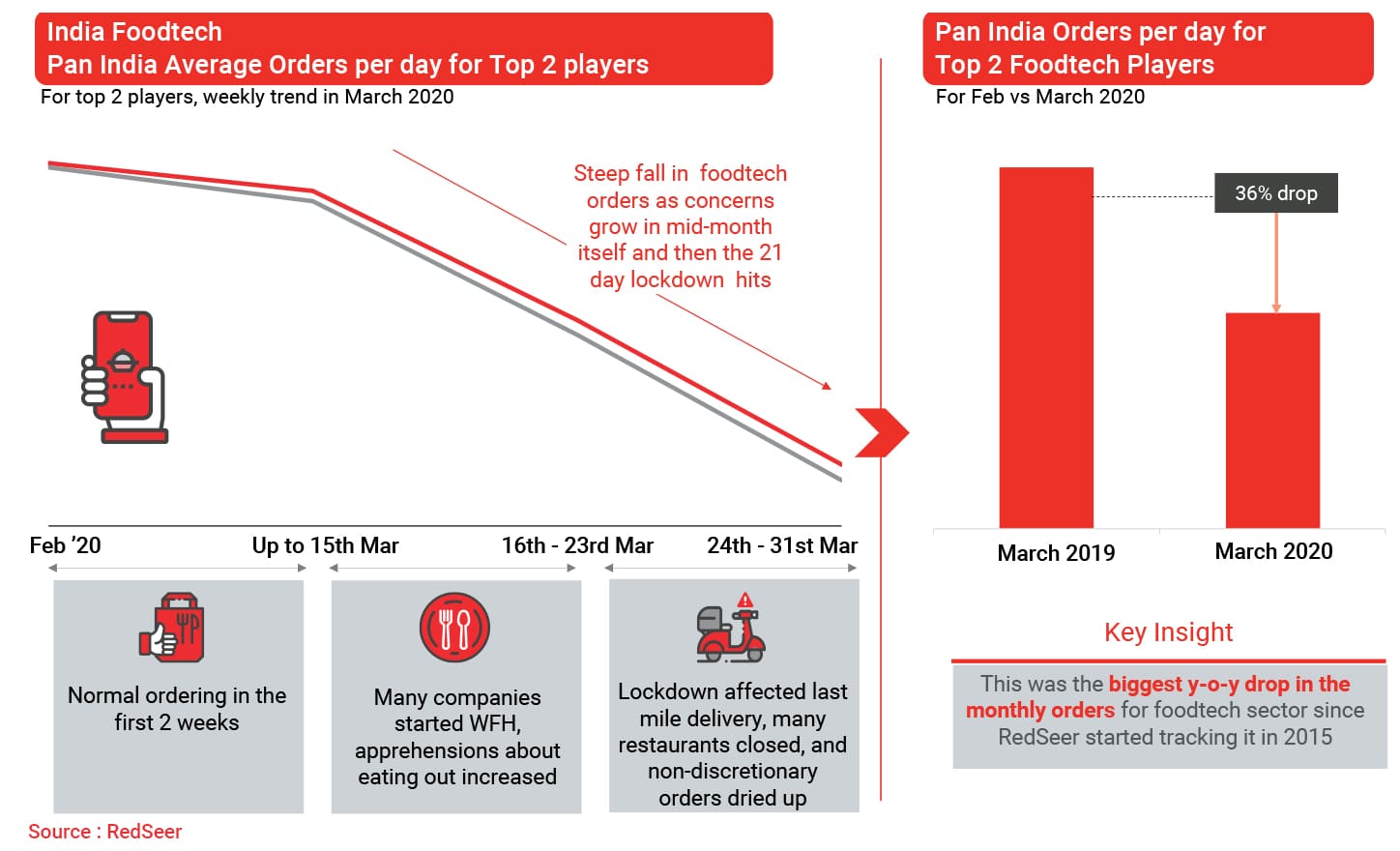 India's fast growing Foodtech market saw a significant dip in the last two weeks of March 2020, driven by both supply and demand side factors. As consumers responded to Covid-19 thread much earlier (15th March) by reducing online consumption, compared to e-commerce where online orders only really dropped in last week.
This trend resulted in one of the largest y-o-y drops in orders for the Foodtech sector in last 5 years.
However, can Foodtech deliver again in rest of the year? What do the consumers say? And what is the voice delivery executives, the backbone of the industry?
---
3. Even as other sectors suffered, eGrocery exploded and saw entry of multiple new players in lockdown scenario in March 2020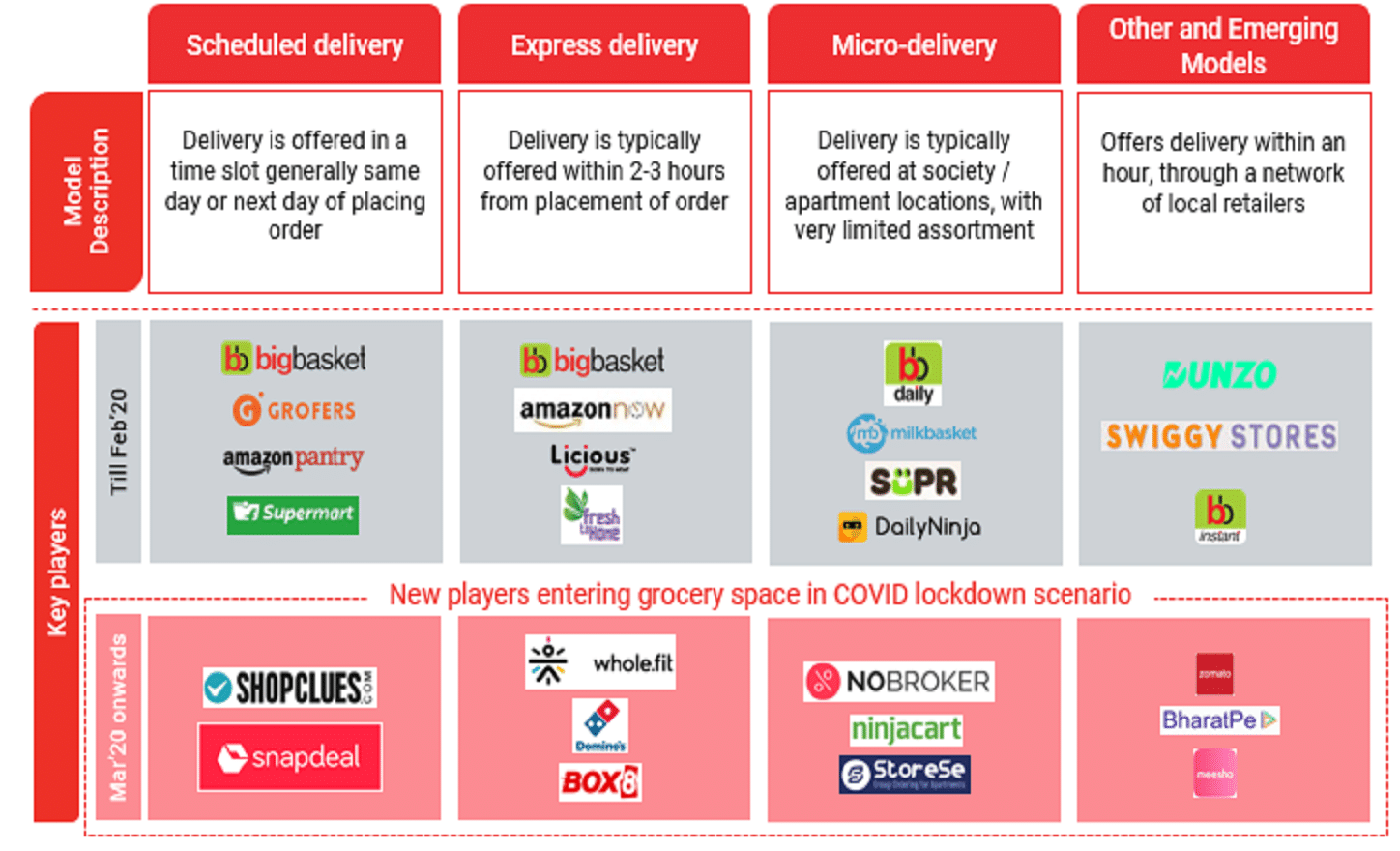 The COVID-19 crisis has led to a pressing need for at-home access to groceries, which has led to an influx of new players into India's nascent (<$2 Bn GMV in 2019) eGrocery market.
Profile of the new entrants varies- some have already been associated with allied fields (Snapdeal, whole.fit), while others like Nobroker and BharatPe are completely new into this space.
Can the one-time spike in eGrocery sustain in rest of 2020 and beyond?
---
4. Explosive growth in eGrocery will demand both new entrants and mature players to significantly deepen their Hyperlocal capabilities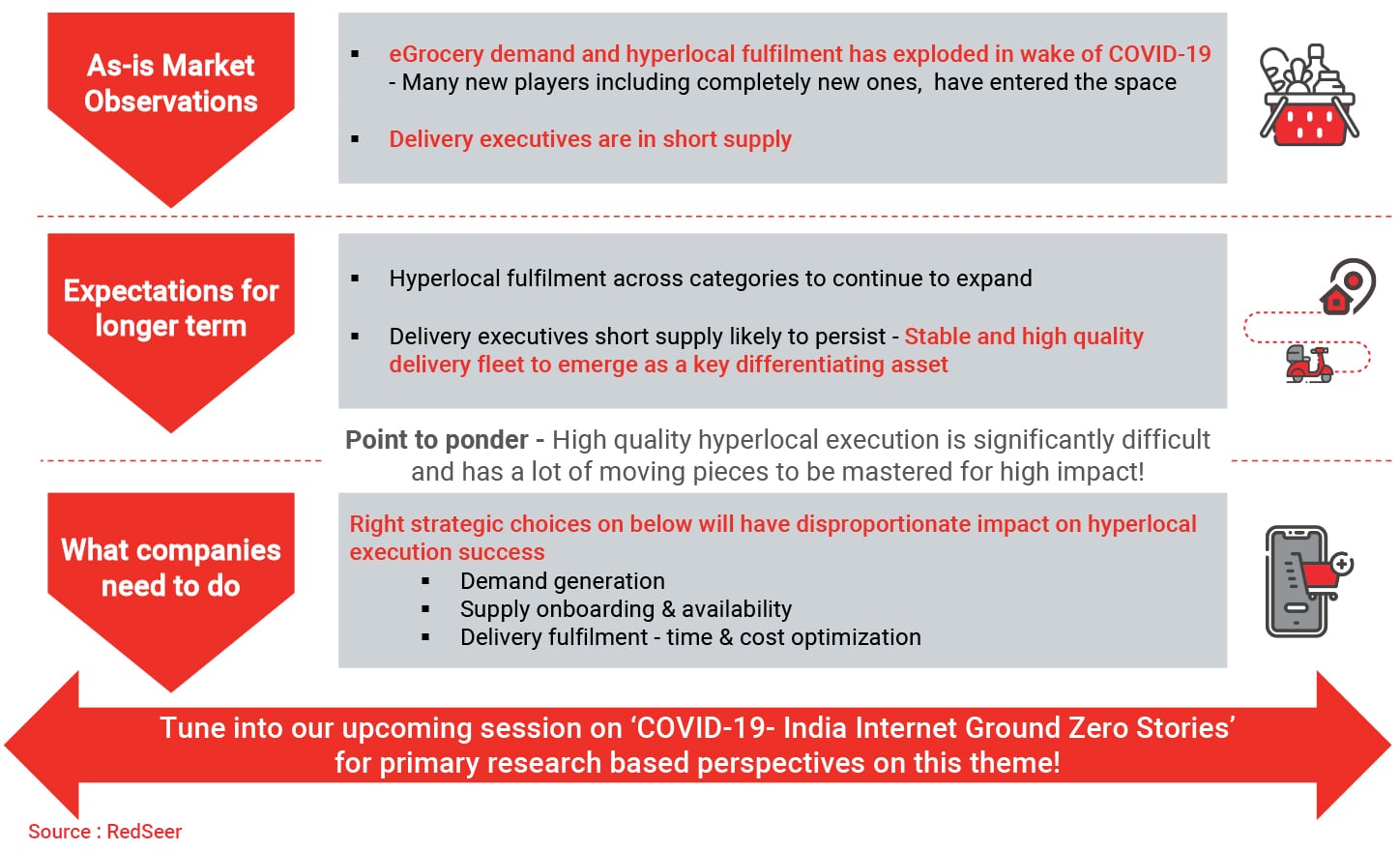 ---
5. Our Hyperlocal Growth and optimization Engine (HuGE) has enabled multiple clients to master this fast expanding model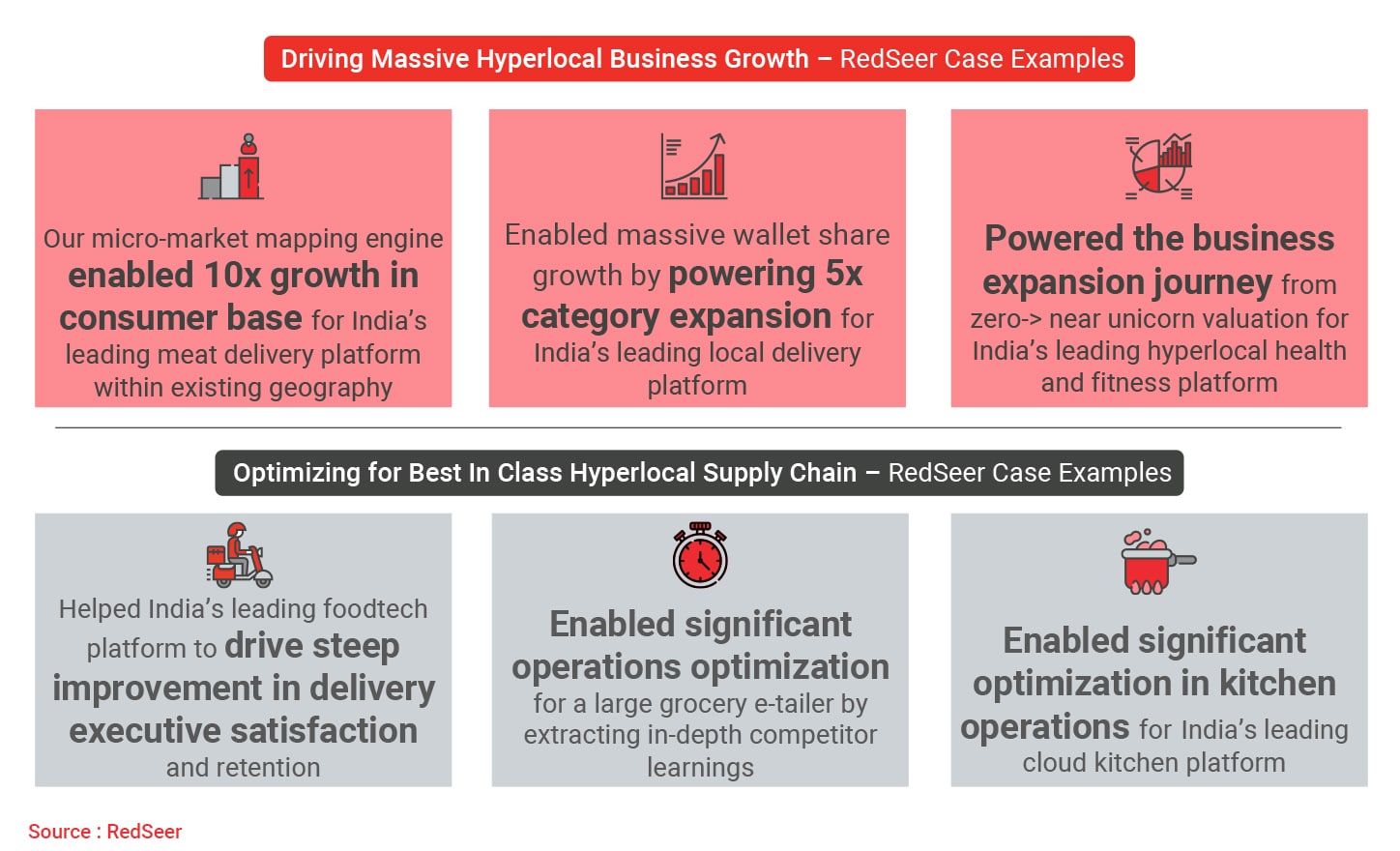 Supported by our Integrated Research ApproachTM, our engine powers growth+ ops leadership for hyperlocal businesses.