Nov, 2017
Global Travel Retail – a booming industry
Duty-free shops are retail stores where the nation's or local taxes and duties are waived off on each product sold to the travellers who take these products out of the country. These shops are strategically placed at international airports, seaports, train stations and sometimes in downtown locales as well
Fashion and accessories accounted for over 15% of duty-free sales in the past few years, while the luxury products category accounted for over 31%. The largest percentage of 2015 purchases in the category were made by Chinese consumers, contributing to nearly a quarter of the total revenue. Product wise, cigarettes and skin-care products had the most sales globally. The other bestsellers included women's fragrances, confectionery and scotch whiskey.
South Korea and China were the top two zones in terms of total duty-free sales with an online travel market share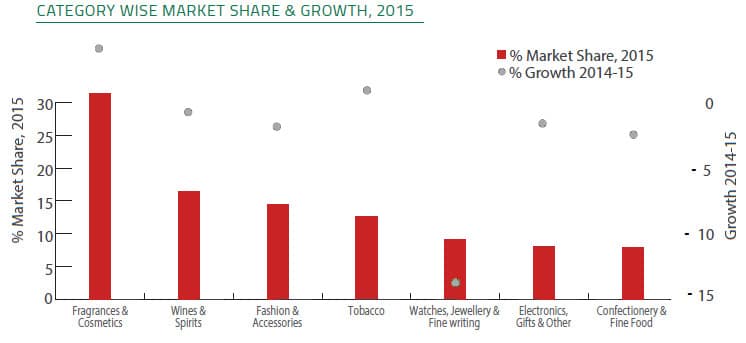 of 12% and 7.52% respectively. These two countries were the key to making APAC the largest duty-free zone in the world. Currently, the region accounts for almost 40% sales of the world and is increasing the divide with Europe, which was on top of the sales charts a few years ago. Despite a fall in volumes in 2015, the global travel retail industry is expected to double sales by 2025, with an expected CAGR of 20.7% for the next 5 years.

During this period, India would be the emerging star with the highest CAGR – airports in India are in a high growth phase, effectively meaning that the number and size of duty-free shops here would shoot up. Also contributing to the rise would be the uptick in domestic and international tourism owing to the increasing disposable income per capita and a rising middle class. Foreign Tourist Arrivals in India have also increased by 11.8 per cent year-on-year to 670,000 tourists in August 2016. Currently not even in the global top 25 duty-free retail markets, India is expected to surpass Thailand (currently at #10) by 2020.
Indian duty-free market is different from its peers over one major factor – major consumers of duty-free goods from India are Indians themselves. The average contribution to total duty-free sales by Indians is more than 80%. Pre-orders are most popular amongst them – the travelling Indian places an order before leaving for an overseas destination, and the order is delivered on their return at a 5%-10% discount. Currently, New Delhi's Indira Gandhi International Airport is the country's largest duty-free retail space – it also has the highest duty-free sales for any Indian airport, with over 1000 brands and 43,000+ products. It is the country's busiest airport by passenger traffic. Mumbai's Chhatrapati Shivaji Maharaj International Airport comes second in terms of sales and passenger traffic.
INSIGHTS
Talk To Our Expert