Nov, 2017
Global Travel Retail – a booming industry
Duty-free shops are retail stores where the nation's or local taxes and duties are waived off on each product sold to the travellers who take these products out of the country. These shops are strategically placed at international airports, seaports, train stations and sometimes in downtown locales as well Fashion and accessories accounted for over … more
---
Duty-free shops are retail stores where the nation's or local taxes and duties are waived off on each product sold to the travellers who take these products out of the country. These shops are strategically placed at international airports, seaports, train stations and sometimes in downtown locales as well
Fashion and accessories accounted for over 15% of duty-free sales in the past few years, while the luxury products category accounted for over 31%. The largest percentage of 2015 purchases in the category were made by Chinese consumers, contributing to nearly a quarter of the total revenue. Product wise, cigarettes and skin-care products had the most sales globally. The other bestsellers included women's fragrances, confectionery and scotch whiskey.
South Korea and China were the top two zones in terms of total duty-free sales with an online travel market share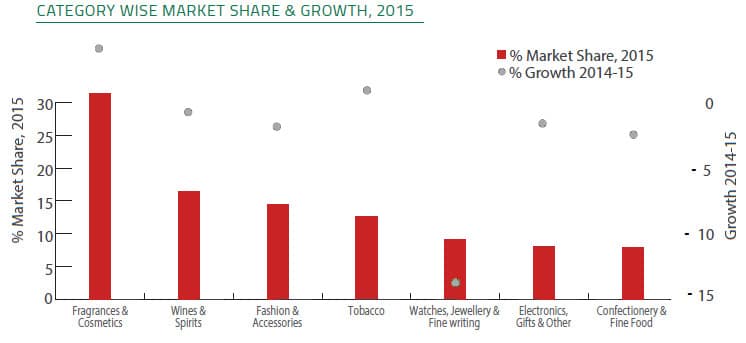 of 12% and 7.52% respectively. These two countries were the key to making APAC the largest duty-free zone in the world. Currently, the region accounts for almost 40% sales of the world and is increasing the divide with Europe, which was on top of the sales charts a few years ago. Despite a fall in volumes in 2015, the global travel retail industry is expected to double sales by 2025, with an expected CAGR of 20.7% for the next 5 years.

During this period, India would be the emerging star with the highest CAGR – airports in India are in a high growth phase, effectively meaning that the number and size of duty-free shops here would shoot up. Also contributing to the rise would be the uptick in domestic and international tourism owing to the increasing disposable income per capita and a rising middle class. Foreign Tourist Arrivals in India have also increased by 11.8 per cent year-on-year to 670,000 tourists in August 2016. Currently not even in the global top 25 duty-free retail markets, India is expected to surpass Thailand (currently at #10) by 2020.
Indian duty-free market is different from its peers over one major factor – major consumers of duty-free goods from India are Indians themselves. The average contribution to total duty-free sales by Indians is more than 80%. Pre-orders are most popular amongst them – the travelling Indian places an order before leaving for an overseas destination, and the order is delivered on their return at a 5%-10% discount. Currently, New Delhi's Indira Gandhi International Airport is the country's largest duty-free retail space – it also has the highest duty-free sales for any Indian airport, with over 1000 brands and 43,000+ products. It is the country's busiest airport by passenger traffic. Mumbai's Chhatrapati Shivaji Maharaj International Airport comes second in terms of sales and passenger traffic.
Global Market Size and Growth
Duty-free retail market is becomingpopular, a question might come into one's mind – Why is it so favourable?
current scenario
The Delhi Duty-Free Services (DDFS) and GMR collaboration mints the peak Sales Per Person (SPP) of USD $8.00 in Duty-Free Sales (DFS) at IGIA Delhi. CSIA Mumbai comes 2nd in the same category with SPP of USD $6-$7 – managed by Flemingo Retail under GVK supervision, they introduced the 'click and collect' model recently, enabling a departure passenger to pre-order and later pick up the purchase on the return trip. GMR owns and operates the duty-free operations (Hyderabad Duty-Free Retail Limited established in 2010, a 100% subsidiary of GMR HIAL) at RGIA Hyderabad and is doing phenomenal work, this airport has been top performing in the overall travel segment with a peak SPP of USD $4.00.
The global duty-free market has been growing significantly – from USD 38,200 Mn in 2009, it has reached USD 63,480 million in 2014 with a CAGR of 10.7%. However, in 2015, the industry saw an upset with its sales decreasing by 2.3%, the first time since 2009 that it witnessed a decline. Only Asia-Pacific & Middle East regions were immune to the slide, showing some minimal growth with the latter having a mere growth of 0.85%. The rest of the regions suffered a downswing. Europe took the brunt, losing 8% of its sales. Except for fragrances and cosmetics, sales of all other categories fell, with sales of watches, jewellery, and fine writing dropping the most at a rate of 14%. Airlines were the worst hit distribution channel, with the rest also displaying a decrease in sales, except for downtown duty-free shops, border shops and growing cruise line market.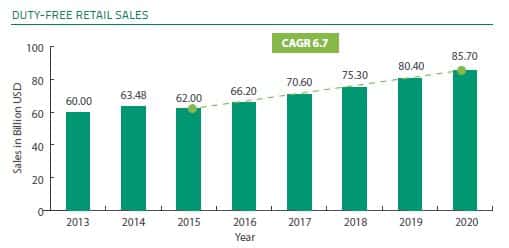 Even though the industry saw a setback in 2015, there was renewed positive sentiment in the first quarter of 2016. The overall global sales increased by 1% compared with the same period last year. The Americas showed a decline in sales by 8.6%, while the leader of the market, Asia-Pacific was once again in the rising zone with much stronger
growth of 5%. Category-wise, fragrances and cosmetics were the stars, and the category sales grew by 7.8% in the first quarter. In the 2.2 2016 – hope renewed channels, onboard ferries were among the top with a growth rate of 6.5% while airport sales were unaffected.


Why Duty-free?
This question becomes pertinent as the business of duty-free retail market is gaining more popularity worldwide. The answer has many layers. It gives travellers an opportunity to buy products that may not be available, or available at that price point, elsewhere. For example, Aelia Duty-Free is one of the few places where travellers can shop in a store for Urban Decay products in New Zealand. In some cases, travellers find products such as spirits, wine and champagne, fragrances and more, at very much discounted prices. In Europe, there is a bonus perk; Duty-free shops in airports and ports are 'tax-free shops,' too, which means visitors are spared with the value added tax (or V.A.T., a type of sales tax) that would otherwise be included in the price of goods sold elsewhere in the European Union. gives travellers something to do during stopovers and airport hours – a spot of retail therapy is most welcome. They have the option to part with the last of their converted currency which otherwise would lose value in fees and charges once exchanged for their home currency.
Asia Pacific is region wise the largest duty-free retail market of the world.
APAC is the largest duty-free retail zone of the world, with a market share of around40. The expected CAGR for the region will be9.4% during 2015-2020. It will remain the largest market in the world by 2020 with the expected market size of 37.6 billion USD. The second region on the tally is Europe with a market share of 32%. The expected CAGR for Europe is 4.6% and with this rate, it will reach more than 25 billion USD market sales by 2020. Although this rate is lowest among all the regions, Europe will be able to maintain its second spot till 2020 at the least. The other three regions share the rest of 28% in which Africa shares only 1% of the market. Africa will have the same CAGR as the Middle East for the period.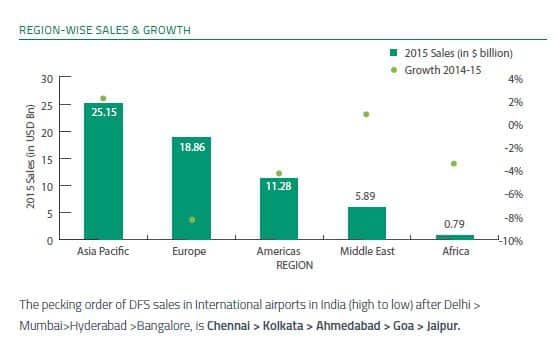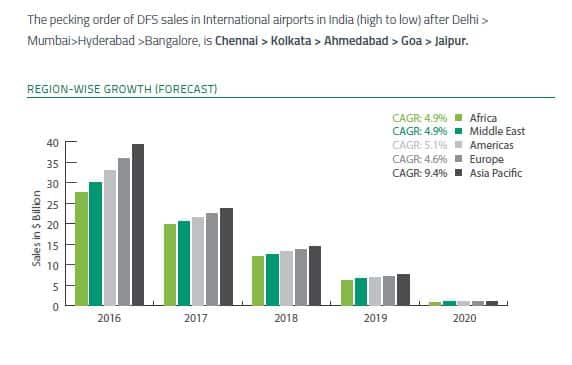 Why Asia?
A few factors justifying the projections are tourist destinations, tourists' spending, geoeconomic crises etc. Looking at the number of International travellers in different regions, it shows that the increase in people travelling to APAC has always been greater than the increase in travellers to Europe. The effect of this growth is noticeable on duty-free sales as described earlier. Now, out of the top 10 cities logging international visitor spending worldwide, seven are from APAC, which explains why Asia leads the tally of duty-free sales despite the higher number of travellers going to Europe. The rising disposable income of middle-class families in emerging countries, coupled with the expansion of downtown duty-free locations and growing online duty-free shops available in the market has given a significant boost to the growth of tourist numbers in major travel destinations in Asia, such as Japan and South Korea.
Top Countries
South Korea is the leading country in terms of the market share of duty-free sales. It contributes more than 30% of the total APAC sales and 12% worldwide. In SouthKorea, duty-free stores are located in downtown areas, airports and ship ports, with downtown and airport duty-free stores being more in number. As of March 2016, the country has 22 airport stores and 21downtown stores. Almost 55% of sales come from downtown stores in Seoul and 22%from Incheon International Airport. Currently, there are 15 duty-free operators in SouthKorea, with the top two players Lotte Dutyfree& Shilla Duty-free taking up over 80% of the market share. Almost 47% of the visitors to the country are from China and they spend an average of USD 1,813 per head for shopping. To maintain its dominance, the Korean government has granted six more duty-free operators' license.
China is in the second position free sales in duty with a market share of around 7.5%of the world. It has always been a popular destination for foreign tourists and stands at 4th place in the international tourist footfall in 2015. Its leading duty-free shop, China Duty-free group is at the 9th place among leading Duty-free sales companies. South Koreans are the most visiting touriststo China. The expected CAGR for duty-free sales in China until 2020 is 11.6%. The government is encouraging this sector – in July 2016, state-owned duty-free operatorChina National Service Corporation opened a3,300m2 duty-free shopping centre – CNSC Duty-Free in Shanghai, cashing in on the burgeoning downtown duty-free sector inChina. China and Korea are both helping each other to grow and together making Asia-Pacific world-class region.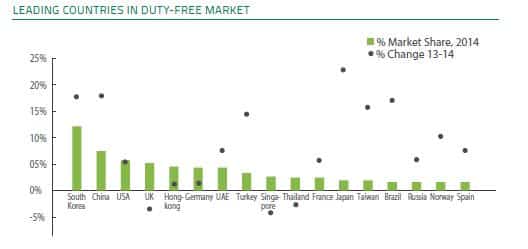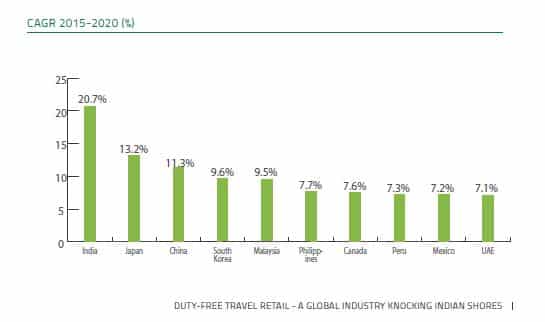 The US stands in the third position in dutyfree sales, with a CAGR of 5%. Owing to its multicultural population, duty-free stores there has a lot of variety in their products. The country happens to be the 2nd most visited in the world by international tourists. Canada is expected to be the fastest growing country in terms of duty-free sales in this region with an expected CAGR of7.6%. Europe, despite having a decrease in sales during 2013-14, sees the UK maintaining its 4thspot. With a market share of 5.2%, it is the largest market among all the countries in Europe and expected to grow at a CAGR of 7.5%. Hong Kong, Germany, UAE, Turkey, Singapore, and Thailand are others in the list of top 10 countries. UAE provides almost half of the Middle East region sales and it is the fastest growing market in the region having an expected CAGR of 7.1%. Few countries, which are going to turn the tables in the upcoming future, are Japan and India. India will be the fastest growing duty-free markets worldwide in terms of sales with a CAGR of 20.7% during 2015-2020. By this time, Japan is also going to change the tally and is expected to overtake both Singapore and Thailand.
INSIGHTS
Talk To Our Expert