1. UAE Travel market has recovered swiftly, closing in on pre-pandemic levels in 2H2021…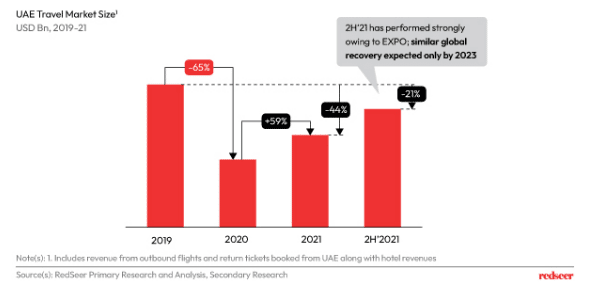 In 2020, The travel market fell by over 65% owing to mobility and travel restrictions. However, Expo 2020, Global events like Dubai Shopping festival, Sport and Music concerts coupled with practical and responsive government policies, drove tourists to UAE and proved to be a strong tailwind for recovery of the travel industry. Expo 2020 alone welcomed more than 20 Mn tourists in 2021.
2. …and has seen a massive ~50% share increase of global travelers coming into Dubai, along with source market diversification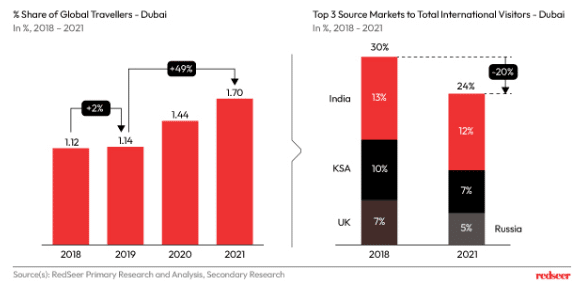 Dubai has established its global image as a friendly family leisure destination so the share of Global travelers coming to Dubai increased by ~50% from Pre-pandemic levels. India has remained the top source market for Dubai but the reliance on the top 3 source markets have been falling over the years. Country Specific marketing campaigns have successfully translated into diversification of source markets for Dubai.
3. The sector is 10x more digital than others and expected to become even more digital…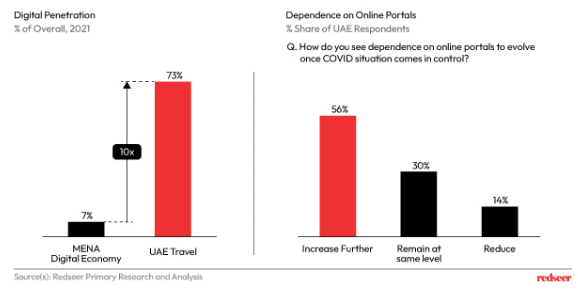 The travel sector in UAE remains exceptionally digital. Online Booking Penetration was already high for Airline and Hotels owing to convenience in booking. The Pandemic further boosted online bookings as post pandemic, prospect for cancellation and demand for flexibility and ease in bookings was a big trend.
For Hotel Bookings, the dependence on Online portals, especially Online travel aggregators that facilitate easy price comparison, is high, and expected to increase over the coming years. While for flights, the dependence on Online Direct Bookings is higher compared to travel aggregators as service providers are limited in number.
4. …and players need to be cognizant of the evolving consumer needs, while looking to tap into the massive opportunity unfolding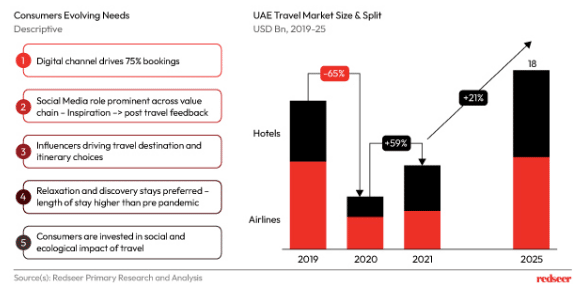 Players looking to tap into the unfolding opportunity should be conscious of the highly digital and socially active users who now rely on social media not only as an inspiration platform but also as a discovery and post-travel feedback platform. Influencers are already driving the choice of travel destination and itinerary and their importance across the value chain cannot be disregarded.
Post pandemic, the demand for relaxation and discovery trips is increasingly being reflected in the increasing length of stays. Ease of travel procedures and increased confidence in health & safety standards are two important factors fostering this change in tourist attitude. At the same time, Travelers post-pandemic will be more cautious of the social and ecological impact of traveling and prefer forms of Tourism with lesser human contact.