Nov, 2019
Omnichannel is not the Future in the Middle East
The governments of Middle Eastern countries are increasingly seeking to diversify their respective economies away from oil towards other sectors such as retail. Within the retail industry, newer strategies are being implemented by key players to improve the overall user experience – central to improving user experience is omnichannel. In a true omnichannel experience, the customer seamlessly interacts with the retailer across channels while the retailer has one integrated view of the customer across all touchpoints.
The key question to be asked is – is the Middle East consumer ready for an omnichannel experience? Or are we building for something that the consumer doesn't really want? After all, almost 50% of the businesses fail because the timing of the product was not right.
Our research clearly shows the majority of the customer are already hooked to omnichannel – over 55% of customers in the Middle East already prefer omnichannel experience for shopping. That is indeed a high number – let's dig deeper in this to understand the top reasons for omnichannel behaviour:
Click and Collect: The customers here preferred to avoid delivery time and save on delivery charges.
Search in store and shop Online: The customers preferred the home delivery and payment options, deals and discounts and had a high degree of trust in online portals.
Search online and shop in-store: In this segment, the customers preferred the touch and feel aspect and wanted to avoid size matches. Further, the internet was also their primary source of information.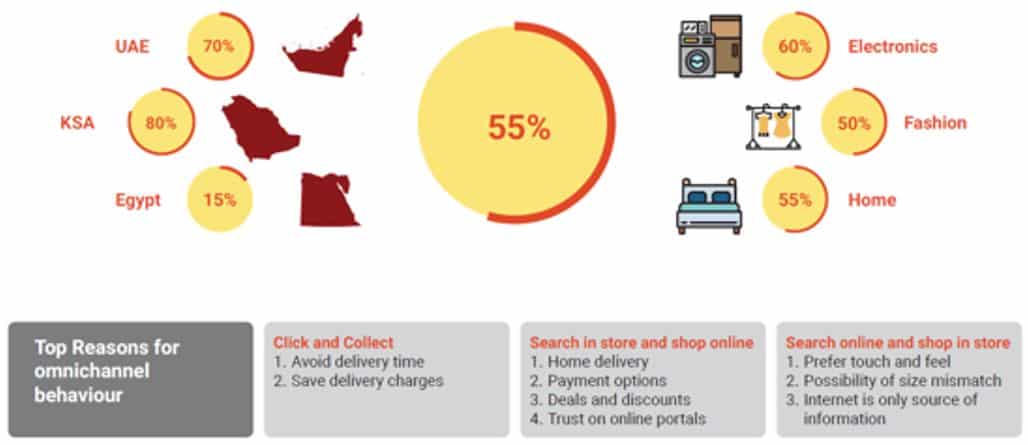 Interestingly, the behaviour of customers in the Middle East doesn't significantly change by sector as it is 60% in Electronics, 55% in Home and 50% in Fashion. However, the behaviour does change by geography in MENA as customers of GCC countries such as KSA and UAE are displaying higher omnichannel behaviour i.e. 80% and 70% respectively while customers in Egypt are still developing since only 15% prefer omnichannel.
In terms of the user experience, the customer's desire for a seamless shopping experience and their expectations concerning product trials, personalized offers, etc. is also increasing. Further, they seek for convenience when it comes to ease of payment, same-day deliveries, and reduced shopping time. Technological advancements in this arena are not only mitigating the pain points of both customers and retailers but also making the buyer's journey convenient and effortless.
An omnichannel strategy can help bridge the gap between customer expectations and what retail companies can offer to them. As such, retailers and entrepreneurs have leveraged technology and innovated across the value chain. Examples of this include:
Warehouse Aggregation: In this model, warehouse locations are agnostic and uses an online platform to list warehouses at multiple locations. Depending on the requirements of the retailers and distributors, it can conveniently choose a warehouse.
Hyper-personalization: This technique leverages AI and real-time data (RTD) to provide the user with more pertinent content, service and product information. Majid Al Futtaim's Carrefour stores in MENA utilize beacon-based proximity marketing to better interact and engage with their customers. It is estimated that within months of its adoption, the number of app users increased by 600%.
Crowdsourced Delivery: In this model, independent delivery partners tie-up with aggregators to provide faster last-mile deliveries. Dunzo and Shipt (owned by Target Corporation) are examples of this model.
In summary, omnichannel at its core puts the customer at the centre stage. It aims to deliver a seamless experience across the stores, warehousing, customer service, and marketing. Through proper integration of all the data points across the customer journey, it can provide invaluable insights into the behaviour of customers and thereby help profile them better. Thus, omnichannel should be treated as a journey into understanding the customer better rather than a destination by itself.
While there are multiple challenges vis-à-vis omnichannel adoption on both the operational end (warehousing and inventory inefficiencies) and customer-facing end (risk of customers abandoning card and low switching cost) – retailers in the Middle East will have to keep pace with evolving customer behavioural patterns or run the risk of being competitively left behind.
Therefore, omnichannel is not the future but the present for the Middle East.
***
This is an excerpt from the "Retail Technology – the Next Frontier" whitepaper that we recently released at the Middle Retail Forum 2019. The full paper is available here.
If you have any questions or comments on this topic, you can reach me at sandeep@redseer.com