1. India Internet has shown a strong recovery in June- led by E-tailing sector
India Consumer Internet- Overall Market
Category Wise Mix, USD Bn (Monthly GMV, Annualised)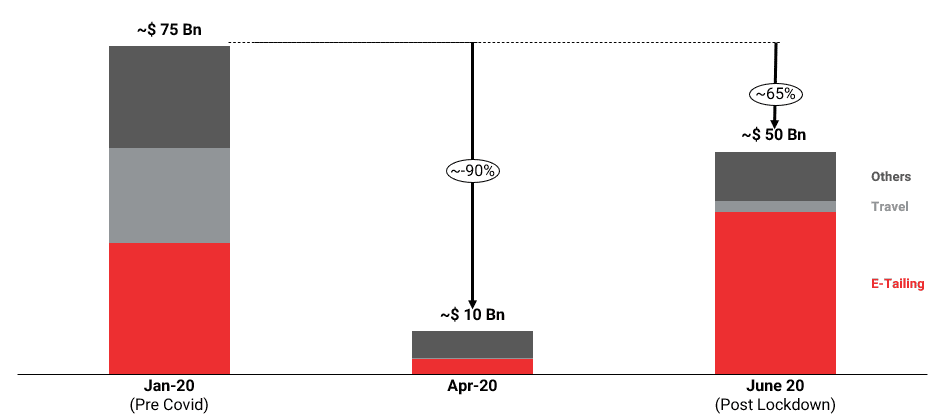 Note(s):
Others includes Food Tech, Fintech (ex payments), Stay, mobility, EdTech and Classifieds

Fintech (ex. payments) includes lending, insurance, and wealth management. It excludes Digital Payments such as wallets, UPI and other digital transactions
Contribution of E-Tailing to India Internet spiked massively as the category reached a USD 36 Bn Annualized GMV in June, +30% vs Jan.
However, other India Internet mainstays pre-COVID like travel sector will likely take a significantly longer time to recover as consumers are still wary of returning to their usual travel patterns.
---
2. India Internet sharp recovery led to steep rise in digitization across sectors in June
India Consumer Internet- By Key Category
June' 20 vs Jan 20 Estimate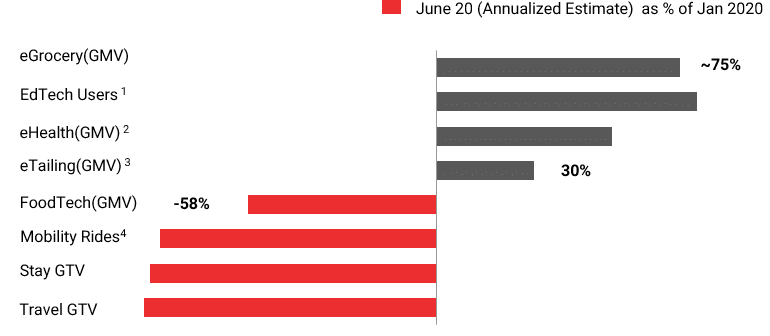 Note(s):
Free + Paid users for K12 EdTech

Includes ePharma, eConsultation and eDiagnostics

Includes all B2C eCommerce categories

Only includes shared mobility
Online Penetration by Sector ($ value penetration)
As % sector total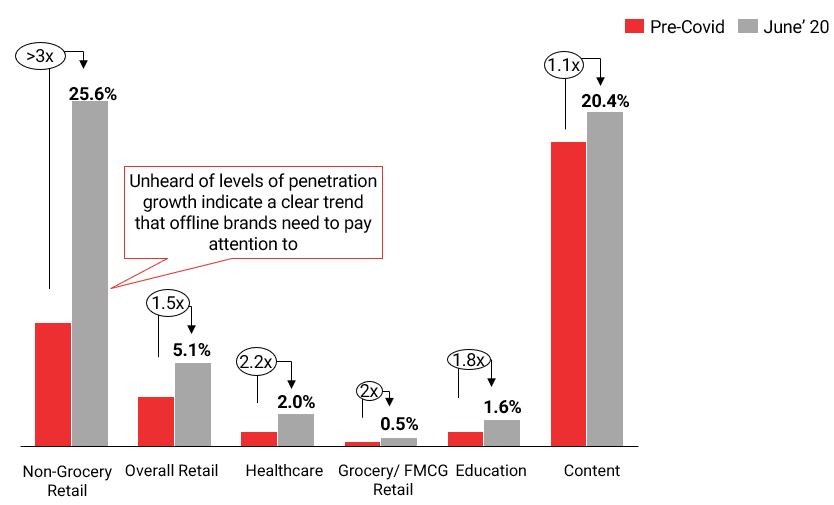 Interesting pattern of sectoral recovery has been observed for India Internet in June. With biggest beneficiaries being eGrocery, Edtech and eHealth, followed overall E-tailing.
While the foodtech, travel and stay related sectors continue to struggle- although they are on recovery path.
Basis strong online growth for some of these sectors, online % total sale has spiked- most significantly in non-grocery retail category which is not reaching unheard of penetration levels owing to offline shutdowns. Definitely something for offline brands to pay close attention to.
---
3. eHealth to be a strong COVID beneficiary- with business remaining sustainably higher than pre-COVID in June
eHealth: GMV – Recovery Curve (Indexed to 100)
​Jan to 29 June' 2020 (Jan 2020 = 100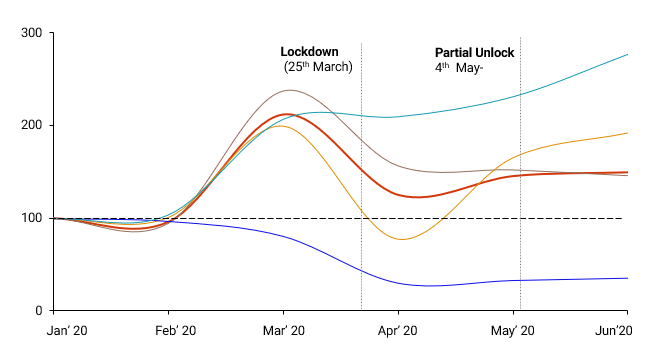 Note(s):
The curves represent the GMVs of various categories within eHealth, indexed to Jan 2020 levels
eHealth sector saw a slight correction in Apr-May, post sector GMV peak in March. Many of the acute first users didn't stick as much.
Despite this overall correction, sub-category level trends in eHealth generally bullish. For example eConsultation remains on a dream run while eOTC is expanding rapidly.
4. Even sectors like foodtech which are –vely hit by COVID will benefit from longer term digitization wave
Sales for restaurants by channel (online vs. offline)1
​Restaurant owner interview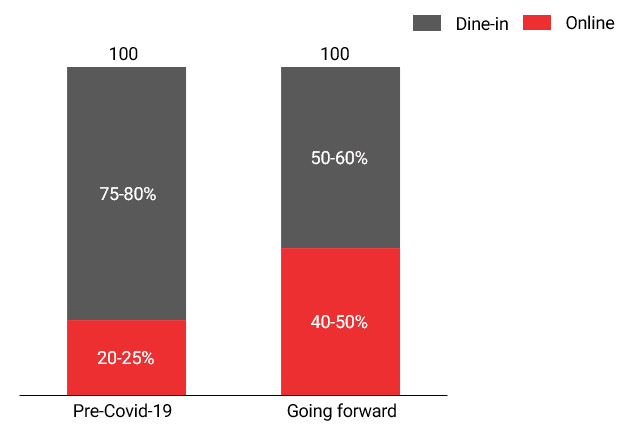 Note(s):
As per RedSeer estimates for restaurants who deliver online as well as have dine-in facilities
Foodtech sector took the brunt of the COVID lockdown and associated challenges and has been massively impacted in short term.
However, longer term story is much more positive- owing to consumer concerns and restrictions around offline dining, online will become a significant business generator for restaurants post COVID.
5. India Internet recovery was driven by high organic cross platform user growth- creating super-app opportunities
Growth in new users – by consumer internet players
​During COVID, For ~50 players, ~8000 consumer surveys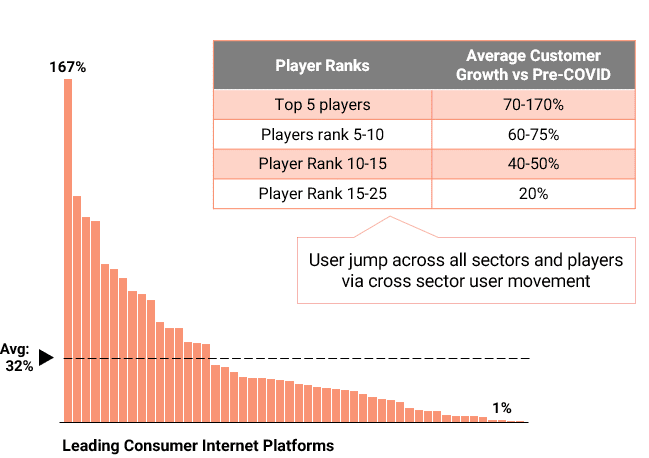 ​Leading to creation of more serious/holistic internet users who are using multiple sectors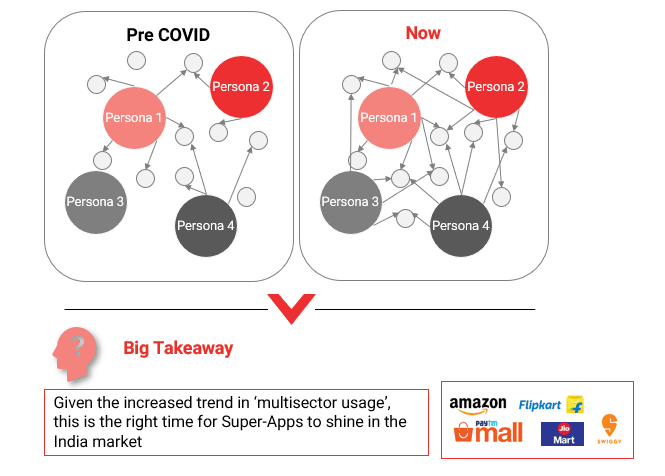 Note(s):
Each dot represents a consumer internet sector, whereas the bubble represents a consumer persona
Along with sector level benefits and recovery, the broad overall trend in India Internet during COVID is around existing online users becoming more serious or using many categories- thus driving up growth for multiple categories like eHealth and grocery.
We believe this indicates a tipping point of sorts for India Internet, a deepening of the ecosystem and an overall indicator of increase in ecosystem maturity. As a result, perhaps for the first time, ever the much-touted super-app strategy will become a viable one in the Indian context.