Indian new-age tech companies, characterized by innovation, grew in popularity over the last few years. Their growth was propelled by strong customer love. Moreover, liquidity was amenable to their growth plans. This helped a few new-age companies to go public. In 2022, with the macroeconomic conditions tightening across the globe, the new-age stocks were scrutinized with more intent and led to a correction. Quickly, there was consensus that profitability is one of the core goals for Indian startups going forward.
In this article, we try to visualize what's in store for the IPO listing of new-age tech players as they move ahead with the learnings over this market cycle.
1. Listed new-age tech players have been bouncing back in the last 6 months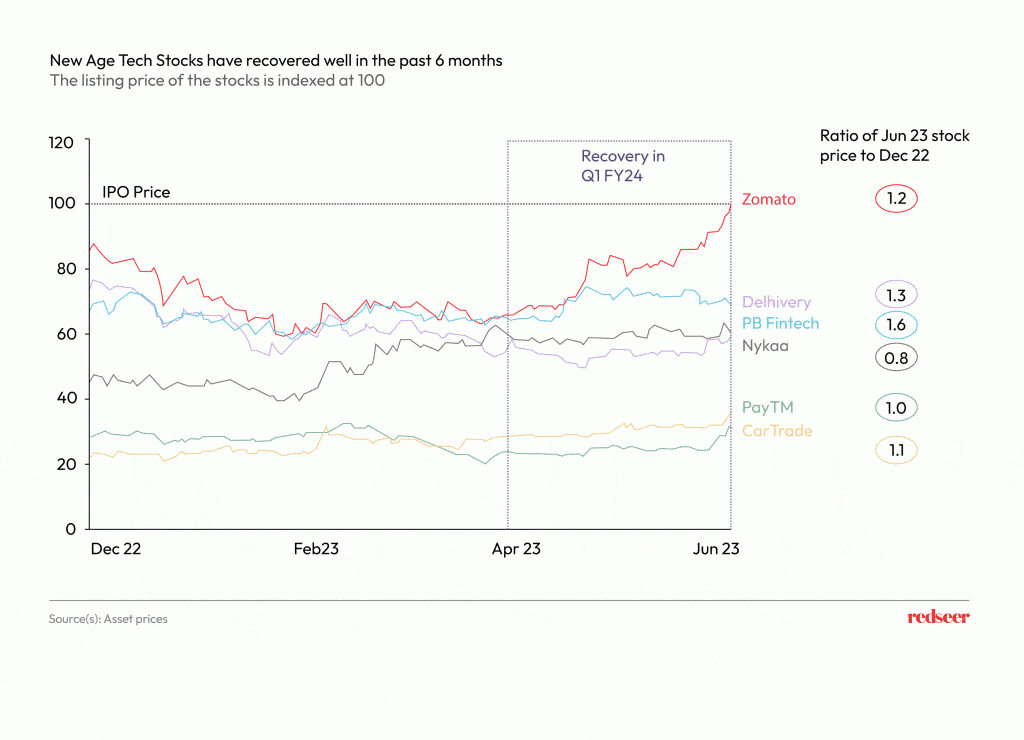 After a period of sharp correction, listed new-age tech players have recovered significantly. Recovery has been driven by strong performance of these companies on business fundamentals, especially strong showing on the profitability front. Also, as the market understands these models better, pricing is expected to be increasingly based on business fundamentals as opposed to tangential factors.
2. Focus on profitability will be a central theme going forward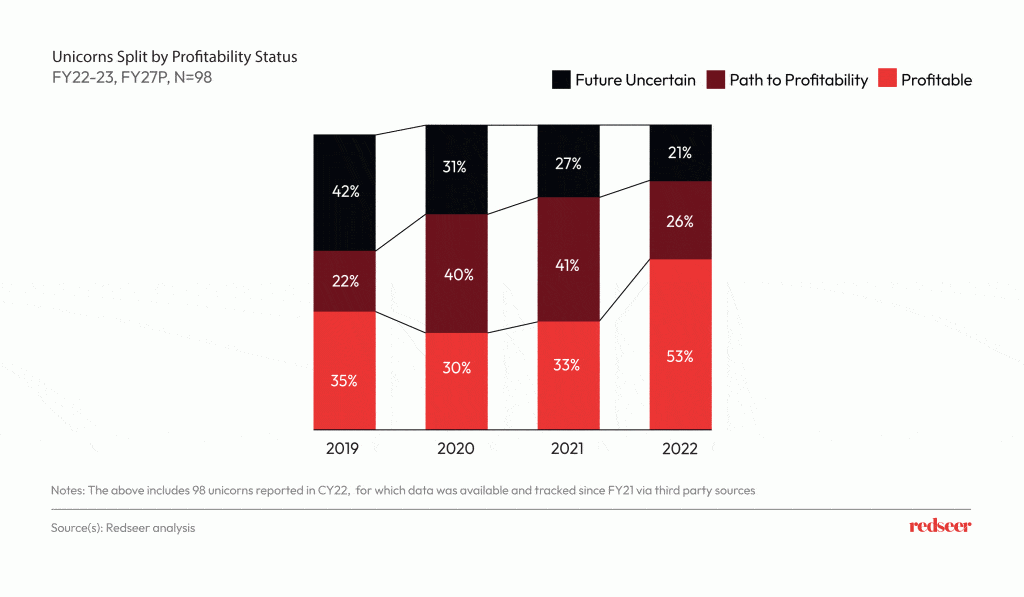 New-age tech players have been focusing on profitability with decisive calls to optimise costs with one eye on maintaining high growth. This will result in a sizable pipeline of IPO-ready companies in the next 5 years. Our study concludes that startups have substantially improved their profitability in FY22, with 50% of the same unicorns expected to become profitable by FY27. However, multiple things must fall in place for success. ~20% of the unicorns will likely struggle under regulatory challenges, unclear business models, and plummeting demand. Some of these are expected to close, pivot to new models, or get acquired.
3. This will result in up to 40 listed/IPO-ready new-age companies by FY25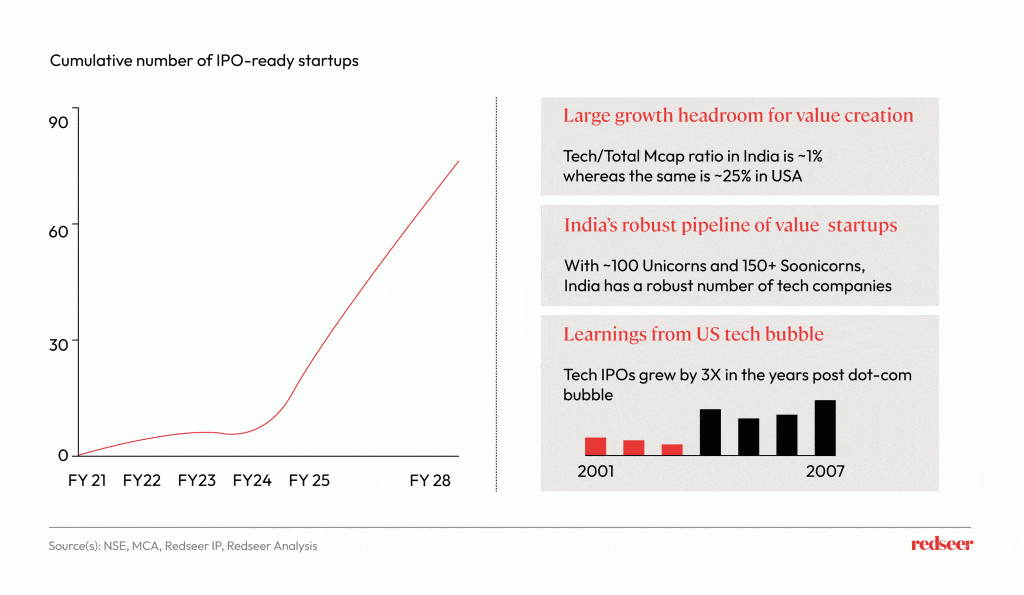 With ~100 unicorns and 150+ soonicorns, India has a sizable volume of new-age companies. Out of these, we expect 40 companies to be listed/ IPO-ready by FY25, and the number to go higher to 90 IPO-ready companies by FY28. India is due for outsized growth in the decades to come. The headroom for value creation is large as tech/new-age market capitalization as a ratio of the total market capitalization in India is ~1%, whereas the same is ~25% in the USA. While last year was subdued in terms of new-age IPO listings, a bounce back is imminent. For precedence, tech IPOs in the US grew 3X in the years post dot-com bubble.
4. SaaS, B2C Product Companies, and FinTech are the mostly likely sectors for product IPO-ready companies
Apart from the already listed/soon to be listed new-age companies, there are upwards of 30 new-age business that will get IPO ready by FY25 (resulting in the aforementioned 40 IPO-ready companies). Businesses with the highest potentially IPO-ready companies are SaaS, FinTech, and B2C Product Companies, Media & Entertainment. We have chosen these startups based on their strong performance across various metrics. They have sizable revenues of INR 500 Cr or more along with a defensible business model. They are EBITDA positive and have demonstrated sustainable growth with CAGR of 25% in the last 3 years. Getting there requires not only great numbers but also focus on several intangibles.
5. These IPO-bound startups need to work on the below key aspects to improve IPO readiness
Improving across the key metrics required planned efforts over at least 2-3 years for the numbers to be sustainable. However, more importantly, being able to position the company in the right bucket in the investor's mind while showcasing why the companies are best-in-class in the buckets is paramount. All while engaging the broader investor community (including the public market investors) years before the IPO, as it takes time for the investors to truly absorb, understand and familiarize themselves with the business models and comfort with corporate governance. Therefore, Positioning the company well, Showcasing their abilities through the right metrics and Engaging investors continuously as they travel this journey towards IPO should be one of the mantras of IPO-bound companies.