InsurTech, the insurance industry's new technologically advanced frontier, is the latest sub-segment of insurance that investors, consumers, and the world in general, is taking note of. The larger part of the Indian populace, up until now, seemed a bit weary of insurance. Lack of awareness, high costs, and an overall air of confusion around traditional insurance models are all responsible for a state of stagnancy in the insurance market but it all seems to be changing thanks to new-age players who are making tides of change with technology as their undercurrent. In this report, we look through the various models that have emerged within India's InsurTech industry, what they offer, and why they're about to change India's insurance landscape.
1. Thanks to a growing middle class and increased digital adoption, Insurance penetration in India is poised to grow rapidly in just a few years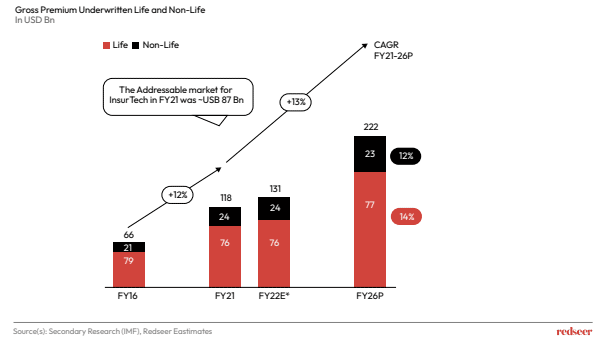 India happens to be a country that is largely under-insured, but it is also a country with the largest youth population – one that is increasingly tech-savvy and digitally forward. Thanks to increasing digital penetration, there is also an increasing awareness among the general population about the importance of insurance, as well as a better understanding of what it entails. As per our findings, we saw that an increasing number of Indians have begun opting for insurance, particularly motor, retail health insurance, and life insurance. In fact, we saw that within these three categories, life insurance in particular showed good numbers: Life insurance has close to 3/4th share with significant headroom for digital growth. All in all driven by online distribution, the Insurance market will be a $222 Bn market in FY26. Rapid digital insurance among the Indian populace is set to drive the insurtech market to a whopping $13 Bn by FY26, in terms of Gross Written Premiums (GWP).
2. New tech-infused online insurtech distribution models furthering this growth: these include B2C, B2B2C, B2B models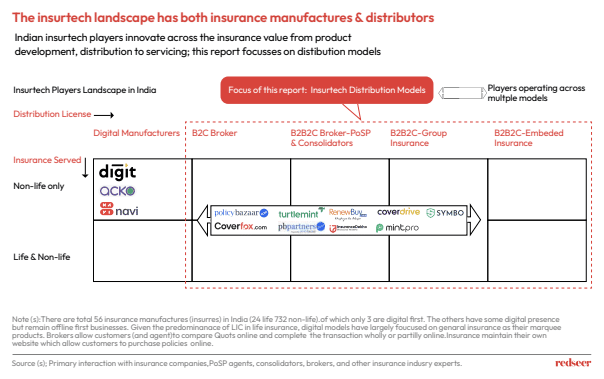 But this sudden inclination to opt for insurance did not happen overnight: it happened thanks to new-age players who are changing the way we knew insurance. These players are bringing convenience, transparency, and simple to use channels to increase penetration and accessibility of insurance products to consumers. InsurTech now has different distribution models that are focused on making the entire experience seamless. Most of these are customer-centric, powered with analytics and data with the ability to deliver personalized, rewarding experiences.
3. Each of these Insurtech models differ widely in terms of customer connect, economic viability and scalability – but have one goal: to make insurance effortless!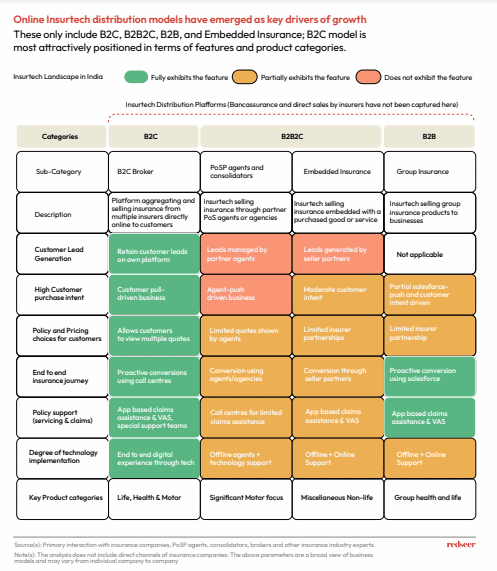 As per our findings, InsurTech currently has three important models: B2C, B2B2C, and B2B models. Business-to-business-to-consumer (B2B2C) distribution is not new to insurance and is synonymous with InsurTechs selling insurance through partner POS agents, agencies, or embedded with purchased goods or services. This model includes offline agents, with online support and is known to have fast scalability. Claims risk in this model is moderate, due to the risk of agent mis-selling. Business-to-business or B2B models include Insurtech selling group insurance products to businesses. Interestingly, thanks to more aware customers, the lapse rate is typically low for B2B models, while the claims risk is also low due to a large policy base. Lastly, we have the B2C model, which, it is safe to say, seems to have a significant advantage. Due to direct customer interaction, the claims risk in this model is much lower than the other two models. The persistence rate too is higher due to better customer awareness. But most importantly, customers enjoy great customer experience thanks to end-to-end digital experience through technological applications. In most cases, through the B2C model, the end-to-end customer journey is covered
seamlessly. Some of the B2C models' offerings include end-to-end digital experience through technological applications, app-based claims assistance, proactive conversions using call centers, visibility to multiple quotes, and more.
4. As far as unit economics goes, certain models of InsurTech are better placed than others…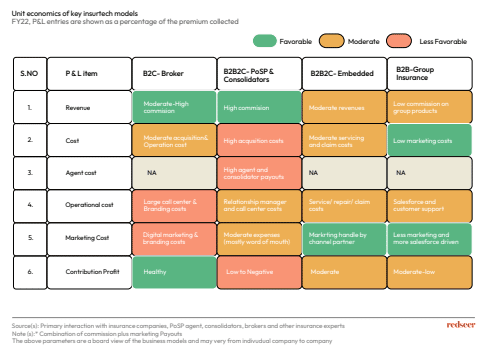 It was interesting to note that B2C brokers have significantly higher contribution margins than B2B2C brokers, while B2B2C scales faster through uberization of agents, it also results in agent payouts. On the other hand, B2C brokers utilize online marketing and asset-light models to derive better margins. The experiences that these new age InsurTech models offer for customers are not merely digital, they're delightful. Additionally, these new and rising models are not just making insurance great for customers…they are also empowering agents with the power of technology: no more chasing customers with messy paperwork; instead, they can handhold customers through the
entire insurance experience from anywhere…digitally.
From new models that prioritizes customer-centric services to technology that covers all bases, these are the forces that are changing insurance – and we are waiting with bated breath to see what is in store for us in the future!