1. Cab: After a first wave of rapid growth, MENA's cab hailing market is ready for the next wave of expansion into smaller cities and realize its huge potential
Published on: Sep 2018
MENA region's online cabs market has grown rapidly to reach similar scale as its better funded regional peers in India and SE Asia in a short time. Yet, market is still heavily underpenetrated- as shown by current low penetration of cab usage amongst smartphone users. Players who seize the opportunity to deliver and improved driver/customer experience and also expand into smaller cities to solve for the creaking transport infrastructure will likely reap huge rewards.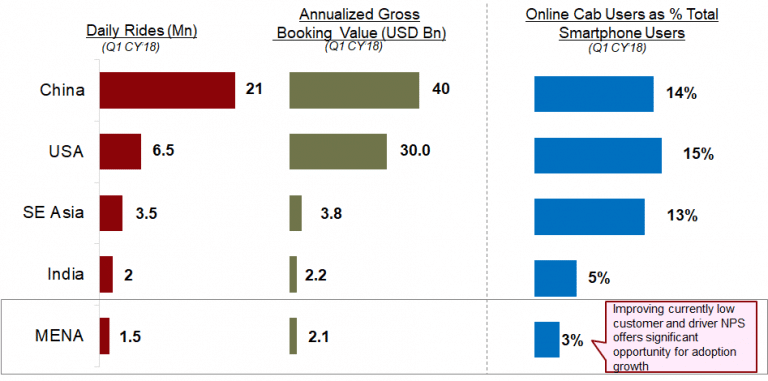 ---
2. Cab: Careem has been able to deploy capital more efficiently than peers; its funding needs are likely to grow due to planned diversification
Published on: Sep 2018
Till date, Careem has utilized its funding amounts more efficiently than its Asian peers such as Ola, Grab. However, Careem is increasingly looking to expand into near-core and beyond core sectors like its peers (for e.g. logistics and payments). Entry into these cash-hungry businesses will likely drive up its need for funding going forward.