The Beauty and Personal Care (BPC) market globally is a highly attractive market and is evolving rapidly. As a result, there is scaled influx of brands into the space. With this context, Rohan Agarwal, Partner at Redseer Strategy Consultants, decodes the keys to success for brands in this space.
1. Globally, BPC is the fastest growing consumption category, and it is undergoing significant evolution, leading to significant brand-creation opportunities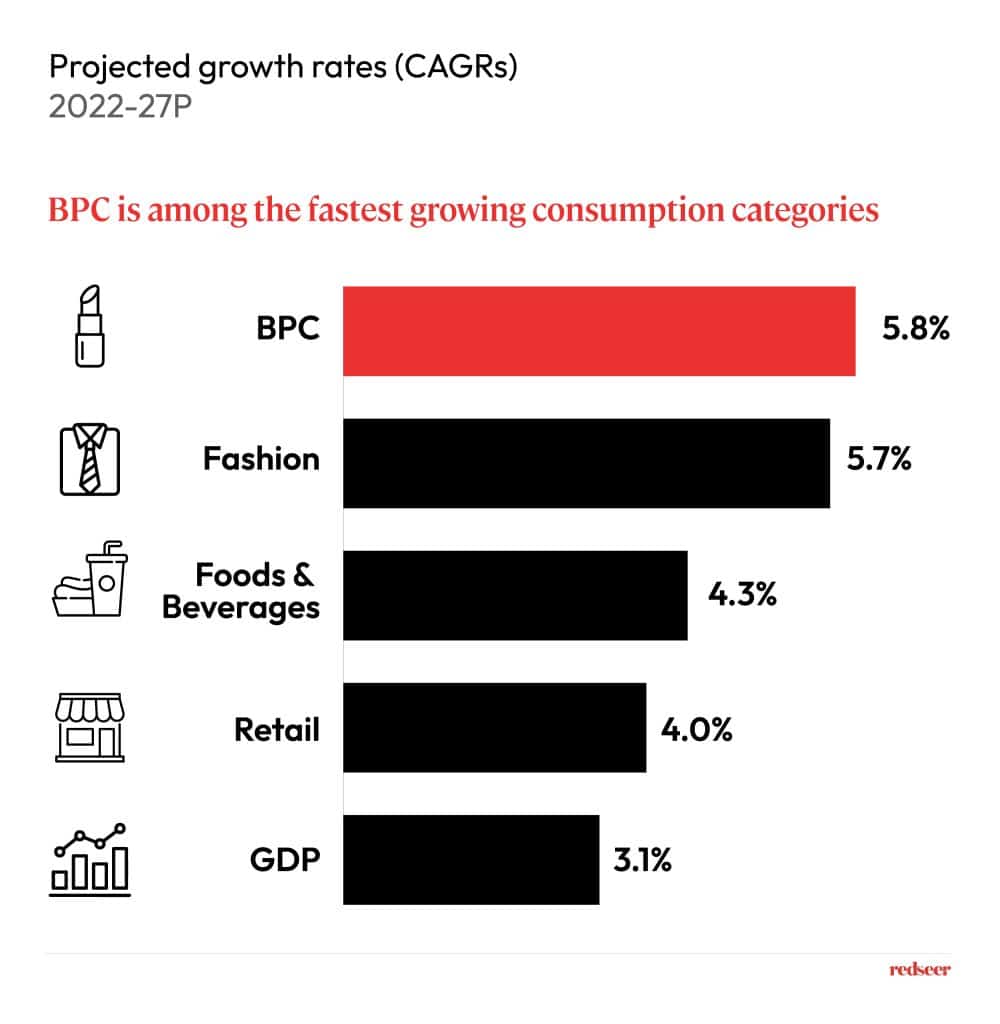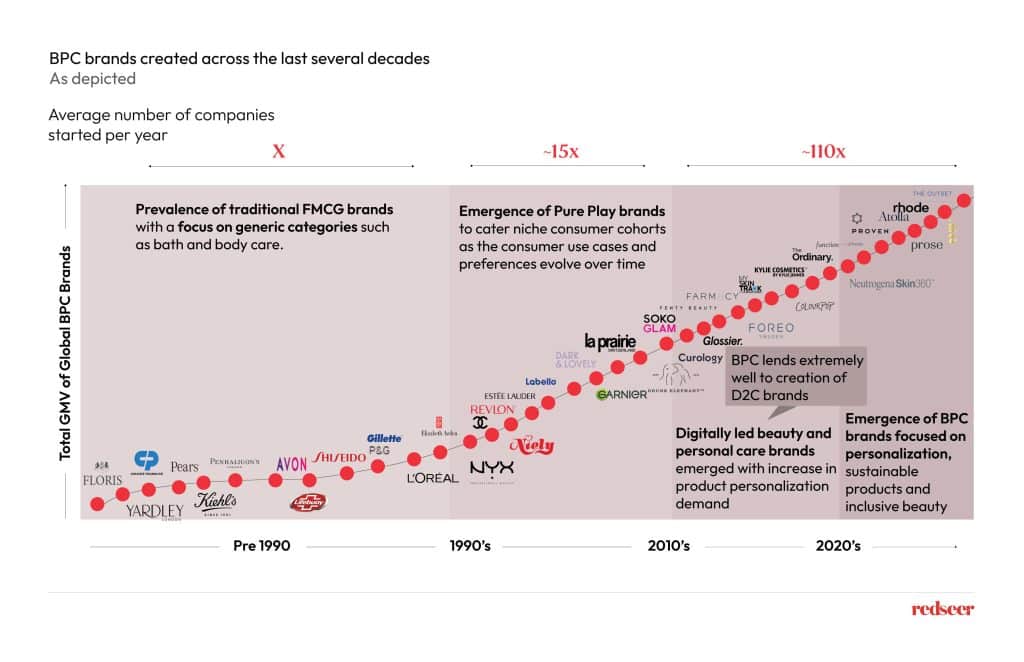 By 2027, the global BPC market GMV is expected to be US$ 660 Bn, commanding a total market capitalisation of US$ 2.2-2.7 Tn. Among the larger consumption categories, it has the highest growth rate and the highest gross margin. Further, consumer behaviour in BPC purchases is changing rapidly. Consumers want products that work for them, and they are willing to pay premiums for that. The fundamental attractiveness of the space, and the rapid evolution in consumer behaviour are creating opportunities for new brands to come in.
2. In this evolving landscape, focus has been a key differentiator for brands, with pure-play brands outperforming the FMCG-led BPC brands globally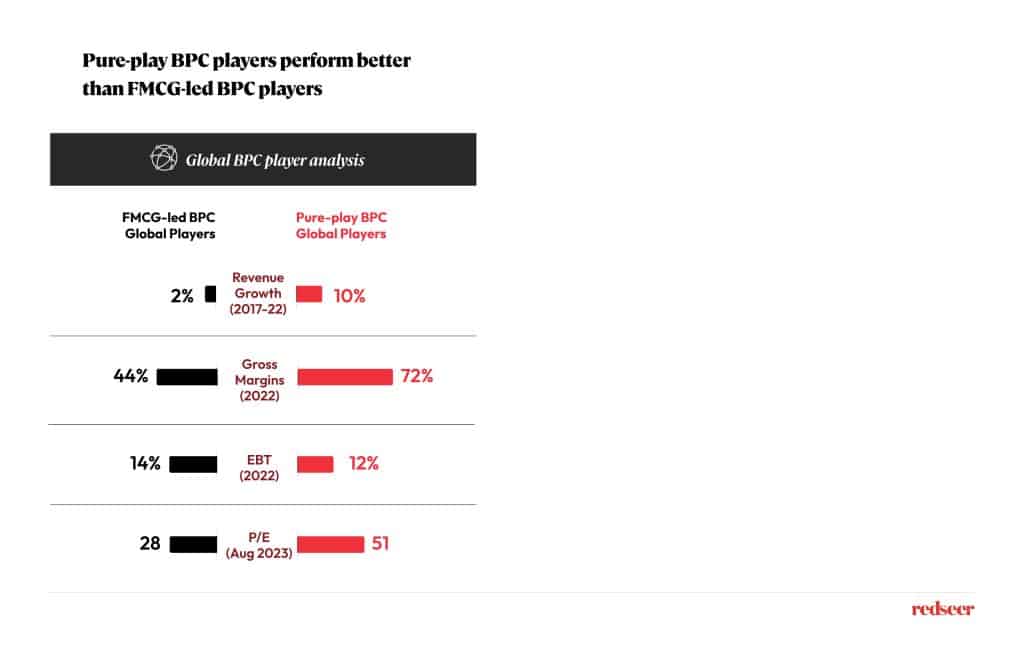 Pure-play BPC players (which are exclusively focused on selling BPC products, e.g. L'Oréal, Beiersdorf, Estée Lauder) are growing faster and are valued better than the FMCG-led players (players with products in multiple FMCG categories including BPC, such as Unilever, P&G etc.). The pure-play BPC players iterate faster to meet the evolving consumer needs and re-invest the higher gross margins to drive growth. So, their average growth is 5x and their avg. P/E multiple almost double that of the FMCG-led BPC players.
3. India, being one of the most attractive BPC markets globally, is closely mirroring the global trends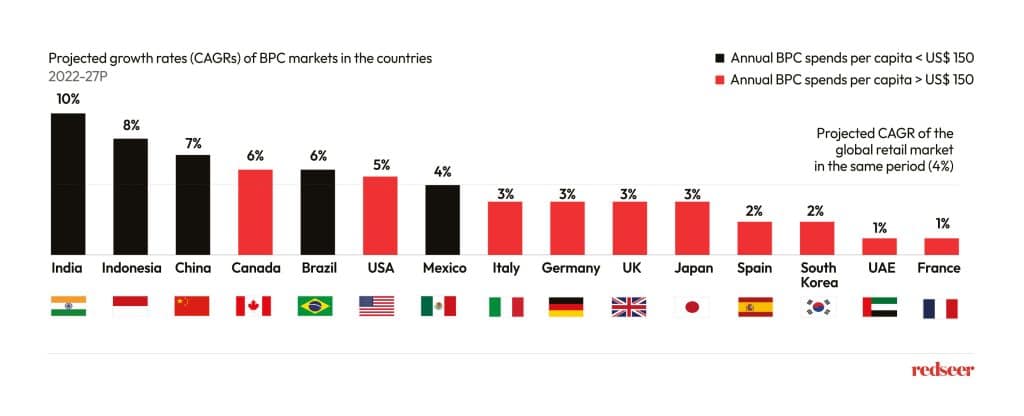 The Indian BPC market is poised for rapid expansion, with a total GMV of US$30 billion by 2027, comprising ~5% of the global BPC market. Growing at ~10% annually, it is the fastest growing BPC market among large economies. Mirroring the global trends, Indian consumers are increasingly seeking higher-quality products and are adopting evolved beauty and self-care routines. They are making their BPC product choices by researching the ingredients, listening to influencers, and are purchasing BPC products both online and offline. Hence, the Indian brands which are innovating fast and investing on growth are seeing good early results.
4. While Indian BPC is a very nascent market which will chart its own course, the pure-play Indian BPC brands are mirroring the success of the global peers, growing 2x as fast the Indian FMCG-led BPC players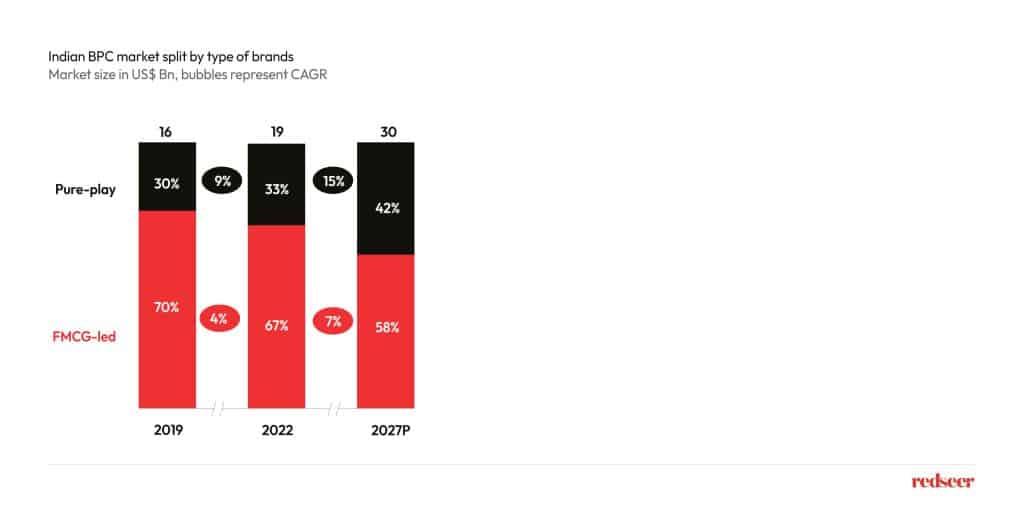 Traditionally, the Indian BPC market has been dominated by large FMCG players. It was because India is a large yet fragmented market that is significantly unorganized. However, with rapid organization of the retail market, India is increasingly mirroring global trends. Although initial days, the same holds true for the Indian BPC market. Advantages like agility, specificity, innovation, new-age focus, online orientation are helping the Indian pure-play BPC brands grow at 15% annually (2x+ vs. 7% for FMCG-led BPC players) to contribute 42% of all BPC GMV by 2027.
Read the comprehensive report of beauty and personal care industry co-authored by PeakXV: Beauty Unveiled: Decoding the Success of Pure-Play Beauty Companies