Indian e-tailing industry has gradually slowed post-pandemic but continues to perform better than overall retail consumption. While the greater maturity of current users has propelled eCommerce growth, macroeconomic factors have kept the overall consumption growth tepid in the last few quarters. Continued internet proliferation, efforts by e-commerce platforms to boost the shopping experience, and omnichannel retail will continue to drive e-tail adoption in the future.
In this week's article, we lay out the recent trends in the e-tailing industry.
1. Indian e-tailing reached ~ $60 Bn in FY23 with a 22% growth rate over FY22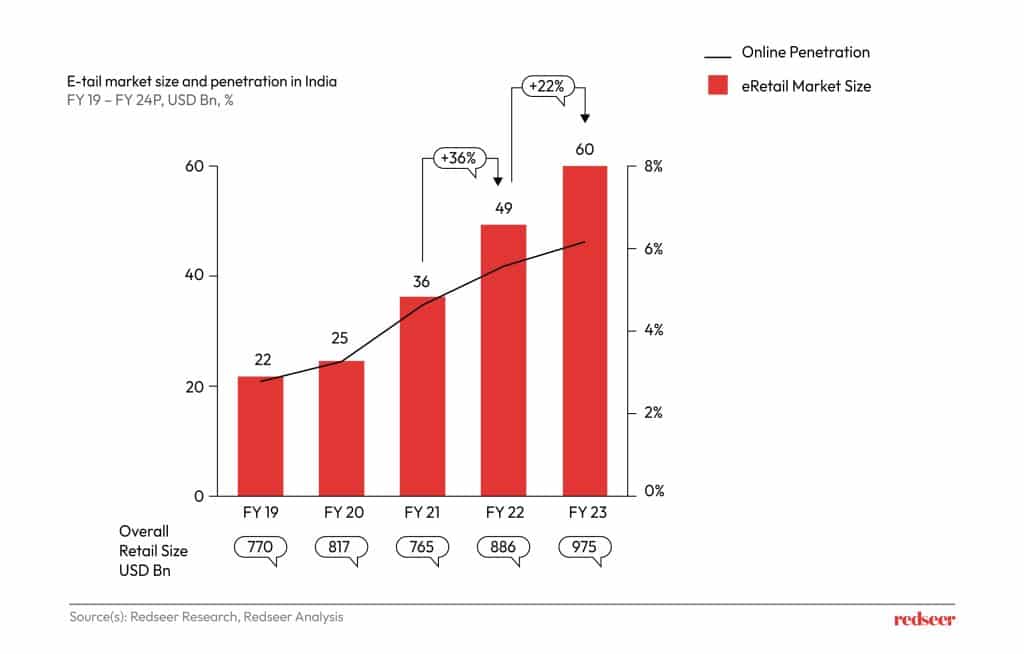 The e-tailing market in India has been slowing since the pandemic to grow GMV at 22% in FY23 to reach $60 Bn- where the JFM23 quarter was effectively 2.5 times in scale compared to the JFM20 (pre-COVID) quarter . E-commerce platforms have been highly successful in delivering standardized consumer experience on the platform while offering precisely the products in demand. The growth in D2C brands online also compelled traditional brands to go digital and offer competitive shopping experiences. In all, the efforts led to increased adoption and wallet share growth across customer cohorts while also driving robust and democratic sales across categories.
2. Greater maturity of current users is shifting the eCommerce growth pattern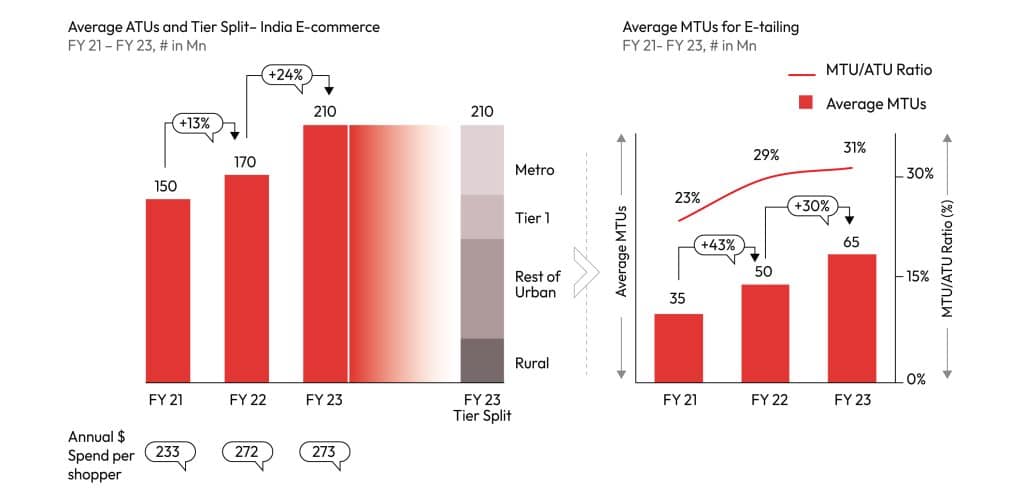 Over the last three years new users who are willing to try eCommerce throughout the country have increased and non-metro users account for a large share of the total user base in FY23.
However, the growth pattern in FY23 (and likely going forward as well) is different wherein the 'regular shoppers' I.e. the monthly user base is now larger than ever before. Monthly shopper base (MTU) which stood at ~65 Mn in FY23 is now 31% of the annual e-tailing shopper base –the same metric which was just 23% in pre-pandemic era. This goes to show that e-tailing user base is maturing and customers now shop online more frequently across a range of categories.
3. Maturing user base is driving better monetization owing to changed category mix – with fashion now the largest online category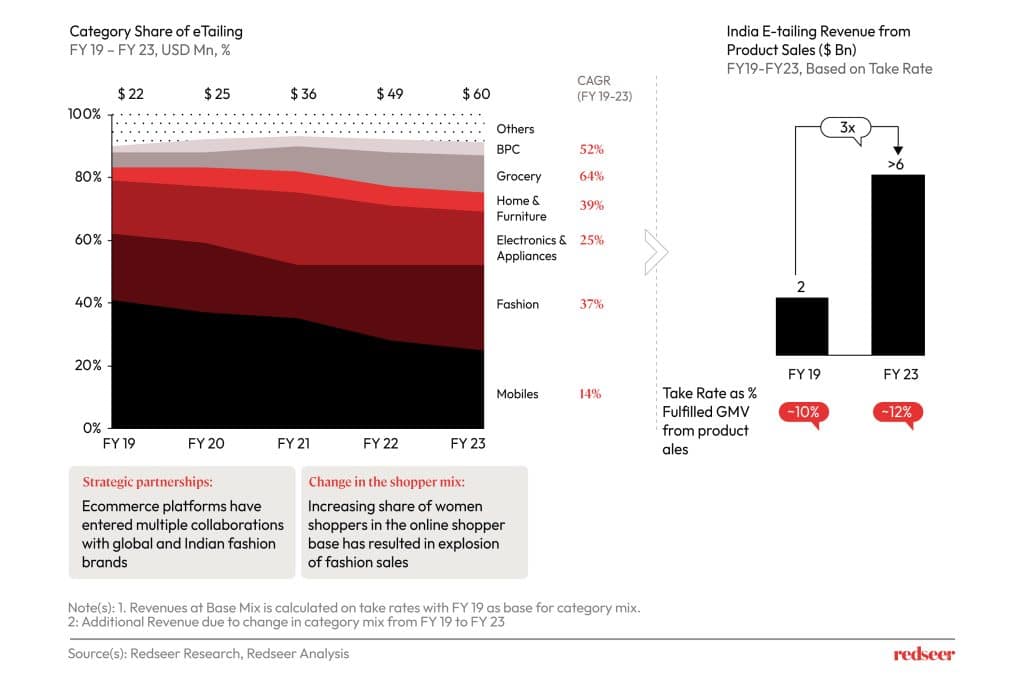 In contrast to the pre-covid levels e-tailing market has grown deeper across categories, with more users making purchases online. Although mobile phones dominated the category divide in FY19, fashion is now the single largest category whereas BPC, grocery and home categories are the fastest growing.
As a result of the category mix evolving towards non-mobile segments, the overall take rate of the e-tailing industry has improved to 1.2x from pre-COVID era. Which allowed the industry's revenues to reach $6 Bn in FY23 and also setting up the industry for robust revenue growth in future.
4. Ad monetization has also propelled Indian e-tailers forward, with ads revenues exceeding $1.2 Bn in FY23 and well poised for multiple years of future growth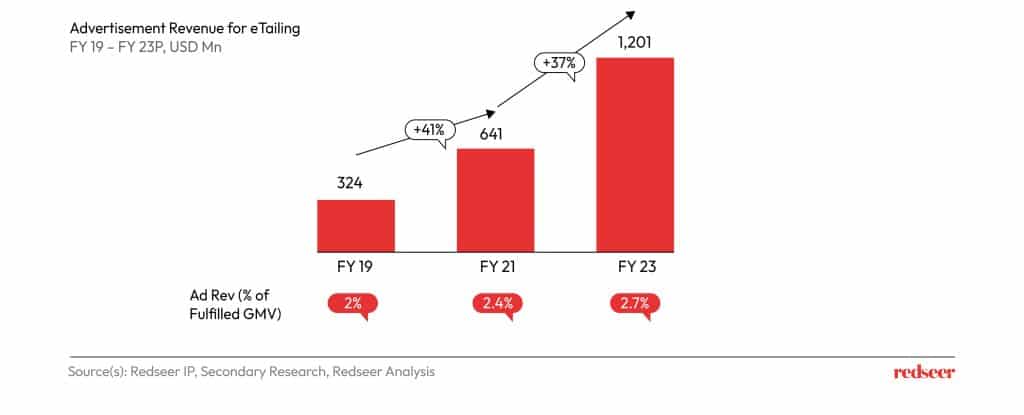 Advertisement revenue for e-tailing has grown significantly faster than the overall digital ad market, touching $1.2 bn size in revenue and ~15 % share of the digital ad market in FY 23. There are three major growth drivers for ad monetization; first, increasing MTUs have widened the reach of e-commerce platforms, making ads on this space more attractive to brands. Second, with 1P customer data, brands are able to effectively target high intent customers. Third, ads on e-commerce platforms have a high conversion rate as the ads are placed strategically in the purchase journey leading to a greater chance of conversion.
We see that product eCommerce ads opportunity is still in its nascency- the market has the potential to grow much further in future driving by greater brand and SME adoption.
5. Flipkart Group has been resilient despite strong competition and even outpaced the market in the recent quarters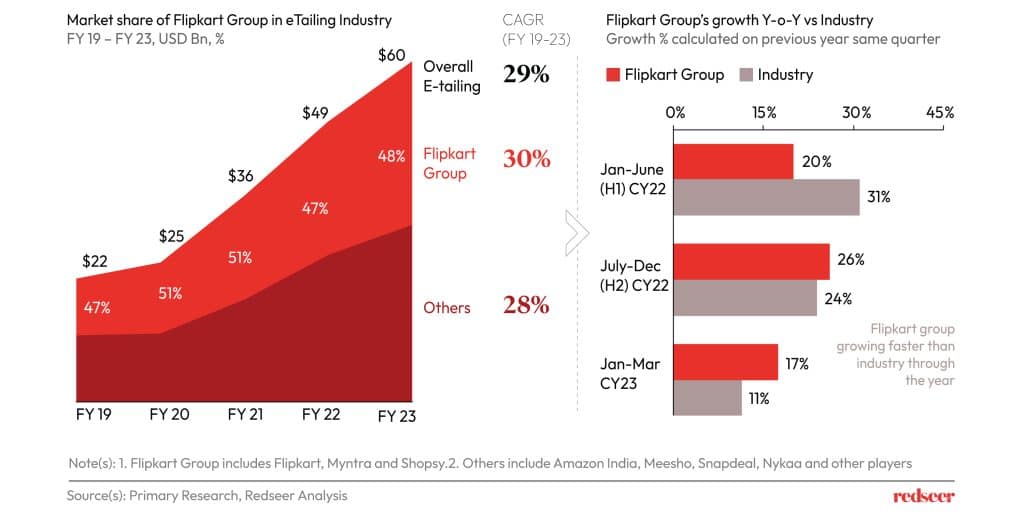 Although the competition has been intense over the last few years, Indian e-tailing incumbent Flipkart Group's market share has been resilient, hovering around 48% of the overall e-tailing industry. In recent quarters, the group has exhibited steady growth that has enabled it to overtake the industry.