I was casually watching the entrepreneurship show Shark Tank, and the Beyond Snack Kerala Banana Chips story caught my attention. This D2C snack brand put forth a strong message that the concept of D2C (Direct to Consumer) and DNB (Digital Native Brands) is creating a new breed of entrepreneurs and brands with potential to shake up various categories.
To understand the inside story of India's DNB rush, I connected with my colleague Abhishek Gupta who shares the growth and opportunities in this space.
1. India's DNB brands are changing eCommerce market with unique brand positioning
DNB brands came into the picture to cater to a niche audience looking for new and specialised products, which large consumer brands didn't offer at the time. Ecommerce and internet enabled the DNB brands to reach and serve these segments in a viable manner. Apparel brands like Bewakoof were amongst the first DNB brands to set shore.
Following the increasing growth of eCommerce giants Amazon and Flipkart, the market witnessed the rise of Nykaa, BigBasket, Myntra, and other verticals/super verticals that led to DNB's growth in BPC, Grocery, and Apparel. By 2020, DNB, began to gain prominence, especially post-COVID times, as players emerged with differentiated offerings and an omnichannel presence.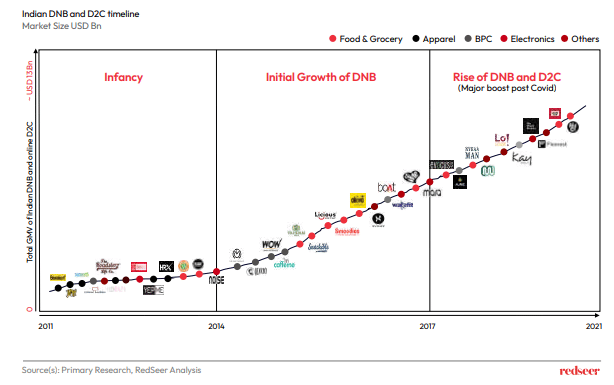 2. In 2022, DNBs and their D2C subset have grown faster than overall eCommerce in India
Demand for DNB and D2C brands has witnessed faster growth than traditional brands and they now account for ~40% of online sales. This is because the ability of DNBs to align themselves to the needs of the digital marketplaces and online consumers. They were willing to experiment, launch niche products and invest in digital marketing and discounts.
Rapid proliferation of internet and ecommerce also led to emergence of a large number of digitally savvy consumers who had mid- high disposable incomes and wanted to try curated products/ experiences. This was further facilitated by horizontal platforms that invested heavily in changing consumer habits to drive ecommerce adoption.
Further, enabling infrastructure to launch and sell a digital brand evolved rapidly with 3rd party solutions available to seamlessly manage websites, logistics, payments and digital marketing.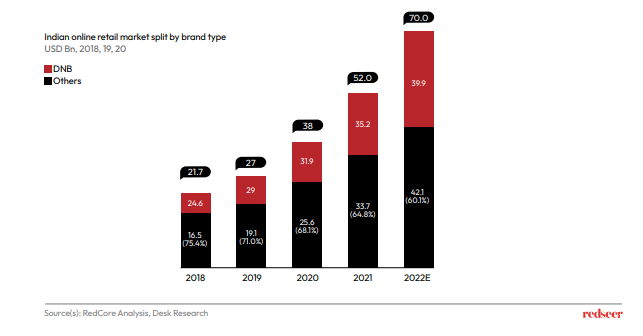 3. After online and horizontal marketplaces, the DNBs are eyeing the offline channel and quick commerce
DNBs brands have built scale, products and customer traction online. They are now increasingly moving towards offline channel and quick commerce. Offline stores continue to be a much larger channel for most categories and selling on offline channel, enables the DNBs to capture a greater share of market.
The offline foray ranges from exclusive stores, to organised retail to even general trade for the bigger digital brands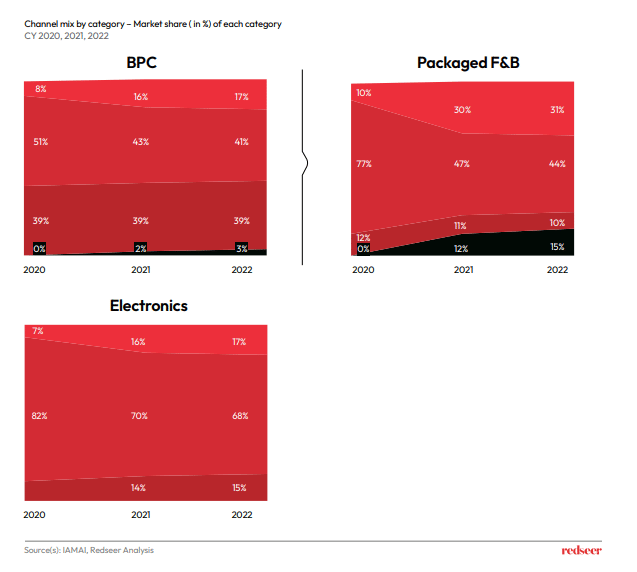 4. At this pace, DNB brands are estimated to be $60 billion industry by 2026
D2C, which leverages the internet to sell directly without the traditional distribution network of wholesalers, stockists and retailers, has grown exponentially in the last few years. Currently, D2C brands are a USD ~17 Bn industry and are poised to attain tremendous growth at a CAGR of 37% and reach USD ~60Bn by 2026. Several factors including the COVID pandemic, higher internet penetration, growth of digital infrastructure and rise in the number of millennials have fuelled the rise of D2C brands.
Here are some of the factors that will influence the strong future of D2C model-
Traditional brands launch digital only brands- Technology and digitization have changed market dynamics and consumer behavior. To keep up with mobile, tech-savvy customers, traditional brands introduce digital only brands.
Continued rapid growth in eCommerce- As the online world continues to grow in importance, reach and influence, the rise of eCommerce comes as no surprise. So D2C brands today have acquired a sense of confidence in the digital medium.
Further maturity and scale of DNBs, emergence of digital brand aggregators is expected to drive the growth of D2C brands.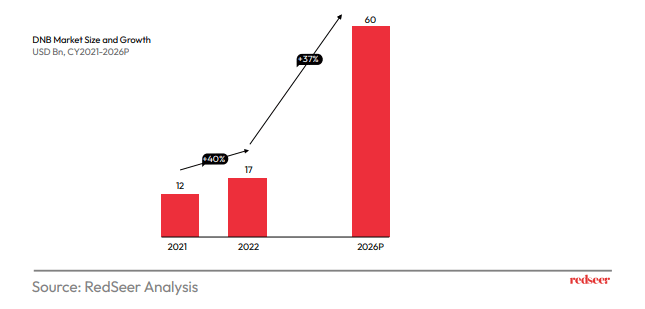 DNB space is a winner with brands building relevant, personalised, and connected experiences that meet the wants and needs of a new generation of shoppers.