Undoubtedly, India's eCommerce landscape is one of the fastest growing in the world. But within this sector, there is a more nascent, unexplored segment of the online marketplace that carries huge profitability potential: we're talking about the eB2B space. Lets take a deep dive into India's eB2B segment and the potential that lies ahead.
1. Although India boasts of a large retail market, close to 84% of it is unorganized
The unorganized retail market is the most dominant and popular mode of retailing and purchase destination for the majority of India's 1.3 billion population. As far as global trade stands, India holds the most share in general trade when compared to developed nations including the US and the UK. It also has a huge Tier 2 market with 8k+ towns and 665k villages. But despite being so vast, it is not without its pain point.
2. Retailers are often faced with challenges but eB2B is here to bring a much-needed respite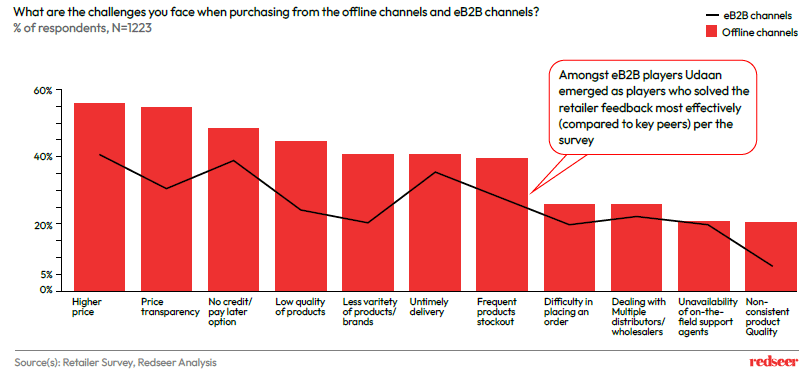 With organized brick and mortar adoption facing multiple issues at various levels, eB2B will continue to drive the unorganized general trade channel, helping it double in size in the next 10 years. When it comes to general trade, there are several pain points such as higher prices, lack of transparency, no credit and pay-later options, less variety of brands, and low-quality products. At a time when consumer expectations are changing, eB2B not only addresses these issues, but also provides a more seamless, and enjoyable experience, thus gaining considerable momentum.
3. eB2B has already captured a fair wallet share of the offline market, 50% of the eB2B users are willing to further increase their spends in the coming year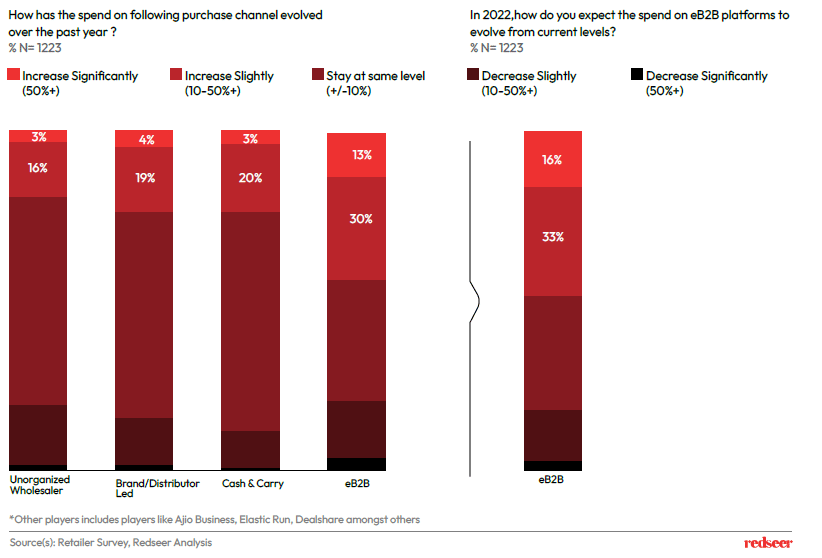 Given the fact that there is a huge opportunity from the large unorganized retail market, as well as the increasing receptiveness of retailers towards eB2B, it is safe to say that the sales within this sector will reach close to $100 billion in just a few more years. The high retailer satisfaction associated with eB2b channels was also indicated by the fact that the NPS for eB2B platforms was substantially higher than unorganized wholesalers, distributors, and cash & carry channels. Because of high NPS, people are increasing their spends towards eB2B.
4. Udaan and JioMart are the most well-known and preferred platforms among the retailers for future eB2B purchases and where most spending is going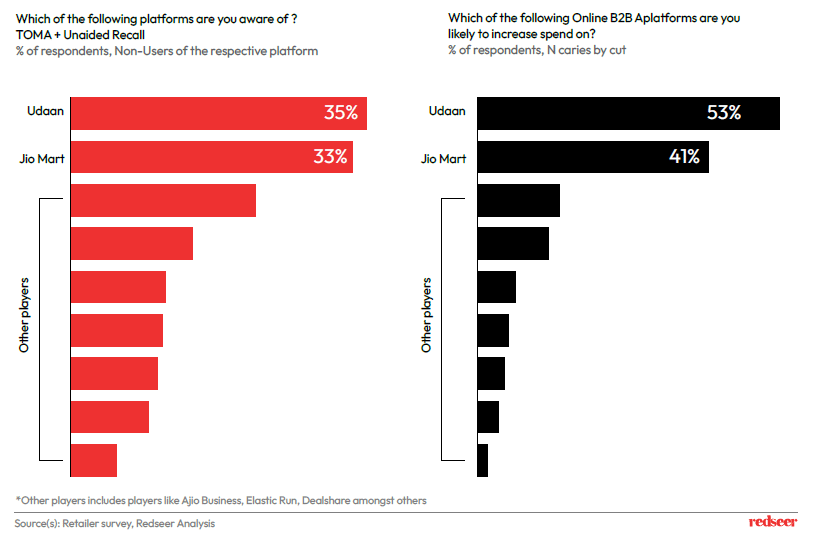 Among the non users, Udaan and Jiomart are the most well known platforms out of all other eb2b players. In addition to this, we also observed that among the current users, nearly half of the users are planning to increase their spends on these two top players: Over 53% increased their spending on Udaan, while close to 41% increased their spending on Jiomart, indicating that these two are currently the most preferred platforms.
5. eB2B to become a de-facto channel for brand marketing & ad spend, and a holy grail for retailer insights & data intel!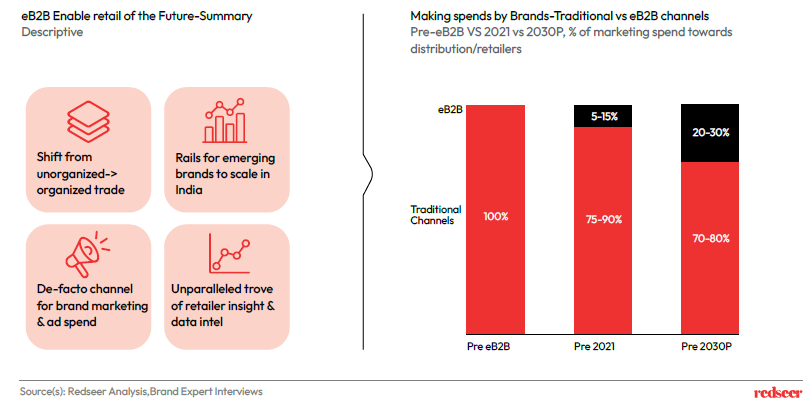 eB2B is all set to enable four crucial changes in the future. For one, we will witness a shift from unorganized trade to organized trade. Further, it sets the pace for emerging brands to scale in India, so much so that eB2B could become a de-facto channel for brand marketing & ad spend, and a holy grail for retailer insights & data intel.
6. With a Compound Annual Growth Rate (CAGR) of 32%, India's eB2B market is all set to reach a gross merchandise value (GMV) of 100 billion by 2030!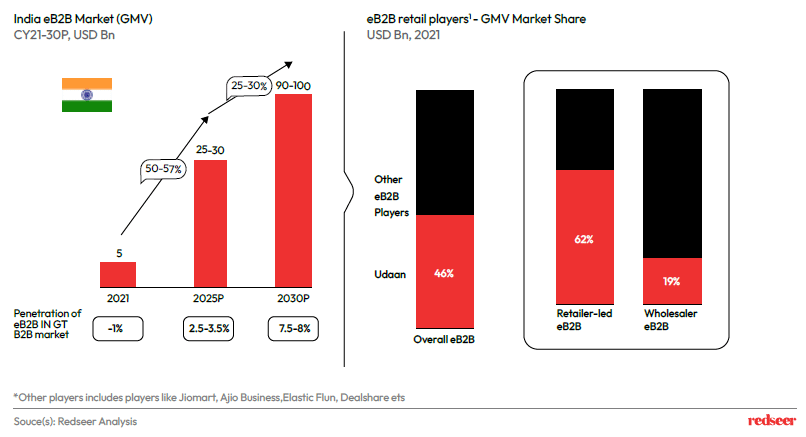 While it is at an early stage right now, given low adoption in lower city tiers and small stores, eB2B is emerging as a strong digital procurement solution. Retailers, brands and manufacturers have realized eB2B market's potential and are betting on it to shape the way they do business. While manufacturers have limited competitive threat, the eB2B channel is also helping retailers and brands solve multiple problems in their day-to-day business. India's eB2B market has scope for multiple models but, multi-category play with wide category coverage and national coverage is
likely to win. eB2B is projected to reach $90-100 Bn GMV by 2030 owing to a humongous opportunity. Interestingly, among eB2B players, Udaan and Jiomart emerged as market leaders in CY21.
7. eB2B models also have a favorable EBIDTA level, especially the ones with multicategory national play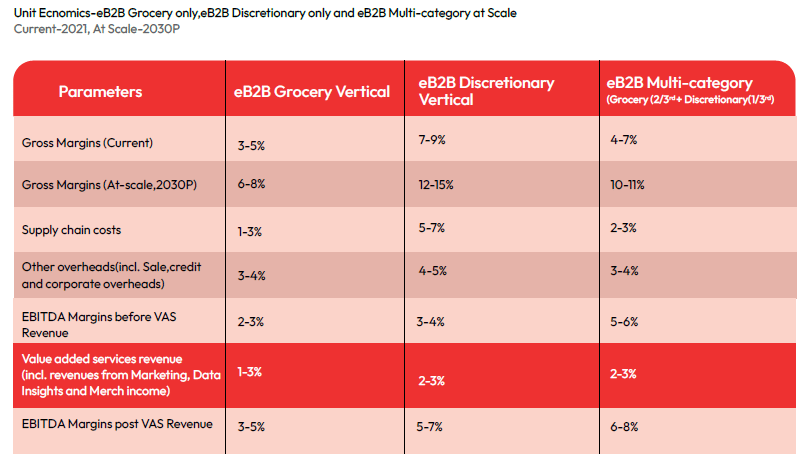 In order to access underserved markets, brands are turning increasingly to eB2B, either as an addition to their current distribution network or as a replacement for ineffective traditional distributors. At scale, eB2B platforms are likely to have an ROI of 50%+, much superior to offline retail as well as cash & carry formats. In particular, the ones with multicategory revenue have a better margin. While the EBITDA margin post VAS revenue stands at 3-5% for the eB2B grocery vertical and 5-7% for the discretionary vertical, under multi-category it stands at 6-8%. However, getting the category mix is critical to boosting margin profiles. Owing to higher opportunity size, adoption and engagement, multi-category national players are best placed to win in this market.