1. The upcoming vernacular revolution in edtech
Published on: May 2019
The first wave of edtech companies saw players focusing on high-quality content and live streaming, most often catering to Metro/Tier 1 users and in English as the major medium of instruction. However, our research on learners across market segments (K12, test prep, professional learning) clearly shows a strong need for vernacular education- something which most offline and online platforms fail to provide adequately as of now. Thus, there is a strong underlying need for digital education in vernacular languages.

Cognizant of this large opportunity, many companies have jumped into the fray to specifically cater to these needs of these students. Platforms like Doubtnut, which target students in smaller cities in 12 vernacular languages, have been able to build a large user base in a relatively short time. Given the large opportunity and Doubtnut's initial success in cracking it, it has been able to raise USD ~4 Mn in funding from a clutch of marquee investors.
Players like Adda 24X7, which operates in govt. job test prep has also been catering to the vernacular first segments, particularly the Hindi speaking belt. It has 40+ Mn total users, with a significant chunk of them being paid users.
These are just two examples of players specifically targeting this opportunity. Additionally, across the across K12 and professional learning space, players with video lectures have been tailoring them to blend English and Hindi in their delivery to drive customer engagement.
In time, we expect the more established edtech players to also cater to this vernacular need specifically and thus gradually move towards better engagement and ultimately higher monetization. Thus vernacular-first edtech could be the revolution that the sector needs to drive its next wave of growth.
---
2. 2019 likely to see the emergence and growth of multichannel EdTech delivery models, as RedSeer research indicates a strong need state for hybrid learning.
Published on: Jan 2019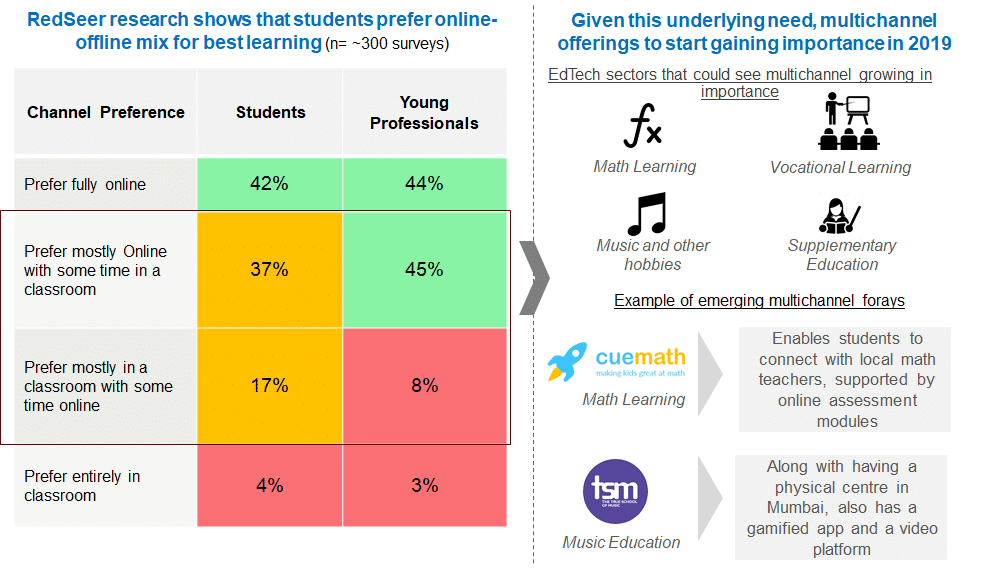 ---
3. In terms of customer satisfaction, smaller players rank slightly better than Byju's on content and learning experience
Published on: Dec 2018
---
4. The education tech industry currently selling over 330K courses quarterly is seeing a growth in the sales of Test prep courses
Published on: Nov 2018
The ed-tech industry is currently dominated by the K-12 courses but the JAS quarter showed an increase in the number of Test prep courses indicating the acceptance of such courses online. Also the increasing number of paid users per quarter shows the increasing acceptance of online courses by parents for their children.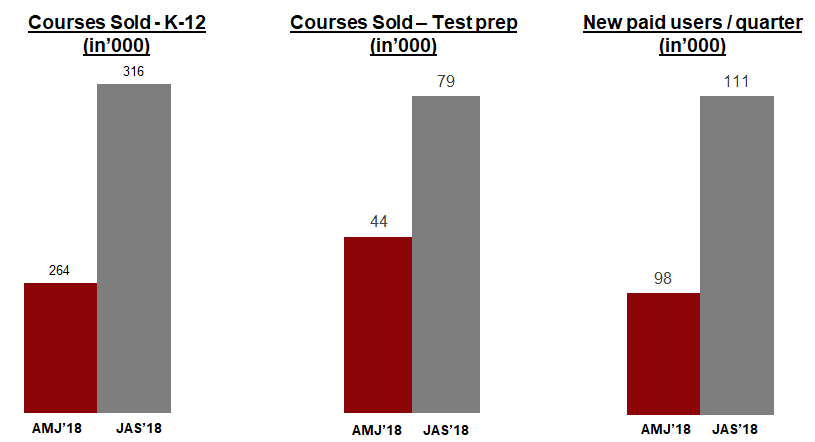 ---
5. The Ed-Tech market has grown over 50% in the past year and is heading towards increasing dominance by the top player

Published on: Sep 2018
The Ed-tech domain has gained much higher awareness compared to the previous year which is reflecting in the increase of revenue. New business models launched by players along with increase in demand of integrated classroom programs were the other major drivers for the growth of the sector.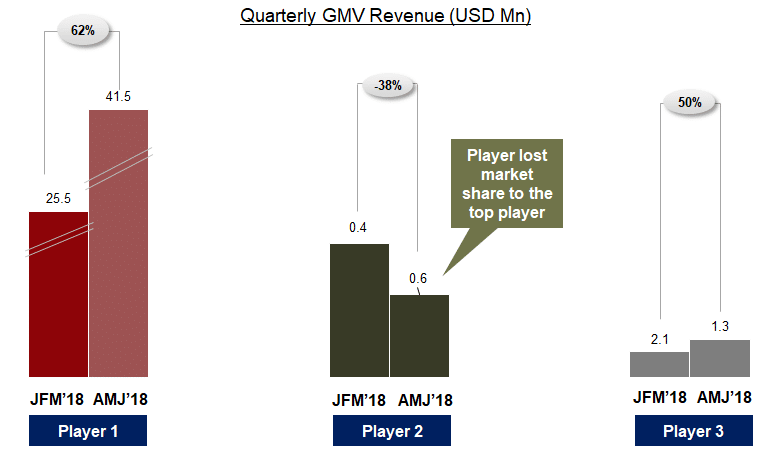 ---
6. Total Addressable Market for online post graduation education is estimated to be ~US $5 billion in 2017
Published on: July 2018
The online higher education industry is gradually gaining some interest among the investor community. The online courses provided by the players come with professional certifications which ensures that the students not only acquire the skill but also a certificate from top universities to help them find a relevant job easily.
---
7. The online supplemental education is a $65 mn market largely dominated by 6th-10th class courses
Published on: May 2018
The online supplemental education is largely dominated by 6th-10th class courses. Students usually try the free versions for 6-7 months before taking annual paid versions. The percentage contribution of competitive courses is highest in the JFM quarter as a huge number of student take short crash courses of preparation of competitive exams. While class 11th-12th courses are majorly taken in AMJ and JAS quarters.
---
8. The industry sees steady growth of user base across the quarters in 2017
Published on: Apr 2018
The ed-tech industry has seen a steady growth of user base (including paid and free users) across the quarters in 2017. The key reasons for this has been the aggressive marketing initiatives taken by the players and strengthening of lead generation team. Though majority of this increase came from free users; there was an increase in the paid users as well. This is a good news for the industry as free users on an average use the free version for 6-9 months before buying the paid services. So we can expect the effect of this to come in big time in 2018.
---
9. The industry sees free users getting more habituated with the platforms
Published on: Feb 2018
The ed-tech industry sees a significant increase in the average time spent by free users on their platforms from JFM-17 to OND-17. This is a good sign for the industry as it implies that the free users are getting more and more habituated with the good content available on the platforms and it is only a matter of time before they start using the paid services.
Free users on an average use the service for 6-8 months before buying the paid versions
Published on: Jan 2018
The EdTech industry takes time in converting free users to paid ones. This is due to the fact that parents do not want to buy a year-long subscription in the middle of a calendar year. Also, the unavailability of other options for parents makes the transition to becoming a paid user more challenging.
Time taken by free users to buy paid version
With the new academic year commencing in AMJ'17, all leading edtech players showcased a strong rise in revenue…
Published on: Jan 2018
Across players, key driver of revenue growth was the cyclical increase in paid user base occurring on account of the new academic year. However, revenue growth was also propelled by strong growth in ticket prices – which points to growing consumer appetite for edtech programs.
Doubts over disciplined usage of unsupervised internet is the key challenge: as reported by the Indian parents
Published on: Jan 2018
Reasons for not buying online educational services by free users
Can players navigate the tricky road to monetization?
Consumers of free trials of online supplementary education platforms still need to be convinced of the value proposition of paid subscription: As of now, most of the subscribers going for Free Trials are primarily interested in getting access to material which is just an 'add on' to the material available on 100% free platforms (e.g. Youtube, Khan Academy). As a result, the benefit sought from Paid Subscription is not perceived to justify the cost.
However, consumers who go on to use the paid subscription report high satisfaction levels: RedSeer research shows that more than half of paid subscribers' report positives outcomes after using paid modules and intend to renew their subscriptions with online supplementary education players.
Industry needs to make the case of paid subscriptions stronger for consumers: Access to a wider set of contents in free material and better demos of the paid offerings is crucial to drive faster adoption of paid subscriptions amongst free users.